January 24, 2023
Reading Time:
4
min
Upside Stake Review: Is UpsideStake.Com a Legit Broker?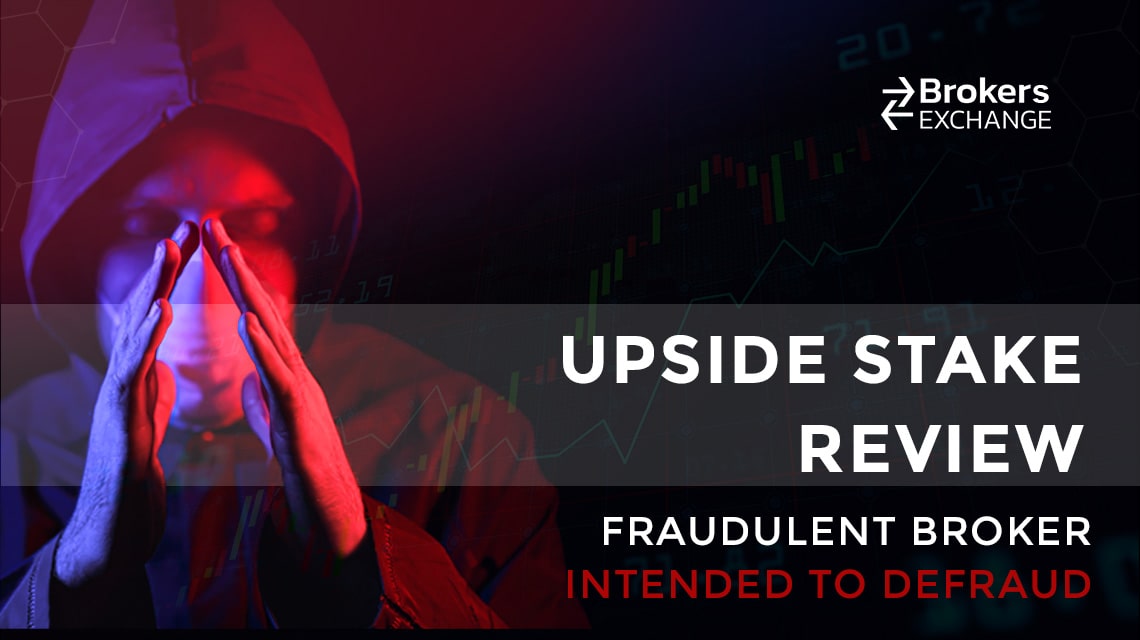 Upside Stake is an anonymous website that is overflowing with advertising material and supposed rewards that this brokerage house has. 
As soon as you enter the site, you will immediately see that this is the number one broker in the world, and many advertisements for bonuses that you can get if you create an account and invest money. 
This is a common practice of fraudulent brokers because in this way they succeed in deceiving clients who do not look for information that is really important. 
There is no information about the regulation of the company, at the same time it is not known who is behind the website. Only a vague address is given. 
This shady brokerage boasts itself a lot when it describes the reasons why users should just them, but there is nothing to support this boasting. In reality, the trading conditions offered by this wannabe broker are terrible. 
The spreads are too wide, the leverage is too high, and the minimum deposit is too big. If you need more details regarding why you should avoid this obvious investment scam, you can find them in our Upside Stake review below.
This also applies to dealing with dishonest brokers like the ones I've named below Oriontero, AltimaTrade, and Fibotraders.
| | |
| --- | --- |
| Company | Upside Stake |
| Website | UpsideStake.Com |
| Address | 5730 S Prince St, Littleton, CO 80120, United States |
| Email | [email protected] |
| Phone | +1(931) 413-9528 |
| Minimum Deposit | 500$ |
| Leverage | 1:5000 |
| Bonuses | Yes |
| Regulation | Unregulated |
| Warning | No |
Upside Stake Reliability – Regulation and Security
We will tell you right away that Upside Stake is not a regulated broker. The address shown by the website is 5730 S Prince St, Littleton, CO 80120, United States. Given that there is no sign of a license, Upside Stake cannot be regulated there. 
Any broker who wants to offer their financial services in the United States must apply for a license with the two regulatory bodies that control the market, namely the NFA and the CFTC. Thus, the leverage of the Upside Stake would not be 1:5000, but 1:50, as prescribed by the regulatory body. 
In addition to the fact that Upside Stake does not have a license and is not a regulated broker, we would like to emphasize that this fact can be a threat to your funds and personal data if you decide to invest in this brokerage house.
Trading Platform Available at Upside Stake
Although Upside Stake claims to offer an innovative platform, it is a poor-quality web trader which lacks a lot of tools and options. No automated trading is available. 
The main problem with such platforms is that fraudulent brokers can manipulate what happens on the platform, and while it looks like you are trading your money, it is actually going to fraudsters. 
It is always better to choose regulated brokers that offer MetaTrader4 or MetaTrader5, platforms that are favored by traders around the world.
Upside Stake Deposits and Withdrawals
Deposit methods that Upside Stake offers to its users are the following:
Visa, 
Master card,
Maestro card, 
Bitcoin,
Qiwi,
Perfect Money,
Payeer.
So the only way is to make the payment via e-wallet. This is a big problem because transactions made in cryptocurrencies are hard to trace, and recover. This is a common method that scam brokers insist on, for this very reason. 
The minimum deposit depends on the account you choose, and the minimum for a basic account is $500, which is too much when we look at other regulated brokers that offer micro accounts for only $10. 
Withdrawal of funds is carried out using the same method as depositing, and withdrawal requests are processed within 48 hours. Upside Stake does not mention any fees, but it is not uncommon for scammers to surprise their users with them when requesting a withdrawal.
Upside Stake Offers Bonuses and Promotions
Most scam brokers regularly offer bonuses to attract new customers. The current bonus available to new customers who register through Upside Stake is $500 on an investment of $5,000. 
How the bonuses work and whether they can be withdrawn is not written anywhere on the website. 
But, it often happens that clients cannot withdraw the bonus until they have made a certain number of deposits and bonus turnovers, and in this way, fraudulent brokers buy time or trick clients into investing more money. 
Usually, bonuses can never be withdrawn, they only serve to open positions. Be aware that if you get a bonus from a company like this, it will probably be even more difficult for you to make a withdrawal request.
How is the Fraud Delivered?
When it comes to the Upside Stake broker, their scam works as follows. The first thing they will do is highlight all segments of their business on the site in a superlative way: the best offer, the number 1 world broker, the most modern trading platform, etc.
This is how they will try to attract as many new users as possible. As a payment method, fraudsters demand payment in crypto-currencies because it is almost impossible to prove where the transaction went and this leaves customers without the time and the possibility to complain to anyone. 
Thus, Upside Stake succeeds in its scam until there is a warning against them by some regulatory body, that is, as long as there are people who will fall for their promises. That's why we warn you once again not to invest with the Upside Stake broker.
Upside Stake Summary
When we take each segment of the business of the Upside Stake broker it becomes obvious that the trading conditions offered are to the detriment of the user. 
Apart from the fact that it has become clear that it is a fraud, even if it is not a fraudulent broker, we would not be able to recommend it because it is not regulated, has a bad trading platform, has only one method of depositing and withdrawing, and that exclusively through cryptocurrencies. 
We hope that we have warned you in time and that in the future you will pay attention to the details that we presented in the article before investing money in a brokerage house.
FAQs About Upside Stake Broker
Is My Money Safe With Upside Stake?

Your money is not safe with Upside Stake, as this is not a regulated broker.
Does Upside Stake Offer a Demo Account?

Upside Stake offers its users a demo account.
Is Upside Stake a Trustworthy Broker?

Upside Stake is not a trusted broker as we pointed out in our review.