November 20, 2022
Reading Time:
4
min
WinGroup Review – Who Is WinGroup Broker?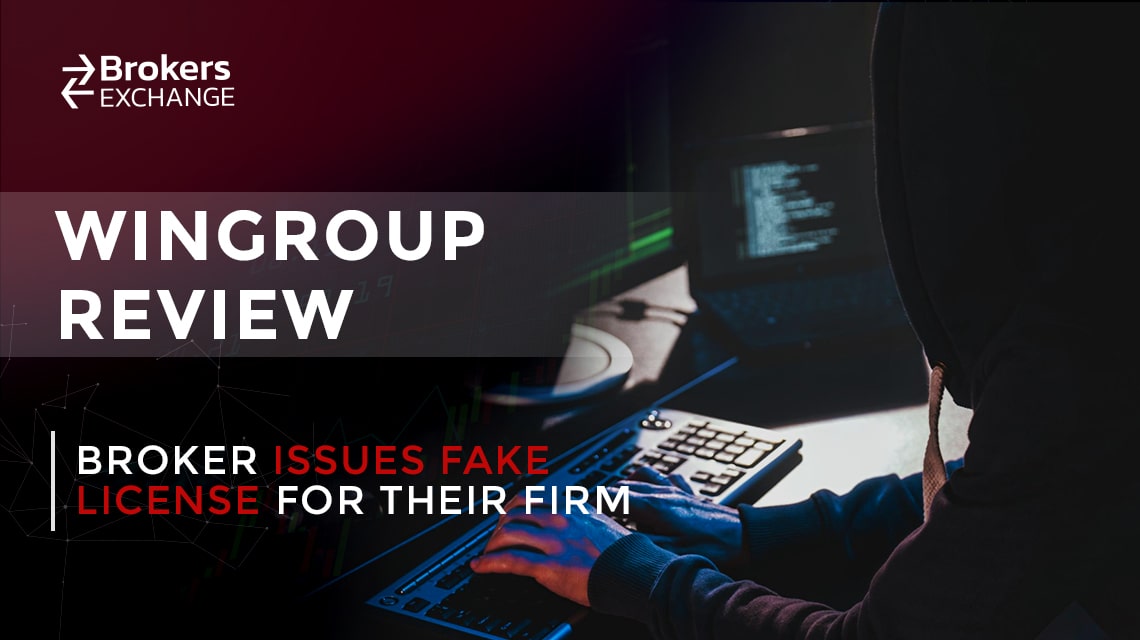 WinGroup Review, when a company, any company, does not provide any information such as their address or even a phone number where you could reach them it is a bad sign. This is especially true for companies that require you to pay them before you could even get a look at the service that they provide. 
WinGroup is a  scam broker that is clearly aiming for providing the least amount of information to their potential clients and making it impossible for them to do anything if any issues arise.
It is important to know what country a broker is based out of, as this tends to give a clue as to who has regulatory oversight of the brokerage. This, however, is not the case with WinGroup, they never bother mentioning the company's location or any form of regulation.
| | |
| --- | --- |
| Company | WinGroup |
| Website | WinGroup.Net |
| Address | N/A |
| Email | [email protected] |
| Phone | N/A |
| Minimum Deposit | $250 |
| Leverage | 1:100 |
| Bonuses | Yes |
| Regulation | Unregulated |
| Warning | N/A |
Regulation and Fund Security at WinGroup
In short, this broker is not regulated, meaning that there is no regulatory body that provides oversight and makes sure that everything the broker does is above board. 
This is a huge red flag especially when the firm in question goes far out of its way to avoid any form of transparency. 
Investors should always look for legitimate brokers that have a healthy degree of transparency and are regulated by tier-one regulatory bodies such as CySEC, ASIC, or BaFIN. 
This provides them with a level of safety that an illegitimate brokerage could never provide due to the fact that they are not subject to any rules. 
Available Trading Software at WinGroup
Even if this was a legitimate broker, we could not advise anyone to use their services as the trading platform that WinGroup provides is lacking, to say the least. 
This firm provides an extremely basic web trader that really feels like the skeleton of what will become a functional trading platform one day. This is a large drawback as the quality of the platform has a large impact on the decisions traders make. 
We suggest looking for a company that provides its investors with industry-standard trading platforms such as MetaTrader4-5. 
While there are good quality web traders out, there that have gone through years of development and offer a wide assortment of tools and customizations, that clients can utilize this is certainly not one of them.
Methods of Deposit and Withdrawal at WinGroup
WinGroup claim that they accept the following deposit methods: 
Credit Card 
Wire Transfer 
E-Wallets 
However, there is no way to verify this without creating an account with them and depositing the $250 that they require. 
It should be noted that lots of scam brokers "offer" all these legitimate payment methods while in reality, they try to push their clients into using untraceable and irreversible payment methods like cryptocurrency. 
When it comes to withdrawing your funds, WinGroup does a phenomenal job of making such a demanding and convoluted withdrawal system that it begs the question is getting the money is worth it. 
Part of how they do this is by making the withdrawal limit 20% unless the client in question has an extremely large turnover rate.
WinGroup Offers Bonuses 
WinGroup currently has a page on their website detailing their bonus policies but the whole thing just ends up showing that this is a scam broker. The bonus that they currently offer requires clients to reach a trading volume of 50 000 before they could make a withdrawal. 
This, of course, is followed by a line that states, "We reserve the right to refuse or void a bonus and/or profits in the event of funds being canceled or denied by any payment service or payment provider." 
Meaning that even if you were to meet the ridiculous bonus standards, they can still refuse to provide the mentioned bonus.
This Is How The Scam Is Implemented.
Investment scams, such as WinGroup, have a fairly cookie-cutter approach. The scammers run social media campaigns with the goal of presenting an offer that seems really good in exchange for a person's contact information like an email. 
After this, the goal is to get the victim to make the initial deposit. This is achieved by sending out increasingly better offers until the person in question caves and signs up for the "service".
Another component of the scam is making withdrawals realistically impossible by setting impossible-to-meet conditions for a full withdrawal of funds. 
WinGroup Summary
WinGroup is just another, in a long line of scam brokers, that attempt to use cheap tricks in order to scam investors out of their money.
This unregulated, illegitimate and secretive brokerage does not even disclose which country they are operating from nor does it even hint at any form of regulation that applies to them. 
Even if a trader was willing to overlook these massive red flags, the platform that this broker provides is so lacking in basic tools and functions that even if the brokerage got licensed we could still not recommend them. 
The trading platform provided by a broker is a key element when it comes to deciding who to invest your money with.
This, coupled with the myriad of other issues, such as the high minimum deposit and the predatory bonus policy, culminates in a warning to stay as far away from this broker as possible.
FAQs About WinGroup Broker
Is There A Minimum Withdrawal Amount at WinGroup?

The minimum withdrawal amount required by this broker is $100.
What Is The WinGroup Minimum Deposit Amount?

This brokerage has a minimum deposit amount of $250.
Do I have To Deposit Money for Registration?

Yes, this broker requires a deposit in order for a client to complete the registration process.