July 12, 2023
Reading Time:
6
min
XBPrime Review: A Few Facts You Should Know Before Trading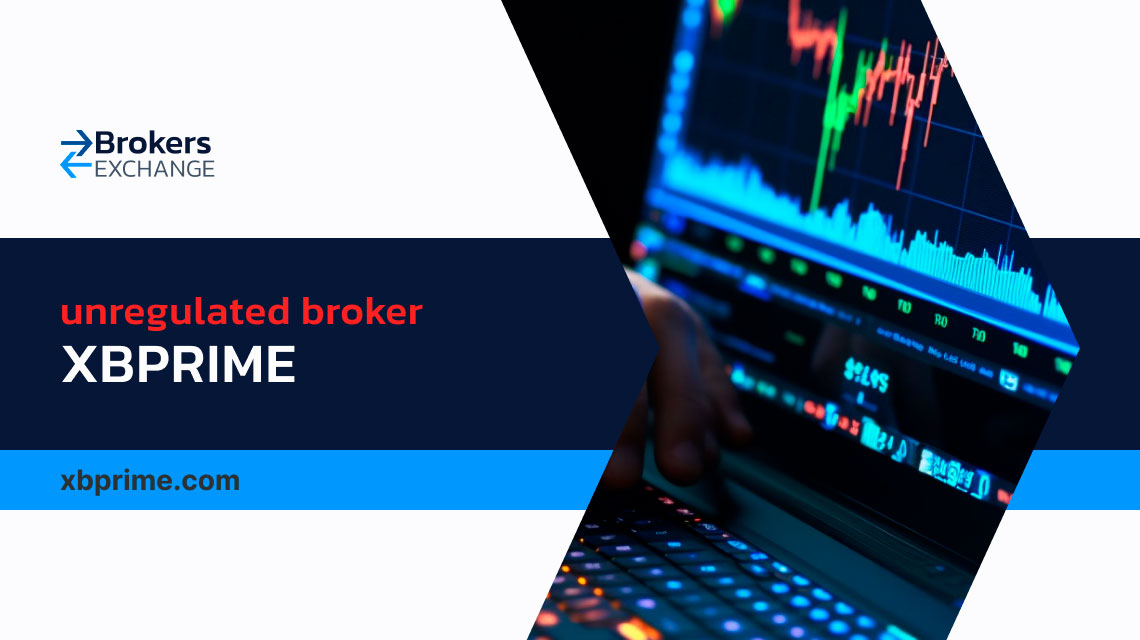 Is XBPrime Legit? Can you actually trade safely on this platform and make nice profits or is this just another offshore hoax designed to steal people's money in a duplicitous fashion?
Our XBPRime Review aims to answer those questions and shed more light on the background of this offshore broker just so you have a better understanding of what you're dealing with. Please read our text before investing any real money.
Why XBPrime Isn't Up To Par With Reputable Brokers
XBPrime is an offshore trading platform allegedly based in Seychelles. The broker's website says that this business is run by Market Financials Limited while all payment transactions are processed by a Cypriot-based company called M&N Equity Research Ltd.
The MT trading platforms are yet provided by a third entity called SPM Hypersonic Ltd. Right off the bat, we see that XBPrime has a lot going on, spraying doubt over the broker's legitimacy. 
Broker name
Reliable Broker Must Have
Legal name:

Market Financials Limited 

Transparently displayed in the disclaimer or legal documents

Regulation:

Offshore Broker

Within your legal jurisdiction – local regulator

Registered in:

Seychelles (allegedly)

Your country or the country whose license applies in your legal jurisdiction 

Established:

2018-02-26

The older the domain – the higher the possibility the company is trustworthy

Website:

xbprime.com

 

Domain should be from local or international zones, no .xyz etc.

Financial Authorities Warnings:

N/A

None

Contacts:

Phone, email, social media, web form

Phone, email, social media, web form

If withdrawal is possible:

Yes but not always

Yes

Fees:

1.2 pips/0.2 pips + 4$ per lot

Transparent fees – list of spread and commissions

If Active on Social Media:

Active

Often present on social media

Investor Protection:

No protection

Compensation fund
Regulation Info
Is XBPrime Regulated? Let's do some fact-checking to find out. XB Prime claims to be the trading name of MARKETFINANCIALS LIMITED, a company based in the offshore domain of Seychelles. 
This entity is registered with the Seychelles Financial Services Authority (fsa). However, the first thing we noticed is that the phone numbers do not match. The approved website domains differ as well, implying that there may not be a connection between this company and xbprime com.
Even if XBPrime were regulated by the FSA, it would not do much for the broker's reputation. Offshore regulations are not credible or strict enough to pass the basic criteria for a safe trading environment. For instance, to register a company in Seychelles, you would need a share capital of 50,000 $ whereas in Europe, setting up a brokerage requires 730,000 EUR.
The other two companies we mentioned – M&N Equity Research Ltd and SPM Hypersonic Ltd, are both incorporated in Cyprus but none of them are regulated by the local financial authority CySEC. Yet, these entities are supposed to process your payments and provide you with a "reliable" trading platform. 
XBPrime Profile
Trading platforms:

MT4, MT5

Account types:

XB Pro, XB VIP

Financial Instruments On Offer:

Forex currency pairs – EUR/USD, AUD/CAD, GBP/JPY…

Crypto – BTC, ETH, LTC…

Indices – S&P 500, DOW 30…

Commodities – gold, silver, oil…

Stocks – Apple, Google, Amazon…

Maximum leverage:

1:500

Minimum Deposit:

10 $

Commissions/bonuses:

4 $ per lot (XB VIP account)

Mobile app:

Available

Desktop app:

Available

Autotrading:

Available

Demo account:

Not available

Education or Extra tools:

Blog, glossary, trading news
XBPrime Forex and CFD trading can be performed on either MetaTrader 4 or MetaTrader 5 as the broker offers both platforms. Arguably the best software in the game, MT4 and MT5 offer a wide range of advanced tools such as automated trading and live market reports.
There are mobile versions of these platforms available on both Android and iOS systems. However, cutting-edge software does not quite compensate for the fact that XBPrime is not a regulated and honest broker so be careful.   
As far as trading instruments go, XBPrime offers Forex currency pairs, crypto tokens, and CFDs on popular assets such as indices, commodities, metals, and stocks. There are two live account types but no risk-free demo account, which is bad news. Legit brokers always offer a demo account. Also, on the XBPrime login screen, there is a corporate account option.
Trading Account Types
XB Pro:
Minimum deposit of 10 $;

Spreads from 1.2 pips;

Maximum leverage 1:500;

Islamic account available;

Zero commissions;
XB VIP:
Minimum deposit of 10,000 $;

Spreads from 0.2 pips;

Commissions 4 $ per lot;

Maximum leverage 1:500;

Islamic account available.
Is This Broker Safe?
XBPrime's regulatory status is still a huge issue in our eyes, which is why we do not believe that this brokerage is safe. Why would you risk it when you have so many better options?
We suggest you trade with onshore brokers with licenses issued by reputable top-tier authorities. The best jurisdictions for trading include the UK (FCA), the US (CFTC & SEC), Australia (ASIC), Singapore (MAS), etc.
You would thus be entitled to numerous benefits such as negative balance protection, safe leverage (1:20-1:50), segregated funds, and even a compensation scheme (i.g. 20,000 EUR). XBPrime is not likely to provide all those perks, which means the platform is not as safe as it should be.
If XBPrime tricked you and took your money, call us. Book your consultation with us today and we'll go through your case.
Trader Reviews – Sharing Experiences
At the time of this writing, XBPrime had 62 reviews on trustpilot.com with an average score of 4.6 (excellent). There is only one complaint. It shows that maybe XBPrime is not a "pure" scammer but still, we advise caution. Some traders lost money in a strange fashion after trusting this broker.
i Got a call from one of their "agents" and asked me to invest $10 000 the guy sounded like he knew what he was talking about we spoke about leverage on the platform etc. and how it could differ from other platforms took me straight to the webpage and it looked "authentic " so i told the guy i dont feel comfortable ill do $2000 and till this day i still havent been able to withdraw my money, called customer service and the agent, line went through to a guy in india that sells TikkaChicken. SCAM
WikiFX user, December 29, 2020.
How the XBPrime Platform Reaches Clients and Who Are They?
According to godaddy.com/whois, the XBPrime website domain was created on February 26, 2020. Since then, the offshore broker has mainly been offering services to traders from the following countries:
Portugal;

Brazil;

Argentina.
Spanish and Portuguese speakers mostly, which is a pretty large audience. XBPrime is also active on social media (Instagram, Facebook, Twitter, and LinkedIn). The phone number provided is not the same as the one that belongs to Market Financials Limited of Seychelles. Be careful with this platform but stay away from VoyaFX. 
If you are a victim of the XBPrime Scam, allow us to help you recover your funds. Book your consultation today.
Deposits and Withdrawal Methods
The XBPrime minimum deposit is 10 $, which is in line with what a legit broker would charge you for the most basic account type. For an ECN-type account, you would have to deposit 10,000 $. The available payment methods include the following:
Credit/debit cards;

Wire transfers;

E-wallets (Skrill, AstroPay, etc.);

Cryptocurrencies.
As for the deposit and withdrawal fees, they do exist but XBPrime did not disclose the concrete amounts that it charges on each deposit or withdrawal. Furthermore, the broker says that "the Company reserves the right to impose withdrawal limits on your withdrawal requests at any time," which is definitely not something you want.
Reasons To Avoid This Company
The most obvious reason would be the discrepancy regarding the legal status of XBPrime and the fact that this broker operates offshore. More reasons to avoid this platform would be the lack of a demo account and the undisclosed deposit and withdrawal fees.
The MT trading platforms are provided by an entirely different company while all payments are processed by a Cypriot-based entity that is not regulated by CySEC. Some traders had withdrawal issues with XBPrime so we suggest you find a more reliable provider.
We can help you there and we can also offer our fund recovery services.
Our Safe Trading Experts' Opinion on XBPrime
XBPrime is an offshore broker with a shady background and no credible trading license. This platform has been active since 2020, offering services mainly to traders from Brazil, Portugal, and Argentina.
If you want our opinion, we are not fond of this broker and would not recommend this platform to any trader. Instead, you should find a provider that operates under a well-known jurisdiction under the watchful eye of a reputable financial market regulator.
If you need help choosing the right broker that fits your trading style and preferences, contact us today!
FAQ Section
Is XBPrime Regulated?
XBPrime claims to be regulated by the Seychelles FSA. Anyways, this platform is not safe. Offshore jurisdictions are not trustworthy.
What Is XBPrime?
XBPrime is a dubious offshore trading platform offering Forex, CFD, and crypto trading. If this broker deceived you, contact us for help.
What Are XBPrime Trading Platforms?
XBPrime offers MetaTrader 4 and MetaTrader 5, two of the best platforms in the industry. However, we don't recommend this broker.