March 01, 2023
Reading Time:
4
min
Zeta Trade Review: Stay Away From ZetaTradeForex.Com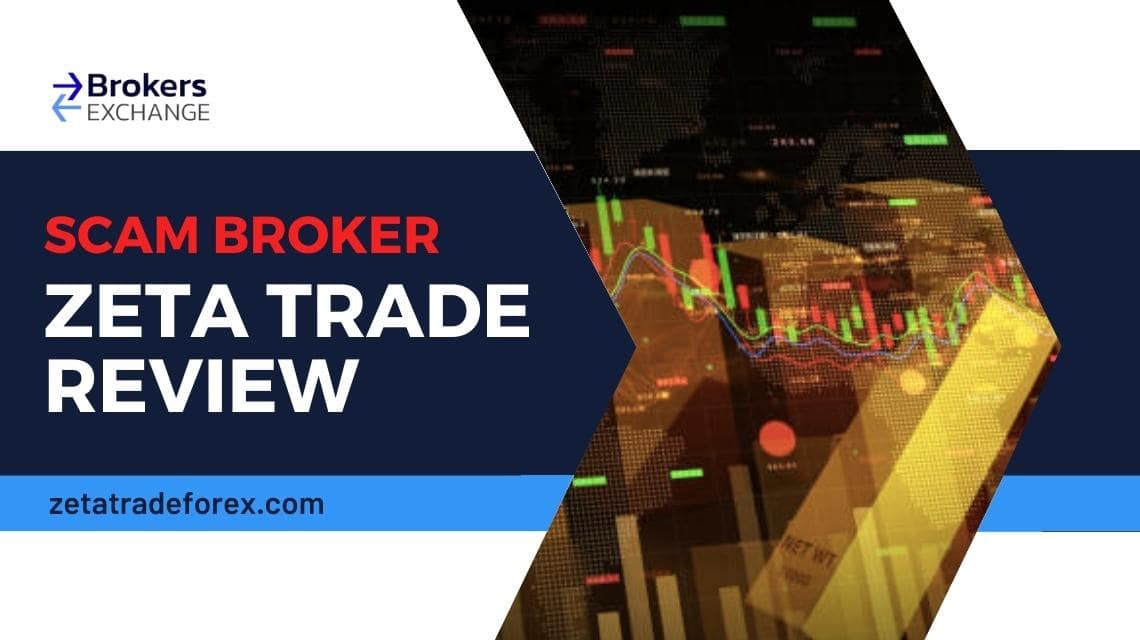 Name of P24O as the owning company of Zeta Trade immediately forces us to be cautious when dealing with this site. You see, P24O is an infamous fraudulent company that managed to get itself on the blacklist of the MFSA (The Malta Financial Services Authority):  
Due to missing regulatory directives and legal framework as basics of their operation, Zeta Trade is just a piece in the great scamming scheme run by P24O.
Although confident in their lies about being regulated by several financial authorities, Zeta Trade is actually a fake broker and holds no licenses. The website and confident presentation of the trading conditions may look credible at first. That's why our Zeta Trade review is here to clear all doubts and introduce you to the way bogus brokers work.
| | |
| --- | --- |
| Company | P24O |
| Website | ZetaTradeForex.Com |
| Address | Malta/US |
| Email | [email protected] |
| Phone | +12345660987 |
| Minimum Deposit | $300 |
| Leverage | 1:100 |
| Bonuses | N/A |
| Regulation | Unregulated |
| Warning | MFSA |
How Are You Safe at Zeta Trade? Regulation and Security
There are many claims that Zeta Trade makes about regulations and security principles. For instance, the site shamelessly states to have licenses from BaFin, MFSA, FCA, AMF and CONSOB. Since we couldn't just take those statements for granted, we went on to check their legitimacy. 
Scanning the mentioned databases for the name of P24O proved our doubts right. Zeta Trade is not only unregulated by any financial authority at all, but the owning company was also blacklisted, by none other than MFSA, whose license they claim to hold. 
As evident from the link we provided in the introduction to this review, P24O claims to provide world-class online trading services and products without a proper certificate. Not only that, but the company performs transactions they do not have a permit for.
To be granted permission to offer clients to buy and sell financial products online, a broker has to be regulated by a jurisdictional authority. Licenses from top EU regulators like BaFin, AMF, and CONSOB would mean that Zeta Trade is providing segregated bank accounts, negative balance protection, and compensation funds. 
Moreover, this broker would have to limit their leverage to 1:30 most and ban bonuses. Aside from those general rules, ESMA enforces MiFID – a particular set of criteria that forces brokers to be fully transparent and protective of their customers. 
How this company operates and runs its unscrupulous business is quite dissimilar to how licensed brokerage houses conduct their business.  
An Overview of Trading Software
First attempt at opening an account at Zeta Trade we made ended in error 404. After several more tries using different links, we finally managed to become a Zeta Trade client. 
The broker supposedly gives its investors a chance to win big by trading on the famous MetaTrader 5. In truth, the only even remotely decent trader was nowhere in sight. 
What we came to learn is that the download links for MT5 are broken, and Zeta Trade is only making up everything about their trader. The trading terminal at Zeta Trade is a poor excuse for a platform with simple, unresponsive distribution. 
If Zeta Trade was a decent and honest brokerage business, they wouldn't need false claims to attract clients. The legal standards wouldn't allow them to sell lies to clients and they would have to provide a functional trading terminal.
Funding Procedure at Zeta Trade
Since Zeta Trade practices the fabrication of false information to manipulate clients, the depositing and withdrawing procedure is no different. The funding page advertises several methods of performing transactions: 
Bank Transfer
Credit Cards 
Bitcoin
E-wallets – Neteller, Skrill, Yandex Money, QiWi Wallet and Webmoney
Of course, Zeta Trade forces clients to believe all transfers are instant and safe. The broker even goes on to convince you that all deposits and withdrawals are free of charge, as well. 
What really works in reality at Zeta Trade shouldn't surprise you. We wouldn't be shocked to see crypto depositing as the only available method, while withdrawals do not work at all. Unfortunately, we cannot confirm any of that, as Zeta Trade didn't even allow us to open a live trading account. 
As for deposit requirements, clients have to choose between weekly and monthly investment plans. All ridiculously and unreasonably expensive, these payment plans do not provide any of the services they promise. 
You will only put your money on the line for several promises and false statements. From as low as $300 up to $1.000.000, investment plans offer different bonuses, supposed returns and numerous other completely fictional services.  
How is the Scam Carried Out?
As naive and friendly as it seems in the beginning, your business with Zeta Trade will soon turn into a real nightmare if you decide to invest here. Pleasant and welcoming, Zeta Trade agents have the skill and verbal power to make a novice trader believe just about anything. 
The point is to drag you into the investment trap that you can hardly manage to pull yourself out of. By pushing you into more and more investments and encouraging you to make new bad decisions, they will slowly deplete your capital. 
With the excuse of possible winning, Zeta Trade scammers, or so-called personal account managers, will get ahold of your investments and distribute them how they wish. You will believe you're the winner while your money is landing in the fraudster's pocket. 
The real truth might not reveal itself until you try to withdraw some of that big fat money you've supposedly accumulated. Only then will you face the fact that your life savings are stolen and you are left penniless?
Zeta Trade Summary
Unregulated by the same entity they claim to have a license from, Zeta Trade is on the list of unlicensed companies in Malta. MFSA has recognized the Zeta Trade-owning company as a scammer engaged in unscrupulous activities with the goal of defrauding clients. That was the very reason that made MFSA blacklist this agency. 
If you ever doubt your broker of choice, feel free to double-check them with your jurisdictional financial authorities. Not always blacklisted, some fraudulent firms remain on the Forex market in constant search of new victims. 
To protect your funds and avoid becoming their next target, you have to do thorough research. Only after you've gathered enough data on a brokerage site, should you start thinking of putting real money on the line.  
FAQs About Zeta Trade Broker
Is my Money Safe with Zeta Trade?

Considering the fact that Zeta Trade is an unscrupulous con artist with tendencies to fabricate lies and false information, your investments are not safe.
Does Zeta Trade Offer Demo Account?

Demo accounts with virtual funds are not available at Zeta Trade, although the broker claims otherwise. You will have to open a live trading account and invest first before trading.
What Is The Minimum Deposit at Zeta Trade?

Cheapest investment plan at Zeta Trade costs $300.