October 31, 2023
Reading Time:
4
min
Zignaly Review: A Comprehensive Look at the Crypto Trading Platform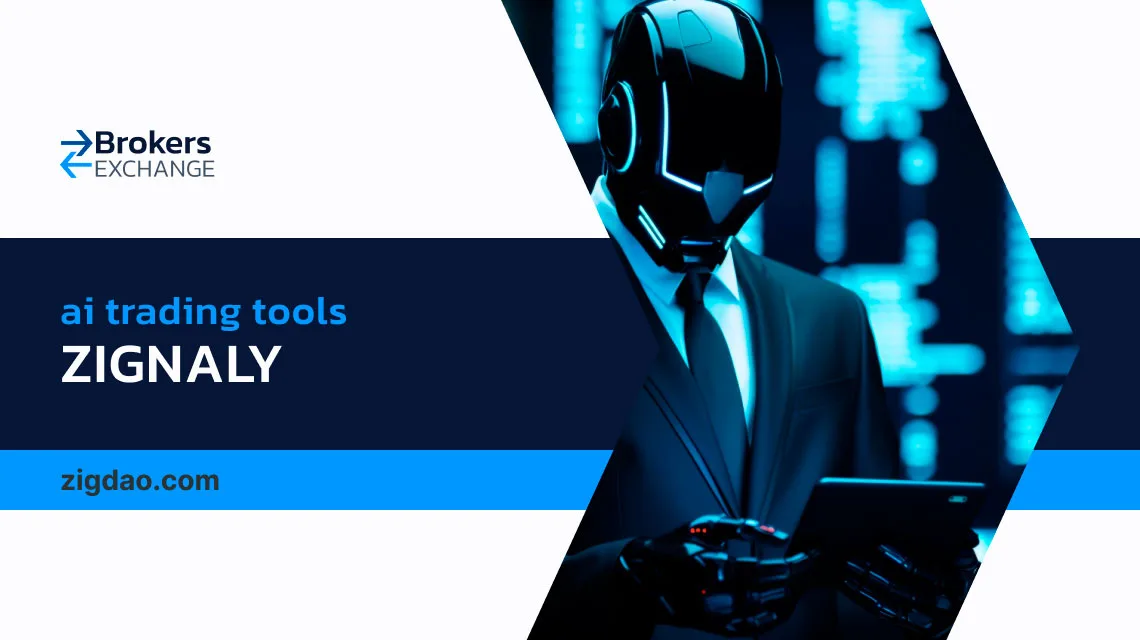 Trading comes with a great risk and to make things easier, many companies invented auto trading bots to assist traders in overcoming the financial markets. However, auto trading can be an even greater risk when using unreliable companies. Our Zignaly review will evaluate the company and its features, so you can see whether or not they are a good choice for you. 
Cryptocurrency trading is the most popular nowadays, so make sure to always be aware of potential risks. Keep reading to learn more about Zignaly and cryptocurrency trading in general, and don't forget to check our BetterTrader review as well. 
Who Is Zignaly?
Zignaly is a platform for trading cryptocurrencies that provides automatic trading and copy trading options. Users can use trading signals and methods to automate their trading operations by connecting their Bitcoin exchange accounts. Users of Zignaly can also mimic and follow the trading tactics of seasoned traders. 
According to the information on WHOIS, the domain was registered in 2018 and the year matches with the company's LinkedIn profile. Another interesting thing we found on the LinkedIn profile is that they are headquartered in Singapore. Zignaly launched the ZIG token and plans to become a DAO, and then rebranded as ZIGDAO.
| | |
| --- | --- |
| Company Type | AI Trading Tool |
| Legal name | Zignaly  |
| Regulation | Unregulated |
| Registered in | Singapore, Singapore 648315, SG |
| Established | 2018-02-26 |
| Website | www.zigdao.com  |
| Financial Authorities Warnings | |
| Contacts | |
| Fees | |
| If Active on Social Media: | Yes |
| Investor Protection: | None |
| Activity areas | Turkiye, United States, Pakistan, India, Germany |
| Main threats | Unregulated |
| Main perks | A large pool of signal providers |
Regulation Info
Zignaly is not a regulated financial institution or cryptocurrency exchange. Cryptocurrency regulation varies from nation to nation, and many cryptocurrency trading platforms and services operate without specific regulations. 
However, it's still vital to choose regulated platforms and brokers to ensure the safety of your investments. Regulatory oversight is not usual with platforms like this but it would still give you peace of mind knowing that your investments are safe and secure. 
ZIGDAO, the old name of Zignaly, is not in charge of your money. They are safeguarded by their SAFU and maintained by Binance. They also have multiple security levels in place to prevent unauthorized users from accessing your account. Your account or the management provider of your choice holds all of your money securely.
Zignaly Profile
Zignaly copy trading allows traders to replicate the trading strategies and actions of experienced traders in real time. This is very convenient for beginners who have a lack of knowledge and want to learn more from seasoned traders. The average investment is around $200, but there isn't any minimum.
By contributing money to a managed pool, you can invest alongside novice traders through Zignaly's profit-sharing feature. You get a portion of any earnings. This enables you to diversify among different merchants. You can access a marketplace of traders whose positions you can imitate by using the copy trading tool.
Trading Platform

Zignaly

Account Types

N/A

Available Exchanges

Binance
KuCoin
Bittrex
Poloniex
BitMEX

Features on offer

Copy Trading
Trading Bot
Trading Terminal

Maximum leverage

N/A

Minimum Deposit

No minimum, however, the investment should be at least $200

Commissions/Bonuses

N/A

Mobile app

Yes

Desktop app

No

Autotrading

Yes

Demo account

No

Education or Extra tools

Crypto videos and tutorials
Is Zignaly Safe?
If we consider all things, like the security concerns, several unfavorable reviews, and lack of transparency, Zigdao doesn't seem like a safe platform. They are unregulated and regulatory oversight would be much appreciated when there are so many claims concerning the safety of the platform. 
Additionally, there are multiple reports about strategies from pro traders leaking on social networks and reports about slow customer service. Overall, this firm is not as safe as some other, better alternatives. Make sure to always investigate the firm you want to use to avoid brokers like Trading.com. 
Traders Share Their Experiences
A total of 124 comments are found on Trustpilot about Zignaly, giving the firm an overall score of 3.3 stars. The majority of reviewers think the platform is a good choice, however, almost 30% of the reviews are unfavorable. 
One trader complained that the CEO of the company stole the $500 that remained in his account until Profit Sharing 1.0 closed. The CEO said he couldn't do anything and would not refund the money.
Several reviews from traders are not happy with the service, and some of them even accuse the platform of a scam. Trustpilot reviews are not the most reliable source of information because they can be fabricated, so it can be helpful to read Zignaly Reddit discussions before committing. 
Deposits and Withdrawal Methods
Zagdao permits the trader to liberate funds to withdraw at any time. You still have to wait until the daily settlement once the funds are available, but it takes less than 24 hours. As for depositing, the only accepted methods are credit/debit cards and cryptocurrency. 
After you are on your 'Balances' tab, you can easily create deposits and withdrawals by clicking on the plus and minus symbols. The Zignaly app is user-friendly, so it won't be difficult to request a withdrawal or deposit your funds. 
Weighing the Pros and Cons
Pros
Cons

No minimum deposit 

User-friendly

Mobile app

Educational resources

Security concerns

Lack of transparency

Slow customer support 

Strategies are leaked on social platforms
Can I Make Money While Trading Online?
When thinking about high-risk investments like cryptocurrency and cryptoassets, be cautious. Their value is subject to sudden and dramatic fluctuations. Only money that you can afford to lose should be invested. Risk management, discipline, strategy, and education are just a few among many other factors to consider before starting to trade. 
That is why we advise you to give us a call because our AI Analysis Bot can help you elevate your trading skills by providing insightful recommendations. AI.F identifies patterns in similar historical moments and stays up-to-date with the latest news, both present and past.
Consider using AI.F in your approach to obtain a competitive edge if you're serious about enhancing your trading success. We offer a 14-day free trial for the first 100 traders who reach out. Start your profitable trading journey now!
FAQ Section
How Much Does Zignaly Charge for Trading?
Opening an account on ZIGDAO is free; the only money you have to pay is a performance charge, also known as a success fee, which is a portion of the money you make from the various services. So overall, Zignaly price is free.
Can I Trade Without An Investment?
No, to trade, you usually need to have some beginning capital. Trading is a type of financial activity where you purchase and sell securities or assets, like cryptocurrencies, to generate money.