September 06, 2023
Reading Time:
5
min
500 Markets Review: Think Twice Before Investing with This Broker
Starting with trading can be very stressful due to many reasons. It might all be overwhelming, you might not know what to do in certain situations, and you need a good broker to help you with all that. 
But can 500 Markets do that, or will it lead you to ruin? This is exactly what we aim to answer in our 500 Markets review, so stick around, and let's uncover the truth.
| | | |
| --- | --- | --- |
| | Broker name | Reliable Broker Must Have |
| Legal name: | N/A | Transparently displayed in the disclaimer or legal documents |
| Regulation: | Unregulated | Within your legal jurisdiction – local regulator |
| Registered in: | UK (possibly) | Your country or the country whose license applies in your legal jurisdiction  |
| Established: | 2022 | The older the domain – the higher the possibility the company is trustworthy |
| Website: | 500-markets.com | Domain should be from local or international zones, no .xyz, etc. |
| Financial Authorities Warnings: | No | None |
| Contacts: | N/A | Phone, email, social media, web form |
| Is withdrawal possible: | Highly unlikely | Yes |
| Fees: | Hidden fees | Transparent fees – list of spread and commissions |
| If Active on Social Media: | No | Often present on social media |
| Investor Protection: | No | Compensation fund |
Regulation Info
A legitimate license is the all-important item for every broker. The problem with today's broker is that we do not know who stands behind the 500 Markets company. In fact, we barely know anything directly from the source because their website has been shut down, which is a major red flag!
You can look at it this way – a broker should be like any other business. If they are legit, they should have a fully operational website, with all the necessary information for their customers. 500 Markets does not have one and since we cannot confirm their identity in any way, we are advising you to stay away from them!
500 Markets Trading Conditions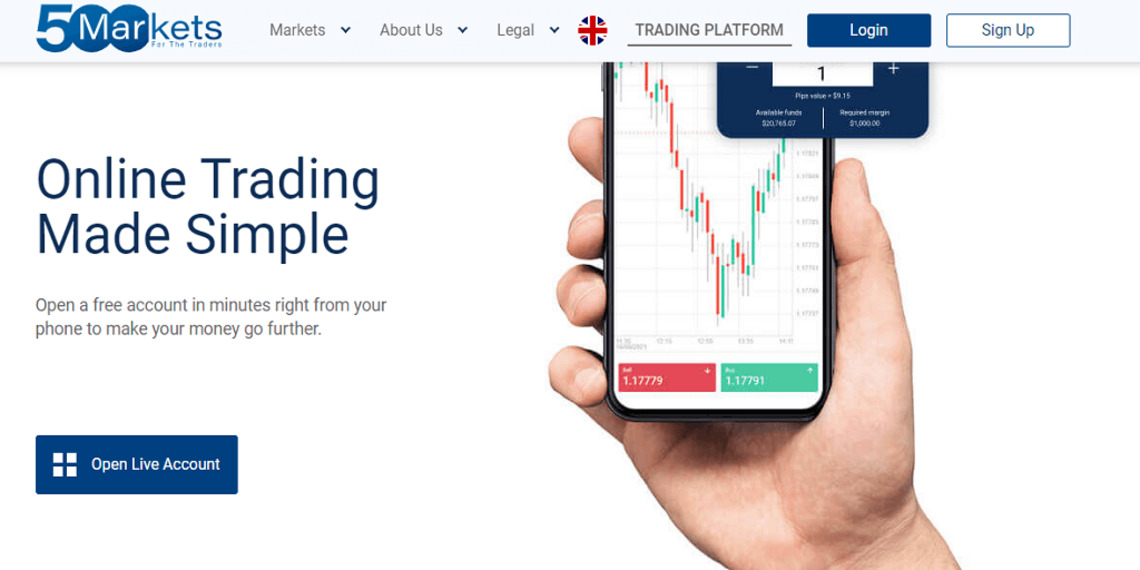 With limited information from the broker, we had to gather details on their trading environment from other sources.
Firstly, 500 Markets uses a WebTrader, which is far from ideal. We say that because those types of platforms can easily be manipulated, tricking the traders into thinking they are making profits, while their money is being stolen. You can also download the 500 Markets brokerage trading platform on your mobile phone to take trading on the road.
Next, the broker offers two account types – the Starter and the Pro ones. The 500 Markets price for opening one is allegedly $250 and the deposits should come free of charge. There is even a demo account.
When it comes to available instruments, reviewers have different opinions. The ones that are most usually mentioned include Forex pairs, CFDs, and cryptocurrencies, with some writers adding metals as well. We tried to get info on 500 Markets spreads as well, but came back empty-handed.
Trading platforms:

WebTrader

Account types:

Starter

Pro

Financial Instruments On Offer:

500 Markets Futures

500 Markets Stock

500 Markets Index

500 Markets Cryptocurrencies

Maximum leverage:

N/A

Minimum Deposit:

$250

Commissions/bonuses:

No

Mobile app:

Yes

Desktop app:

No

Autotrading:

N/A

Demo account:

Yes

Education or Extra tools:

Yes
Is This Broker Safe?
In order to know if 500Markets is safe, we need to define how we determine that. The biggest determiner is the license, and since we could not find this broker in any of the major regulator's registers, we conclude they are very dangerous.
Some reviews say you can trust the broker, but we cannot, in good conscience, say that when the broker shut down its website and the owner's identity is hidden on WHOIS. This reeks of a scam and we strongly suggest you do not approach this broker.
But just like we said when reviewing STB Markets, do not let this scammer ruin trading for you! There are many brokers you can trust, you simply haven't found them yet, and we can help you with that. Contact us today for your free consultations and let us do the heavy lifting for you.
Trader Reviews – Sharing Experiences
A thorough search for trader reviews about this broker yielded the expected results. We found the broker on Trustpilot and there were a lot of 500 Markets complaints there. The broker has a 1.5 rating and 49 people left their comments on the scammer.
One dissatisfied Briton had this to say about the fraudster:
"500 markets are happy to take your money, they will contact you [ various people ] asking you to invest more money without explaining how everything works, Read their terms and conditions. they will not abide by them. I have been trying to get my small investment back but still no sign of it and no replies to my emails."
Another unhappy client mentioned:
"I thought I had done enough research but I have been scammed by 500-Markets. They encourage you to make a small investment with big promises. Then they up the investment amount but you get profits! Or so it seems. Then suddenly you have a huge win which they need you to send fees to release the funds."
How Does the 500 Markets Platform Reach Clients and Who Are They?
According to the reviews and additional research we did, 500 Markets' victims mostly come from the UK. The Trustpilot comment section is almost exclusively made up of British traders, so Brits beware!
Moreover, some of the reviews gave us info on how the broker's platform reaches potential clients. They said the 500 Markets representatives contacted them directly, which is something only shady brokers do. Remember this – legitimate brokers let their reputation and trading environment do the talking and they do not have to chase you to trade with them!
Deposits and Withdrawal Methods
We were surprised to find pretty conclusive information on available payment methods across the board. The broker accepts the following:
Wire transfers

Visa

MasterCard

Bitcoin

WebMoney

Skrill

Neteller

Sofort

Qiwi
However, there were no specific details on the 500 Markets commission, only that the broker charges it and that you have to fulfill a certain trade volume requirement to withdraw your money.
Reasons To Avoid This Company
Everything about 500 Markets begs you not to invest with them. They are as good as anonymous without a working website, and since you cannot confirm who they are and if they are regulated, 500 Markets investing is not an activity you should participate in. Giving them money is as safe as giving it to StarTrader, which is to say not safe at all.
Our Safe Trading Experts' Opinion of 500 Markets
After careful research and consideration, we conclude that 500 Markets is a complete scam. They did not show us anything that would make us trust them, so it is best to avoid them.
But our 500 Markets review won't leave you completely dry. We are here to help you get on your feet in Forex trading and we can do that with our free consultations. So send us an email today, and let's find you the perfect broker!
FAQ Section
Is 500 Markets Trustworthy?
No, 500 Markets is not trustworthy. We have so little information on them that it would not be wise to invest with them.
How do I get into Forex trading?
Firstly, you should become knowledgeable about the market. Learn what you can trade, how trading works, and how to do it safely. After that, you should find a reliable broker to partner with, and this is where we come in. Contact us, and we will provide you with a free consultation where we work together to find you the perfect broker for your needs.
How can you help me find a good broker?
The most important service we do for you is personalizing our recommendations. When you come to us, we consider everything – your needs, skills, budget, etc. and then form a list of what we think are the best brokers for you. And the best thing of all is that our consultations are completely free.