July 16, 2023
Reading Time:
6
min
Alchemy Prime Limited Review: Bypassing FCA Regulations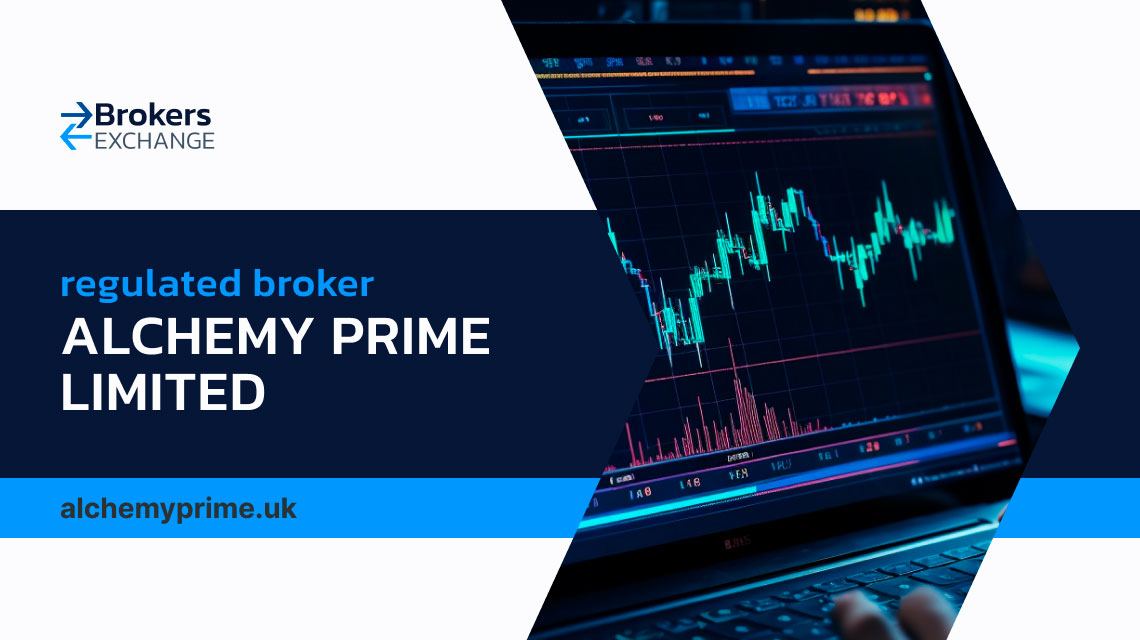 Alchemy Prime Limited is a UK-based trading company and part of the larger Alchemy Group, which operates both onshore and offshore. This company was incorporated in September 2013 and has been registered with the local regulator, the Financial Conduct Authority (FCA), since 2014.
However, many traders claim that they have been scammed by this licensed and seemingly "clean" broker so we decided to investigate. Please read our Alchemy Prime Limited Review to learn the truth about how this enterprise misleads clients.
Some Basic Information About Alchemy Prime Limited 
The Alchemy Group was founded in the United Kingdom, gathering experts who have been trading in the financial market since the 1970s. This entity has several branches, based both in the UK and offshore in domains such as Seychelles and the British Virgin Islands. Alchemy's clients can trade Forex, CFDs & futures, and cryptocurrencies on a cutting-edge trading platform.
The alchemyprime.uk domain is approved by the FCA. But the company has another branch, operating offshore from Seychelles – Alchemy Markets (alchemymarkets.com). Keep in mind that the latter is especially risky for trading as it is based offshore where the regulations and laws are pretty lax. 
Broker name
Reliable Broker Must Have
Legal name:

Alchemy Prime Limited

Transparently displayed in the disclaimer or legal documents

Regulation:

Regulated (FCA)

Within your legal jurisdiction – local regulator

Registered in:

UK

Your country or the country whose license applies in your legal jurisdiction 

Established:

2013-09-20

The older the domain – the higher the possibility the company is trustworthy

Website:

alchemyprime.uk

 

Domain should be from local or international zones, no .xyz etc.

Financial Authorities Warnings:

N/A

None

Contacts:

Phone, email, web form

Phone, email, social media, web form

Is withdrawing funds possible:

There may be issues

Yes

Fees:

Around 0.2 pips + 5 GBP per lot

Transparent fees – list of spread and commissions

If Active on Social Media:

Not active 

Often present on social media

Investor Protection:

Financial Services Compensation Scheme (FSCS)

Compensation fund
Regulation Info
Is alchemy prime regulated? The answer is yes, alchemy prime limited is regulated by the UK's FCA, one of the greatest financial market watchdogs in the world. So why is the broker controversial? Perhaps the traders that were done dirty simply haven't filed a complaint with the FCA.
Or, could the company be redirecting traders to another platform? As we already mentioned, the Alchemy Group has several branches, some based offshore. The Alchemy Markets Seychelles platform appeared on the warnings list of the Spanish regulator, the CNMV.
Oddly, the CNMV removed the warning from its website but we were able to find it. The Belgian FSMA reposted the Spanish watchdog's warning against alchemymarkets issued on July 4, 2022. Something fishy was going on.
Nevertheless, we read many complaints against alchemyprime, which is why this platform may not be the best choice for trading. There are many other FCA-regulated brokers with an untarnished reputation. Please stay away from offshore providers.  
Top-tier regulators such as the FCA (UK), CFTC (US), ASIC (Australia), CySEC (Cyprus), CNMV (Spain), etc. require brokerage companies to possess a substantial minimum operating capital (i.g. 730,000 EUR or 1,000,000 AUD), offer clients negative balance protection, a segregated account, and even a compensation scheme (i.g. up to 85,000 EUR from the FSCS).
Alchemy Prime Limited Profile
Trading platforms:

MT4

Account types:

Classics, Premier, VIP

Financial Instruments On Offer:

Forex currency pairs – EUR/USD, GBP/JPY, AUD/CAD…

Indices – S&P 500, AUS 200, NIKKEI 225…

Commodities – gold, natural gas, crude oil…

Stocks – Apple, Barclays, Google… 

Crypto – BTC, ETH, LTC.

Maximum leverage:

1:200

Minimum Deposit:

5,000 USD

Commissions/bonuses:

5 GBP per lot

Mobile app:

Available

Desktop app:

Available

Autotrading:

Available

Demo account:

Not available

Education or Extra tools:

Available
Alchemy Prime Limited offers a white label MetaTrader 4 trading platform solution for brokers and other financial institutions looking to build and grow their Forex and CFD business. 
The platform setup fee is 5,000 USD, and the monthly fee is 1,000 USD (excluding the mobile platform). The mobile platform setup is free but there is a monthly fee of 1,000 USD, available upon request. As you can see, the staggering setup and monthly fees exhibit Alchemy Prime's hostility toward novice traders.
When it comes to trading instruments, alchemy prime offers CFD & futures contracts on Forex currency pairs, cryptocurrencies, and CFDs on indices, stocks and commodities.
Alchemy Prime Limited Trading Account Types
Here's an overview of the Alchemy Prime Limited account types:
Classics:

Minimum deposit of 5,000 USD;

Leverage up to 1:30;

Spreads from 0.2 pips;

Commissions 5 USD per lot;
Premier:

Minimum deposit of 10,000 USD;

Leverage up to 1:200;

Spreads from 0.2 pips;

Commissions 5 USD per lot;
VIP:

Minimum deposit of 50,000 USD;

Flexible leverage;

Spreads from 0.2 pips;

Commissions 5 USD per lot.
The Classics account is a retail type, meaning that it must respect the FCA's rules regarding the leverage cap (1:30). On the other hand, the Premier and VIP accounts are professional/corporate types, meaning that it is possible to use much higher leverage. Keep in mind that extremely high leverage is risky and often results in losses.
As for the trading conditions, Alchemy Primeforex offers pretty competitive spreads starting around 0.2 pips for the EUR/USD benchmark pair and charges 5 USD per trading lot for Forex.
However, favorable trading conditions are one thing but charging high fees for the platform is not cool. The alchemy prime login page does not offer a risk-free demo account option, which is a red flag.
Is This Broker Safe?
This broker is not safe at all, despite being regulated by the FCA. It is a sophisticated scheme and we are sure that the British regulator will intervene and prevent Alchemy Prime's wrongdoings.
To reiterate, this platform is definitely not beginner-friendly considering the huge setup and monthly fees plus the minimum deposits for each live account type. The offshore branch is a big issue, avoid it at all costs. Avoid Legend Trading as well.
If you lost money to Alchemy Prime Limited, we can help you recover it. Book your free consultation with us today.
Trader Reviews – Sharing Experiences
This section will best show why Alchemy Prime is not a reliable broker. On wikifx.com, we found several complaints against the monkey business of the Alchemy Group enterprise. Traders stressed that they were having withdrawal issues. Please heed these warnings before investing in Alchemy Prime.
 I don't recommend this broker. The minimum deposit amount is extremely high than I have ever seen before…
WikiFX user, November 24, 2022.
Ponzi Scheme that unable to withdraw. The real address is not existed. Please stay way from Ponzi Scheme.
WikiFX user, May 19, 2022.
How the Alchemy Prime Limited Platform Reaches Clients and Who Are They?
Alchemy Prime Limited was incorporated on September 20, 2013. Since then, the broker has been active, offering trading services mainly to traders residing in the following countries:
According to similarweb.com, the offshore Alchemy Markets domain averaged around 18k visits in the last three months. Surprisingly Alchemy Prime is not active on social media. The only ways of communicating with the broker are phone calls, emails, and web forms.  
Deposits and Withdrawal Methods
The Alchemy Prime minimum deposit is 5,000 USD, which is pretty high compared to what other, more favorable platforms require. As for the payment methods used for depositing and withdrawing funds, Alchemy Primeforex included several options:
Credit/debit cards (Visa, MasterCard);

Wire transfers;

E-wallets (Skrill, Neteller);
The same method that was used to deposit funds is usually required to execute withdrawals as well. Alchemy Prime did not specify the deposit and withdrawal fees but the monthly platform fee is 1,000 USD, which is a lot.
Reasons To Avoid This Company
Nobody likes reading negative reviews about the platform they are interested in. Withdrawal issues and Ponzi scheme accusations are not pleasant either. Last but not least, an expensive platform and fees never did any novice any good. Those are legit reasons to avoid Alchemy Prime Limited.
The offshore branch is another argument for why this company is not reliable. Even regulated brokers are sometimes associated with issues. Just recall Conotoxia. If you believe that you are a victim of this company, please file a complaint with the FCA and request compensation from the FSCS.  
Having withdrawal issues with Alchemy Prime? We can help you retrieve your funds.
Our Safe Trading Experts' Opinion on Alchemy Prime Limited
To sum up, Alchemy Prime Limited is a UK-based company that offers trading services. This company has been active since 2013 and has been regulated by the FCA since 2014. So is alchemy prime limited legit?
It seems that this company runs a scheme via an offshore subsidiary, which misleads traders and prevents them from withdrawing funds. We do not recommend you trade on this platform. For any problems regarding recovering your money from Alchemy Prime Limited, please book a free consultation with us.
In order to reverse your transaction, you need to request a chargeback at your issuing bank within 540 days. Our team will gladly explain how the chargeback works and guide you through the entire procedure. 
Book your free consultation today and start the chargeback process.
FAQ Section
What Is Alchemy Prime Limited?
Alchemy Prime Limited is a company founded in the UK that offers Forex trading services.
Is Alchemy Prime Limited Regulated?
Alchemy Prime Limited is regulated by the UK's FCA. If you've been deceived, you should file a complaint with the FCA. We can help you there.
Who Owns Alchemy Prime Limited?
Alchemy Prime Limited is part of the Alchemy Group. Here you can see the list of directors who manage the company - gov.uk.