July 05, 2023
Reading Time:
6
min
Conotoxia Review: Is It the Right Choice?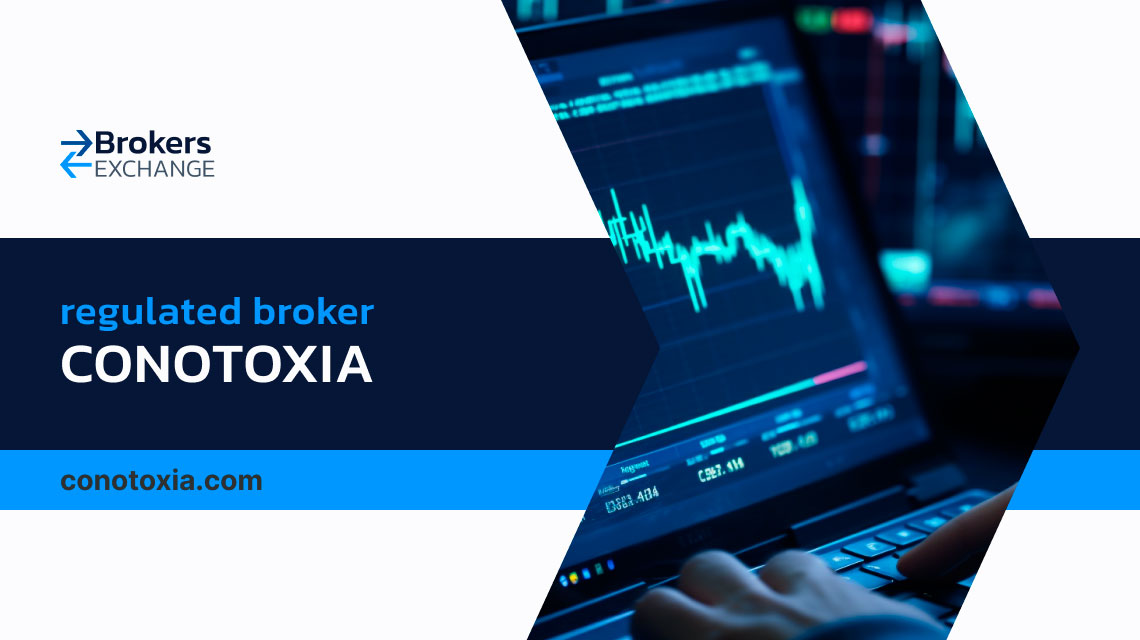 Whether or not Conotoxia is the right choice for you will depend on your individual needs and preferences. Finding a good broker that will suit your trading preferences can be challenging, so that is why our Conotoxia review will tell you everything you need to know. 
Don't forget to check our NCM Investment, Errante Broker, and IForex reviews.
What Is Conotoxia? All About Conotoxia com
Conotoxia Holding or Conotoxia Inc is a financial technology (fintech) company that offers a variety of financial services, including foreign exchange trading, currency exchange, money transfers, and multi-currency cards. The company was founded on the 30th of September, 2015, and is headquartered in Limassol, Cyprus. 
Conotoxia
Legal name:
Conotoxia Holding Group
Regulation:
Regulated by CySEC and KNF 
Registered in:
Chrysorroiatissis 11, 3032 Limassol, Cyprus
17B Wroclawska Street, Zielona Gora, Poland401 N Michigan Ave P.O. Box 81320, Chicago, IL 60681
Established:
30 Sep 2015
Website:
www.conotoxia.com 
Financial Authorities Warnings:
None
Contacts:
1-800-980-5766, +357 250 300 46, +48 68 410 99 50

Skype username: cinkciarz.pl_cc

If a withdrawal is possible:
Yes
Fees:
conotoxia.com/currency-exchange/transaction-cost-and-time 
If Active on Social Media:
Yes
Investor Protection:
Segregated accounts, Regulation, Encrypting data
Is Conotoxia An ECN Broker or Market Marker?
Conotoxia is a market maker broker. This indicates that it establishes its own market for trading currencies and other financial assets. An order you put with a market maker broker will result in that broker taking the opposing position in your transaction. The broker will sell you EUR/USD, for instance, if you decide to buy EUR/USD.
Conotoxia Regulation and Security
Trademarks connected to the same group of businesses under the Conotoxia Holding Group include Cinkciarz and Conotoxia. The following subsidiaries of The Holding do business:
The Polish National Bank has Cinkciarz.pl, Sp. z o.o. on file under the registration number 8808/2010. Address for office: 17B Wroclawska Street, Zielona Gora, Poland, 65-427.
Conotoxia Sp. z o.o. is a payment institution licensed and governed by the Polish Financial Supervision Authority (license number. 30/2015), and it is registered in Poland. 
The Cyprus Securities and Exchange Commission has granted Conotoxia Ltd. a license and authorized it to operate (license number 336/17).  Chrysorroiatissis 11, 3032 Limassol, Cyprus is the address for the office.
Conotoxia, Inc. is officially recognized in the USA (NMLS #1504617). 401 N Michigan Ave P.O. Box 81320, Chicago, IL 60681, USA is the business's address.
Conotoxia's clients mostly come from: 
Poland

Ukraine

Cyprus

United States

United Kingdom
Conotoxia is an overall safe and well-regulated broker. It adheres to regulations and takes a number of precautions to safeguard the security of its clients. It's crucial to remember that Conotoxia is no longer permitted to offer financial services in the UK. If you live in the UK, consider choosing a broker who is subject to FCA regulation.
Conotoxia Profile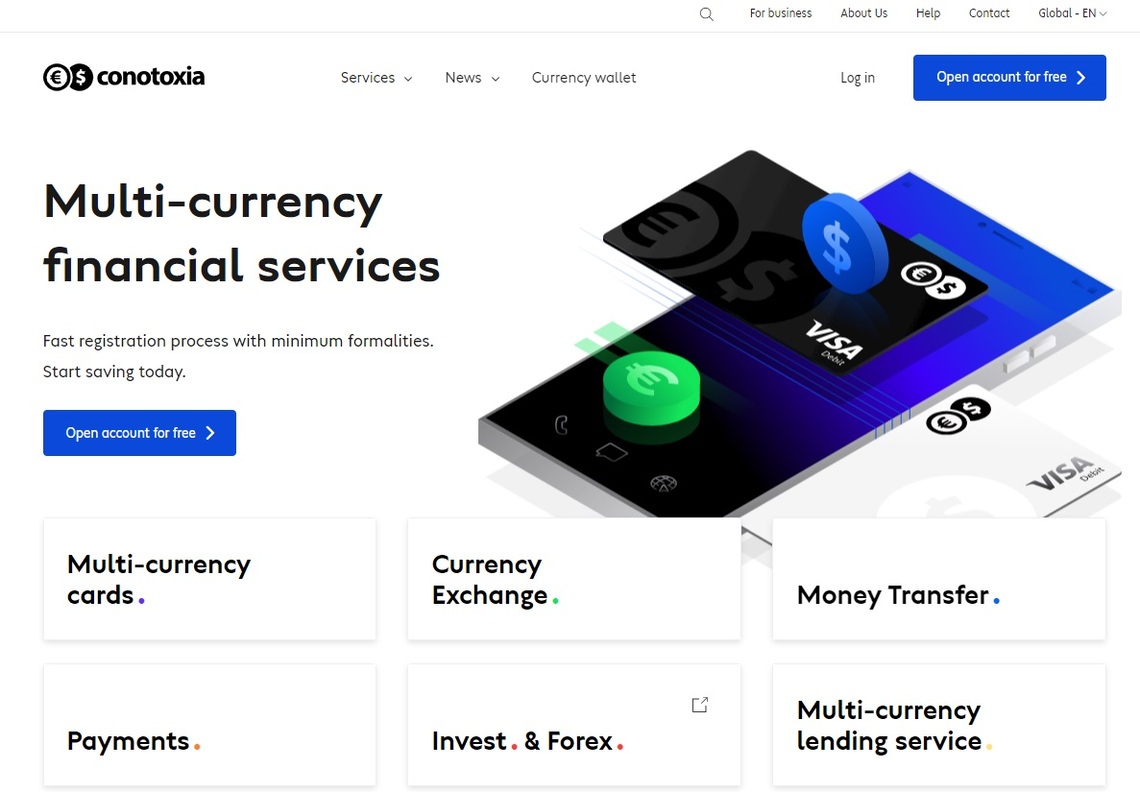 Conotoxia is a financial services company that offers a variety of products and services, including currency exchange, money transfers, and CFD trading. It is headquartered in Poland and has offices in Cyprus, the United Kingdom, and the United States.
The Conotoxia Bull support is their only one, while they supported many, FIFA U-20 World Cup and UEFA EURO are just two of many examples. 
Trading platforms:
MetaTrader 4 and cTrader
Account types:
Smart Account (Private and for Business)
Financial Instruments On Offer:

Currency Exchange
Money Transfer
Invest & Forex
Payments
CFDs
Cryptocurrencies

Maximum leverage:
The default Leverage ratio is set between 1:30 to 1:2 depending on the financial

instrument

Minimum Deposit:
$100
Commissions/bonuses:
Loyalty Program
Mobile app:
Yes
Desktop app:
Yes
Autotrading:
Yes
Demo account:
Yes
Education or Extra tools:
Webinars, Trading Courses & Academy, Economic Calendar, Trading Simulator
Deposit and Withdraw Methods
The ways to make deposits and withdrawals at Conotoxia are: 
Bank transfer

: Although they are often free, processing time can be several days.

Credit and debit cards:

Although they are typically handled immediately, a minor fee can apply.

E-wallets

: Conotoxia accepts deposits and withdrawals with e-wallets including Skrill, Neteller, and PayPal. They are frequently processed promptly and without a fee.

Instant payments

: Trustly, SOFORT, iDeal, Przelewy24, EPS, Giropay, Bancontact, and Multibanco. 
Financial Services Available on Conotoxia
Multi-currency cards: Conotoxia provides multi-currency cards that let you make payments in a variety of currencies. The cards come in the following currencies: EUR, USD, GBP, and PLN. 
Exchange of currencies: The Conotoxia mobile app and online currency exchange are both available. There are no costs associated with currency exchanges done online, and the Conotoxia exchange rate is competitive.
Money transfer: More than 200 nations offer the ability to send money to friends and family. Low transfer costs are charged, and transactions are typically completed fast.
Microtransactions for games: You can spend a tiny amount of money on in-game items or cash through microtransactions. For microtransactions, there is commission, but it is typically very minimal.
Loans: Conotoxia provides loans to clients in the European Economic Area (EEA). The loans can be used for a number of things, including debt relief, house renovations, and car purchases. Online loan applications are simple to fill out, and interest rates are competitive.
Cryptocurrencies: Bitcoin, Ethereum, and Litecoin are just a few of the cryptocurrencies that Conotoxia offers. 
Microtransactions in video games: 2.9% plus €0.30 is the fee for microtransactions. The sender of the payment is responsible for paying the commission.
Multiple-currency cards: The multi-currency card is €10 in price. Over 150 different currencies can be used to make purchases with the card. The card does not have a monthly fee, however, there are charges for ATM withdrawals and foreign currency exchanges.
The most actively traded items on Conotoxia are CFDs, FX pairs, and cryptocurrency derivatives. Additionally, Conotoxia Pay is also something they offer for businesses. 
Free Demo Account
You can practice trading with a Conotoxia demo account for free without putting any real money at risk. A virtual balance of €50,000 will be provided to you, which you can use to trade CFDs, FX pairs, and other financial instruments.
All things considered, using a Conotoxia trial account is an excellent way to practice trading and test out various trading tactics without having to risk any real money. We advise registering for a Conotoxia demo account if trading is something you're interested in.
Conotoxia Online Trading Platforms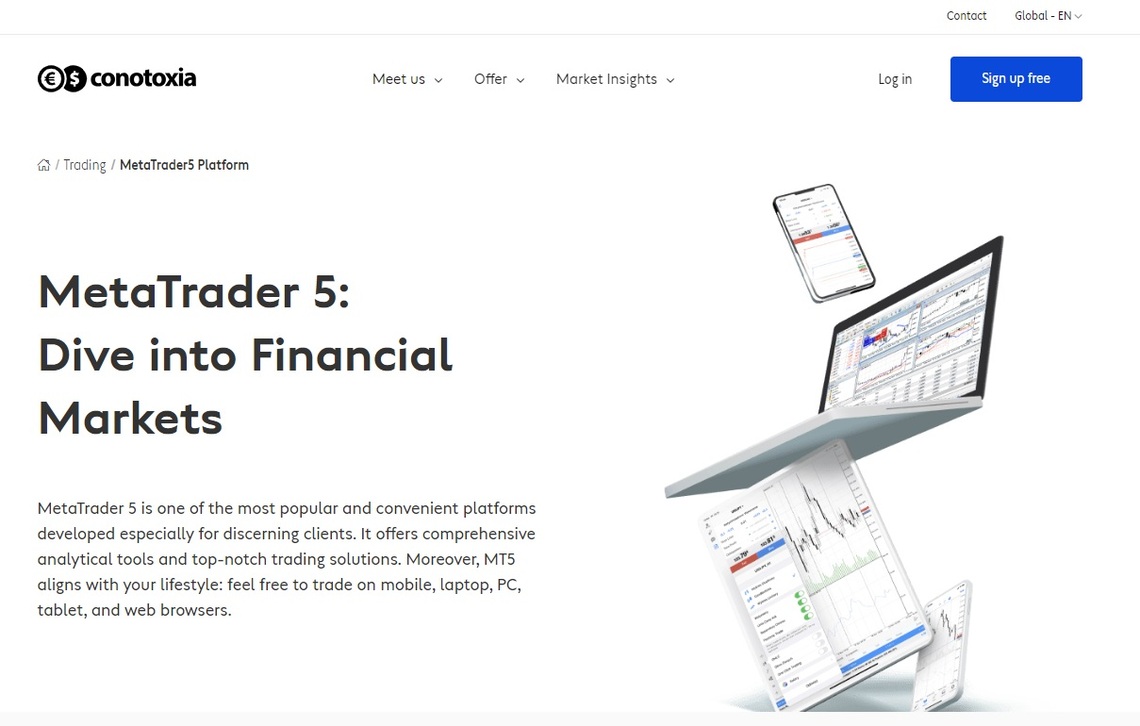 Conotoxia offers two trading platforms MT4 and cTrader. MT4 provides a lot of features and is simple to use, making it a suitable choice for new traders. cTrader can be a better option if you are an experienced trader searching for a platform with cutting-edge features and minimal latency.
Conotoxia cTrader
Speed, minimal latency, and sophisticated charting tools are some of its best qualities. Both a PC and a mobile app version of cTrader are available from Conotoxia.
MetaTrader 5
Millions of traders utilize the well-known trading platform MT4 worldwide. It is renowned for its simplicity of use, adaptability, and variety of features. Both a desktop and a mobile app version of MT4 are available from Conotoxia.
Conotoxia Pros and Cons
Pros
Cons

Regulated by CySEC and KNF

Competitive fees and commissions

Wide range of services and features

User-friendly platforms

Demo Account

Spreads can be high

Withdrawal fees can be high

Not available in all countries

Not regulated by FCA
Author's expert opinion on Conotoxia
Forex broker Conotoxia provides a range of trading options, such as forex, CFDs, and virtual currencies. Other banking financial tools are also available, including money transfers, currency exchange, multi-currency cards, and others. 
The Polish Financial Supervision Authority (KNF) and the Cyprus Securities and Exchange Commission (CySEC) both oversee the company's operations. In the past, it was also subject to FCA regulation, and tragically, a portion of its clients are British.
Is Conotoxia safe, you ask? Knowing that Conotoxia Forex is a secure investment company to utilize, you can relax a little. Finding a trustworthy broker who will meet all of your needs can be difficult, but that is why we are here. Contact us right away and keep in mind that there is no commitment. 
FAQ Section
Is Conotoxia pay legit?
Conotoxia Pay is a reputable provider of payment services. Users of Conotoxia Pay can send and receive payments in a variety of currencies, including EUR, USD, GBP, and PLN.
Is Conotoxia Ltd The Same As Conotoxia Sp z oo?
Conotoxia Sp z oo and Conotoxia Ltd are, in fact, the same business. They are both divisions of the Polish-based financial services firm Conotoxia Holding Group.
How To Choose The Best CFDs Broker?
Compare the fees imposed by several brokers, confirm the broker offers the CFDs you wish to trade and confirm the broker is regulated by a respectable financial body. Finding a trustworthy CFDs broker can be difficult and time-consuming. Contact us right away, and we'll give you a few seconds to choose a top-notch CFDs broker.