October 30, 2023
Reading Time:
4
min
Altrady Review: Is This Firm Suitable for Crypto Day Traders?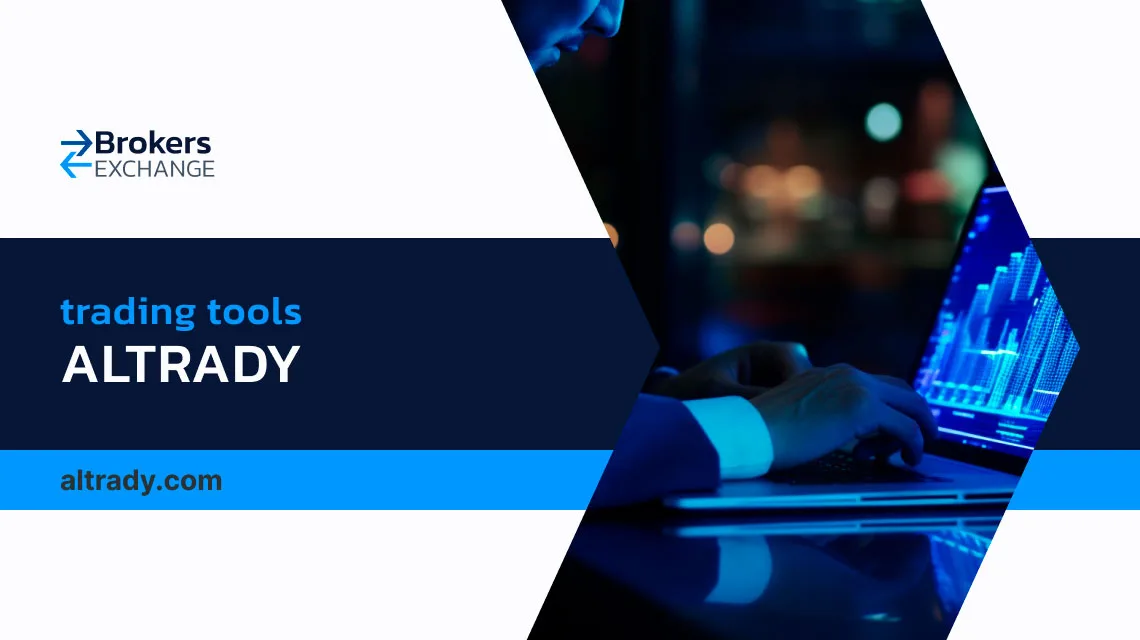 Being a successful crypto day trader depends on having a competent crypto trading bot, thus any assistance from this Altrady review is always appreciated. We delve deep into the firm's profile to determine whether or not they are the right choice for traders. 
Investors in cryptocurrencies can purchase and sell on many exchanges using Altrady, a feature-rich trading terminal, from a single interface. Investors who want to swiftly and conveniently diversify their portfolios might greatly profit from this. To learn more, keep reading our Altrady review, and don't forget to check out CedarFX. 
Who Is Altrady?
Altrady was founded in 2017 by Benoist Claassen after years of being part of the trading community. The trading platform Altrady was created to give traders access to a variety of tools and information. It makes it easier to manage portfolios, execute trades, and make well-informed decisions in the volatile and frequently unpredictable world of cryptocurrency markets.
Finding a reliable platform takes time and patience. Trading bots are risky as much as trading is, however, with the right platform, you can boost your chances of profits and become a successful trader. Is this trading bot effective enough to suggest to users? Hopefully, we will find that out in this Altrady review. 
Company Type
Trading tool
Legal name
Altrady
Regulation
Not expected
Registered in
The Hague, NL
Established
2017
Website
www.altrady.com
Financial Authorities Warnings
Contacts
Fees

Basic €17.47/mo
Essential €31.47/mo
Premium €55.97/mo

If Active on Social Media:
Yes
Investor Protection:
None
Activity areas
Netherlands; United States; India; United Kingdom; Germany
Main threats
Overwhelming for new users
Main perks
Variety of features
Altrady Profile
There are a variety of features to choose from and all of them are unique. A smart trading function in Altrady can accept profit orders, offer you the finest investment guidance, and make trading in the cryptocurrency markets simpler and more efficient. It will enable you to set up the orders, move the stop loss to safeguard earnings, and trade cryptocurrency.
Additionally, you may customize the supported exchanges, the filter-based time frame, and some market features related to Altrady crypto trading with this crypto trading program. With crypto exchanges, you can easily save the filters and enable or disable them as needed. 
This comprehensive cryptocurrency trading tool provides you with basic analytics and informs you of your losses and gains, allowing you to evaluate your tactics in the actual market. Offering new cryptocurrency traders a great market price is no longer unusual.
Trading Platform

Altrady

Account Types

Basic, Essential, Premium

Financial Instruments On Offer

Smart Trading
Real-Time Price Alerts
Real-Time Positions with PnL
Crypto Base Scanner
Quick Scanner
Grid Bot Trading
Paper Trading
Crypto Trade Journal
Trading Analytics

Maximum leverage

N/A

Minimum Deposit

$17.47/month

Commissions/Bonuses

N/A

Mobile app

Yes

Desktop app

No

Autotrading

No

Demo account

There is a free plan

Education or Extra tools

Trading Library, Crypto Academy
Is Altrady Legit?
Whether or not this platform is safe can only be determined after investigating the firm and its operations. Doing research before committing is crucial if you want to succeed and reading our Altrady review is not enough. There are various factors to consider such as reviews, regulations, features, and many more before you decide the platform is a good choice. 
Additionally, you can always read helpful Altrady bot discussions on forums, and test their services with the free trial. While some features are not available with the demo, it's still a good way to determine if they will suit your trading preferences. Many traders have wondered if the Altrady scam is real and we can say for sure that this company is legit. 
Just as a tip, Kot4x is a broker you want to avoid at all costs because otherwise, you risk losing all of your investments. 
Traders Share Their Experiences
There are 147 reviews on Trustpilot, giving Altrady an overall score of 4.6 stars. While the majority of opinions are positive, there are still some traders who don't think highly about the company. The 8% of unfavorable reviews mainly focus on useless features and unresponsive customer service. According to traders, their buggy and expensive software is not worth it. 
One trader even rejoined after a while and complained about how everything was the same. Even after reporting the problems to customer support, their response time is slow and nothing is being done about it. However, there are more positive reviews than negative ones, indicating the platform is a good choice. 
Reasons To Enjoy This Company
One of the reasons is Altrady paper trading. By using fictitious currency, paper trading enables you to simulate the trading experience. You can test various strategies, try out novel concepts, and get useful experience without having to risk your own money. Other reasons are a wide range of tools and features, good reviews, a free trial, and many more. 
However, it's important to remember that no matter how great a company is, it's possible that they are not the best choice for you individually. It all depends on what you want to trade and your preferences, so that is why it's vital to conduct research by yourself to determine whether or not the firm we reviewed is for you. 
Weighing the Pros and Cons
Pros
Cons

Wide range of tools

Variety of journaling features for progressive trading

Making notes on trades

Paper trading

Free plan

Good reviews

Overwhelming for new users

There are additional hidden fees
Can I Make Money While Trading Online?
The platform is user-friendly, however, it's vital to note it can be overwhelming for beginners. Seasoned traders will have no problem with understanding and managing this platform but newbies may have a harder time. Don't let that discourage you from testing their services so you can make sure they are a good match. 
That said, we offer a 14-day free trial for our potent AI-powered tool, AI.F. Our program can process billions of data points, make insightful recommendations on whether to buy or sell, gather information from previous asset prices, and many more to help you make informed decisions. 
However, the trial is valid only for the first 100 traders who reach out so if you are a serious trader eager to boost your chances of profits, hurry up and grab this time-limited opportunity. Start your profitable trading journey now with the help of AI.F! 
FAQ Section
What Is Altrady?
Altrady is a cryptocurrency trading platform and portfolio management software that provides tools and features for traders to monitor and manage their cryptocurrency investments.
Is Altrady Trustworthy?
Because of the platform's alignment with the needs of many users and the platform's excellent user ratings, Altrady is usually regarded as trustworthy.
How Does Altrady Work?
To streamline the trading process and portfolio management, Altrady offers cryptocurrency traders a complete set of tools and capabilities for monitoring, managing, and executing trades across several exchanges through a single platform.