May 20, 2023
Reading Time:
4
min
CedarFX Review: Who Is Behind CedarFX.com?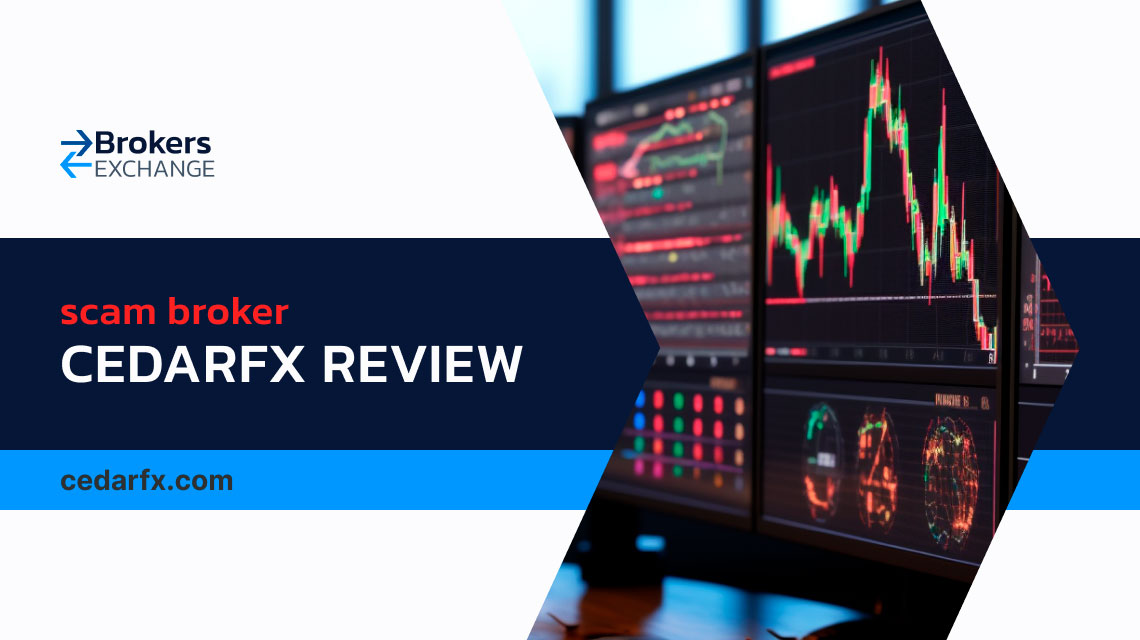 CedarFX, besides having a very cool sounding name, also has a very cool and very convincing website. From a possibility to trade using an industry standard MetaTrader4 to them saying they plant a tree every time you trade, it sounds like it's hard to believe they are a scam.

But you would be very wrong unfortunately. CedarFX broker is just another in the row of many investment scams that promise a lot and deliver nothing in the return.

From the regulation that is non existing to the fake promises they have made, this CedarFX broker review is here to cover all the things you need to know.

| | |
| --- | --- |
| Company | Cedar LLC |
| Regulation | Unregulated scam broker |
| Warning | N/A |
| Website | cedarfx.com |
| Address | Saint Vincent and Grenadines  |
| Email | N/A |
| Phone | N/A |
| Minimum Deposit | $10 and $50 |
| Leverage | 1:500 |
| Bonuses | Yes |
Licensing and Security of CedarFX
CedarFX is run by Cedar LLC, a company that is  registered in Saint Vincent and the Grenadines (SVG) with the local Financial Services Authority (FSA).
We all know that St. Vincent and Grenadines is a popular haven for all scammers out there because their regulatory body FSA doesn't overlook forex and CFD services.

In other words, this means that CedarFX doesn't have any regulation. Yet, the broker carries on. Some traders disregarded the fact that CedarFX is unregulated and ended up having withdrawal issues.
Because of that, you should always opt for a broker that has a Tier 1 regulation and can actually provide you security both for you and your funds. Remember to stay away from CedarFX and Bitsterzio brikers. You will only lose money!
CedarFX
Trading Platform Overview
On the CedarFX website, we saw that this brokerage offers both MetaTrader4 and a basic Web Trader. MetaTrader is already an industry name and of course with a reason.

MetTrader4 allows traders to utilize automated trading, in-depth analysis, advanced charting, live market reports and many other things.

But on the other side, the basis Web Trader is exactly that, basic. It has a browser-based terminal with limited features, it has none of the above-mentioned tools, only some rudimental charts and graphs.Although CedarFX does offer MT4, it's still unregulated and trading on their platform is still very risky.

CedarFX Account Types 
CedarFX only offers two account types and those include the following ones:
These accounts differ in just one aspect. The Zero account, as the name suggests, charges zero commissions to enable traders to fully utilize their funds.

While using the Eco account you will be charged $1 in commision that is according to them then sent to Ecologi and used to plant trees in your name.

If they were regulated, that would be an amazing thing, but the fact is, they are not. Additionally, they claim to offer a Demo account but once you click on it, it downloads to your computer and does nothing. It's not unknown for scammers to use this to plant malware and steal all of your money this way.

Deposits and Withdrawals Methods
In regards to the deposit methods, CedarFX only offers debit/credit cards and crypto. Don't be surprised if they push you to activate the account using only crypto as it's a well known tactic used by illicit brokers to scam you.

This is because crypto transactions are practically irreversible and you will not be able to make a chargeback once you realize that they are a scam. With this said, make sure to avoid them at all costs.
On top of that, CedarFX has set both a $10 and $50 minimum deposit but here is the catch. You will be able to deposit $10 only if you are using crypto, and $50 if you are using a debit or credit card. This just proves the stated above.

How Is Fraud Set Up?
You would be surprised at how unoriginal these scam companies are. They all post various ads throughout the search engine with so many made up stories of the people who allegedly got rich just by trading with a particular broker.
Once you leave your details on one of these ads, their agents will start by sending you emails that will then turn into phone calls.
Even though you may think you'll be able to differentiate between a fraud and the legit thing, don't be so sure. Remember that these agents are trained in harassing you and pushing you to invest. And once they get you on the line, they will do anything and everything in their power to get you on board. Of course, the motto is the more you invest the more you will make.
That is all a lie and just a scheme to take all of your money at any cost. Stay away from this or any other fraudster alike. And always think twice before investing online. 
But if you have ever managed to fall a victim to their pushy tactics, don't despair as we can help you retrieve your funds.
CedarFX
Summary
To sum it up, CedarFX is yet another in the sea of unregulated offshore brokers. Not only are they unregulated and unlicensed but they falsely claim to be. 
CederFX offers their customers an opportunity to invest in forex, crypto, CFD, and much more. However, something as basic as the company information is missing. This never happens with Tier1 regulated companies as they are always transparent with their clients.  
In conclusion, we advise you to stay away from this and many other fraudulent brokers alike. And also remember to always read the reviews. 
FAQs About
CedarFX
Broker
Is CedarFX a Regulated Broker?
No, CedarFX is yet another SVG based broker that is just trying to scam you out of your money.
Is My Money Safe with CedarFX?
Same as with any other scam broker, your money is not safe while trading on their lousy web traders.
Does CedarFX Offer a Demo Account?
No, CedarFX only falsely advertises that they are offering a demo account before signing up for a live trading account.