September 24, 2022
Reading Time:
4
min
Antrush Review – Who Is Antrush Broker?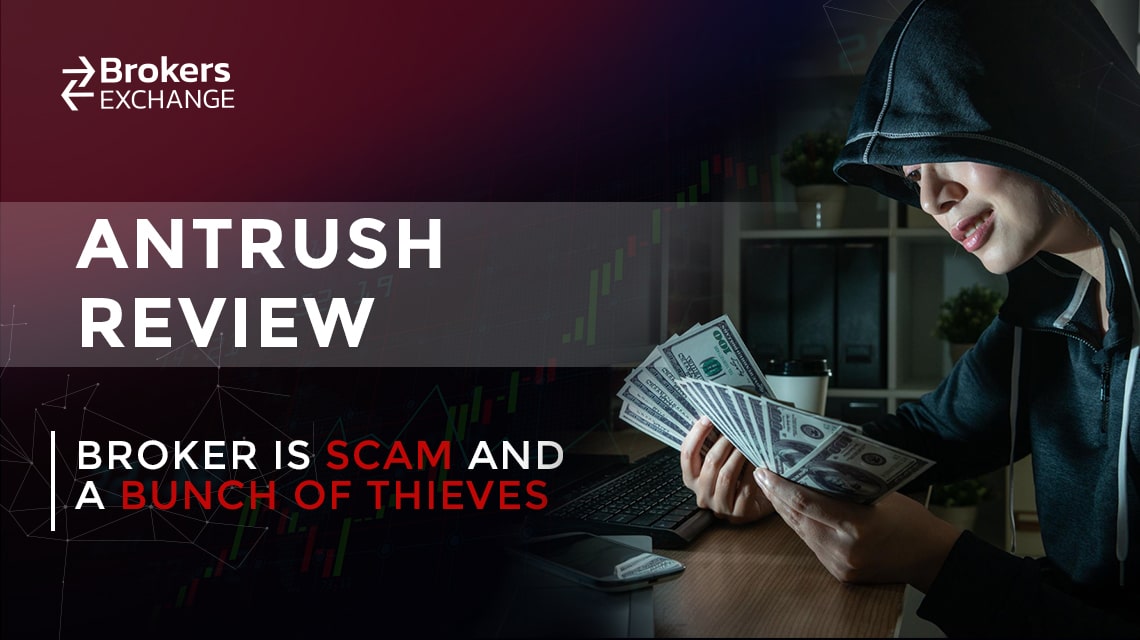 Antrush, If you are considering trading with this broker, you will change your mind shortly after reading our Antrush broker review. Briefly, this brokerage service operates anonymously and unlicensed, which is a risk for all traders. 
Moreover, after examining numerous negative reviews of defrauded victims of this illegal company, we can conclude that it's nothing but a newly registered online scam.
So, be very cautious and avoid Antrush by all means. For more information, please go through the full Antrush review.
You should, however, refrain from trading with dubious brokers like Axen Trade, TradeSparkle, and Wise Tradefx.
| | |
| --- | --- |
| Company | Antrush Group |
| Website | Antrush.Com (not accessible) |
| Address | N/A |
| Email | N/A |
| Phone | N/A |
| Minimum Deposit | $500 |
| Leverage | 1:500 |
| Bonuses | Yes |
| Regulation | No |
| Warning | N/A |
Regulation of Antrush and Fund Security
All scam brokers claim that they are real businesses since it's one of their malicious tactics to lure people into their investment scams. The same appeals to Antrush.
On the surface, it seems like a legal and licensed broker with offices in Australia, Canada, New Zealand, the United States, and the ASIC license. However, that is used to create false impressions about its business.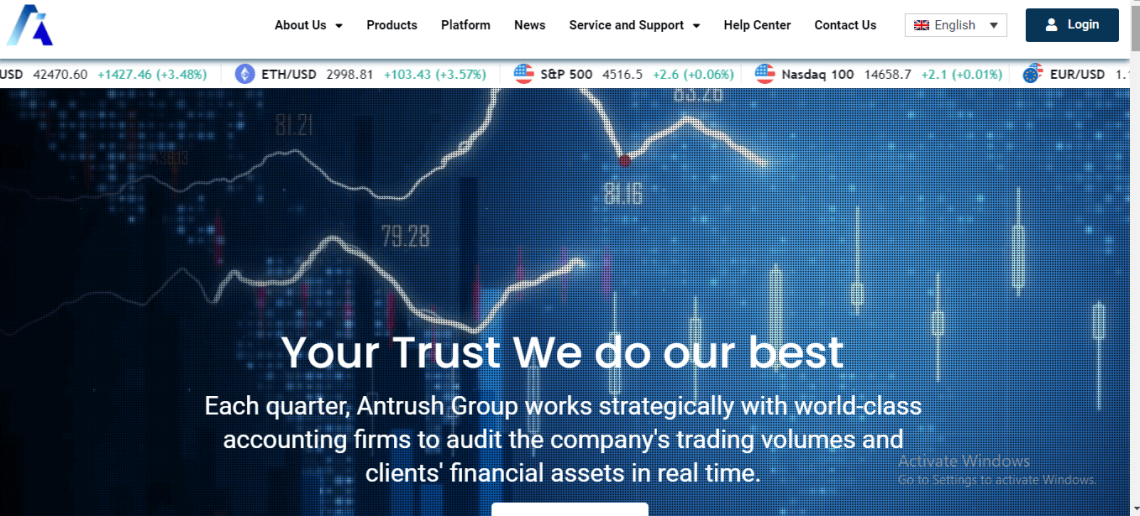 The first sign of trouble is its claim that the firm was set up in 2000; however, it's inconsistent with the fact that its internet domain (antrush.com) was registered in 2022.
Next, this brokerage's statement that it's regulated by ASIC (Australian Securities & Investments Commission) is an outright lie since there is no such entity in the ASIC database. 
Moreover, after checking other financial market regulator records, it becomes apparent that no monetary authority accredits the company. In addition, Antrush says it's licensed in the USA by FinCEN, which isn't possible. 
Namely, FinCEN stands for Financial Crime Enforcement Network and is a government agency that combats financial crime (money laundering, terrorist funding, etc.). So, this claim is just used to amaze users.
Aside from it being a criminal offense to operate uncertified, it's also a risk for all traders. Legit forex providers must hold a permit to offer their services; leading enterprises have more than one license and are approved by reputable regulatory agencies such as FCA, CySEC, and ASIC, among others. 
These supervisory bodies ensure that a broker complies with legislation, protecting traders from unscrupulous business practices. Further, brokers must fulfill specific standards to obtain/maintain their licensing status.
For example, brokerage firms must have minimal operating capital ranging from several hundred thousand to several million dollars, depending on the jurisdiction. Also, some monetary agencies have compensation schemes from €20.000 to €100.000 per person.
Overall, your funds are not protected with Antrush, and you know the drill—don't invest with this phony FX broker.
Antrush Trading Platform Overview 
Surprisingly, Antrush offers an MT5 (MetaTrader5) trading platform, one of the best and most advanced trading software. However, this doesn't lessen the risks of trading with this bogus broker. Remember that since Antirush is a fraudster, the thing with MT5 might be a Trojan horse. 
If you download and install its trading program, it can be corrupted and compromise your computer (e.g., steal your information). Having MT5 isn't a guarantee for protection by itself.
Although it's a prestigious platform, if it's used for manipulation, you can't enjoy the real benefits of the MT5, like social trading.
Additionally, Antrush offers a demo account (free and risk-free trading). Even though this option enables users to practice live trading and test trading platforms, it still isn't actual trading (no real money = no genuine risks). 
Nevertheless, if you want profitable and safe trading on MT5 and demo accounts with real terms of trade, choose legitimate brokers.
Methods of Deposit and Withdrawal with Antrush
If you fall for the Antrush offer and deposit your funds, you will lose your money and be unable to retrieve funds since these scammers only accept crypto as a means of funding—crypto payments are not subject to cashback. 
The company requires a $500 minimum deposit to start trading, too much for testing luck and far above the offer from legitimate companies. For instance, you can begin trading with premium FX providers for only $1.
Antrush users can use the same method for withdrawing as for depositing, i.e., crypto. Yet, these thieves won't allow you to draw your funds.
Here's How They Execute the Scam
As for the Antrush scam, these fraudsters employ different tactics to trick you. One of the hallmarks of forex hoaxes is generous bonuses used to entice people. Promotions are banned in most jurisdictions, including Australia (allegedly, the area of this company's operations). 
Antrush gives a $1.000 welcome bonus and up to a $500 referral bonus. If people buy this lucrative offer and invest their funds here, they will soon realize that these rewards are conditional, i.e., you must meet hard-to-meet conditions to get a bonus. 
Besides, the bonus clause is made to fit con artists only; it goes against your interests since it prevents you from making withdrawals. Therefore, stay away from organizations offering bonuses.
It has come to our attention that www.antrush.com is closed. It's another trickery from Antrush. That's to say, financial swindlers shut down their domain (if it has too many negative ratings) and appear under a new or old name but with a new site address. 
Then they contact defrauded victims, promising them to help recover the money owed by the old company. The catch is that you must first pay in advance to get refunds. So, don't take the bait and avoid any dealings with Antrush.
Antrush Summary
As a conclusion of the Antrush review, this shady broker is not certified and counterfeits its ASIC license, which automatically implies it's a fraud.
All ASIC-approved brokers are limited to 1:50 leverage, while reportedly authorized Antrush offers 1:200 leverage. Likewise, ASIC, as a top-level regulator, forbids bonuses; yet again, Antrush gives bonuses. 
Next, this untrustworthy firm provides great MT5 trading software. Still, it remains a fake brokerage. So, please don't risk your hard-earned money with an obvious investment scam and opt for proven, transparent, and valid trading agencies like those in our article.
FAQs About Antrush Broker
What Is The Antrush Minimum Deposit Amount?

Antrush requires $500 for a minimum deposit, much higher than legit forex traders offering trading accounts for as low as $1.
What Are the Deposit and Withdrawal Options for Antrush?

Antrush accepts crypto for funding methods; however, it remains improbable that you will ever be able to withdraw funds.
What Kind of Trading Platforms Does Antrush Offer?

Despite Antrush providing an excellent MetaTrader5 trading platform, yet, it's a scam broker that will rip you off.