October 26, 2022
Reading Time:
4
min
TradeSparkle Review – Who Is Behind TradeSparkle Broker?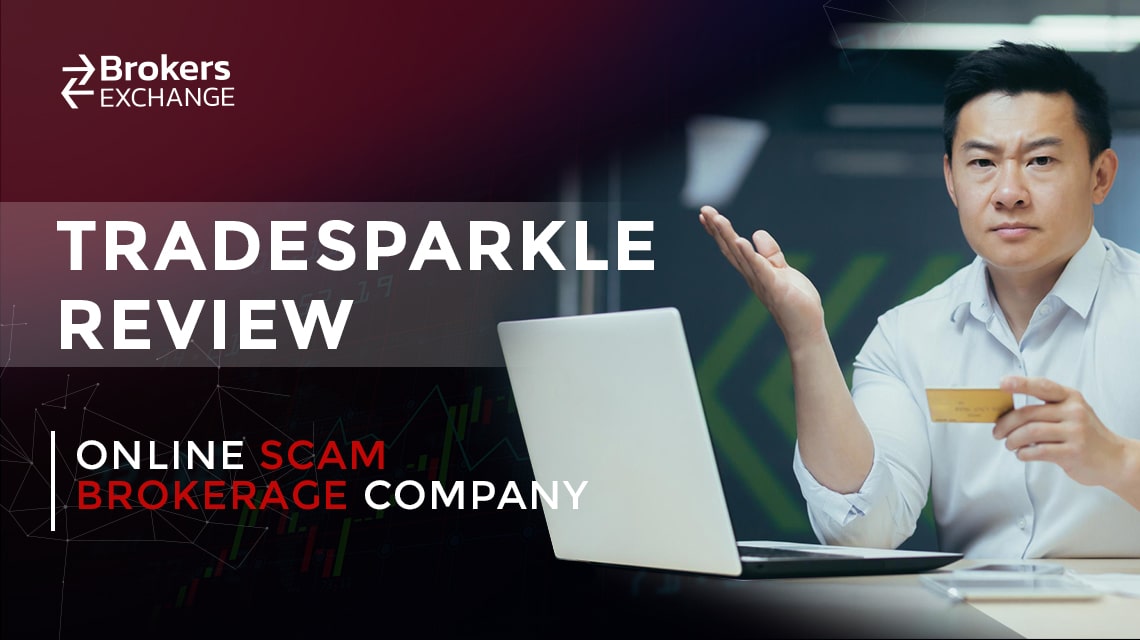 TradeSparkle isn't explicitly listed anywhere on the official website, a supposed address in London, UK is given. 
Any brokerage company operating in the UK strictly regulated by FCA, without exception. Now, if any potential new client first searched FCA, they would immediately find the discrepancy, as FCA does not list TradeSparkle as a regulated company. 
This is, of course, solid proof of misinformation presented to you by a scammer, because TradeSparkle is not regulated by FCA. The first conclusion is that the UK address is therefore fake. 
Additionally, you should avoid brokers who attempt to manipulate you, such as Tokens Note, Zetano, and T4Trade.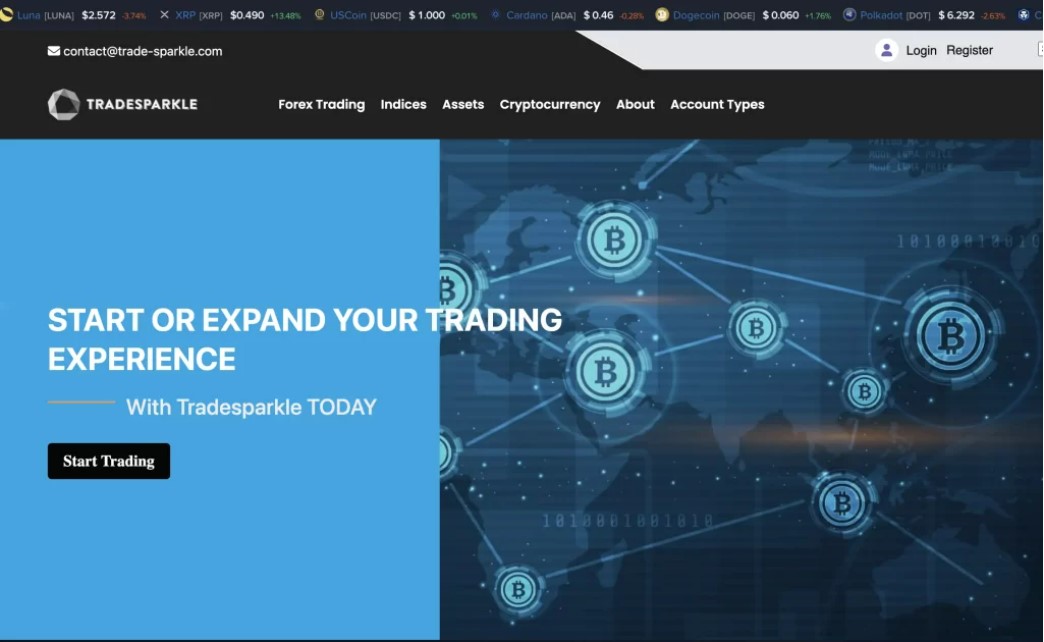 | | |
| --- | --- |
| Company | N/A |
| Website | TradeSparkle.Com |
| Address | London, UK |
| Email | [email protected] |
| Phone | N/A |
| Minimum Deposit | $10 000 |
| Leverage | 1:500 |
| Bonuses | N/A |
| Regulation | Not regulated  |
| Warning | N/A |
Regulation and Security of Funds at TradeSparkle 
An unlicensed company like TradeSparkle presents a huge risk for the funds of any potential investor. No transparency provided, without an official address, and not being regulated by the top tier regulators, are all screaming signs of why a company like this is not trustworthy. 
In order to be licensed, the company must meet certain conditions of the particular jurisdictions. All most successful brokerage firms operating in the UK, US, Australia, EU, and other countries are regulated and possess the necessary funds to help secure the continuation of their business. 
Also, in the case of a legitimate business, the owning company, address, CEO, and a piece of valid contact information are clearly given. 
On the other hand, non-regulated companies easily tend to abuse their clients' trust and the investments they get. 
They also keep their full anonymity without revealing their actual identity and the main motive, is robbing investors of their funds. 
The aforementioned allows them to pass unpunished for the cyber crimes they commit. 
Trading Software Available at TradeSparkle
Experienced scammers manipulate and use their trading software to ensure getting their clients' trust. They usually offer the user some overly simplified version of for example MT4 or MT5, which is supposedly user-friendly, easily navigated, and reliable.
In truth, they just make it appear to the client that their funds are being invested and growing. All investments, sadly, go to scammers and their wallets. 
So, upon creating a starting account at TradeSparkle, the user has no way of then accessing their trading platform. While the site promotes its trading software as some award-winning software miracle, there is no certain way of testing that. 
There is no other conclusion to this but the one referring to TradeSparkle's trading platform as non-existent.  
Method of Deposit and Withdrawal at TradeSparkle
The TradeSparkle website in the Accounts Type section offers the possibility of opening four different accounts: Bronze, Silver, Gold, and Platinum. Every next account supposedly promises more features and better service, but of course, brings the condition of a bigger deposit. 
Based on that, the minimum amount for deposit is stated to be $10 000 for the Bronze account. This is a pretty high deposit amount, considering that many top brokers allow users to start trading with just $5 to $100.
Even if a client decided to invest such huge money right from the start, nothing on the site can serve as actual proof that their funds are safe with this unlicensed broker.  
Prestigious broker companies allow the depositing to be done with debit/credit cards, PayPal, Skrill as well as cryptocurrencies. One of the warning signs about a fraudulent broker is that they mostly prefer depositing in cryptocurrencies. 
This is because this process is irreversible. In that sense, the general advice to potential investors is to safely deposit via Visa, MasterCard, and others who have chargeback enabled if it's within 540 days.
How the Fraud Was Executed
The first step every scammer does is to find an unsuspecting victim. This is usually a potential investor with a lack of all relevant information about investing in broker sites. 
Once the target has shown interest in investing, the persistent and very patient scammer will present themselves as an expert who could take care of investing, keeping funds safe and growing, etc. 
As soon as the investor makes a deposit believing they will earn, the scammer takes the money safe from any penalty for their robbery. 
Recurring phone calls and frequent contact with the victim are all done by the fraudster to ensure the client invests further. In case the client gets suspicious of the fake broker, they might think of asking for a refund.  That is when the fraudster just disappears with the victim's money, with zero to no chance to be found. 
TradeSparkle Summary
TradeSparkle's website could possibly leave a potential investor with an impression of professionalism and reliability. The site shows encouraging comments, with promises of earning easily and big. However, that could not be the case with this scam broker as it is far from the truth. 
Online trading scam websites are designed to attract as many clients as possible. They offer supposed professional customer support, risk-free trades, high leverage, and personal agents who can find the best investments for their clients.   
All investments are carrying a certain risk. However, with scammers investments are almost permanently gone, as there's only a slight chance of getting the lost money back.
Plenty of recovery agents can offer their services again advertising themselves as reliable professionals. Those are other points to be aware of since they can also act like scammers in disguise. 
There's no shame in being scammed. It occurs to numerous people on a daily basis. Yet, getting money back is possible. Also, contacting the authorities and posting reviews to raise awareness is something every victim should do, without hesitation. 
If you have any experiences with this illegal broker, please do share them with us. 
FAQs About TradeSparkle Broker
Is My Money Safe with TradeSparkle?

Considering that TradeSparkle is an unregulated, unlicensed broker, investors' money is not safe with this firm.
Does TradeSparkle Offer a Demo Account?

It is unknown if the broker offers a Demo Account or not.
How Long Does it Take to Withdraw from TradeSparkle?

Information about withdrawal is undisclosed, although the site states that withdrawals are fast and safe.