September 15, 2023
Reading Time:
5
min
Apex Trader Funding Review: A Close Look Into apextraderfunding.com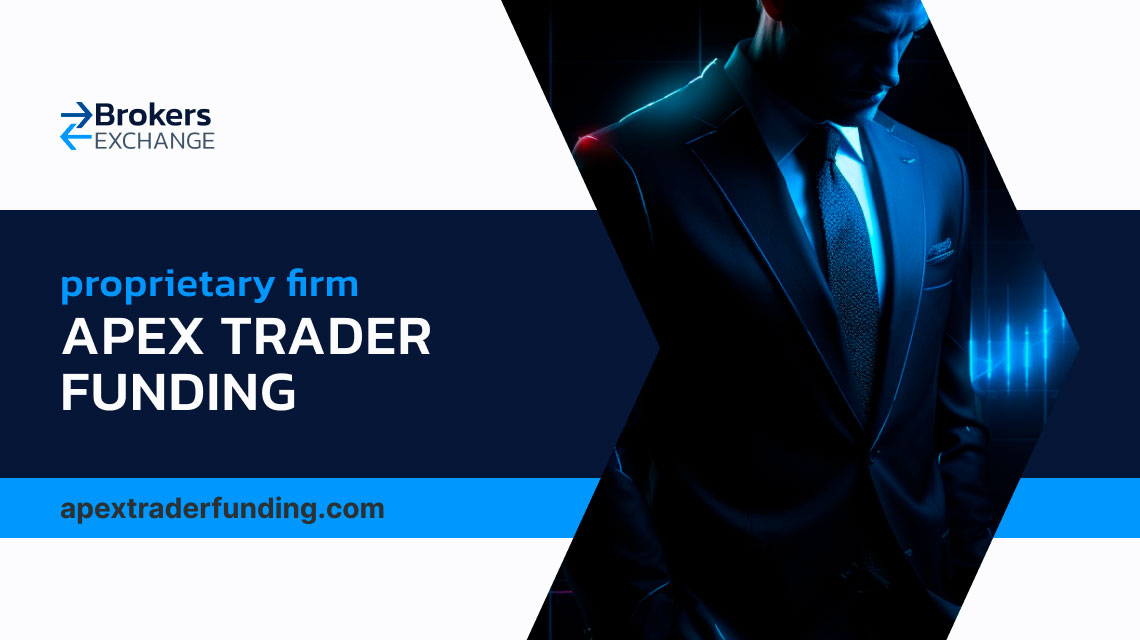 ApexTraderFunding is a proprietary firm that uses its capital to trade various financial instruments in the hope of generating profits. The company was founded in 2021 and Apex has given its traders a total of $4.2M in just May. Most prop trading companies don't distribute that much cash over a year.
Overall, the prop firm seems like a reliable choice and our Apex Trader Funding review is here to either confirm or deny that fact. Make sure to also read our Target Trading review so you can know which brokers to avoid. 
Who Is Apex Trader Funding?
For traders all around the world, Apex Trader Funding is a proprietary trading company that offers trader funding programs. The business is notable for its distinctive business strategy, which enables traders to trade futures contracts, including micro-contracts, using Apex's cash.
The way Apex Trader Funding works is straightforward. The first step for traders is to open an evaluation account, with contracts ranging from $25,000 to $300,000. Depending on the contract size selected, the cost for various evaluation programs varies. 
Day traders have several options thanks to a collaboration between ApexTrader Funding and Tradovate. They will be able to choose from a variety of RIA-based systems, including the well-liked Ninjatrader license and Tradovate's user-friendly futures trading platform.
Apex Trader Funding
Reliable Broker Must Have
Legal name
Apex Trader Funding Inc

Transparently displayed in the disclaimer or legal documents

Regulation
No need for regulation

Within your legal jurisdiction – local regulator

Registered in
2028 E. Ben White Blvd Ste 240 -9873 Austin, TX 78741

Your country or the country whose license applies in your legal jurisdiction 

Established
2021

The older the domain – the higher the possibility the company is trustworthy

Website
apextraderfunding.com

Domain should be from local or international zones, no .xyz, etc.

Financial Authorities Warnings

None

Contacts
+1-855-273-9873Web FormLive Chatwww.youtube.com www.facebook.com www.instagram.com

Phone, email, social media, web form

If a withdrawal is possible
No

Yes

Fees

Reset fee
$85 Per Account/Month
Data/Ninja Platform Fee

Transparent fees – list of spread and commissions

If Active on Social Media
Yes

Often present on social media

Investor Protection
None

Compensation fund
Regulation Info
In general, a prop business may not need separate regulation for its trading activities if it solely engages in trading through an authorized broker and does not handle client funds directly. In this case, the broker is primarily responsible for regulatory compliance. In the end, it all really depends on where you're from. 
Due to Tradovate being regulated by NFA and CFTC, US clients can relax. The Financial Commission did warn the public against using Apex Trader Funding: 
Apex Trader Funding Profile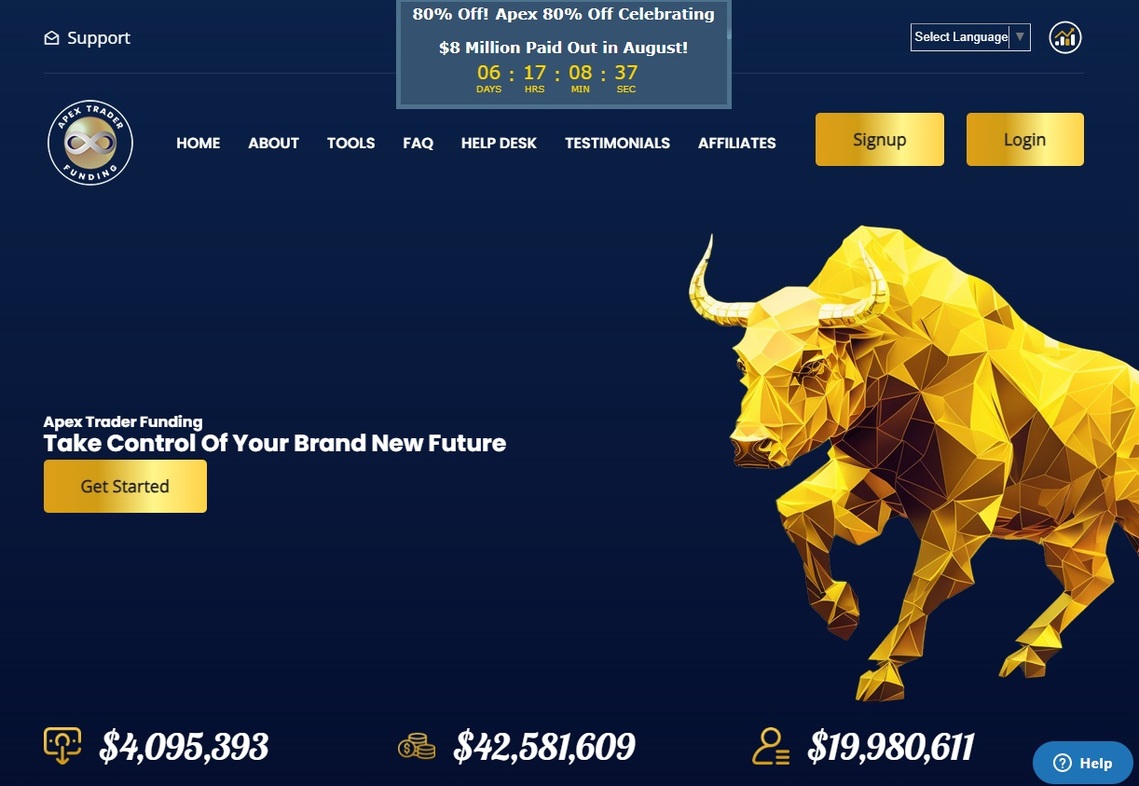 An interesting thing about Apex Trader Funding is the affiliate program where they pay up to 15% commission on all evaluation plans. They even pay commission on resets, which is something that, to our knowledge, no one else does. The Apex Trader Funding payout in 2022 alone was almost $8 million in profits, or at least so we're told. 
Trading Platform

NinjaTrader, Tradovate, Rithmic

Account Types

25k full, 50k full, 75k full, 100k full, 150k full, 250k full, 300k full, 100k static

Financial Instruments On Offer

Futures

(Equity, Agricultural, Energy, Metals)

Maximum leverage

1:1

Minimum Deposit

N/A

Commissions/Bonuses

Receive 100% of the first $25,000 per Account and 90% Beyond That

Mobile app

Yes

Desktop app

No

Autotrading

No

Demo account

No

Education or Extra tools

Trade Copier, Dyno Trading Tools and Resources, Learn How To Trade, Futures Trading Coaching Program
Is Apex Trader Funding Legit?
Apex Trader Funding provides many benefits, including great profit splits, and rules, and they have a pristine reputation. However, the Apex Trader Funding scam can be real for some nations, while for some they are as legit as it gets. It's important to check your country's legal requirements to determine whether or not Apex Trader is for you. 
We can say with certainty that Bitech Max is not a reliable brokerage but things are different when it comes to prop firms. Apex Trader Funding payout information is visible online, indicating that the firm is at least transparent in what it does. 
Traders Share Their Experiences
Apex Trader Funding is one of the rare companies that have amazing reviews. With more than 4,000 reviews, they have an overall score of 4.8 on Trustpilot. Many traders praise the firm and its operations, however, even with a firm like this there are still 3% of people that complain. 
Some unfavorable reviews focus on withdrawal issues the laggy platform and how once you deposit, you will never see your funds again. However, the company claims that deposits are not even possible, replying to every review with an explanation. 
Who Are the Traders They Cater To?
Clients from the United States, Canada, the United Kingdom, France, and Germany make up the majority of Apex Trader Funding. 
It is vital to note, however, that the prop firm doesn't have a license and it is operating from countries where certain rules must be respected and authorities such as the FCA in the UK must oversee their operations. Tradovate is regulated, however, only by the CFTC and NFA, and all trading activities must be supported by the FCA in the UK. 
Deposits and Withdrawal Methods
There are no deposits for Apex Trader Funding because all trading is done from the firm's pockets. The subscription can be canceled at any time, as long as you cancel before the 30-day limit. Partial or full refunds are not possible, so make sure to cancel on time. 
After you get your payment, you can withdraw your well-earned funds to your bank account and if you are worried, don't be. There are many payment proofs online from other clients, confirming that the firm is legit. 
Weighing the Pros and Cons
Pros
Cons

Great profit splits

Apex Trader Funding rules

Good reviews 

Straightforward trading rules

Only futures trading

Limited platforms

Monthly fees

FINACOM warning
Can I Make Money While Trading Online?
Online trading can be a profitable endeavor, but success isn't always assured. Profits and risks frequently go hand in hand in the financial markets because of their inherent volatility. To improve your chances of success, there are resources accessible.
We're introducing our innovative AI bot, built to make your trading experience easier. Our AI offers insightful data by examining past price data and charts, assisting you in making wise selections. AI bot can be your dependable partner in the world of online trading, whether you're an experienced trader or just getting started.
Are you prepared to improve your trading abilities? Sign up for a free trial spot right away and try out our AI bot to start making better trading choices. Here is where your road to financial achievement begins.
FAQ Section
What Is Apex Trader Funding?
ApexTraderFunding is a proprietary firm that uses its capital to trade various financial instruments in the hope of generating profits.
Is Apex Trader Funding Regulated?
Apex Trader Funding is not regulated, and as a prop firm, it has no obligations to obtain a license.
Is Apex Trader Funding A Prop Firm?
Yes, Apex TraderFunding is a proprietary firm using its capital to trade instruments.