April 26, 2023
Reading Time:
5
min
AvizGroup Review: All The Lies About This Broker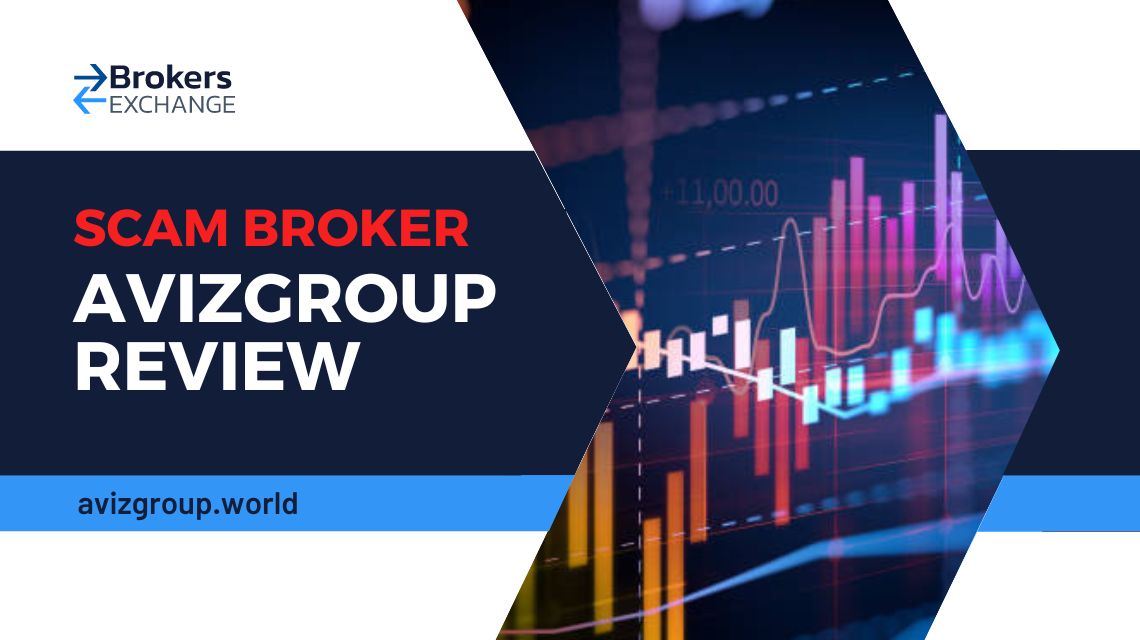 AvizGroup website immediately starts bombarding visitors with claims about having thousands of customers worldwide. Their supposedly one-of-a-kind service and platform are the only key to your trading success. 
With just a few fabricated claims, AvizGroup inevitably plants in you a feeling of missing out on something. However, let us stop you right there. Read this AvizGroup review before making the terrible mistake of giving a single dollar to this fraud. 
Located in SVG, you must know what that means for AvizGroup. Lies about great trading conditions, exceptional software, and environment follow. 
Add to that the notorious trading volume requirement and you've got yourself a solid investment threat. That's not nearly all. Take a look at the warnings published by the following regulators: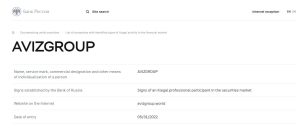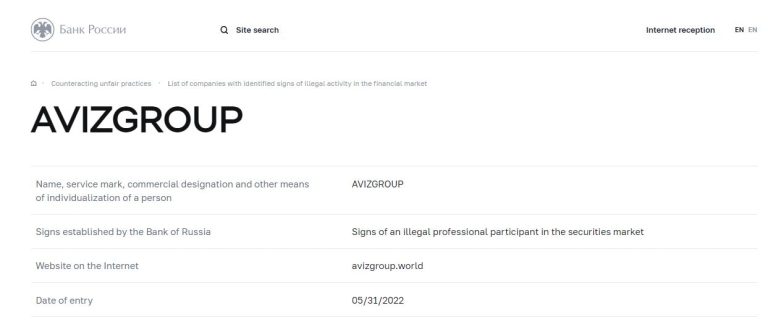 What is more, we strongly advise you not to invest in BizzTrade and Bullquote fraudulent brokers.
| | |
| --- | --- |
| Company | N/A |
| Website | AvizGroup.World |
| Address | Saint Vincent and the Grenadines |
| Email | [email protected] |
| Phone | +1 (409) 247 0388 |
| Minimum Deposit | $250 |
| Leverage | 1:100 |
| Bonuses | No |
| Regulation | Unregulated |
| Warning | LB, CBR, KNF |
Is
AvizGroup a Reliable Broker? Funds Safety and Regulation
Judging solely from the broker's location, we immediately know what kind of business we're dealing with here. SVG is an unregulated offshore zone, where brokers aren't even formally supervised. The lawless grounds have made it possible for the countless scammy firms to operate seamlessly. 
However, just because the jurisdictional regulator doesn't issue licenses doesn't mean AvizGroup can just proceed to sell its products and services. To be able to operate in the UK and EU, as they have attempted, AvizGroup would need a certificate from a regulator belonging to EEA, UK, or wider. 
Considering everything AvizGroup displays, they are certainly not eligible for a license. First of all, they would have to invest a certain amount of cash in their business. Secondly, providing customers with adequate security measures is obligatory through segregated bank accounts. 
Not to mention the leverage, which shouldn't be above 1:30. AvizGroup offers it at 1:100. Don't expect negative balance protection or access to the compensational funds, either. 
To make sure AvizGroup isn't an owner of any Tier 1 license, we've checked some public registers kept by FCA, BaFin, KNF, CONSOB, CNMV, CySEC and FINMA. And guess what? The only search results we had are the warnings. Our final verdict is that AvizGroup is a proven fraudster!
AvizGroup Trading
Platform Overview
Trading without compromise and discovering all the functionality and possibilities of MetaTrader is what AvizGroup claims to offer. In truth, the website is nothing but a sugar-coated lie, as there's no MT available in any shape or form. 
The single available trading terminal is the web trader. Simple and barely of any use, it allows for basic customization, placement of orders and even one-click-trading. These features don't look like they're any functional, though, as if all the trading is completely artificial. 
It wouldn't be a surprise if that was the case, as it's all too common for fake broker-dealers to set up an unrealistic trading environment to better convince you to spend, spend, spend. 
AvizGroup Account Types Offered
AvizGroup advertises its account types as innovative, with flexible and transparent offers. Not revealing any of the important trading conditions, including the prices, the broker attempts to mask the scam. AvizGroup does so with irrelevant, yet attractive-sounding conditions, like execution speed, personal account manager, and other jibberish that the likes use. 
Let's take a look at the prices of account types:
Mini – $250

Standard – $1 000

Classic – $2 500

VIP – $5 000
Deposit and Withdrawal at AvizGroup
Simply put, we managed to dig out zero information on deposits at AvizGroup. And although account creation is swift and quick, the user panel seemed to have glitched up when we attempted a deposit. 
All we got was the error message saying the purchase wasn't completed and that we have to meet the broker's conditions regarding the amount, currency, and country. What those conditions exactly are, the Terms and Conditions don't say. 
Withdrawals are said to take between 7 and 10 business days, but you can't trust a swindler's word easily. The site says to charge transaction fees and a maintenance fee in case of inactivity. Then there's the trading volume requirement which we will explain soon in full detail. 
AvizGroup  Offers Bonuses
One of the certainly most effective techniques of sparking interest in a potential customer is bonuses. AvizGroup offers a bonus for every client who invites a friend to become a new customer. When the acquaintance you recommend becomes a regular customer, you should receive a bonus. 
How much that bonus sums up to, no one reveals. It could easily happen that you don't receive any bonus at all, it is just a way to entrap more people, after all.
Unregulated Brokerage Techniques
AvizGroup typically drags customers into their sophisticated scheme with bonuses and promises of huge returns. All completely fictional and far from reality, these managed to easily entrap investors. With a little twitching of the trading terminal, AvizGroup solidifies every customer's belief in the promised profit. 
The real problem is the other side of those bonuses. Hiding behind the absurd withdrawal conditions, AvizGroup will prevent you from cashing in any profit. For instance, if you accept the bonus, you have to acquire a profit that is 25 times bigger than the amount of the initial deposit and the bonus combined. Else you wouldn't be able to withdraw anything for six months until you reach the requirement. 
AvizGroup Overall
Summary
The instant you discover a broker is unlicensed is the moment you should forget about investing there. This AvizGroup review has offered you some pretty solid evidence of the broker being just a scammer. 
From questionable business ethics to complete secrecy in terms of funding and transactions. Along with the lies about prestigious software to the multiple blacklisting, AvizGroup is painfully obvious as a scam. 
Please refer to our table of regulated brokerages that are widely known as reliable and trustworthy if you need a Forex dealer. 
FAQs About
AvizGroup
Broker
Is AvizGroup Legally Registered?
No, this broker resides in SVG, a country without a brokerage regulatory body.
How Secure is the AvizGroup Broker?
The brokerage is not secure as it doesn't implement the most widely required regulatory criteria.
Does AvizGroup Have Hidden Fees for Withdrawal?
Since they do not disclose the amounts, yet claim to charge fees, it is most probable that AvizGroup does have hidden fees.