April 30, 2023
Reading Time:
5
min
AzaForex Review: Facts About AzaForex.Com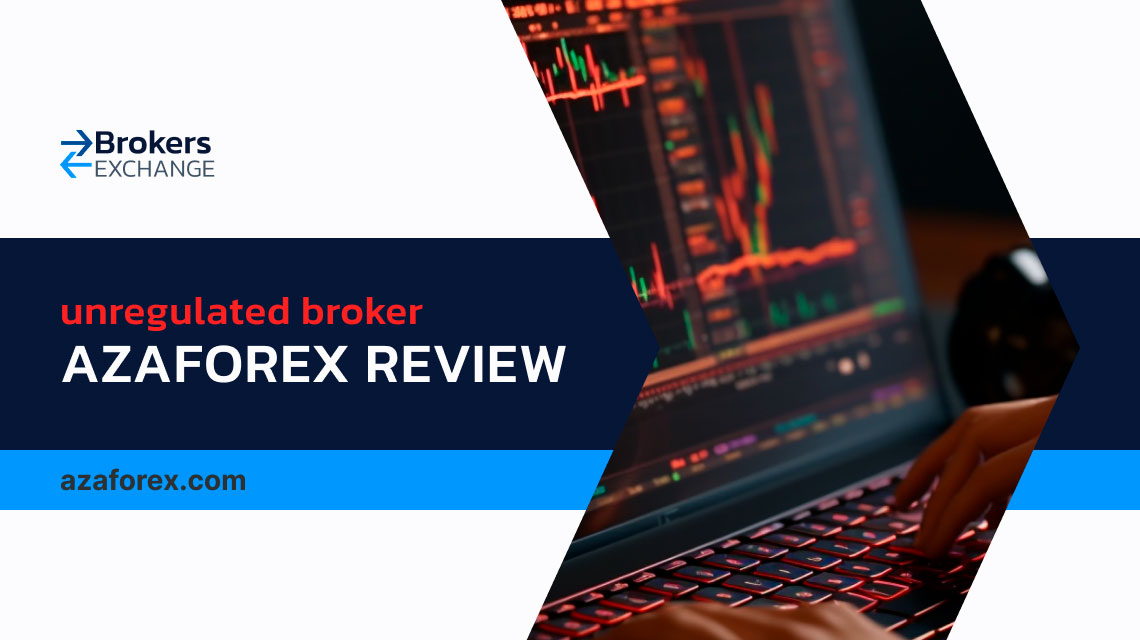 AzaForex Review, It is clear that the people behind AzaForex are well-versed in financial parlance. Their website is well made indeed, and they offer similar conditions to many regulated brokers. This includes a demo account, and a cheap basic account as well.
The problems start when you try to find company regulations. There simply isn't any, and the company has changed its headquarters nation from one flimsy offshore country to another. To top it all off, a securities regulator from Canada has issued a warning about their predatory antics.
CSA Warning: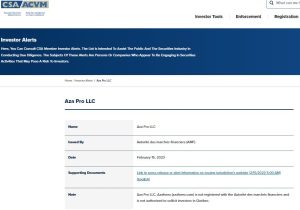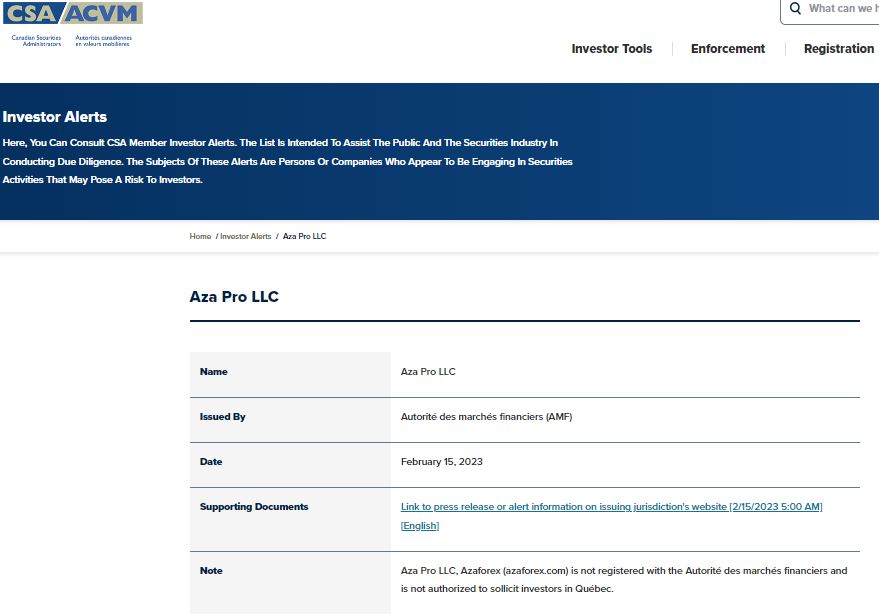 Read the remainder of our AzaForex Review to find out how to stay protected in the volatile Forex market.
What is more, we strongly advise you not to invest in MigoTrade, Novobrokers, and Prime XBT fraudulent brokers.
Company

AZA PRO LLC

Regulation

Unregulated

Warning

CSA

Website
AzaForex.Com
Address

Marshall Islands




Trust Beach Lodge Apartment Complex, Lagoon Road, Batkan Village

Email
[email protected]
Phone

+447723399001




+447723399001

Minimum Deposit

$1

Leverage

1:1000

Bonuses

25% bonus for Crypto deposits
C
ompliance and Fund Safety at AzaForex
On the website of the AzaForex broker, we can see that the company is allegedly incorporated in the Marshall Islands. This small island nation does not have the capacity to regulate brokers on a national level. For this reason, another non-government agency, named GLOFSA has taken over this responsibility.
GLOFSA is a reliable financial regulator that has allowed the Marshall Islands to once again become a reliable and safe investment environment. There is a problem when it comes to AzaForex, however. We couldn't find a single piece of information on AzForex in the GLOFSA's registry, which means that the claim about their registration and regulation is false.
Another issue with AzaForex comes from a securities regulator from Canada, called the CSA. This regulator has issued a warning about the fraudulent activities of AzaForex. The main Canadian financial regulator is an agency named IIROC. A broker in Canada must satisfy these conditions in order to become eligible for a license:
Compensation scheme up to 1,000,000CAD

Leverage is capped to 1:50

Client funds must be in segregated bank accounts

Bonuses are allowed

Transactions must be transparent
In order to be absolutely certain about the AzaForex regulation, we have also checked the databases of other distinguished regulators. These include the registries of CySEC from Cyprus, BaFIN from Germany, and CBR from Russia as well as Australian ASIC and South African FSCA, and there is no company named AzaForex in any of them. Readers should also take note that AzaForex offers Binary Options Trading, which has been banned in many nations worldwide.
Available Trading Software at AzaForex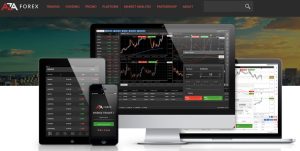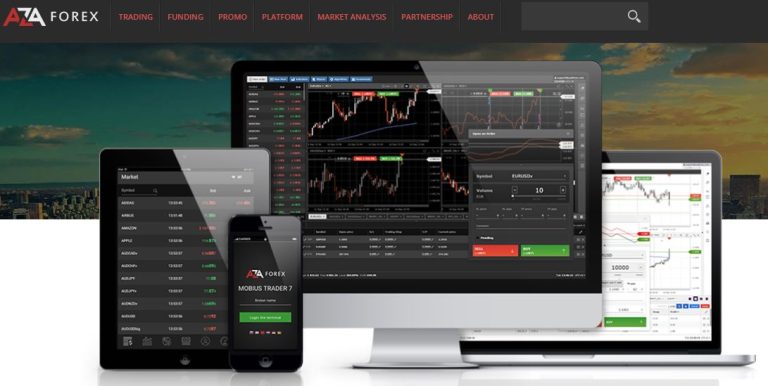 The software that AzaForex offers to their clients is a web-based platform with the misleading name of MT7. This stands for Mobius Trader 7 and is in no way affiliated with Metaquotes and their flagship programs Metatrader4 and Metatrader5, abbreviated MT4 and MT5.
The MT7 software is compatible with all operating systems and mobile platforms. This would not be difficult to achieve, since all the different versions of the program ultimately lead to the web-based platform. 
The platform itself is overly complex for something so simple. The graphs are difficult to read, and there is no one-click trading enabled. All the trading instruments are placed in a hefty list on the left side of the chart, which makes it difficult to track individual CFDs.
Veteran traders are well acquainted with the MT4 and MT5 applications, which have become an industry-standard in the Forex world. Both of these programs are versatile and reliable and utilize the latest available technology to shorten the market execution times.
Account Types Available at AzaForex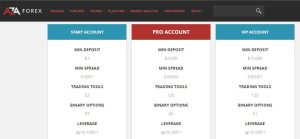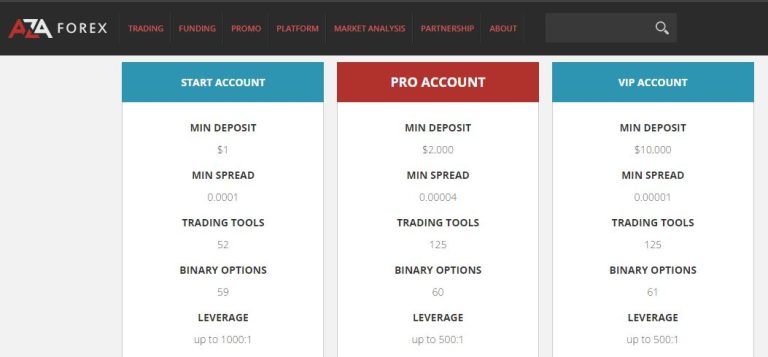 The account types that AzaTrade offers 4 different accounts, one of which is a Demo account. A demo is not typically available with a scam broker, and AzaTrade also has a kind of micro account.
Here are the account types:
Demo (free)

Start ($1 deposit)

Pro ($2,000 deposit)

VIP ($10,000 deposit)
The accounts are simple enough, and not very pricey. Surely, a lot of thought has been put into making these accounts seem attractive. Regulated brokers, however, have different accounts that vary on market execution technology, spread, commission et cetera. Scam brokers usually have these tiered accounts that require more accumulated deposits in order to reach a better status.
Methods of Deposit and Withdrawal
AzaForex seems to offer many different methods for deposits, and withdrawals. This is until you actually make an account and decide to deposit some money. Even though dependable methods like Bank Cards are listed, they are "temporarily unavailable"… Forever. This leaves the client with an insecure and unreliable Cryptocurrency Transfer option.
When you create a trading account with AzaForex, you will be issued a withdrawal password. This password is only generated at that exact moment, and as far as we know is not available anywhere else. So, you either memorize or write this password down, or all your withdrawals will be invalidated.
Furthermore, AzaForex does not offer the same methods for deposits and withdrawals. This does not comply with international Anti Money Laundering policies.
How the Fraud Was Carried Out
It is not difficult to deduce which exact methods these scammers use to defraud their victims. AzaTrade's website is quite informative and mimics that of a reliable broker very well. Bonuses are quite hefty, and their trading application has an uncannily similar name to that of a well-established trading program.
The scammers use the web-based nature of the trading platform to change the outcomes of the trades, depleting accounts of money. If the victim somehow manages to turn a profit, a withdrawal will easily be declined if they do not provide a withdrawal password. Because the Crypto Transfer is the only financial channel, scammers are protected from an attempted chargeback.
AzaForex
Summary
AzaForex is a dangerous fraudulent offshore entity that preys on novice traders. This alleged broker seems like a good choice until you start reading the fine print in the terms and conditions. The only funding method is cryptocurrency transfer, which is unsafe for many reasons.
The scammers use a few dirty tricks: they do not allow withdrawals without a withdrawal password. Their web trader has a name that is too similar to established trading platforms to make it an accident. A Canadian securities regulator, CSA, has issued a warning about AzaForex.
FAQs About
AzaForex
Broker
Is AzaForex a Regulated Broker?
No, AzaForex is an unregulated offshore scam broker.
Is My Money Safe at AzaForex?
No, AzzaForex does not offer any safety or security to its clients!
What Is The Minimum Deposit at AzaForex?
The minimum deposit at AzaForex is $1.