September 09, 2023
Reading Time:
5
min
Bitchain.info Review: Who Is Bitchain and Why Are They Dangerous?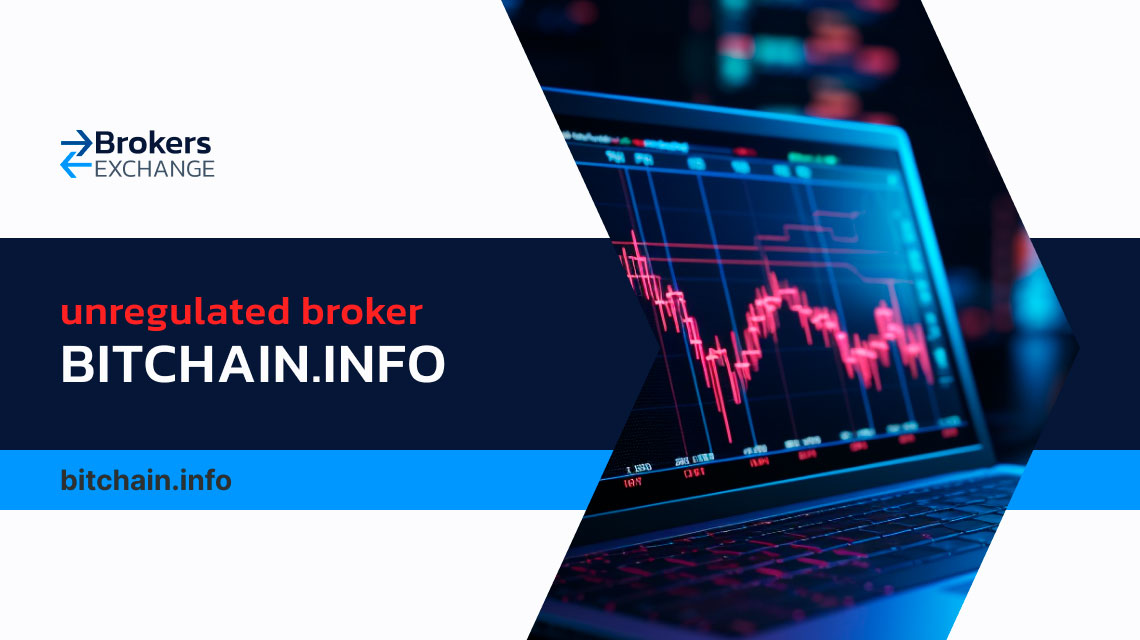 Bitchain.info operates from multiple nations, but mostly likely from the comfort of someone's bed. Since there is no information that the broker is registered anywhere, not even in St. Vincent and the Grenadines, we can only assume that the scammers operate from anywhere in the world, even their own homes. 
We can only agree with several financial regulators including the FCA and OSC, that the broker is unsafe and should be avoided. Read our Bitchain.info review and enjoy the exposé of another scam broker. 
Who Is Bitchain.info? All About Bitchain.info
Bitchain.info broker is a mysterious, yet dangerous brokerage with little to no information about its past or present. They don't have a physical registered address, no social media, or any type of information that could help traders understand who they're trading with. 
To make things even worse, several warnings by reputable financial authorities warn against trading with them, including the FCA, IOSCO, CSA, and OSC. The broker is a walking red flag and trading with them is dangerous. Better read our ST Global Markets review for another broker you should avoid instead of wasting your time with Bitchain. 
Bitchain.info
Reliable Broker Must Have
Legal name
Bitchain

Transparently displayed in the disclaimer or legal documents

Regulation
Unregulated

Within your legal jurisdiction – local regulator

Registered in
N/A

Your country or the country whose license applies in your legal jurisdiction 

Established
N/A

The older the domain – the higher the possibility the company is trustworthy

Website
bitchain.info

Domain should be from local or international zones, no .xyz, etc.

Financial Authorities Warnings

FCA
CSA
IOSCO
OSC
ASC
AMF

None

Contacts
+44 7458196702

Phone, email, social media, web form

If a withdrawal is possible
No

Yes

Fees

Transparent fees – list of spread and commissions

If Active on Social Media
No

Often present on social media

Investor Protection
None

Compensation fund
Regulation Info
The broker is not only not registered, but they are also unregulated, making them incredibly unreliable. Moreover, there is no information that the broker ever had any regulator oversee its operations. Regulated brokers have a compensation fund so when they go out of business like Bitchain.info, you won't end up with lost money. 
The FCA first warned its traders to avoid Bitchain.info. The CSA supported a warning published by the AMF.  ASC is another regulator warning traders about Bitchain.info. IOSCO supported the warning through the investor alert.  Last but not least, OSC warns that Bitchain.info is not registered in Ontario to engage in trading activities.
The thing you should learn from here is that brokers who operate from various nations without being registered or regulated pose a threat to your investments. Those brokers are only good for avoiding and that is exactly what you need to do. 
Bitchain.info Broker Profile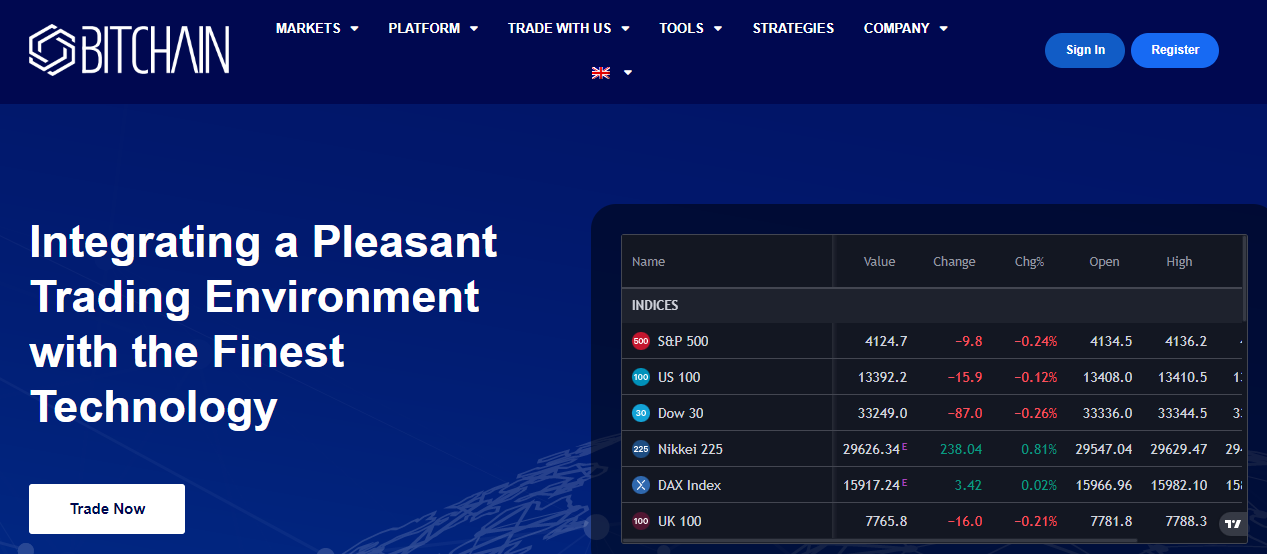 Bitchain.info offers a variety of trading instruments to be traded on their web-based platform. Scammers often opt out for cheaper platforms without many features, so it's evident why the Bitchain.info MT4 platform doesn't exist. Since MT4 is regarded as a trustworthy and pricey platform, scammers are unlikely to use it. 
Trading Platform

Web Trader

Account Types

Starter, Advanced

Financial Instruments On Offer

Forex

(EURUSD, EURGBP, USDNOK)

Cryptocurrencies

(BTC, ETH, XRP)

Metals

(Gold, Silver, Platinum)

Indices

(S&P 500 Index, Dow Jones Industrial Average, FTSE 100 Index)

Commodities

(Crude Oil, Natural Gas, Corn)

Shares

(Facebook, Tesla, Netflix)

Energies

(Brent Crude Oil, WTI Crude Oil, Natural Gas)

Maximum leverage

1:200

Minimum Deposit

$250

Commissions/Bonuses

N/A

Mobile app

No

Desktop app

No

Autotrading

No

Demo account

No

Education or Extra tools

None
Is Bitchain.info Safe To Trade With?
All things considered, scam is a perfect word to describe Bitchain.info. They lack important things like regulation, registration, and transparency in addition to the terrible experience their traders had. Bitchain.info doesn't even offer a demo account so testing out their services before depositing is impossible. 
The minimum deposit requirement of $250 seems a bit excessive considering that other brokers let you trade for as little as $1. Luckily for traders that the broker ceased operations because they would never stop trying to scam people.
Traders Share Their Experiences
The broker's Trustpilot reviews only indicate how dangerous they are, with many traders complaining about losing their funds. Reports about constant pressure to top off your account sound very alarming, and the worst part is after you deposit, they disappear with your money. 
The overall score of the broker's reviews is unavailable, as the broker ceased operations so leaving a review is impossible as well. It's vital to note that reviews are a crucial part of finding a reliable broker. Make sure to do research and diligence to stay safe. 
Who Are the Traders They Cater To?
The broker is not regulated by the Securities Exchange Commission (SEC), however, they accept US clients. BaFin also doesn't regulate Bitchain.info but the broker still accepts Germans as traders. 
Additional nations they cater to also include Brazil and Nigeria but reports of other nations involved come from the published warnings. After the warnings, the broker ceased operations in the UK, France, and Canada and soon after, in 2023, they were shut down completely. 
Deposits and Withdrawal Methods
The broker claims deposits are available with credit cards, wire transfers, or in Bitcoin, however, there are reports of the platform not allowing new traders to deposit their funds. It is possible that an account verification was necessary before being allowed to trade on their platform.
There is no information provided regarding the withdrawal process, however, it is known that the broker charges $50 for wire transfers, $25 for card withdrawals plus a $10 processing fee, and $25 for ePayments. According to the broker, there are no fees while depositing.
Weighing the Pros and Cons
Pros
Cons

None! 

Unregulated

Lack of transparency

Hidden fees

Withdrawal issues

No demo account

Bad reviews

High deposit

Lack of MT4 or MT5 platforms

Not registered
Bitchain.info Unwrapped: A Short Examination
Avoid brokers who don't offer a demo account so you may test the services out to prevent being scammed. Fraud may be indicated by the absence of MT4 and MT5 platforms, however, occasionally even registered brokers will use other platforms. 
The best indicator that the broker is risky is negative reviews. The worst broker you can find lacks regulation, registration, and transparency, just like Bitchain.info. 
The best way to ensure the safety of your funds is to avoid brokers like Bitchain.info and Tg Capital. Do not hesitate to report the Bitchain broker if you are a victim. Act now to reclaim your stolen money with our help.
FAQ Section
What Is Bitchain.info?
Bitchain.info is an unregulated brokerage company without a physical address, trading in forex, crypto, metals, indices, commodities, shares, and energies.
Is Bitchain.info A Trustworthy Broker?
According to their traders on Trustpilot, the broker is not a trustworthy choice for your investments. Avoid them at all costs.
What Are The Available Trading Platforms Of Bitchain.info?
Bitchain.info offers a web trader as a platform instead of popular and reliable platforms like MT4 or MT5.