April 10, 2023
Reading Time:
5
min
Bitcoin Trade Pro Review – Facts About BitcoinTradePro.Com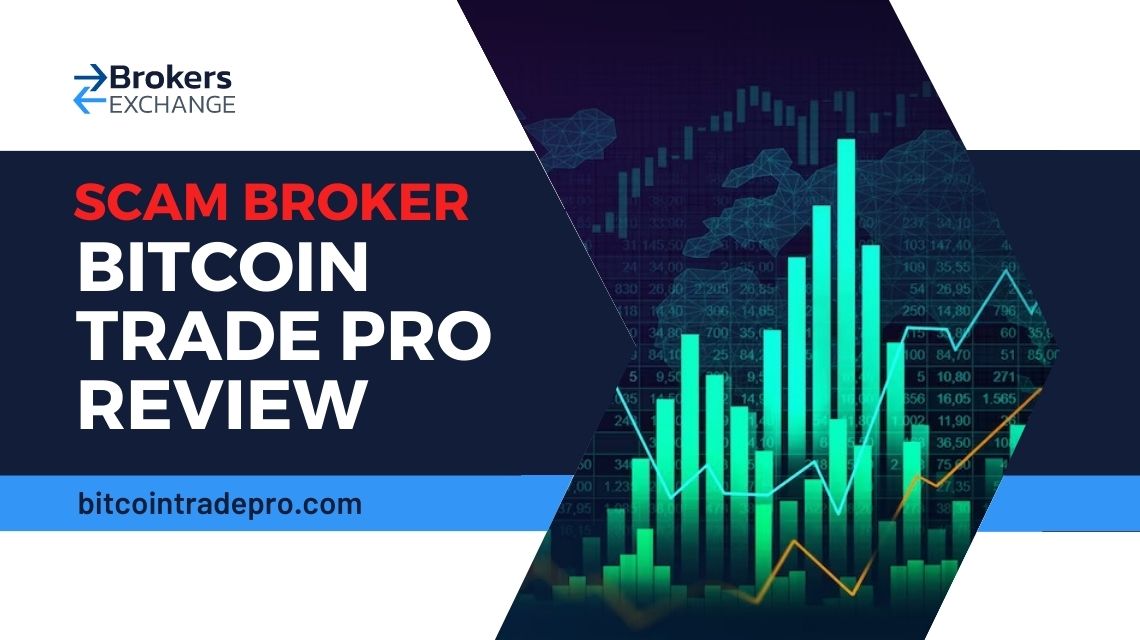 Bitcoin Trade Pro Review, The website that Bitcoin Trader Pro used to defraud cryptocurrency traders is now non-accessible. This entity is what we call a clone company, it is a scamming strategy where a company would illegally present itself as another, lawful entity.
The predatory behavior of Bitcoin Trade Pro has come to the attention of multiple international financial regulators. There are a number of warnings about this entity being a scam.
Warning issued by Cypruses CySEC: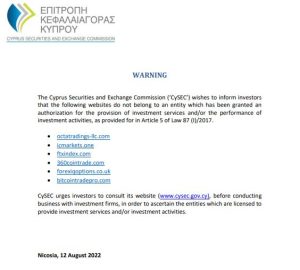 Warning issued by South African FSCA: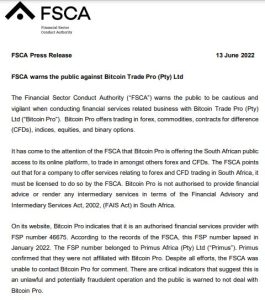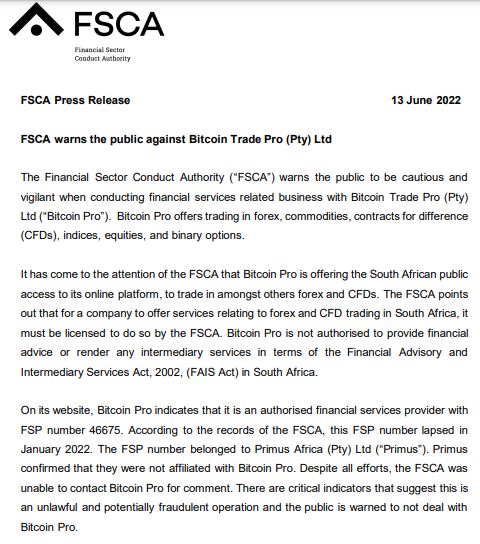 Warning issued by independent entity Financial Commission: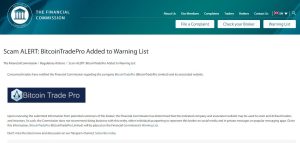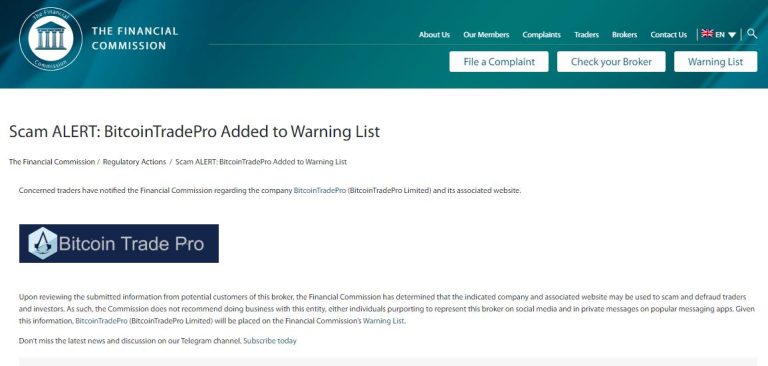 These fraud warnings are the most probable reason behind the shutdown of the Bitcoin Trade Pro website. But what is a clone company and what are the dangers of dealing with these entities? Find out more in our Bitcoin Trade Pro Review.
Also, we recommend you not to invest in the fraudulent brokers Top Assets Trades, SkyFx Trader, and MondialFx.
Company

Bitcoin Trade Pro Limited & Bitcointradepro.com INTL Limited & Bitcoin Trade Pro (Pty) Ltd

Website
bitcointradepro.com
Address

27, Whitelands Avenue, Chorleywood, Hertfordshire, England, WD3 5RE

57 Kolonakiou Street, 1st Floor, Suite 102, 4103 Limassol, Cyprus

Email

N/A

Phone

N/A

Minimum Deposit

$100 / $500

Leverage

N/A

Bonuses

N/A

Regulation

Unregulated scam

Warning

CySEC, FSCA, FC
Compliance, and Fund Safety at Bitcoin Trade Pro
Judging from all the bad financial conduct warnings about this broker, we can be certain that there is no safety or security to be found at Bitcoin Trade Pro. Acquiring a trading license is a difficult task. Many regulatory agencies worldwide have set up safety conditions that protect the financial assets of both the client and the broker.
Bitcoin Trade Pro has lied to their clients about being based in the UK, but at the same time, their company is registered in Vanuatu. They also falsely claimed to have a license in Vanuatu, Cyprus, and South Africa. This spaghetti of mish-mashed information is a well-known scam tactic that confuses the victim.
First of all, we need to make something clear: if the company is registered in the UK, it falls under the jurisdiction of the UK's regulator, called the FCA. This is one of the strictest and most respected regulators in the world. To start a brokerage in the UK, a company must satisfy these trading conditions:
£730,000 of starting capital

£85,000 worth of compensation scheme

Leverage is restricted to 1:30

Negative balance protection must be implemented

The company must provide segregated bank accounts

Any bonus is forbidden

Financial transparency is mandatory
CySEC from Cyprus has similar conditions. Because Cyprus is a part of the EU, there are additional rules that the EU MiFID agreement dictates. Although somewhat lax when compared to the EU and the UK, South African regulation is also quite stringent. 
Vanuatu, on the other hand, is a developing nation that lacks the capacity to enforce strict financial rules.
Respectable brokers will usually obtain multiple licenses in order to expand their market influence. It is no wonder that Bitcoin Trade Pro would try to convince their victims that they've done the same.
Available Trading Software
One additional false claim of Bitcoin Trade Pro pertains to the trading platforms, and their availability. The advertisements on the website would make you believe that there are a few different trading platforms, but the reality is quite different.
A web trading platform is available as the only solution if you can call it that. The platform in question is quite limited. Furthermore, it lacks almost all the utilities that allow for a trade to happen. This isn't very dissimilar to other scam sites. Remember, scammers, want your money, not your successful business.
Account Types Available
We can't say much about the account types with this so-called broker, as there was very little information in the first place. The prevalent method these swindlers use to defraud traders is to offer multiple different accounts, and promise various perks that come with them. Meanwhile, in the real world, the only thing that differs between these accounts is the minimum deposit amount.
Legitimate brokers continually develop new strategies to allow their clients to squeeze as much profit as possible. Each of the legitimate companies tries to create a better trading environment by introducing competitive market prices.  Accounts with these businesses will differ not only in market pricing, but spread, commission, and premium technologies such as ECM.
Methods of Deposit and Withdrawal
During the short time, Bitcoin Trade Pro ran their site, the only available method for currency flow was cryptocurrency transfer. It's not unheard of for a broker to offer crypto payment as a method of account funding. With regulated brokers, this is just one of the methods that are offered, however.
Scam websites that accept only crypto do so with an underlying reason. You see, crypto transfers are very difficult to track. Because crypto coins only exist in a digital form on some media storage like a hard drive, this storage can be turned off to physically prevent tampering. 
How the Fraud has Carried Out
We can now deduce how a crypto scam like Bitcoin Trade Pro functions. Websites are used to advertise unrealistic market conditions, and this attracts potential investors.  These investors would be sent on a wild goose chase with overlapping and contradicting claims of different licenses and regulations.
Scammers would offer bonuses and prices that are difficult to resist. Their website is built in such a way that you can't tell what you're in for until you make a deposit.  Once you do make a deposit and figure out something's quite off, it's already too late. Scammers have put their crypto wallets offline, and are avoiding any further communication.
Bitcoin Trade Pro
Summary
A cryptocurrency clone company scam is the best way to describe Bitcoin Trade Pro. These frauds used data from another company to fake their legitimacy. The target of this scam is beginners that don't have much experience in online trade. 
None of the crucial trading information is available before you make a deposit. Once the deposit has been made, the swindlers shut off their crypto wallet and break communication.
FAQs About
Bitcoin Trade Pro
Broker
Is Bitcoin Trade Pro a Regulated Broker?
No, every claim Bitcoin Trade Pro makes about regulation and licenses is a complete fabrication.
Is My Money Safe at Bitcoin Trade Pro?
No, there are multiple outstanding warrants about Bitcoin Trade Pro fraudulent antics.
What Is The Minimum Deposit at Bitcoin Trade Pro?
Unknown. Some parts of the website claimed a minimum deposit of $100, others as high as $500.