April 10, 2023
Reading Time:
4
min
Top Assets Trades Review: Learn More About This Scam Broker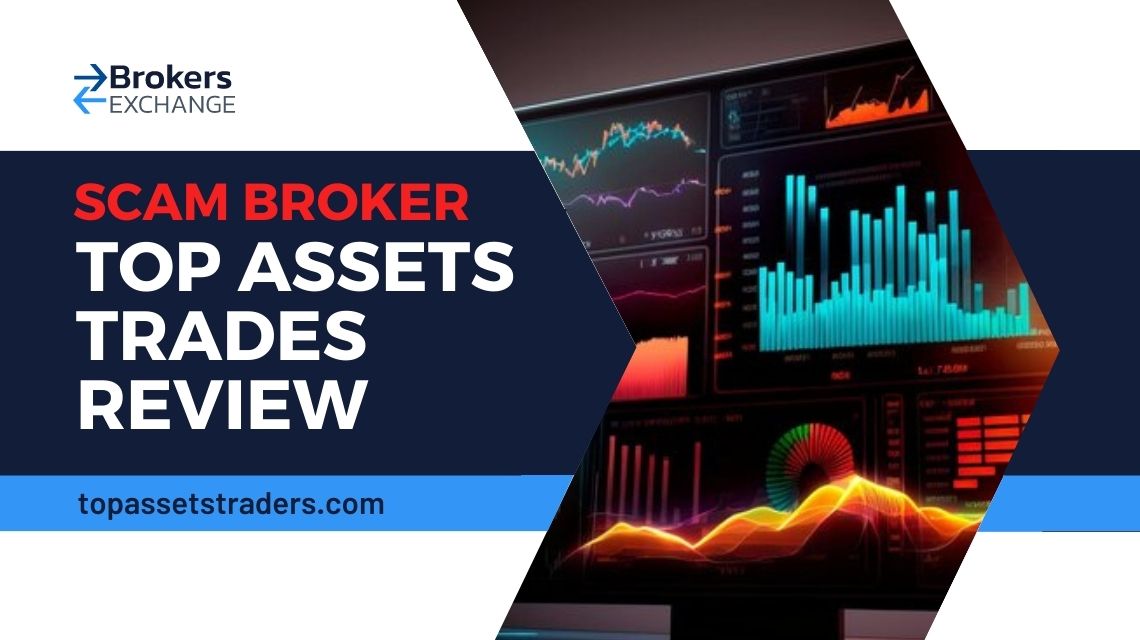 Top Assets Trades Review, How well a broker makes their offer sound isn't a confirmation of their legitimacy. Top Assets Trades not only has a good-looking offer but also successfully fakes a license. 
The problem is that the true credibility of a broker lies in the regulation and that information is contained in the public registers of financial authorities. 
Top Assets Trades offers the advanced and globally popular MT5, several account types with supposed guaranteed daily returns, and has even provided a license number. 
CySEC, whose license they're faking actually has no company under the name of Top Assets Trades listed as regulated. The license number in question actually belongs to a broker giant, StoneX, owner of FOREX.com.
Since the site appears to be nothing but a petty liar, our Top Assets Trades review exposes its harmful, fraudulent activities. The website of the con artist is out of order, but that probably won't stop them from appearing again soon enough.
What is more, we strongly advise you not to invest in SkyFx Trader, MondialFx, and Tesler fraudulent brokers.
| | |
| --- | --- |
| Company | N/A |
| Website | TopAssetsTraders.Com |
| Address | N/A |
| Email | N/A |
| Phone | N/A |
| Minimum Deposit | 300 USD |
| Leverage | N/A |
| Bonuses | Undisclosed |
| Regulation | Unregulated  |
| Warning | N/A |
Top Assets Trades
Regulation and Security
If obtaining a license was as easy as some scammers make it sound, swindlers of all sorts wouldn't have to clone or forge them. Top Assets Trades is a swindler under the mask of a strictly regulated company called StoneX. It wasn't that hard to see right through the lies. 
Top Assets Trades provides proof of regulation that might seem believable at the first sight. When you scratch the surface, you will quickly obtain the true information about this suspicious attempt. The license number they've put on the site belongs to StoneX. This highly reputable company owns a license issued by CySEC, one of EU most influential financial authorities. 
Coming even close to being regulated by CySEC is something Top Assets Trades could never achieve. Firstly, the company-owning team or whoever is behind the site would have to invest 730 000 EUR minimum. 
The second mandatory condition and what traders are most weary of is the security of funds through segregated accounts. Paired with that is the leverage restriction of 1:30 and negative balance protection. And we won't even ask how transparent this obvious scam looks when they're revealing basically nothing about who they are and what their location is. 
We got the fake CySEC license out of the way. Next was to try and find out if they have a license from another authority, which is highly unlikely. We were right. The databases of BaFin, FCA, NFA, ASIC, and IIROC yielded no results for Top Assets Trades.
There was an attempt to look credible, and that stands. But Top Assets Trades could not fool us. They're unregulated and as fake as they come, so stay as further away as possible!
Broker's Trading Software Overview
No Top Assets Trades review out there could tell you much about their trading software. The deal is, when you attempt to register, the site will prevent you from proceeding above that point. We waited for the promised password through an email but never got it. Without it, completing the signup procedure failed. 
We couldn't really call it a surprise if Top Assets Trades didn't have trading software at all. Perhaps they imagined robbing users by luring them into investing and not allowing them to trade or do much else at all. That would be expected from a con artist. 
Deposit and Withdrawal Process
Vital information on deposits and withdrawals was omitted from the website as there were no legal documents explaining these processes. Also, since we couldn't get to the client zone, we couldn't determine how Top Assets Trades would expect their clients to invest. 
The account types, or so-called investment plans, hint that the broker only accepts several crypto currencies – BTC, ETH and USDT. Naturally, funding at Top Assets Trades is non-transparent, unsafe, and dangerously risky. 
Other conditions like fees, trading volume requirements and similar remained but a mystery. Another aspect of their conduct which Top Assets Trades stays anonymous about. The clients are utterly oblivious of these actions.
Account Types at Top Assets Trades
Instead of calling them account types, Top Assets Trades calls them investment plans. Scarily similar to every other scam offer, these don't differ much from what you usually see on many other unscrupulous sites. 
As if trading was child's play, these investment plans claim there's a certain profit, bonuses, guaranteed returns on a daily basis and whatnot. Take a look:
Bronze – $300, referral bonus + 0.8% daily bonus 

Silver – $1 000, referral bonus + 1.2%  daily bonus

Gold – $12 000, referral bonus + 1.8% daily bonus

Diamond – $100 000, referral bonus + 2.3 daily bonus
How Does the Scam Implement?
Wouldn't it sound great if someone came and offered you to earn thousands of dollars daily and get bonuses on profit just from investing $300? Indeed it would. But you see, that is exactly what makes it so fake. Whatever a stranger online may offer you that supposedly brings huge returns and unimaginably easy gain is not real. 
Chances are, if you accept the offer, you will start investing and get an impression of trading thanks to the set up and controlled environment, but no true profit happens. And not only will you be able to earn nothing in those artificial conditions, but you'll also not be able to withdraw even the initial deposit. 
What helps swindlers keep your investment is the conditions like trading volume requirements and sudden fees they apply. Everything seems credible in the beginning because they steal identities and build up fake reputations. But they're single purpose is robbing you.
Top Assets Trades
Summary
Preventing Forex and commodity fraud has become a burning question in the community. Our mission, and this Top Assets Trades review is an example of that, is to help novice traders not make a costly investment decision. 
Scam agents are predators, lurking the internet. From social networks to every little ad you see online offering quick money could potentially bring you investment demise. 
Instead of relying on anonymous recovery agents or similar forms of scam, better turn to the authorities. Government institutions provide credible information and help recovering lost funds. 
FAQs About
Top Assets Trades
Broker
Is Top Assets Trades Broker Regulated?
This broker is not regulated and conducts a suspicious business built on lies and manipulation.
Is my Money Safe with Top Assets Trades?
None of your funds are safe. Even if you invest a single penny, you're in for a loss.
Does Top Assets Trades Offer a Demo Account?
Demo account isn't available. The one account type you can open is the live trading account.