March 29, 2023
Reading Time:
6
min
Blueberry Markets Review – Learn More About BlueberryMarkets.com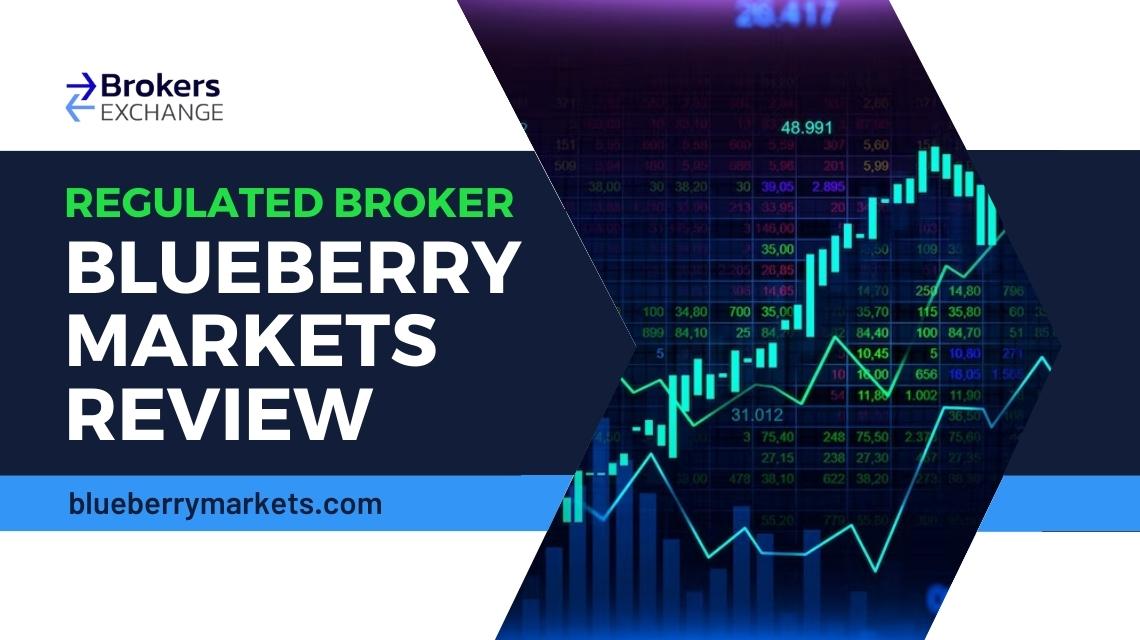 Blueberry Markets is a subsidiary of EightCap Pty LTD of Australia. The company was founded by Deany Hyde in 2016, who had a vision of establishing a global online trading brand specializing in Forex. The company has since grown their influence by providing competitive spreads and expanding their services to include over 300 different financial instruments.
Fueling this broker's expansion are the successful businesses of over 30.000 retail traders worldwide. Blueberry Markets are winner of prestigious Australia's Most Trusted Broker award, and has been a runner-up for Best Online Customer Service in 2020 and 2021.
This fully licensed broker offers full transparency and quick access to new user accounts. Distinguished Customer Support and good quality of education further cement Blueberry Markets' influence in the modern online trading industry.
In addition, we recommend reading our reviews about brokers Trade Republic, XTB Broker, and Orbex.
Blueberry Markets Brokerage Pros and Cons
The backbone of Blueberry Markets' financial success is their competitive pricing. Spreads are very tight, and overall fees are low on all of the financial instruments this broker offers for trade.
Platform coverage encompasses the most popular trading platforms today, MT4 and MT5. Added DupliTrade compatibility is beneficial to those who wish to automate their trading experience. WebTrader is available for users who wish to trade using their personal computer.
Clients can fund their accounts through the most common financial channels, including bank cards, e-wallets and bank wire transfers. Traders also enjoy a zero-fee policy, with no fees charged for either deposits, withdrawals or account inactivity.
The initial minimum deposit is somewhat high with this brokerage, set at $100, which is our first con. Although clients may elect to withdraw their currency through all mentioned channels, a 1-3 business day wait time is expected for withdrawal approval. The absence of an Islamic trading account is also a turn-off for any investors trading under Shariah. Some legal risk mitigation conditions are not available for non-Australian clients.
| | |
| --- | --- |
| Country of Regulation | ASIC, VFSC |
| Trading Fees Class | Low |
| Inactivity Fee Charged | No |
| Withdrawal Fee Amount | No withdrawal fee |
| Minimum Deposit | $100 |
| Time to Open An Account | Several minutes |
| Deposit with Bank Card | Yes |
| Depositing with Electronic Wallet | Yes |
| Number of Base Currencies Supported | 7 |
| Demo Account Provided | Yes |
| Products Offered | Forex, Cryptocurrencies, Stocks, Indices, Commodities |
How Are You Protected at Blueberry Markets? Security and Regulation
Blueberry Markets are currently licensed in 2 financial jurisdictions. The more strict of the two is ASIC, which is a so-called tier 1 regulator thanks to its very well-defined legal restrictions and guidelines. The other, however, is VFSC from Vanuatu. We will review the implications of this later.
The Australian regulatory body, ASIC, is a tier-1 licensing regulator. In order to acquire a license from this regulatory entity, a company must adhere to some very strict rules. These include a minimum trading capital of AU$1 000 000, and full transaction reporting is required. The client's bank accounts must be segregated.
Other requirements imposed by this license include a negative account balance protection, as well as a leverage restriction to 1:30. In Australia, bonuses are banned, but unlike in the EU for instance, a compensation scheme is not required.
Vanuatu is another story, and for clients outside Australia, it is this regulatory body that has legal precedent. Vanuatu has the same problems as any developing country around the world, and its regulator VFSC has some very slack legal conditions pertaining to licensing rights.
Some traders prefer the high risk – high reward of high leverage, but we should remember that all developed nations have leverage restricted to 1:50 at most (the USA), and there is a solid reason for this. 
These shortcomings in legal restrictions open Pandora's box of opportunities, both good and bad, and this is the main reason behind conflicted user reports on Blueberry Markets' quality of service.
What Account Types are Available at Blueberry Markets?


Blueberry Markets currently offers two types of live accounts for their retail clients. Both of these are available on all platforms the company supports.
Blueberry Standard Account has all the pricing integrated into spread. Even so, spread is tight for major forex pairs, starting with 1 pips. Initial deposit for the account is $100, and maximum leverage globally is 1:500. All trading instruments are available, and minimum trade size is 0.01 lots.
Blueberry Direct Account charges a fixed commission of $7 instead. With this account, spread for major forex pairs is as tight as 0 pips, with the same leverage up to 1:500 as the previously mentioned account. Similarly, initial deposit is $100, and all trading instruments can be traded with this account. Likewise, the minimum trade size is 0.01 lots.
For new traders who are still learning the ropes, a demo account is available for risk-free speculation. Students and analysts alike will also find this tool quite useful for market analytics and other academic needs.
Blueberry Markets Trading Platforms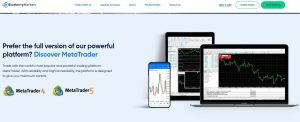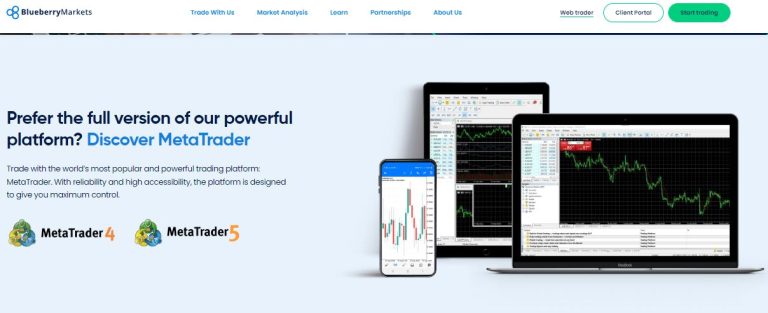 As mentioned before, Blueberry Markets supports all traditional trading platforms investors have learned to respect. Included in this list are popular MetaTrader4 and MetaTrader5 by MetaQuotes, as well as a Web Trader. Automated trading is supported through DupliTrade integration.
Seasoned forex investors are well accustomed to the popular MT4 platform. This application provides real time order execution and access to thousands of financial indicators. Charts are fully customizable for ease of access, and automated trading is supported through special Expert Advisors functionality. This software is also compatible with DupliTrade.
MT5 is a next generation software developed by MetaQuotes to further expand market viability of MT4. It is a complete overhaul of the platform that allows different instruments to be traded, such as cryptocurrencies, commodities, indices, and more. This platform offers some of the highest market execution speeds of any program, limited only by network speed.
Blueberry Markets Trading Instruments 
Blueberry Markets was founded with focus on Forex, and this remains their main trading instrument base. To adhere to the ever-evolving market of modern online trade, this broker has since expanded their service palette. Currently, Blueberry Markets are offering over 300 different financial instruments in various categories.
Here is an abbreviated list of what is on offer with Blueberry Markets:
Forex (Major Forex pairs, Commodity Currencies, Currency Crosses)

Crypto CFDs (Bitcoin, Bitcoin Cash, Litecoin, Cardano, Polkadot)

Precious Metals and other Commodities (Platinum, Gold, Silver, Brent Cash)

Indices (ASX200, EUSTX50, FRA40, GER30, HK50)

Share CFDs (Adobe, Chevron, Johnson & Johnson, Microsoft, Tesla, Walmart)
Blueberry Markets Funding Methods
Most regulated brokers offer a range of different funding methods for their live accounts. Blueberry Markets are no different, and allow user accounts to be funded by most popular means, such as Bank Cards, Bank Wire transfers and e-wallets.
Here is a more detailed description of mentioned methods:
Bank Cards (Visa, MasterCard) – accounts update immediately

E-wallet (Poli, FasaPay, Skrill) – accounts update immediately

Bank Wire transfers – accounts update in 1-2 workdays
Depending on your method of choice, different update times can be expected, as shown. There are no deposit fees with this broker. All withdrawals must be approved by the broker before they can be facilitated, which takes a couple of work days. There are no withdrawal fees, but some fees can be expected by a 3rd party when using Bank Wire and e-wallet methods.
Research and Education 
Finance and economics are a very abstract field of study, with a lot of trade-exclusive terminology. It stands to reason that many prospective clients shy away from such a complex topic, and this is why most brokers offer some level of education to their audience.
While education at Blueberry Markets is not university grade as with some industry giants, its overall quality is above average. There are 3 principal courses, which are further divided into subsections. The main courses are tailored for beginners, intermediate and advanced traders. 
All three principal courses offer video tutorials and articles on various topics. For instance, a beginner course will explain the basic concepts and strategies. Intermediate tutorials tackle liquidity, volatility, and bottom lines. Advanced tutorials will explain risk mitigation and market research to allow you to identify opportunities that the market presents.
Customer Support 
Customer support at Blueberry Markets is available 24/7 throughout the year, and can be accessed by several means. What distinguishes Blueberry Markets, and has placed them a runner-up for a customer support quality award is the Help Center & FAQs section on their website.
This Help Center & FAQs functions much like it would in any larger IT company. It is a list that presents a number of common problems and issues, categorized in several main topics. You may click on topics you wish to view, and it will forward you to a list of usual problems and methods of solving them.
In the event of the issue not being solved by the mentioned method, these additional options are available as well:
24/7 Live Chat Support through the website
+61280397480
A physical mailing address is also provided
Blueberry Markets Overall Summary
Blueberry Markets was founded in 2013 with the main focus of their business being online Forex market, and development for retail traders. The company is licensed in 2 jurisdictions, the most notable one being Australian ASIC.
Overall service quality is good, spread is low and there are no deposit, withdrawal or inactivity fees charged. Leverage and other trading allowances differ from region to region. Australian nationals can expect a safer trading environment, but lower restrictions outside Australia allow for more risk, and more reward opportunities.
FAQs About Blueberry Markets Broker
Are my Deposited Funds Protected at Blueberry Markets?
Blueberry Markets is compliant with ASIC regulatory standards. It is a safe company with good customer security implements.
Does Blueberry Markets Offer Demo Account?
Demo accounts are made available for all users, allowing for the study of different aspects of financial markets.
What is the Minimum Deposit at Blueberry Markets?
Currently, the minimum deposit at Blueberry Markets is $100.