April 02, 2023
Reading Time:
4
min
Broker Capitals Review: Who Is Behind Brokercapitals.Com?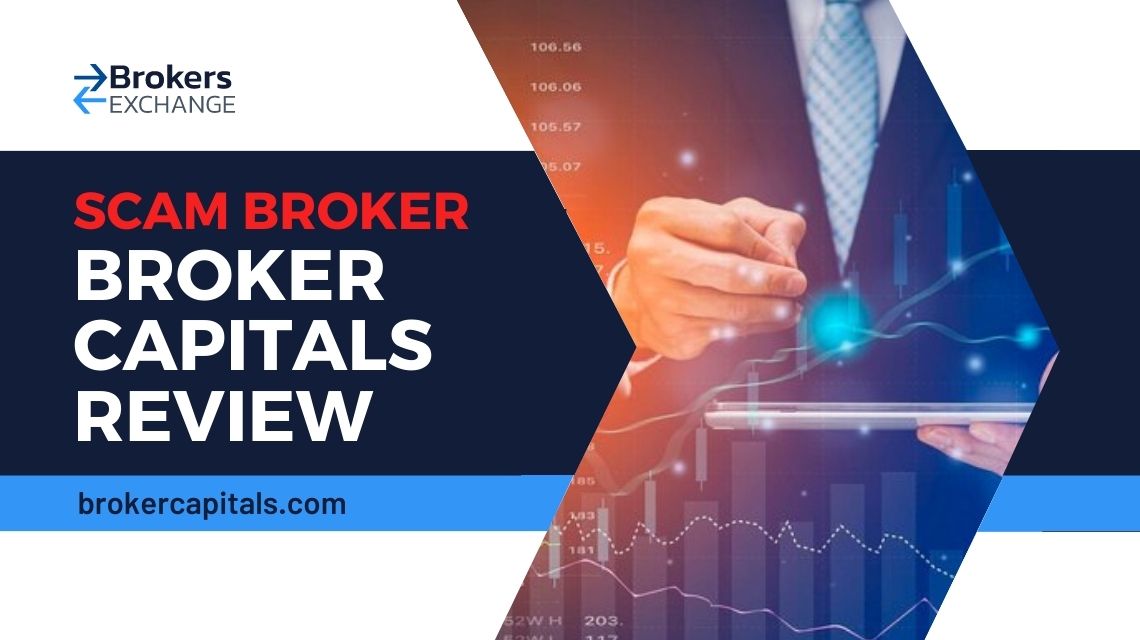 Broker Capitals for many different reasons. If you're a newcomer, our review will show you how to spot these sorts of scams before you get burned.
The suspicious activity of the people behind Broker Capitals has fallen under the watchful eye of a European regulator from Italy, an agency named CONSOB. You may view the mentioned warning by following this link:
Additionally, we strongly advise you to avoid the fraudulent brokers Universal Wealth Group, TopTrade500, and Nolxweb.
| | |
| --- | --- |
| Company | Broker Capitals |
| Website | brokercapitals.com |
| Address | St James House, Pendleton Way Salford M6 5FW, UK |
| Email | [email protected] |
| Phone | N/A |
| Minimum Deposit | $200 |
| Leverage | 1:1000 |
| Bonuses | No |
| Regulation | Unregulated |
| Warning | CONSOB |
Regulation of Broker Capitals and Safety of Funds
Broker Capitals claim to have its headquarters based in the UK, St James House, Pendleton Way Salford M6 5FW. On another page of their website, a company named Vie Finance is mentioned, which is a registered Greek company with no affiliation with Broker Capitals. 
Thirdly, this faux broker also claims to be regulated in the EU by an Indian financial regulator called FMC, which does not regulate Forex. Finally, the company claims to be registered in St. Vincent and the Grenadines.
If the company is indeed based in the UK, it falls under the jurisdiction of the UK's FCA, and not of Indian FMC. This further debunks their claim of being regulated in the EU since neither the UK nor India is a member of the European Union. 
If Broker Capitals were in fact affiliated with Vie Finance from Greece, they would need to be regulated by Greek HCMC, which is in fact a European regulator. Finally, if the company was registered in SVG, it would still not be a regulated broker, since SVG does not regulate online broking companies.
Broker Capitals offer some conditions that break the rules of regulation in the EU, such as an absurd leverage of 1:1000 that they offer with some accounts. With a regulated broker, this would cause unacceptable financial losses for the clients. In reality, Broker Capitals are an unlawful enterprise, as we already saw when we found a Warning issued by the Italian regulator, CONSOB.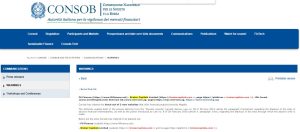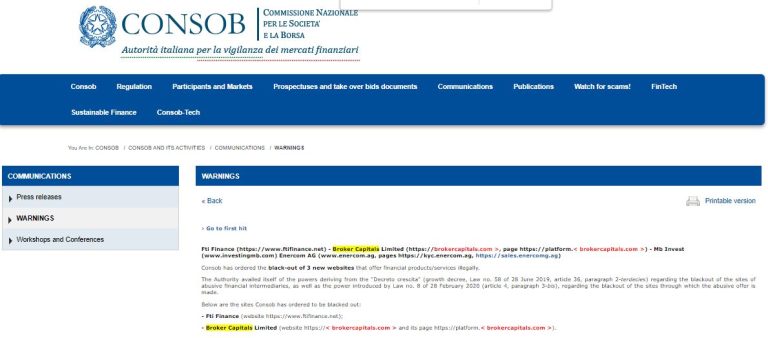 Trading Platform
Overview
Broker advertise their Web Trader software as if it was some cutting-edge solution made by God almighty. In the real world, their login server is unresponsive and it's impossible to access the platform if it even exists in the first place.
It's time to mention regulated brokers and their trading software. The most common one is MT4, which is a program that has been in incremental development since 2005. It currently offers the greatest execution speed of any software, effectively nullifying slippage. 
Another great development is MT5, a new generation software that allows the trading of more instruments than just forex. It features automation utilities such as Expert Advisors and Stop Signals. Many well-established companies have also commissioned custom trading software of their own.
Deposit and Withdrawal
We strongly discourage our readers from depositing any funds with this scam broker. As we have seen, they do not offer any safety, or a trading utility whatsoever. Broker Capitals do not disclose what deposit and funding methods are available.
Deposits can only be done through the trading application that is non-functional, and we can currently not test which deposit methods are accepted. We can speculate that the smallest deposit amount is $200 because that is what the scammer said on their website.
Account Types 
Broker Capitals try to imitate the conditions that many regulated brokers offer to their clients. There are some differences between the trading accounts, but these are superficial. The only real difference is the minimum amount of money they require for a deposit.
These account types are available with Broker Capitals:
Micro – $200 deposit, 1 Pip spread, 1:1000 leverage

Standard – $1000 deposit, 0.7 Pips spread, 1:500 leverage

Premium – $25000 deposit, 0 Pips spread, 1:100 leverage, $8 commission
We can see that there is no demo account on Broker Capitals. The absence of this essential tool for learning in a risk-free environment is quite alarming. The deposit amounts are quite hefty, especially when you consider regulated brokers offer Micro accounts for as little as $10. Leverage is dangerously high, and an $8 commission on Premium accounts is outrageous.
How Is the Scam Conducted?
Frauds like this broker more often than not offer what seems to be an investment of a lifetime. Unbelievable market conditions, with excellent pricing and a palette of instruments that are very diverse and sometimes exotic. Most crucial information is hidden behind a paywall, of course.
This is a method the scammers use to attract their victims. In reality, the whole operation is hollow, and there is no way to trade on these websites. Once an initial deposit has been made, and the client has found out they've gotten duped, the scammers will usually cut off communication.
Broker Capitals Overall
Summary
Broker Capital is a dangerous unregulated entity that uses lies and deceit to defraud its investors. Stay well enough away from these frauds! Their only goal is to steal customer money, and all the flashy advertisements on their website are just a lure to attract victims.
The convoluted mess of information that Broker Capitals have posted on their website is a tool to confuse their would-be investors. Don't trust your money with these deceivers! Try some of our recommended brokers instead, and use them as a cross-reference in your future search for a business opportunity.
FAQs About
Broker Capitals
Broker
Are My Funds Protected at Broker Capitals?
No, Broker Capitals are a dangerous group of people that seek to steal money from their clients.
Is Broker Capitals a Legitimate Broker?
No, Broker Capitals is a completely unregulated, illegal entity.
Does Broker Capitals Offer a Demo Account?
There is no demo account on offer with Broker Capitals.