October 17, 2022
Reading Time:
5
min
BtcMarketCap Review – Who Is BtcMarketCap Brokers?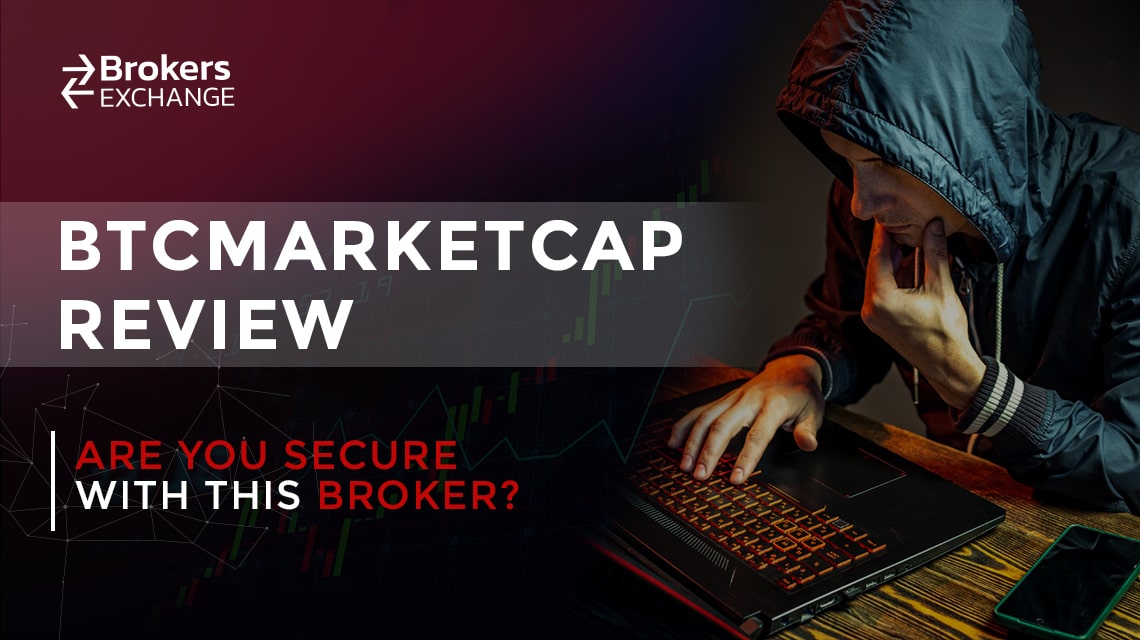 BtcMarketCap is another name on a lengthy list of fraudulent brokerages. There is an exuberant number of scam brokers due to a lot of hype around online trading. As with this kind of company, BtcMarketCap's offer is nothing but smoke and mirrors. 
As a matter of fact, several financial authorities warn against this company. In a nutshell, there are more than enough reasons for avoiding BtcMarketCap like the plague. For the full details, continue reading our BtcMarketCap broker review.
This is just one of the many reasons why we advise against dealing with scam brokers like Espntrades, OliveCryptoTrading, and Lite Forex Pro.
| | |
| --- | --- |
| Company | BtcMarketCap |
| Website | BtcMarketCap.Com |
| Address | Saint Vincent and the Grenadines |
| Email | [email protected] |
| Phone | Australia +611800259770, Canada +18884018042, Germany +4915227770859 |
| Minimum Deposit | $250 |
| Leverage | 1:100–1:400 |
| Bonuses | Yes |
| Regulation | No |
| Warning | OSC, FCNB, BCSC, AMF, CONSOB |
Licensing and Regulation of BtcMarketCap 
BtcMarketCap is quite popular among financial agencies but with a negative connotation.
Namely, instead of appearing in the licensed broker registers, BtcMarketCap is on warning lists of many supervisory bodies, mainly Canadian ones, including, OSC (Ontario Securities Commission), BCSC (British Colombia Securities Commission), FCNB (Financial and Consumer Services Commission of New Brunswick), and AMF of Quebec.
That's more than we need for labeling BtcMarketCap as an outright fake broker.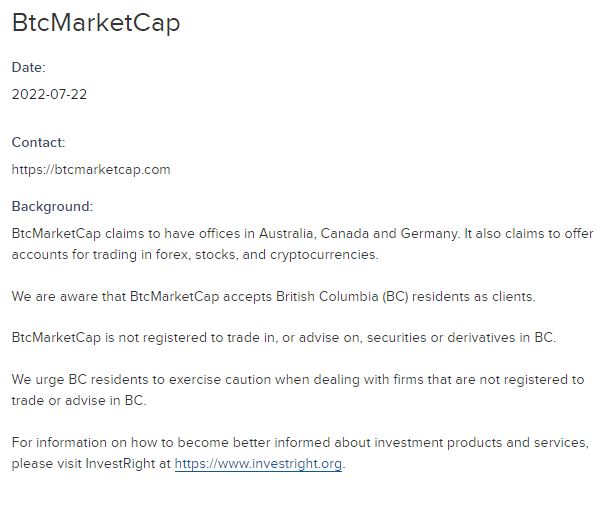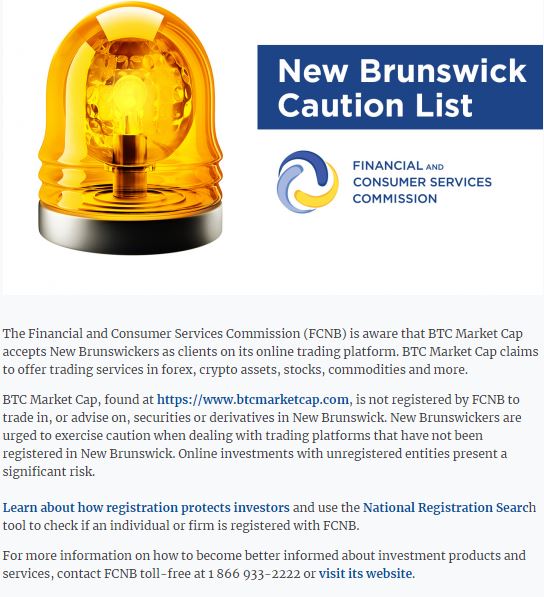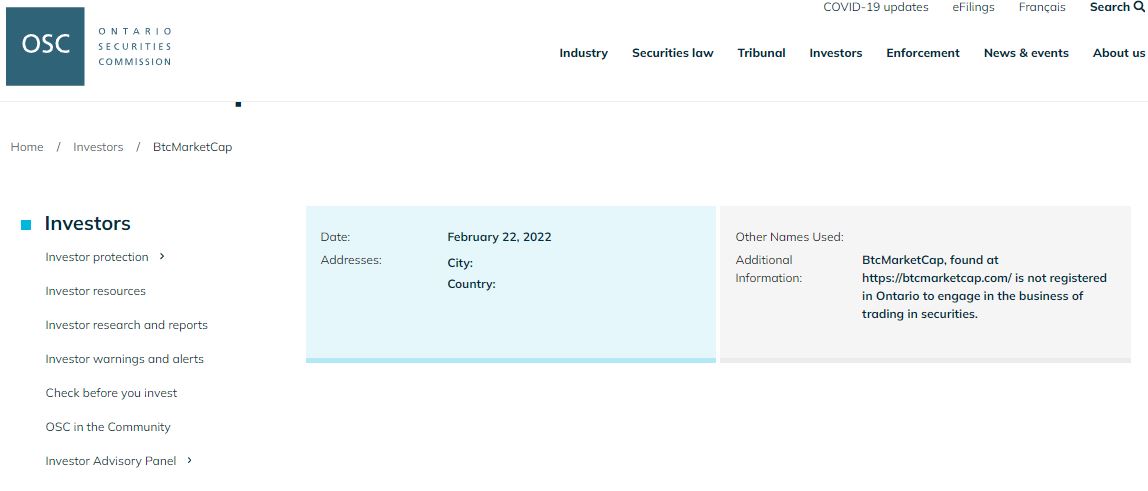 Further, the company operates anonymously and is formed in Saint Vincent and the Grenadines (SVG), an offshore safe haven for shady brokerages.
Don't get us wrong; not all SVG-registered companies are necessarily bogus; many reputable forex providers within this jurisdiction exist. 
However, those legit FX brokers are licensed and controlled by top-level financial market regulators like FCA, CySEC, and ASIC, to name a few.
Whereas anonymous and unlicensed businesses registered offshore, e.g., in SVG, are most likely scammers.
What is the governing body's role, and what does it mean to a trader? The respective regulatory agency accredits brokers and permits them to provide services in the jurisdiction of its authority.
For example, FCA is for the UK, CySEC is for Cyprus, ASIC is for Australia, BaFin is for Germany, and so on. All brokerages must comply with the stringent legislation of a particular authority.
Trading credentials aren't easy to obtain and uphold, meaning brokers must satisfy demanding standards and maintain the quality of service. 
For example, forex providers must have enough working capital (up to several million dollars), segregate their money from their client funds, and have risk management mechanisms in place. All this serves to keep your investment safe.
In addition, customers of brokers authorized by certain financial institutions can be compensated in case a broker goes into liquidation. For instance, FCA covers up to 85.000 GBP, CySEC 20.000, and ASIC 100.000 AUD.
According to the BtcMarketCap bonus policy, this brokerage adheres to the law of Estonia, which is strange in two ways. 
First, where does Estonia come from now? Second, Estonia is an EU member state, and the EU doesn't allow bonuses and promotions, while BtcMarketCap does offer them. So, another inconsistency in its claims and another reason for distrust.
Lastly, your equity is at a greater risk of being lost with the uncertified business.
BtcMarketCap Trading Software Overview
One of the most vital parts of trading is naturally a trading platform. Widely used are MetaTrader 4 and MetaTrader 5. It's not surprising since both MT4 and MT5 offer many advanced features, from automated and copy trading to a stop loss. 
As anticipated, BtcMarketCap provides its WebTrader that can't hold a candle to MT4/MT5. Although there are some great WebTraders like cTrader and Sirix, it's not the case with BtcMarketCap's trading software. 
It has only several options, including some graphs, indicators, and activity history. All in all, this company fails to provide an adequate trading program, so absolutely look elsewhere.
Deposit and Withdrawal Procedures at BtcMarketCap
As BtcMarketCap is a well-known investment scam, it's neither safe, advised, nor rational to deposit with this illicit company. 
However, if you have made a mistake, and invested in trading with BtcMarketCap, unfortunately, there are slight chances of returning the money. 
Things can improve if you have deposited with VISA or Mastercard since you can apply for cashback, but it's a lengthy process and should be investigated further. Once again, steer clear of BtcMarketCap.
Here's How They Execute the Scam
The BTCmarketcap scam is perpetrated like any other online fraud, applying deceitful practices to attract customers. A seemingly legal business with a modern-looking website and plenty of tradable assets is used as a trap. 
These financial swindlers use Google ads, social media campaigns, spam emails, unsought phone calls, and more to reach potential customers. They try to entice you with generous bonuses that come with some senseless prerequisites. 
As mentioned, a legal broker service doesn't offer rewards since they are forbidden in most jurisdictions because of misuse, including the EU and Australia.
Fraudsters also offer high leverage, far above the allowed level in the industry. High leverage gives a potential opportunity for higher returns but is also far riskier and more volatile. 
Since high leverage is not safe for traders, many financial supervisory authorities have limited leverage to 1:30/1:50. Anyway, con artists don't care about clients' safety; they are after your money. 
They offer unreasonable trading conditions like high leverage, tight spreads, and zero commission to rope you into investing.
But the reality is different; once they take your money, they will try to cheat you out of more money until you stop paying; then, they will vanish into thin air.
Therefore, always know with whom you are trading. Choose wisely and only invest with proven, safe, regulated forex providers.
BtcMarketCap Summary
BtcMarketCap review has thoroughly examined all available facts about this broker service. 
As a final verdict, we can confidently say that BtcMarketCap is a dishonest online trading scam: no license, too many fraud alerts, low-level trading platform, unfavorable trading conditions, expensive trading accounts, no demo account, no funds protection, no segregated accounts, no guaranteed funds, and no negative balance protection. 
We believe these disadvantages are pretty compelling to never think about BtcMarketCap again.
FAQs About BtcMarketCap Broker
What Is The BtcMarketCap Minimum Deposit Amount?

BtcMarketCap requires a $250 minimum deposit amount, much higher than legitimate broker offers.
What Are the Deposit and Withdrawal Options for BtcMarketCap?

BtcMarketCap states on its webpage that it accepts credit/debit cards, e-wallets, and Bitcoin for deposits and withdrawals. But this is also doubtful, as is everything else with this untrustworthy company.
What Account Types Does BtcMarketCap Provide?

BtcMarketCap offers six account types: self-managed ($250 min deposit), basic ($5.000 min deposit), gold ($10.000 min deposit), platinum ($25.000 min deposit), diamond ($50.000 min deposit), and libra (invitation only).