March 16, 2023
Reading Time:
5
min
Cambrill Review: The Truth About Cambrill.Com Brokerage
Cambrill is a cryptocurrency theft scam that claims to be a legitimate broker. They lie about having registered companies with the names Cambrill Technology LTD in Seychelles, and Cambrill Trading Services LLC in St. Vincent and the Grenadines. Both of these numbers are falsified, of course, and there are no companies registered under those names or numbers in either country they mention.
Even though the first impression of the website is very positive, problems begin to emerge as soon as you try to create an account. There are mentions of a demo account and a high-quality trading platform, but it's all just a sham. This offshore fraud is a den of snakes and they hide their true intentions well.
Company

Cambrill

Cambrill Trading Services LLC

Website
Cambrill.Com
Address

N/A

Email
[email protected]
Phone

N/A

Minimum Deposit

N/A

Leverage

1:100

Bonuses

Affiliate program

Regulation

Unregulated

Warning

None
Is
Cambrill Legit? Regulation and Safety of Funds
It is notoriously easy to register a company in SVG or Seychelles, but Cambrill didn't bother doing that even. In reality, neither of these countries regulates online broking companies of any kind, being Forex or Cryptocurrency. This means that even if Cambrill was legally registered and employed actual trading, it wouldn't have the authorization to provide these services!
To understand why it is so important for a broker to have a license, we must first learn how different safety regulations are implemented. In developed countries, there are a set of conditions a prospective broking company must satisfy.
Let's look at what the FCA, a financial regulator in the UK, requires from their brokers:
Initial capital of £730,000 or more

Compensation fund of £80,000

Leverage restricted to 1:30

Negative balance protection on client accounts

Segregated bank accounts

Transparent transactions

Bonuses not allowed
These standards are all risk management mechanisms that operate on different levels. They protect the individual retailer, the broking company, and the government as well. We have seen how Cambrill disregards some of these conditions, by offering leverage of 1:100 and bonuses for referral of new users.
If Cambrill were an authorized broker, by breaking these rules they would forfeit their license. Just in case, we have also checked the databases of a few other regulators besides the UK's FCA. After searching databases of Swiss FINMA, CONSOB from Italy and BaFIN from Germany and finding nothing, we can say for certain that Cambrill has no licenses.
Cambrill Trading Platform Overview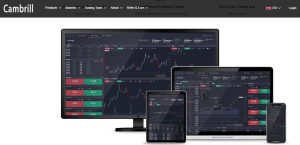 There isn't much to say here, Cambrill only uses Web Trader. It's a somewhat simplistic platform that lacks good security and overall functionality. Frauds are known to abuse this low security and manipulate data displayed in Web Trader to encourage more spending from the victim.
Compare that with the industry leaders in Forex, for example. The most popular trading platforms currently are Metatrader4 and Metatrader5. With Metatrader4, many advanced functions are available to the user. These include advanced market analytics and trading calendars, for instance.
Metatrader5 is a beast of its own, with many trading automation tools and stop signal implementation. It lends its hand well to retailers who wish to speculate on more than just forex, and also features expert advisors and other interesting options.
Cambrill Welcome Bonus
Popular methods of attracting customers, or better said victims, with these scam brokers like Cambrill are promises of bonuses and guaranteed profit. There are 3 types of these referral bonuses on Cambrill, from which you may opt for one. There is a 70% fee revenue bonus, a fixed $1,250 bonus, or a hybrid bonus that combines the both. In this manner, Cambrill is also promoting a pyramid scheme of sorts.
We have already mentioned how many nations consider these bonuses to be illegal, and they are banned because of how difficult it is to enforce rules on this matter. Notable exceptions to this are brokers authorized in Canada or the USA, but even these nations enforce restrictions on bonuses.
Account Types Offered
At least choosing an account with Cambrill is easy – there's only one. Jokes aside, the situation here is even worse than with the trading platform, because some sneaky lies are involved.
Cambrill has a free trial demo account that they are offering, and a user can create an account immediately. The problem is, you need to request a free trial on the account you have already created, and it must be approved by Cambrill. In other words, there is no demo account.
This is far removed from what a licensed broker would offer. Regulated brokers usually offer a selection of different accounts to cater to different needs of their clients. There is usually a raw spread account, a micro account with low minimum deposit, and a demo account for risk-free speculation.
Cambrill Funding Method
Cambrill only accepts cryptocurrency transfers, and that presents a major problem. Because cryptocurrencies are intended to be difficult to track, crypto payments are deprived of some very important safety standards. Unlike a Bank Card payments, you can't have a chargeback on your crypto.
The problem is not only limited to deposits, but to withdrawals as well. If a wallet that keeps cryptocurrency is offline, it is impossible to access its funds automatically. The client is therefore dependent on the scammer to approve a withdrawal. Knowing these types, it's much more likely they'll just pull a rug under your feet and disappear.
Regulated brokers will always offer a number of discrete channels for updating financial accounts. Bank Card Payments, Wire Transfers and e-wallet transfers are safe, dependable and popular, and most brokers offer these options.
How Does the Fraud Orchestrated?
Using their well developed web page that mimics a high quality broker, Cambrill will attract new victims with promised bonuses, guaranteed profits and other snake oil claims. Even though Cambrill claims to offer a demo account, no such account can be accessed. The only way to use the trading platform is to deposit funds beforehand.
Deposits and withdrawals are handled in cryptocurrency, and are subject to some rather large fees. The scammers have made sure that the victim can never recover the entire sum they have deposited with the site. Because you need to send them a valid ID to verify your credentials, they may use your personal information in other nefarious ways.
Cambrill
Summary
Cambrill may look like a sweet cake, but under the nice frosting it's a nest of snakes waiting to pounce. The frauds lie about a registration in 2 offshore nations, but the truth is that not only are they not registered anywhere, they are also completely unauthorized to offer any financial services.
The website Cambrill uses is made by a professional team that is well educated in financial lingo. They use this knowledge to attract victims, by promising bonuses and guaranteed profits, all the while touching up on complex subjects like slippage, market execution times and so on.
By conducting any business with Cambrill, you risk more than your finance. Some of these frauds are known to ask for personal information from their clients, and then abuse it in different ways.
FAQs About
Cambrill
Broker
What Kinds of Accounts Does Crypto Daily Trade Have?
Crypto Daily Trade doesn't clearly list the account types or what they bring. Demo account is available too, though.
How is My Security Ensured When Using Crypto Daily Trade?
Unfortunately nothing about security is certain with Crypto Daily Trade. Operating as an unregulated company, this broker cannot provide you the safety of funds that you look for.
What Funding Methods Are Accepted at Crypto Daily Trade?
The single funding method accepted at Crypto Daily Trade is crypto depositing. Currencies available are Bitcoin, Tether, Cardano, Litecoin and others.