September 13, 2023
Reading Time:
5
min
Capital Bank Markets Review: Uncovering the Truth Behind the Broker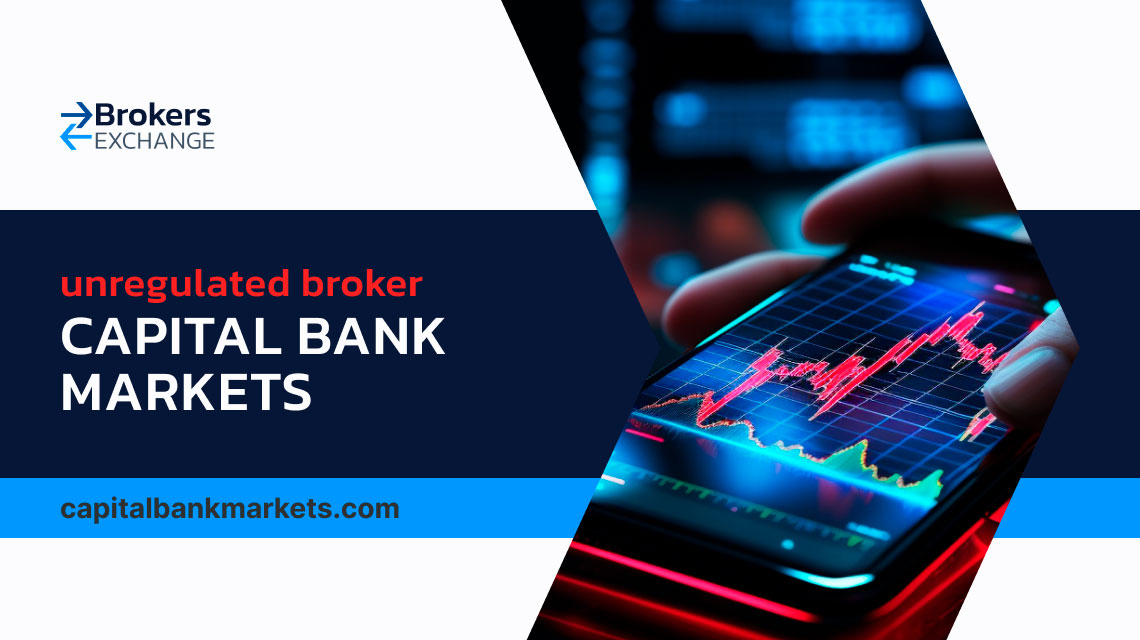 If there is anything you should avoid, it is Capital Bank Markets. Not only they are an unregulated brokerage lacking transparency, but they are also a broker you wouldn't want to trade with even if it was the last one on earth. Without any shame, they present themselves as a binary options broker trying to scam investors. 
Luckily for you, our Capital Bank Markets review will shed light on the broker's operations so you can easily avoid similar companies in the future. Scams are not easy to recognize if you are not well informed, so keep reading our Capital Bank Markets review and join us in exposing another broker. 
Who Is capitalbankmarkets.com?
The broker claims to be located in the UK and registered at Bressenden Place in London. Considering the broker is shut down today there is little to no chance that that is the truth. Either way, brokers in the UK would have to be regulated by the FCA and Capital Bank Markets was operating without any kind of license. 
Capital Bank Markets was not transparent regarding the information about the company, owner, or any other beneficial piece traders could use. Once they disappeared, it was like they never even existed and many traders were left without their funds. 
| | | |
| --- | --- | --- |
| | Capital Bank Markets | Reliable Broker Must Have |
| Legal name | Capital Bank Markets | Transparently displayed in the disclaimer or legal documents |
| Regulation | Unregulated | Within your legal jurisdiction – local regulator |
| Registered in | Bressenden Place, 14th floor, London, SW1E 5JX, United Kingdom | Your country or the country whose license applies in your legal jurisdiction  |
| Established | 2015 | The older the domain – the higher the possibility the company is trustworthy |
| Website | capitalbankmarkets.com | Domain should be from local or international zones, no .xyz, etc. |
| Financial Authorities Warnings | | None |
| Contacts | +44 20 3808 4678 | Phone, email, social media, web form |
| If a withdrawal is possible | No | Yes |
| Fees | | Transparent fees – list of spread and commissions |
| If Active on Social Media | No | Often present on social media |
| Investor Protection | None | Compensation fund |
Regulation Info
Capital Bank Markets was not regulated by any financial authority and that is why many traders were scammed when they went out of business. The broker had traders from various countries including the United States and the United Kingdom, however, operating out of these countries would require a license from FCA in the UK or SEC and CFTC in the US. 
The CFTC even warned the residents about the Capital Bank Markets scam. 
Although Capital Bank Markets is no longer operational, there are still many others that are even worse. Choosing a regulated and transparent broker is crucial if you want to ensure a safe trading experience. 
Capital Bank Markets Broker Profile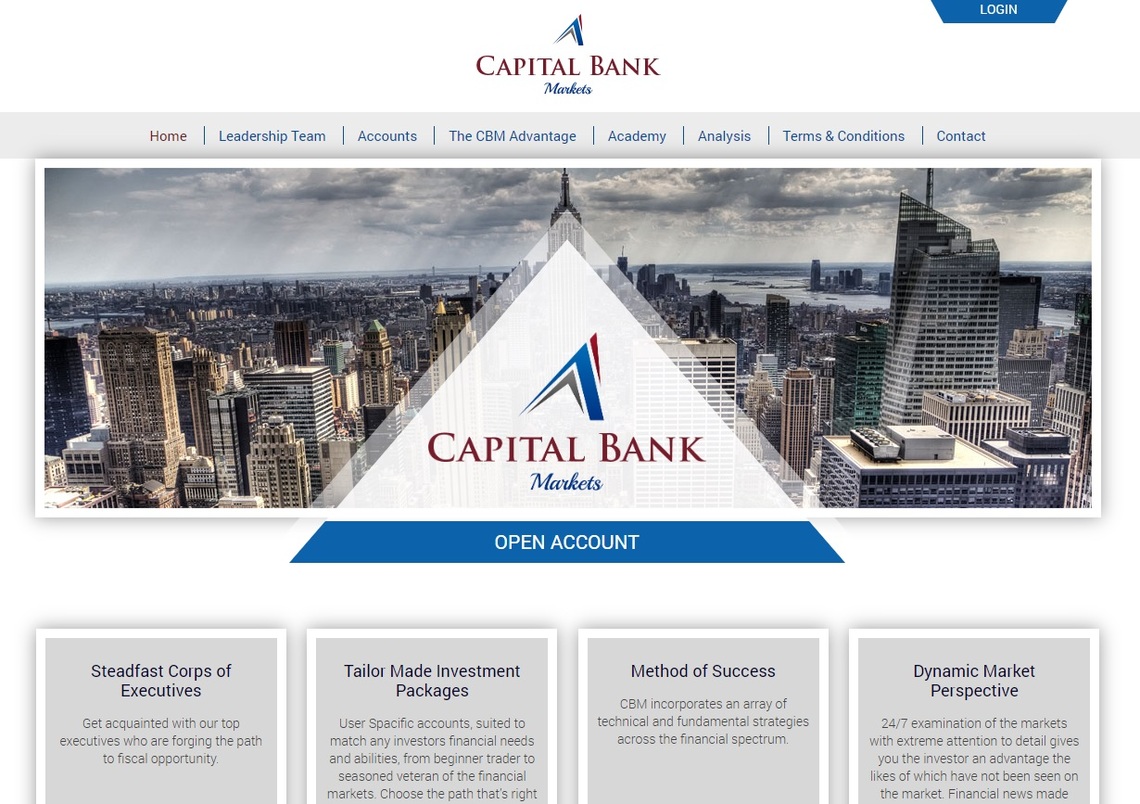 Capital Bank Markets was a binary option, CFD, and forex broker. Since the company closed down, there isn't enough information about the owner or the company overall, however, according to traders, the broker always lacked transparency. 
Avoid brokers like Trades Universal and Capital Bank Markets. Even if they try to tell you tempting stories about large profits, that is nothing but a way to scam you and take your funds. Be aware of potential risks while trading with unreliable brokers so you can learn how to avoid them in the future. 
Trading Platform

N/A

Account Types

N/A

Financial Instruments On Offer

Forex

(EURUSD, EURGBP, USDNOK)

Indices

(S&P 500 Index, Dow Jones Industrial Average, FTSE 100 Index)

Commodities

(Crude Oil, Natural Gas, Corn)

Binary Options 
CFDs

Maximum leverage

N/A

Minimum Deposit

N/A

Commissions/Bonuses

N/A

Mobile app

No

Desktop app

No

Autotrading

Yes

Demo account

No

Education or Extra tools

None
Is Capital Bank Markets Safe To Trade With?
Trading with Capital Bank Markets can only result in losing your funds, so it's a good thing they are no longer around. Dedicate your time to research and make sure to choose a regulated and transparent broker. Capital Bank Markets was hiding fees, and many traders online complained about the broker. 
After you deposit your money, you are no longer interested and they start ignoring your calls and texts, pretending like you don't exist. The Capital Bank Markets scam was real and the best way to avoid scams like that is to not believe stories you hear over the phone. Reliable brokers would never call you to offer fake things or ignore you once you want your funds back. 
How Is the Scam Carried Out?
According to many traders online, CapitalBankMarkets had a very interesting scheme. They would call traders and say how they won $100,000 or any other large sum, trying to bait them. When you accept to hear what it is about, they will try to make you believe in the reality of it all, and that is where the scheme comes in. You can get the money only after depositing the Costa Rican government 10% of the total as a tax. 
Countries from all around the globe were affected by this fraud, including the United States, India, the United Kingdom, Canada, and the Philippines. According to the majority, the brokers mostly called from a Costa Rican number and mentioned a Costa Rican tax so it is possible that the 'company' was based there and not in the UK. 
Deposits and Withdrawal Methods

Fortunately, depositing your funds is no longer possible at Capital Bank Markets. Withdrawals were never possible and that is confirmed by many traders online. The broker used many schemes to try to make traders invest and then ignored them until they disappeared without a trace. 
Depositing your funds with brokers like Capital Bank Markets and LeaderFinancing is very risky because you are only going to lose them. Whatever the amount is, these shameless brokers would stop at nothing to get even a $1 out of you. 
Can I Make Money While Trading Online?
Online trading has become a very popular way to gain profits. However, without the right knowledge, strategy, and discipline, it can be a very risky thing to involve yourself in. There are many ways of ensuring a safer trading experience and the majority of those ways include choosing a reliable broker. 
Keep in mind that, despite the profit potential, online trading is not a quick-money program. It calls for commitment, education, and a strategic approach. Take advantage of using our AI bot, which provides concise buy or sell suggestions based on its findings. Your trading decisions will become more informed as a result of the data-driven insights it provides. Our AI bot focuses on risks as well as on profits, so you can manage your risk more effectively and have a bigger chance of profiting. 
Our team of experienced traders will provide you with resources, advice, and opportunities to elevate your trading capabilities.  Contact us today and take the first step toward profitable online trading! 
FAQ Section
What Is Capital Bank Markets?
Capital Bank Markets was a binary option, CFD, and forex broker operating out of Costa Rica, pretending to be registered in the UK.
Is Capital Bank Markets A Scam?
Yes, Capital Bank Markets was a scam and many traders were left without their investments.
What Is Capital Bank Markets' Website?
The domain they used capitalbankmarkets.com is now for sale as the broker ceased operations due to illegal activity.