February 24, 2023
Reading Time:
4
min
Caplita Review: The Truth About Caplita.Com Brokerage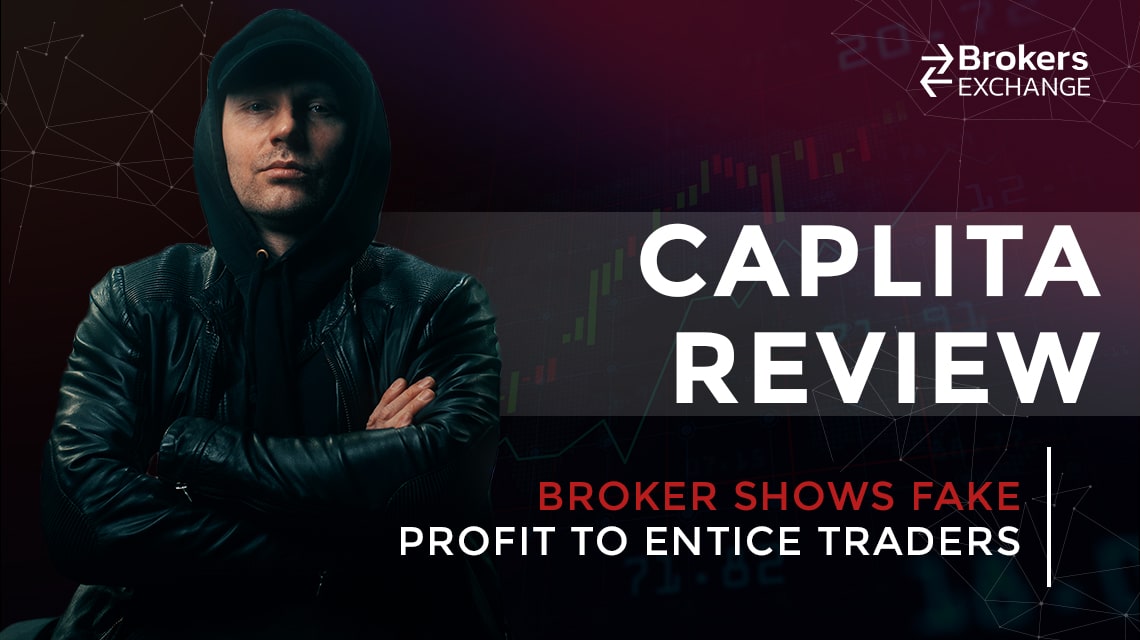 Caplita review will show you what a generic scam broker looks like. They didn't spend a lot of time and effort on making their website look legitimate, which is the first thing that stands out. They are one of those trading companies that choose their users and don't accept everyone in. This is a common technique for hiding their scheme as long as possible.
They have five different accounts, with a minimum deposit set at $5000. The available trading assets are forex currency pairs, commodities, indices, futures, and shares. There was no spread revealed anywhere. This is quite normal for scam brokers. They are always missing some highly-relevant data.
Furthermore, we advise you to avoid fraudulent brokers like Avex Capital, OnspotBNK, and XCM Markets.
| | |
| --- | --- |
| Company | Caplita |
| Website | Caplita.Com |
| Address | Not available |
| Email | [email protected] |
| Phone | Not available |
| Minimum Deposit | $5000 |
| Leverage | 1:50 |
| Bonuses | Available |
| Regulation | Unregulated |
| Warning | No warnings |
Is Caplita Legit? Regulation and Safety of Funds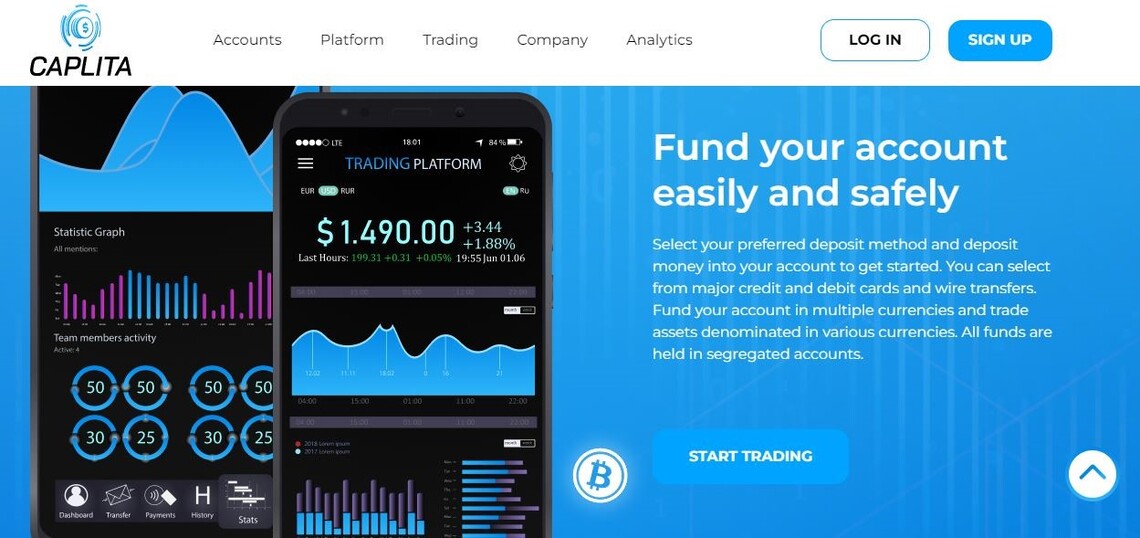 Caplita has not provided any contact information other than their email – which means that we have no idea where they are based. The broker has not mentioned anything about being licensed either, just that their "website is owned and operated under CAPLITA brand name within the European Economic Area". 
This EEA gathers many countries and an equal number of FX regulators, some of which are the world's top license issuers. However, we know for a fact that Caplita.com is nowhere regulated by the EEA or the EU. First of all, it doesn't say they are licensed there and doesn't provide any license data. Also, all of these regulators would be ruining their reputation if they included the likes of Caplita.com within their ranks.
Furthermore, in the terms and conditions section, they claim the firm "operates under the CAPLITA brand according to the laws." But don't say under what laws, and under which jurisdiction. It has not been said, because Caplita.com doesn't operate under any specific laws or regulations.
They are desperately trying to hide the fact that they are not regulated. But these dishonest actions can fool only inexperienced people, which is their target audience. 
Caplita Trading Platform Overview
We weren't able to open an account because you need to already have login credentials. If you don't, you are not able to access the broker's client area. Scam brokers often try to employ such tricks – they would distribute these credentials to a chosen few that they presume to be easier victims. This way, unnecessary attention can be avoided, and the scam can be prolonged for a longer period.
They can tell based on customers' questions whether they are experienced or not. They assume that beginners are easier to manipulate. There is also a web trader, as we believe it to be a simpler version of the desktop terminal, but since we had no access to the user area, we could also not access this alleged web trader.
Caplita Funding Method
The minimum deposit requirement according to the website is €5000, and that is only for the beginner account. That is absurdly high, and that's not the end. Things get even more ridiculous once you see what the other depositing requirements are. It goes up to $100 000. But even the €5000 requirement is crazy, considering that most legit brokers require between $10 and $100.
Payment methods are bank transfers, credit cards, and debit cards. And then we move to the legal documents, where we are told that all withdrawals are processed within the first 30 days of an account being opened, which does not make any sense and it is common with some scammer brokers.
Also, the broker only actually offers around 60 trading instruments. The maximum leverage this broker provides is 1:50. But to access this kind of leverage you need to invest more than $100 000. Yes, you've read it right.
How is the Fraud Orchestrated?
The first step of becoming a financial victim is to leave your contact number. That's when experienced salespersons start calling you, and promising you quick and easy profits. Even if you decline, they will continue with the calls, because they live from cheating innocent people. They will even persuade you to motivate your family and friends to deposit funds, as well.
It's best if you never leave them any of your details because you can never know what they will use them for. They are interested in easy profit. Launch a site, scam as many people as people, and when people start with negative reviews, they shut down the operation, and start it under the new name.
When a broker is unregulated or regulated by an entity outside of your jurisdiction, you have limited to no legal recourse if your funds are compromised. In an event of theft, complaints can only be made if that broker is licensed by the regulator in your jurisdiction. Some examples of regulatory authorities that issue brokerage licenses are:
The Cyprus Securities and Exchange Commission (CySEC)
The Financial Conduct Authority (FCA)
The Australian Securities and Investments Commission (ASIC)
Caplita Summary
Caplita is a bogus broker that's frauding people with their cheap-looking website. They provide zero information about their business. We don't know where they are located. We don't even have their phone number. They say that the website is owned and operated under the CAPLITA brand name within the European Economic Area, and that's it. But that's pretty generic information. Scammers always use phrases that tell you nothing. It's just a random piece of data. That way they are trying to hide the fact they are unregulated!
FAQs About Caplita Broker
What Can I Trade with a Caplita Broker?

With Caplita, you can trade forex currency pairs, commodities, indices, futures, and shares.
What are the Available Methods of Withdrawal?

You can withdraw the money the same way you deposited it. Via wire transfers, credit, and debit cards.
Is Caplita Broker Regulated?

Caplita is not regulated in the EEA or the EU. And probably not anywhere else, based on the information we have about them.