March 03, 2023
Reading Time:
4
min
Bitsterzio Review: The Truth About Caplita.Com Brokerage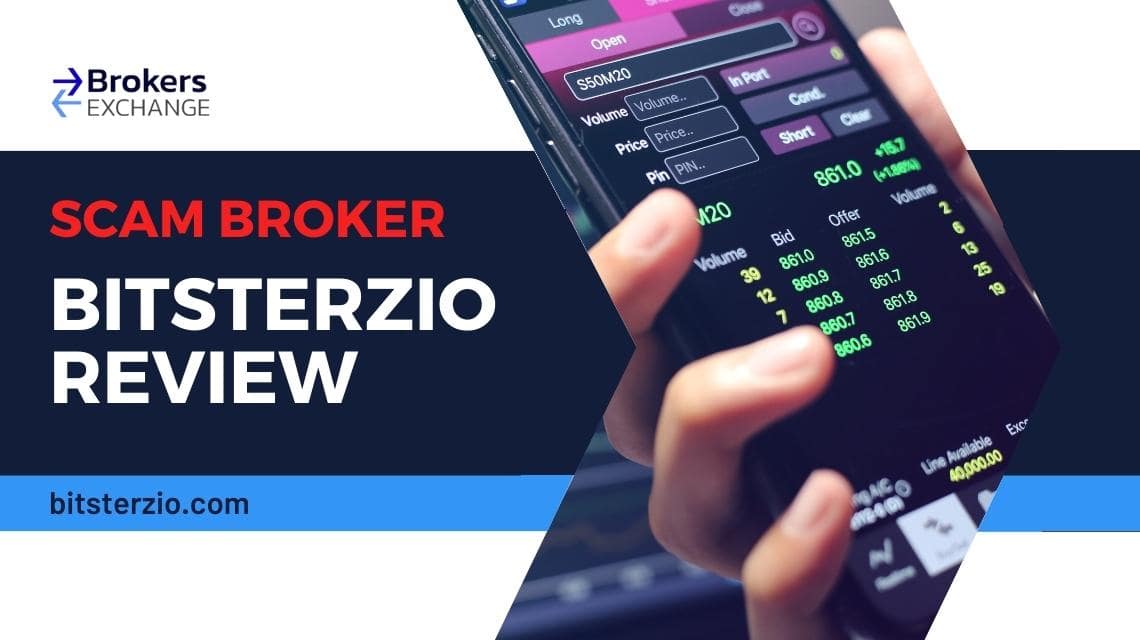 Bitsterzio is one particularly interesting fraudulent broker. They will try to convince you that trusting a company is essential, even if it doesn't provide you with any details. They will argue that this is often the case, but despite that, they can be trusted. Why? Well, they have provided alleged license numbers and a location. 
Regardless, Bitsterzio has not given any type of license number and it doesn't exist in any register. By now, we know that this broker lacks the supervision of any financial authority. Let's dig deeper into this Bitsterzio review to discover more data!
On the contrary, you should avoid dealing with questionable brokers like Lamelle Financial, Prism Capital and Asian-Trade.
| | |
| --- | --- |
| Company | Bitsterzio |
| Website | Bitsterzio.Com |
| Address | 30 Churchill Pl, London |
| Email | [email protected] |
| Phone | +442037720983 |
| Minimum Deposit | $500 |
| Leverage | 1:400 |
| Bonuses | Yes |
| Regulation | No |
| Warning | CNMV, FSMA, CONSOB |
Is Bitsterzio Legit? Regulation and Safety of Funds
You can see an address in the UK on the Bitsterzio web page. This is, by all means, false! To conduct business in the UK legally, a broker needs a license from one of the strictest authorities on the globe, the FCA. Nevertheless, a broker with this name doesn't exist anywhere in the vast register of authorized brokers the FCA keeps.
By now, you can only see that Bitsterzio is completely unlicensed. Be that as it may, it poses a threat to your investments. 
Trading with unauthorized brokers hides many dangers and risks. Would you like to invest your money? If so, go for a regulated enterprise that is located in the US, EU, UK, or Australia. Working with a legit broker assures you that your money won't be pocketed or misused.
Beware that leverage higher than 1:50 is overly risky. Moreover, leverage starting at 1:100 is even more speculative and problematic.
Note: If you have any negative experience with this or any other fraudulent broker, we would be grateful if you could share it with us.
Bitsterzio Trading Platform Overview
Let's discuss the platform that Bitsterzio offers. On their web page, they claim that each trader needs a platform that would fit their specific needs. This indicates that the broker may have more than one variation of trading software in store. 
However, it's unknown if this is the case. If you try to open an account, they will ask you to provide a referral code. From there, you won't be allowed to proceed without it.
Seek out brokers who offer cutting-edge MT4 and MT5 software. Similarly, never forget that having a license is absolutely crucial.
Tip: Apart from its innovative desktop version, MetaTrader5 is available as a web-based platform too. You can access it from any browser.
Bitsterzio Funding Methods
As it's not possible to open an account with Bitsterzio, you can't see which deposit and withdrawal options the broker supports. 
They do not state this information on the website either. However, they did say that you would be charged fees on all transactions except the first one. No details were provided regarding the size of these fees. You should stay far from this broker scam! 
How is the Fraud Orchestrated?
Fake brokers employ many deceitful techniques. There are withdrawal difficulties and poor reviews. In addition, you will see astronomical fees. These fees can often exceed 20%.
In addition, they will charge a profit-sharing fee. Fraudulent websites will prefer to rob you before initiating a withdrawal. Know that this is virtually always the case!
Moreover, there are always profits that they swear by. This is another regular fraud method that you should keep in mind. These fraudsters promise guaranteed returns. Trading with leveraged assets entails certain risks. Try not to ignore this!
Fraudulent brokers will tell you that profits are guaranteed. This is a big red flag. 
Make sure you trade only with legitimate brokers. Regulated brokers often come from the EU, the US, the UK, and Australia. They must post a note about the percentage of people who suffer losses at their venues.
If you get victimized by fraud, you can do some things. The most appropriate action to take is to file a chargeback. Regardless, this will only be possible if the trader has paid via a card. That's why many scams avoid taking card payments. 
Wire transfer deposits and crypto transactions are a bit more difficult to get back. The only option is to contact the bank or the exchange to sort things out if possible. As well, always make sure to change your details, such as your username and password. This is critical.
Bitsterzio Summary
So, what's there to learn from this Bitsterzio review? This is not a broker someone would recommend. They are not authorized to offer financial services. Furthermore, there are many negative comments online. Your money is not safe, so beware of this investment scam.
Check out the other Bitsterzio reviews if you can. It will be worthwhile not to fall into their trap. You should always investigate companies before sending them money.
Have you been a victim of fraud? If that is a yes, leave a negative review and warn other individuals about this scam broker. It can be very helpful!
FAQs About Bitsterzio Broker
What Can I Trade with a Bitsterzio Broker?

There are diverse trading instruments such as FX, commodities, indices, shares, and crypto.
What are the Available Methods of Withdrawal?

There is no data, so you can't see which deposit and withdrawal options the broker supports.
Is Bitsterzio Broker Regulated?

No, the Bitsterzio forex broker doesn't have any license. They are an unregulated fraud.