October 13, 2023
Reading Time:
4
min
CM Academy Review: Cmacademy.io Never Heard of Transparency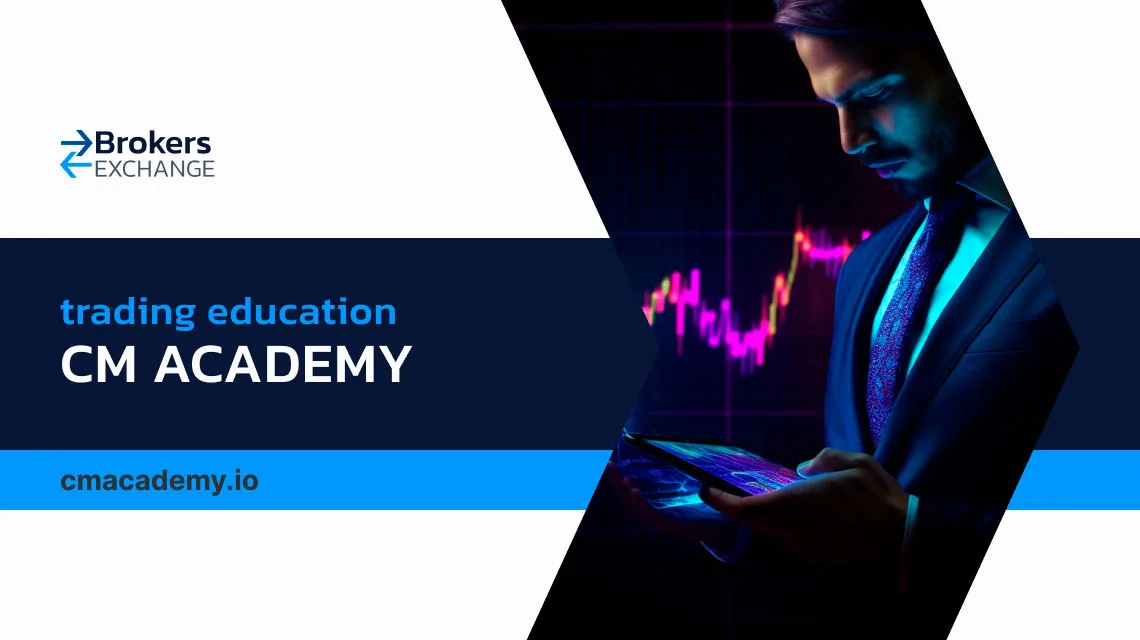 Just like you can find a broker to trade with and tools to assist you, you can also find companies offering trading education. In light of this, we stumbled upon CM Academy and decided to evaluate the company head-to-toe. Have you heard of Fivoro? If not, make sure to avoid them and by reading the review we wrote you will learn why. 
In all honesty, this CM Academy review is about a company that left even us in confusion. From failed links to the lack of transparency and regulation, we were left confused as to what to think. Get some coffee, lay back in your chair, and join us in exposing this firm for who it really is. 
Who Is CM Academy?
There is nothing we dislike more than the lack of transparency. When a company can't even write general words about them, how they started, etc, we simply know they aren't a good choice. Reliable companies have something to brag about and will always provide a text explaining the company's history, present, and future but CM Academy doesn't. 
The firm claims to be from the United Kingdom, however, in the terms and conditions, they explicitly say that the T&C shall be governed by and construed in accordance with the laws of Vanuatu. When you click the register button, it takes you to a page where you need to download AnyDesk and ScreenLeap, which is a major red flag! 
Company Type
Trading Education
Legal name
Capital Market Academy
Regulation
Unregulated
Registered in
Boston House, 63-64 New Broad St, London EC2M 1JJ, United Kingdom
Established
2021
Website
cmacademy.io
Financial Authorities Warnings
Contacts

UK: +44 7897 012423
Canada: +1 226 457 6618
Web Form

Fees
If Active on Social Media:
No
Investor Protection:
None
Activity areas
India; United Kingdom; Canada; United States; France
Main threats
Unregulated, Fake UK-based firm
Main perks
None
Regulation Info
When a company says it is registered in the United Kingdom, we immediately check the FCA's register because companies from the UK need to be regulated by the FCA. However, without any surprise, CMAcademy is not regulated by the FCA nor by any other financial authority. If everything so far isn't enough to scratch them off your list, we have more prepared. 
In addition to the UK, the firm's clients come from Canada and the United States, however, they are not regulated by IIROC in Canada, nor by the SEC in the US. Furthermore, the requirement of downloading the screen share software Screenleap and the remote access software AnyDesk, we suspect this company is a scam. 
To make things even worse than they already are, two financial authorities published a warning against this platform. The first and main warning was from the FCNB, later supported by the CSA. 
CM Academy Profile
This firm claims to offer 'expert' guidance to traders but fails to mention they are an unregulated entity. The company seems like a mystery that will never be solved considering the good job they do in hiding who they truly are. They offer three types of calculators and some trading education which is not that relevant. 
We are certain that this firm isn't offering its 'services' for free, however, we are unable to find out how much they charge. They hide every important piece of information like they never heard of transparency, which raises questions about their reliability. Avoiding this company altogether is a step closer to a safer trading environment. 
Trading Platform

TradingView

Account Types

N/A

Financial Instruments On Offer

Margin Calculator
Pivot Calculator 
Currency Converter
Fibonacci Calculator

Minimum Deposit

N/A

Commissions/Bonuses

None

Mobile app

No

Desktop app

No

Autotrading

No

Demo account

Not required

Education or Extra tools

Terminology, Education about Stocks, Forex, Indices, Commodities, Cryptocurrencies, ETFs, and CFDs
Is CM Academy Safe?
If your definition of safe is an unregulated firm offering trading guidance when they probably have no idea what they're talking about, then sure, CM Academy is safe. However, if you believe safe means regulated and transparent, then we can say with certainty that this firm is anything and everything but a safe choice. 
Trading safely is crucial for a stress-free experience. If you pay a firm monthly subscription to educate you on how to trade, make sure they are a reliable choice because otherwise, you will just lose your money each month. If you want a reliable tool that can help you in your early trading days, check out our AI Analysis Bot. More about it toward the end of the article! 
Why Should You Avoid This Firm?
If you take a close look into this company's operations, you will realize there is nothing beneficial they can offer that you should pay for. First, they are unregulated, which poses a greater risk than usual. Second, they probably never heard of transparency because if they had, they would commit more to providing clear information about who they are and what they do. 
Additionally, the 'features' they offer a three different types of calculators by Investing.com and some trading blogs, which is certainly something you don't want to pay for. Avoiding this company is in your best interest if you want to secure a safer trading experience. Make sure to also avoid Battle Trade because as the name says, trading with them is a constant battle for your funds. 
Weighing the Pros and Cons
Pros
Cons

None! 

Unregulated

Lack of transparency

The requirement to download AnyDesk

No features or benefits

Lack of information about the company and services

Financial authorities warnings
Can I Make Money While Trading Online?
In conclusion, CM Academy is not the best choice for you, no matter what level of experience you have. Whether you are a beginner or a seasoned trader eager to learn more, this firm can only slow your chances of profitable trading. Making money while trading online requires knowledge, awareness, strategy, and all the right tools of course.
Having that said, one of those tools includes our AI Analysis Bot we mentioned before. This potent program gathers information from charts such as previous asset prices and other data to make insightful recommendations. It will help you decide on whether to buy or sell using sophisticated technical analysis to forecast future price movements. 
If that sounds tempting, we have some great news. Because we want you to succeed and start trading profitably, we are offering a 14-day trial without commitment so you can experience this amazing program firsthand. But be quick because this is a time-limited offer and it applies only to the first 100 traders that reach out. Hurry up and step into the trading future! 
FAQ Section
What Is CM Academy?
CM Academy serves as a trading education tool by offering traders guidance about the market and financial instruments they wish to trade with.
Is CM Academy Trustworthy?
Unfortunately, we wouldn't trust this firm if we were you, simply because they lack regulatory oversight and transparency.
What Are The Trading Tools Of CM Academy?
They offer three types of calculators which are a Pivot Calculator, Margin Calculator, Fibonacci Calculator, and a currency converter.