June 30, 2023
Reading Time:
6
min
Cobra Trading Review: Your Path to Success in the Financial Markets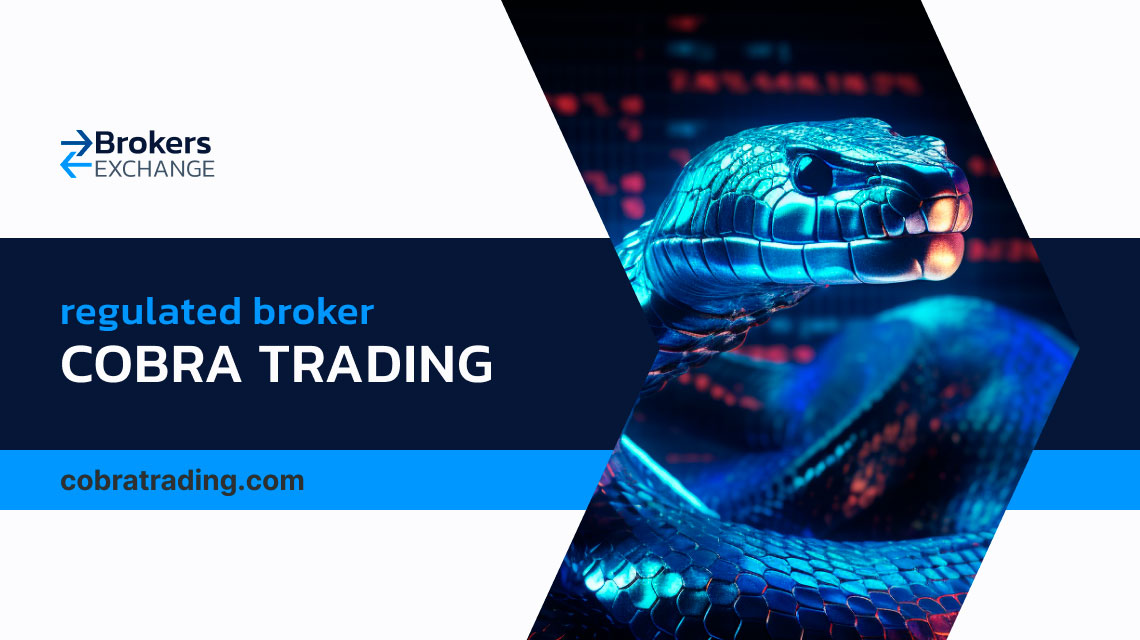 Considering the broker's long existence in the market and strict regulations this might be the right choice for you. This company builds its reputation over time with its transparency towards traders.
You can choose between different investment plans and start building your financial freedom. But is it affordable to everyone? We are discovering many more in this Cobra Trading review.
Is Cobra Trading a Legit Broker?
To sum it up, yes. The broker presents its ownership and contact information transparently. On top of that, the company never had issues with regulatory bodies, even though they exist since 2004.
Cobra Trading Inc is marching toward the future with strong and decisive steps. But for such a strong broker, there are not so many user reviews available online.
Reliable Broker Must Have
Legal name:

Cobra Trading Inc

Transparently displayed in the disclaimer or legal documents

Regulation:

FINRA, NFA, SIPC

Within your legal jurisdiction – local regulator

Registered in:

USA

Your country or the country whose license applies in your legal jurisdiction 

Established:

2004

The older the domain – the higher the possibility the company is trustworthy

Website:

Cobratrading.com

Domain should be from local or international zones, no .xyz etc.

Financial Authorities Warnings:

N/A

None

Contacts:

Phone: 877-792-6272


E-mail: [email protected]


Live chat




Online form

Phone, email, social media, web form

If a withdrawal is possible:

Yes

Yes

Fees:

Software fee $100-230

Market data $1.5-250 +

Many more transparent fees

Transparent fees – list of spread and commissions

If Active on Social Media:

Yes – Twitter, Facebook, Youtube, Instagram, LinkedIn

Often present on social media

Investor Protection:

Yes – Private insurance policy

Compensation fund
Cobra Trading Security and Regulation
As the company states, they are members of FINRA, NFA and SIPC. Indeed, checking the FINRA register brings out the results about the company registration and its individuals.
Even though they are trading with European traders, there are no European regulations. As can be seen, Cobra Trading countries of operation are:

United States

Canada

India

United Kingdom

South Africa
Cobra Trading Profile
As for the trading software, Cobra Trading broker opts for the most suitable third-party software for stock trading. With leverage according to CFTC regulations they manage to build a reputable picture.
The main thing that might diminish someone's will to invest here is Cobra Trading's minimum deposit. It's insanely high $30.000. But at all times you have to maintain a $25.000 margin.
It's worth checking our other reviews of trusted companies like Axiance, Capex and Degiro.
Trading platforms:

DAS Trader, Sterling Trader, Cobra TraderPro

Account types:

Joint, IRA, Roth (IRA), Corporate, LLC, Trust, Partnership, Miscellaneous

Financial Instruments On Offer:

Equities (Common stocks, treasury stocks)

Options (Amazon, Alibaba)

Futures (Nvidia, AMD)

Forex (USD/JPY, GBP/AUD)

Maximum leverage:

1:50

Minimum Deposit:

$30.000

Commissions/bonuses:

From $0.3/contract or $0.0015/share / No bonuses

Mobile app:

Yes

Desktop app:

Yes

Autotrading:

No

Demo account:

Yes

Education or Extra tools:

Videos, articles and blog
Cobra Trading Deposits and Withdrawal Methods
There are only a few funding options with Cobra Trading broker. Traders can use:

ACAT (Account transfer)

Wire transfer

Check (via mail)
As for the ACAT transfers it takes up to 8 days for funds to be transferred. Withdrawals can also be done via the same methods. However, it's not clarified how long it takes to process a withdrawal request. Also, Cobra Trading fees for a withdrawal are not revealed.
Cobra Trading Account Types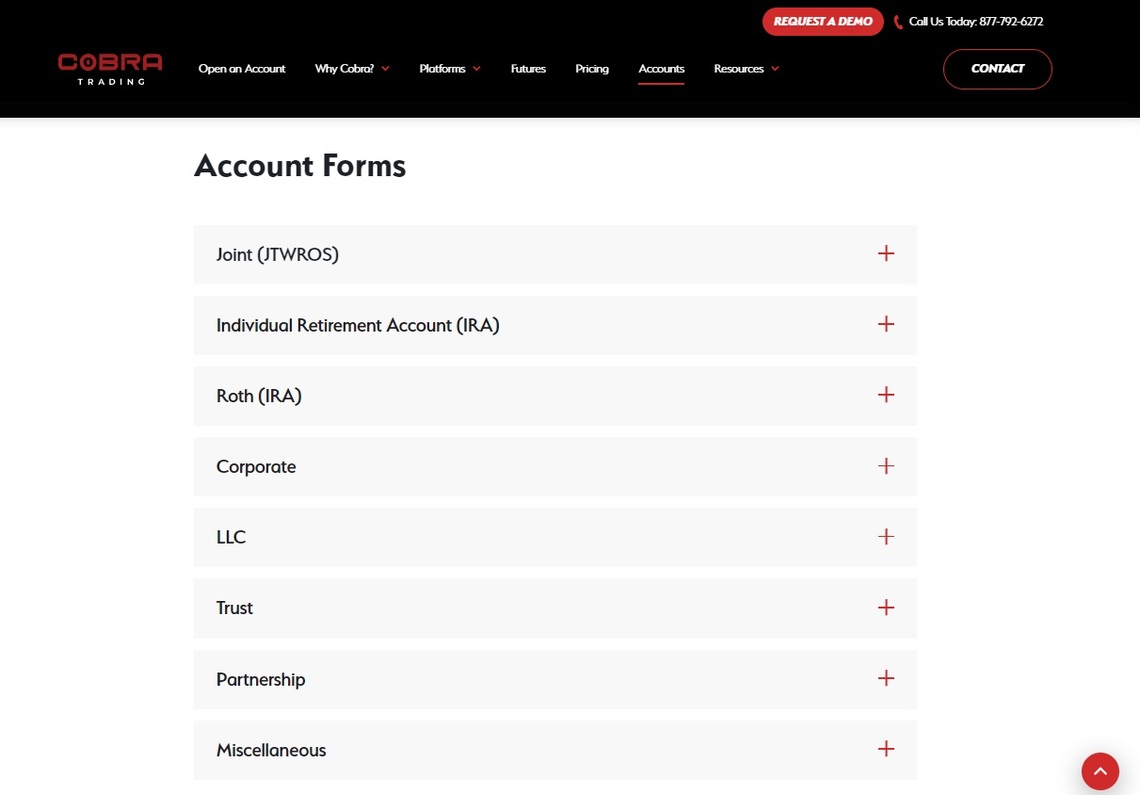 Different account types are designed to attract different traders. Not everyone has the same goal. But also the same buying power.
In this case, there are many options suitable for everyone.
Joint (JTWROS)
A joint account is perfect for married couples. Especially old-age ones. There are two equal account holders and only in case of incompetence or death, the other takes control of the account.
Individual Retirement Account (IRA)
This is a standard retirement plan. It includes tax-deferred earnings and contributions up to $7.500 if you are over 50 years of age. But, contributions might be tax deductible.
Roth (IRA)
This is a bit modified plan compared to the standard IRA. The same rules apply except for a few others. There are income restrictions but also tax-free distributions under certain conditions.
Corporate
The Cobra Trading account minimum is considered low for corporate accounts. Because an individual is representing the company and investing in its name. It's generally considered a good option for business owners.
LLC Account
Cobra Trading LLC's account is quite similar to the corporate one. Except for the fact that one individual represents members of the company. This is a bit more controlled investing through the company.
Trust
In general, this is an option for those that don't have competitive individuals. Whole investments are held by the trust. In this case, the trustee controls and manages those investments.
Partnership
The Cobra Trading platform allows partners to have investments here. However, each individual is responsible for its debts. For this account type, two or more members are acceptable.
Cobra Trading Demo Account
A demo account is a perfect solution for unsure traders. Whether you want to check the conditions or the software, you can do it without cost. In general, you can't throw $30K just like that.
Platforms Available for Trading At Cobra Trading
Trading tools generally present important aspects of the trading world. That's why the Cobra Trading platform is the key point here.
They have invested a lot in it to provide the most suitable cutting-edge technology. With multiple options, anyone can find a suitable fit.
DAS Trader Pro
DAS Trader Pro is the ultimate trading tool for direct market access. With numerous charting options, technical studies and one click-trading it quickly became the standard for this type of investment.
On top of that, it provides real-time market news that can improve your results drastically. Most importantly, it's available for any iOS and Android device.
Sterling Trader Pro
On the other hand, there is Sterling Trader Pro as the top competitor. With advanced charting, real-time level 2 market data and powerful performance, it quickly became traders' first choice.
Considerably simplified over DAS Trader but it lacks advanced market news. Thus, it's available for all mobile devices as well.
Cobra TraderPro
CobraTraderPro is practically a copycat of Sterling Trader. On the company's website, you can see all the same features. Thus, the big difference is the mobile version. In this case, the lack of it.
Cobra Trading Education and Training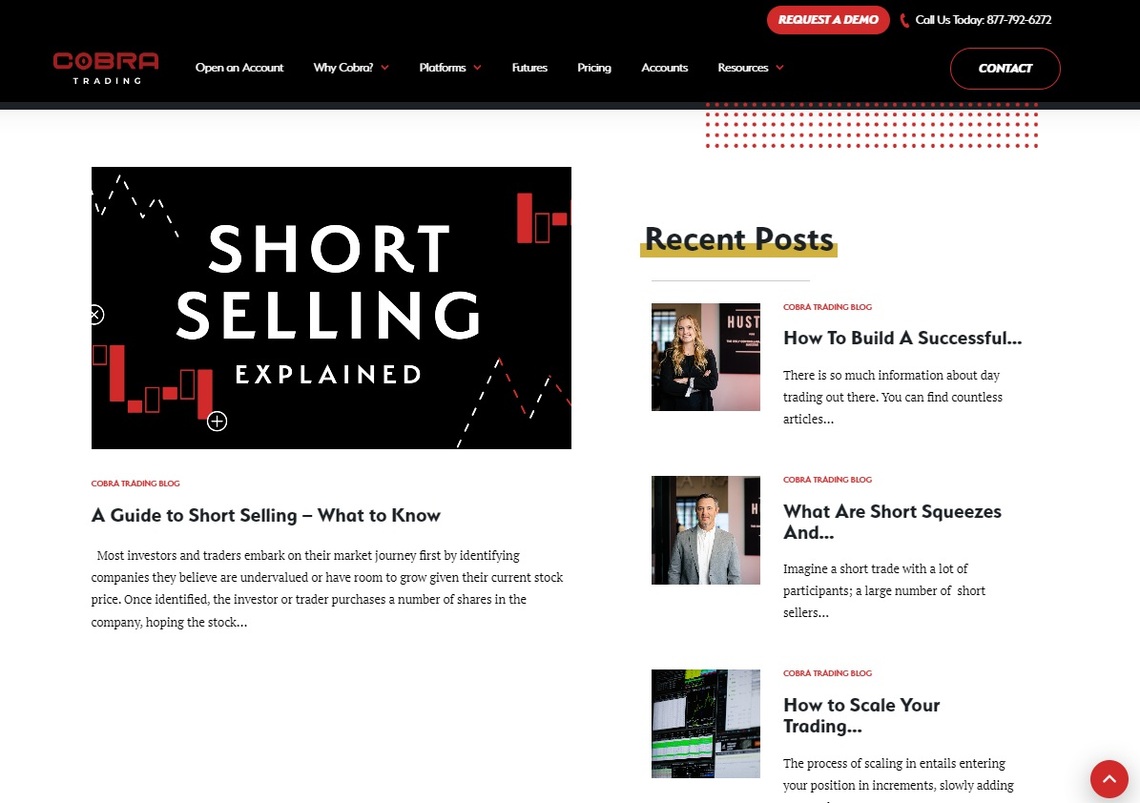 Practically, the only way the company improves your knowledge of trading is through the blog. Indeed, you can find there a lot of information.
Yet, it's always easier to learn through live sessions and practice. Which is not available in the case of a Cobra Trading broker.
Customer Service
Cobra Trading customer support works 5 days a week. Thus not 24 hours, but only between 7 AM – 4:30 PM (CST).
On the positive side, if you send them an e-mail they contact you on the same day. According to the company. Also, there are multiple contact options. Such as live chat and phone, but also social media.
Who Is Cobra Trading Recommended For?
Considering the Cobra Trading account minimum, this company might not be suitable for beginners. The difference between $30.000 on live and demo accounts is huge.
Therefore, we recommend newbies to look for cheaper but trusted options. There are many more Tier 1 licensed brokers with multiple trading options.
Cobra Trading Pros and Cons
On the positive side, the company is fully transparent and regulated. Cobra Trading commissions are quite reasonable. Same as Cobra Trading fees. However, the company doesn't offer crypto investments.
This might be a downside because it's a highly popular and volatile trading sector. A huge disadvantage is the big minimum deposit requirement and margin requirement. There is no middle option between the demo and the live account.
General Summary on Cobra Trading
The company is considered highly trusted and reputable. Yet, not suitable maybe for everyone. To play the big game you need to be experienced and confident.
But looking for a new reliable broker can be exhausting. Wherever you are coming from there is a solution. Our expert team can narrow the list of potential brokers that might suit your needs. Knowing where to look is the key. Forget about headaches and contact us today. The first consultation is on us. But most importantly without any obligations.
FAQ Section
Is Cobra Trading International?
Cobra Trading is not International because their FINRA and NFA regulations allow them to trade in the US and Puerto Rico.
Is Cobra Trading free?
No. There are many different costs, fees and commissions that the company applies but at least transparently.
What is the margin rate for Cobra Trading?
Cobra Trading broker offers a flat margin rate starting at 5.25% and it's considered competitive
Is Cobra trading regulated?
Yes. The company is regulated by FINRA and NFA in the US. Besides they don't have other worldwide licenses.