November 28, 2022
Reading Time:
6
min
CommSec Review – All About Commsec.Com.Au Broker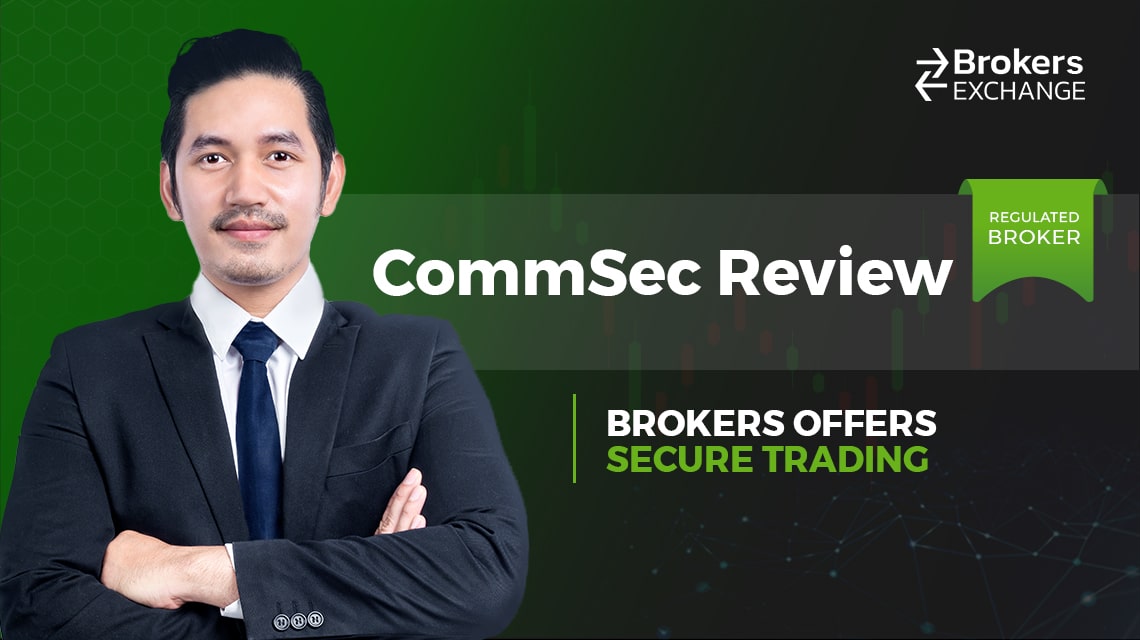 CommSec is an Australian brokerage company founded in Sydney in 1995. It is a brand of Commonwealth Securities Limited managed by the Commonwealth Bank of Australia. 
The company has been successfully operating for over 25 years. This firm is licensed by the Australian Securities and Investment Commission (ASIC). 
CommSec has been offering online trading services with great conditions and has been the most preferred choice for Australians who are looking for a reliable broker to invest with. 
If you are able to spare the time, we would be grateful if you could read our in-depth analysis of licensed brokers like Robinhood, XM Broker, and Flatex.
CommSec Pros and Cons
CommSec is licensed and owned by one of the biggest banks in Australia and is free to be considered safe and secure. The sign-up required before starting the trading process is fast and simple. 
The account is easily managed, without additional fees for depositing/withdrawals, but there is an inactivity fee for the foreign accounts unless they trade at least once in 365 days.
Various trading instruments are offered, so it is plainly up to the client themself to choose what they wish to trade with, but you cannot trade crypto. The platform itself is suitable for beginners as it is for experienced traders. 
However, the biggest con is the fact that in order to be able to become a client at all, you have to be an AU resident. Non-residents, for example, USA citizens could under certain conditions become clients, but only if they are CHESS sponsored and use the funds from their Australian bank account to settle trades.
| | |
| --- | --- |
| Headquarters | Australia |
| Regulated | Regulated by ASIC |
| Year Established | 1995 |
| Execution Type | Market  |
| Minimum Deposit | $50 |
| Trading Platforms(s) | CommSecIRESS |
| US Clients Are Accepted? | Yes, under certain conditions |
| Islamic Account | No  |
| Segregated Account | Yes |
| Managed Accounts | Yes |
| Support Hours | 24/5 |
| Customer Support | Yes |
| Demo Account | No |
Is CommSec Safe? Security and Regulation
As mentioned, Commsec licensed by the Australian Securities and Investment Commission (ASIC). This regulator oversees the activity of all regulated AU brokers and makes sure they are operating legally. 
First off, the minimum capital required in order to keep their business sustainable and ongoing, is brokers have to invest at least AU$1 000 000. To ensure the safety of clients' funds, it is obligatory to keep those funds in a segregated bank account. 
Leverage restriction that must be respected sums to 1:30. Australian brokerage companies is also banned from enabling bonuses for clients.
 From the aforementioned, we can conclude that CommSec is a safe and reliable broker, who offers good security while protecting clients' information safety and privacy alike.
Trading Instruments You Can Trade at CommSec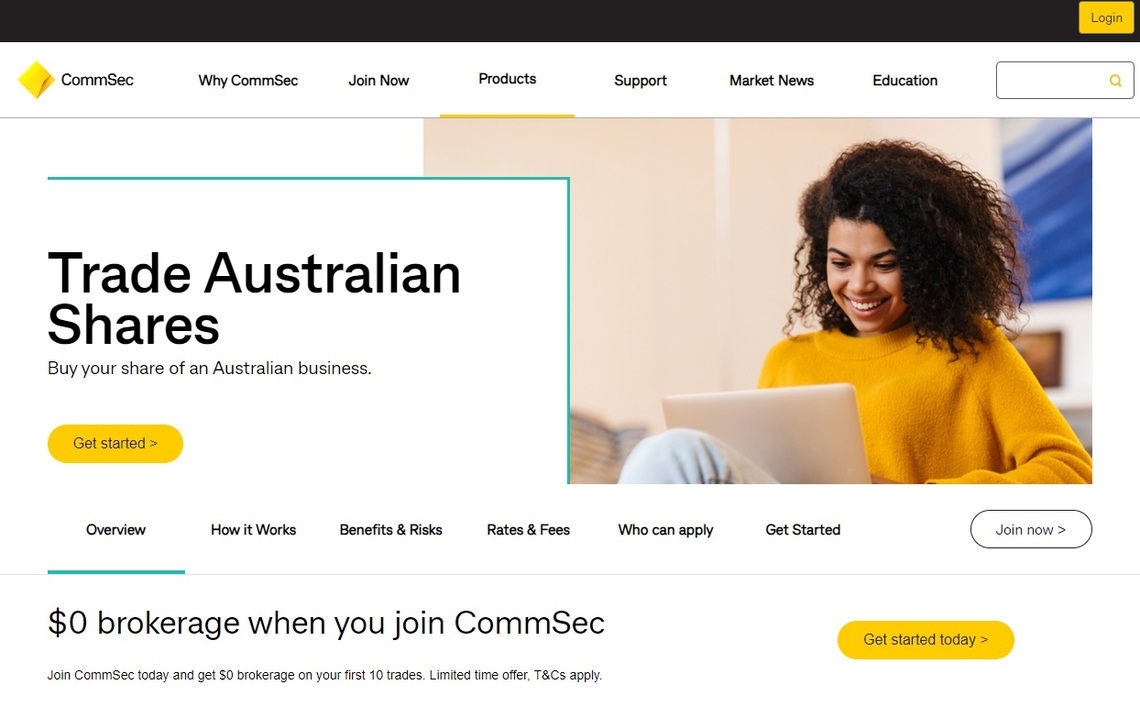 CommSec offers a variety of trading instruments in order to suit every investor's trading needs. A wide range of instruments is divided into several major groups of assets so that traders can easily choose what fits their preferences best. The main asset groups are 
Australian Shares (trading Australian shares at the Australian Stock Exchange)
Options (Call options and Put options that can be bought and sold)
International Shares (Investing globally through International Securities Trading Account)
ETFs ( Traded like ordinary shares with easier access to markets like debt, derivatives, currency, and commodities)
Fixed Income Securities (debt investments paying a fixed or floating rate of return)
Warrants (Listed and traded on the ASX and Cboe)
Account Types You Can Choose From
Each account offered at CommSec offers some unique possibilities and trading experiences. The following account types are available to choose from
CommSec Share Trading Account (best suitable for fast and simple buying and selling of Australian Shares)
CommSec Options Account (allows trading Options like Shares, can be used with other CommSec accounts)
CommSec Margin Loan Account (provides possibilities of accessing loans at any time)
CommSec International Trading Account (access to global share markets like London, New York, and Hong Kong stock exchange)
All account types have certain criteria that a potential client has to meet in order to be able to open that particular account. Common rules for all account types are having to be older than 18 and having Australian trust or SMSF.
CommSec Trading Platforms Overview 
CommSec offers a reliable and ultra-fast trading platform called CommSecIRESS. Users are able to trade Australian shares, warrants, and ETFs, and is in a dynamic, real-time data streaming software. IRESS a highly customizable and rich in features. 
Thanks to features like market overview, clients are capable of always being alerted in time of new investment opportunities. The customizable desktop version lets users tailor their charts to their trading needs and priorities. 
CommSec mobile app is extremely helpful to have if users are frequently on the move and unable to watch their desktop platform. The mobile app is reliable and fast, with high ratings, and is available for iPad, iPhone, Apple Watch, or Android smartphones.
CommSec Deposits and Withdrawals Process
The minimum amount to be deposited in order to gain access to trading is $50 when a new user is joining through CommSec Pocket. This investing app is suggested for beginners.
Opening a share trading account with CommSec requires an initial deposit of $500 to immediately start trading shares and ETFs while with CommSec Pocket share trading isn't an option. There are certain trading fees that differ and rates are different for CDIA Settlement.
Withdrawals are fast and usually processed within a period of a few business days and are fee free an unlimited number of times a month. That means the customers are able to withdraw funds efficiently and at any preferred time without fees. 
Education Provided at CommSec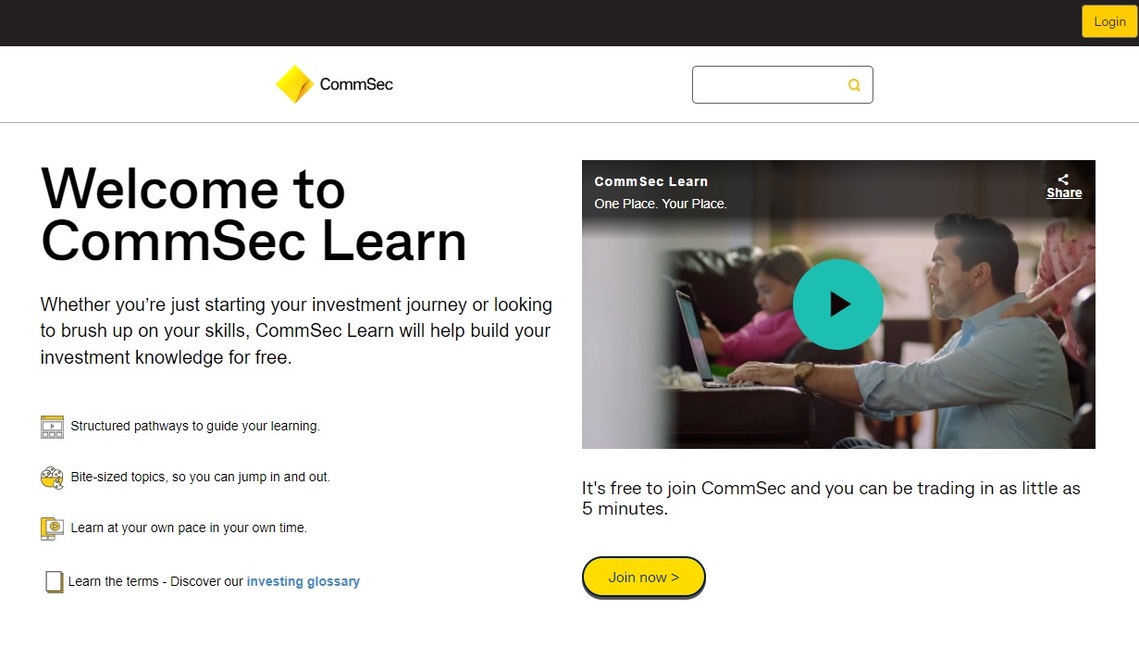 A wide range of educational tools provided by CommSec has the purpose of introducing beginner traders to the entire online trading industry. Experienced traders are also recommended to take a lot at the variety of information provided for a chance to expand their knowledge. 
Novices at online trading can read experiences by other clients to see some useful starting tips on how to build their own trading style and set the right priorities. 
Regardless of the level of experience, traders are free to check out all the educational videos, as they are bite-sized and very informative. 
Articles written by industry experts are offering plenty of information to guide the learning process and gain the necessary knowledge that is up to date with the latest trends in the buy and sells sphere.
Recorded live webinars are also a way of gaining knowledge of the trading process and all aspects of investing, all in order to become and stay a competent trader.
Customer Support Available at CommSec
CommSec invests a lot into making sure the customers are pleased and their trading is being performed without disturbances. For any issues appearing, customer support is easy to be reached through several different ways:
Email
Phone
Online Feedback Forms
If a customer would like to describe their problem and get written instructions on how to solve it, they're free to fill in a form available on the site. The staff is responsive and the answer is sent via email. 
All clients that are willing to contact customer support via the phone number, are free to do so. There are options for clients outside of AU and clients from the mandarin speaking area.
CommSec Overall Summary
This Broker is a regulated broker that has been operating successfully for over 25 years. Good practice and great trading conditions are surely a reason why so many investors choose to deal with this brokerage firm. 
The trading platform is reliable and rich in features, keeping users updated on the latest market changes and allowing the level of customization according to their preferences. 
Educational tools are there to help users expand their existing knowledge but also create their own trading strategy that suits their own goals and trading needs.
Lastly, helpful customer support ensures the clients remain content with the service provided and offer help for any kind of issue considering the trading or site use.
All the aforementioned services are surely attractive enough to make investors interested in doing business with CommSec. It is slightly more demanding towards non-AU residents but is certainly worth investing with.
FAQs About CommSec Broker
Are my Deposited Funds Protected at CommSec?

Thanks to safety protocols and segregated bank accounts, funds deposited with CommSec are secure.
Where Can I Find CommSec Legal Documentation?

The legal documentation found on the official website.
What Are CommSec Order Limits and Stop Levels?

 

Order limits and stop levels are options for clients to set the highest/lowest price they're willing to buy/sell something for. 
What Are the Benefits of Becoming an Affiliate?

Various benefits are available, like one-on-one support, free research, trading tools, etc.
Who Regulates CommSec Activities?

CommSec is regulated by the Australian Securities and Investment Commission (ASIC).