May 06, 2023
Reading Time:
4
min
Crypto Lloyds Review: Stay Away From Crypto-Lloyds.Com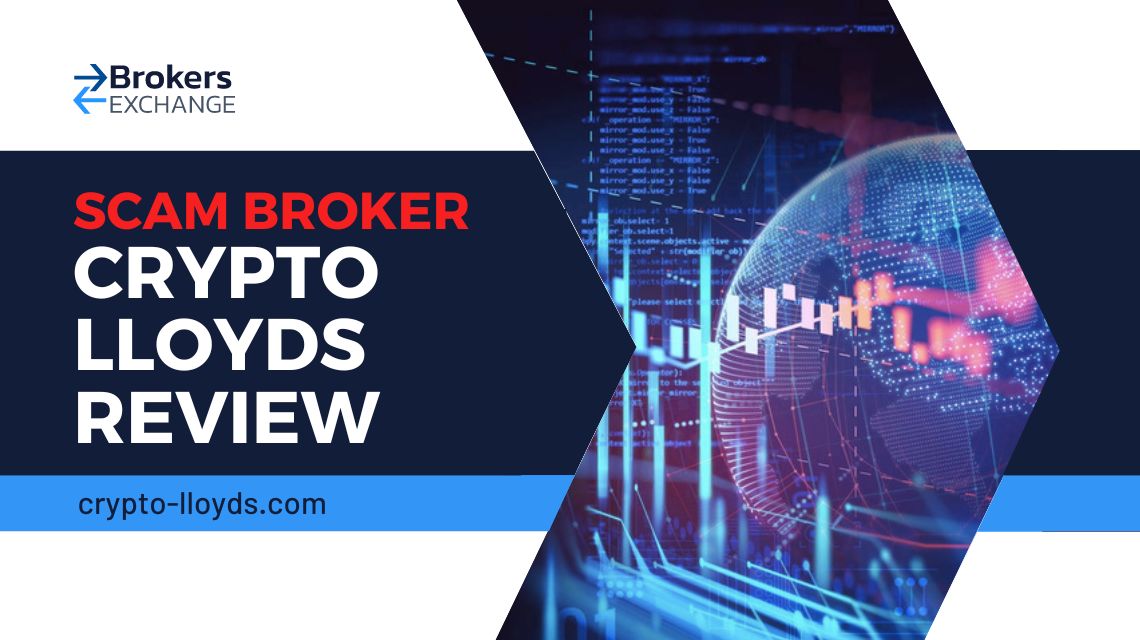 Crypto Lloyds Review, Although the main web page of Crypto Lloyds seems like a well-made site with a lot of fancy animations and high-quality graphics, it is anything but. Whichever link you click on the site will send you to a dead page with the ominous Error 404.
Fortunately, as you will see in our Crypto Lloyds Review, financial regulators have no such problems. A quick search of their databases confirmed our suspicion – Crypto Lloyds is not a site under construction, but an unlicensed brokerage!
| | |
| --- | --- |
| Company | Crypto Lloyds LTD |
| Regulation | Unregulated |
| Warning | N/A |
| Website | crypto-lloyds.com |
| Address | N/A |
| Email | N/A |
| Phone | N/A |
| Minimum Deposit | $1500 |
| Leverage | 1:20 |
| Bonuses | Available |
How Are You Safe at Crypto Lloyds? Regulation and Security
Because of the barebone website, it was difficult to find any company information about Crypto Lloyds LTD, the alleged operator of the site. Alleged regional offices are set up in Cyprus, UK and Canada. This is a very bold claim, as all three of these countries have very rigorous financial authorities.
This is what the UK FCA requires from a broker prior to issuing a license:
Initial capital of £730 000

Compensation fund up to £20 000

Max leverage of 1:30, 1:2 for Crypto

Negative balance protection

Funds kept in segregated bank accounts

No bonus policy

Complete financial transparency
The Cypriot CySEC has a very similar framework, but is also constrained through the application of the EU MiFID agreement. Canadian IIROC is somewhat more lax when it comes to bonuses, they do not require Negative Balance Protection, but the minimum capital is CA$1 000 000.
We can see that this company does not adhere to these safety standards, especially when it comes to Crypto leverage. We didn't find any trace of Crypto Lloyds in the databases of the regulators we mentioned.
An Overview of Trading Software
Crypto Lloyds is just like other scam brokers, Coin2FX for instance. They only use the Web Trader. The Web Trader is a very simple trading tool, and has been far superseded by industry-standard MT4 and MT5 software. Scammers use this software extensively, because they can easily manipulate the outcome of your trades and make them unprofitable.
MT4 and MT5 are among the most secure and reliable trading software available today. It's no wonder they have been the industry standard since 2005, when MT4 was first implemented. Industry leaders in online brokerage also offer the MT5, which is a new generation program that adds more versatility and even greater market execution speed than its predecessor, MT4.
Account Types 
Account types at Crypto Lloyds are dubious at best. The tiered accounts are reminiscent of the Investous scam, but these are on a next level entirely. Only the cheapest account type can be funded with traditional currency. Note the insanely high leverage for Crypto assets.
Take a look at what Crypto Lloyds accounts look like:
Gold – $250 – $5 000, leverage up to 1:4

Diamond – 0.25 – 0.5 BTC, leverage up to 1:8

Platinum – 0.5 – 1.0 BTC, leverage up to 1:20

Centurion – 1 – 25 BTC, leverage up to 1:20

Anywhere – over 25 BTC, other details obscured
Needless to say, even the most basic account type is quite expensive. The absence of a demo account tells volumes about broker safety. Crypto Lloyds offer better education for more advanced account types only.
Unfortunately, we couldn't test the accounts first hand, as the account creation page on the website is non-functional, and returns an Error 404.
Trading Bonus
Many brokers offer different trading bonuses in jurisdictions that allow these sorts of benefits. This is why it is very important to check the company credentials before engaging in any sort of trade. Scam brokers almost always offer very hefty bonuses, but these always come with an added risk.
This risk is not merely in the lack of regulation and safety. Scam brokers impose a minimum trading volume requirements, and they mostly prevent withdrawals if these conditions are not met by the client. We will see later in our Crypto Lloyds that this broker has a "non deposited funds" condition in their Terms and Conditions.
Funding Procedure
You have already noticed in the Account Types section of our Crypto Lloyds Review that only the cheapest account can be funded with traditional currency. For this purpose, the broker advertises Bank Card, Bank Wire and e-wallet payments. We could not verify this claim, since we could not reach the account creation page.
Other account types are funded with Cryptocurrency Transfers. This is a dangerous practice, since Crypto is difficult to track. Crypto wallets can be made "cold", or placed offline, which would physically prevent the client from accessing them.
Withdrawal policy is quite bad. All the bonuses, as well as trading profits are considered "non deposited funds", and are not eligible for a withdrawal. Furthermore, transactions incur a $25 fee for Bank Cards, and $50 fee for Bank Wire transfers.
How is the Scam Carried Out?
Crypto Lloyds attract customers with an opportunity to use Cryptocurrency for funding their accounts. Because a good portion of the website is non-operational, victims would need to contact a boiler room agent for any of their needs. These agents are very skilled people that are adept at squeezing out every penny from your pocket.
In the case you do make some money on the platform, these profits would be considered non-deposited funds, and thus invalid for a payout. If you still elect to salvage some of the deposited money, a withdrawal will incur a hefty fee.
Crypto Lloyds
Summary
Crypto Lloyds is an unregulated fraudulent broker. They use cryptocurrency payments to cover their tracks. Their Web Trader is compromised to quickly drain your deposited money. Virtually every aspect of dealing with this broker requires an intervention from a boiler room agent.
Should you consider withdrawing funds from your account, you will see that your profits are not eligible for a withdrawal. Payouts through traditional methods also incur large fees and extra charges.
FAQs About
Crypto Lloyds
Broker
Is My Money Safe with Crypto Lloyds?
Since Crypto Lloyds is an unregulated broker, you can not expect any financial safety from this entity.
Does Crypto Lloyds Offer a Demo Account?
No, Crypto Lloyds do not offer a demo account to their clients. Only live trading accounts are available.
What Is The Minimum Deposit at Crypto Lloyds?
The minimum deposit at Crypto Lloyds is $1 500, which is quite pricey for any brokerage.