April 08, 2023
Reading Time:
4
min
Investous Review: The Truth About investous.Com Brokerage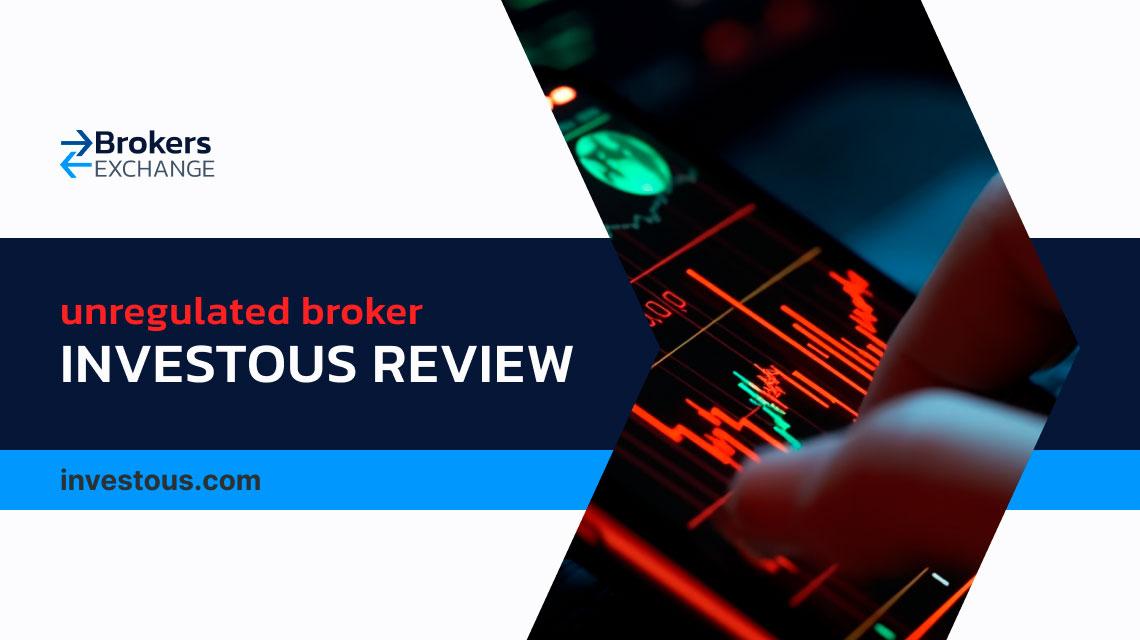 Investous use many tactics to confuse their traders. They claim to be run by a conglomeration of different companies, and that each of these has a license in one jurisdiction or another. Upon closer scrutiny, we can see that this simply isn't true.
Depending on your nation of origin, the scammers name and implicate different parent companies. What's even more outrageous, none of these companies have a valid license in their country of regulation.
Also, avoid the trading frauds Coin2FX, Beurax, and GMGroup at all costs! Moreover, before investing, always look into the past of internet trading firms!
Company

Investous

IOS INVESTMENTS Limited

F1Markets LTD

LEVEL TIME SERVICES

Website
investous.com
Address

Unit 106 No. 16 Cor., Hutson and Eyre Streets, Blake Building, Belize City, Belize

Email
[email protected]
Phone

+27 10 753 1165

Minimum Deposit

$250

Leverage

1:500

Bonuses

Deposit bonus 100% up to $500

Regulation

Unregulated – license renounced

Warning

N/A
Is
Investous Legit? Regulation and Safety of Funds
From what we could gather, in theory, a company called IOS INVESTMENTS operates Investous. 
It's registered in Belize, and depending on the region offers its services through other F1Markets Ltd and LEVELTIME SERVICES. These are allegedly authorized by CySEC from Cyprus.
For starters, we have checked the Belizean company registry through their regulator, FSC. IOS INVESTMENTS was not in the registry, meaning that the company is not registered or authorized for trade.
In order to check the validity of F1Markets Ltd and LEVELTIME SERVICES licenses, we have consulted CySEC, the financial regulator from Cyprus.
F1Markets Ltd used to be authorized to provide broker services but has voluntarily renounced its license. This means that the license in question is no longer valid. 
There were no entries about LEVELTIME SERVICES at all, meaning this entity might as well not have been authorized to begin with.
CySEC is a well-established and quite prominent financial regulator in the broker business. Before a company can hope to acquire a CySEC license it must provide the following:
CySEC License Requirements
At least 730,000€ of initial funds

Client compensation scheme of 20,000€

Client accounts must be protected from negative balance

Client funds must be kept in different bank accounts

Leverage up to 1:30

No bonuses

Transactions must be transparent and in accordance with MiFID
Cyprus is an EU member, and they enforce MiFID rules. MiFID allows companies that are registered in any member nation to provide their services in all EU nations. It does not cover non-EU nations, however. This means that companies regulated by CySEC are only authorized to trade in the EU.
Now that all the cards are on the table, we can safely say that Investous is an illegal company. Some scammers try to fake credibility by claiming that they are associated with other legal entities. Our Investous Review will continue to scrutinize other aspects of trading with this firm.
Investous Trading Platform Overview
Some features of the Investous website is non-functional currently. One of these functions is trading. Investous lists 2 trading platforms on its website, but we were hard-pressed to review any of them. The platforms in question are Metatrader4 and Web Trader.
Scams are known to abuse the Web Trader's lack of security to change the market position indicators and charts. Swindlers edit the numbers to encourage more deposits from their victims. MT4 is a secure and versatile trading program. It is currently the industry standard thanks to its speed, flexibility, and versatility.
Unfortunately, besides the advert on the Investous website and some outdated customer reviews, we couldn't find any evidence of MT4 being used. It is very likely that this is merely an artifact from the time when Investous was regulated.
Account Type Offered at Investous
Regulated brokers offer different account types that bill their services through different mechanisms. Some brokers generate income by charging through the spread, and others through commission or other fees. 
Companies also charge a premium for their advanced ECN accounts, but the deposits on all accounts are usually as low as $100 or less.
Investous does offer lower spreads on their more high-end accounts, but we suspect this to be camouflage as well. Our reason to suspect this is the incredible costs of initial deposits. 
The cheapest to fund is Basic, with $250 initial funds required, but a VIP account will cost you upwards of $250,000. Although Investous does mention a demo account, we couldn't register one.
Investous Funding Methods
Investous have made several funding channels available for its clients. All major bank cards are supported, and this includes Visa, MasterCard, and Discover. Other methods include bank Wire transfers, as well as E-Wallet payments.
The really shady stuff begins with withdrawals. An additional 3.5% is charged for bank card transfers or $30 for other methods. Accounts will be billed an additional $80 monthly if they were inactive for longer than 2 months and a ridiculous $250 per month for over 6 months of inactivity! Through these fees, the scam strategy unfolds in earnest.
How Does Fraud Orchestrate?
Scams like Investous will confuse their victims by placing them into a labyrinthine network of faked company regulations. Once you start trading, the market conditions worsen rapidly. 
All your funds quickly wither away, and you'll feel compelled to make more deposits. You can't just skip trading, out of fear of losing all your assets to inactivity fees.
If you try to make a withdrawal, you'll see that the numbers are stacked against you. and that the frauds have taken a good chunk out of the funds you have on your account just for trying to withdraw money.
Investous
Summary
Ivnestous is a shady broker company that obscures much of its legal information. Finding any credible data is a wild goose chase that will send you inquiring about one regulator after another. These scammers use large fees as their main means of defrauding victims. All profits or losses incurred on their trading platforms are another layer of deception, carefully engineered to siphon as much money as possible from their clients.
FAQs About
Investous
Broker
What Can I Trade with an Investous Broker?
The website lists over 300 CFD types in various categories. Investous is a scam, so it's ill-advised to invest in any of them.
What are the Available Methods of Withdrawal?
Investous allows for Bank Cards, Bank Wires, and E-Wallet transfer payments.
Is Investous Broker Regulated?
No, Investous is not a regulated broker! Stay away from this fraudulent company!