February 10, 2023
Reading Time:
4
min
Crystal Trust Review: All The Lies About Crystal-Trust.Com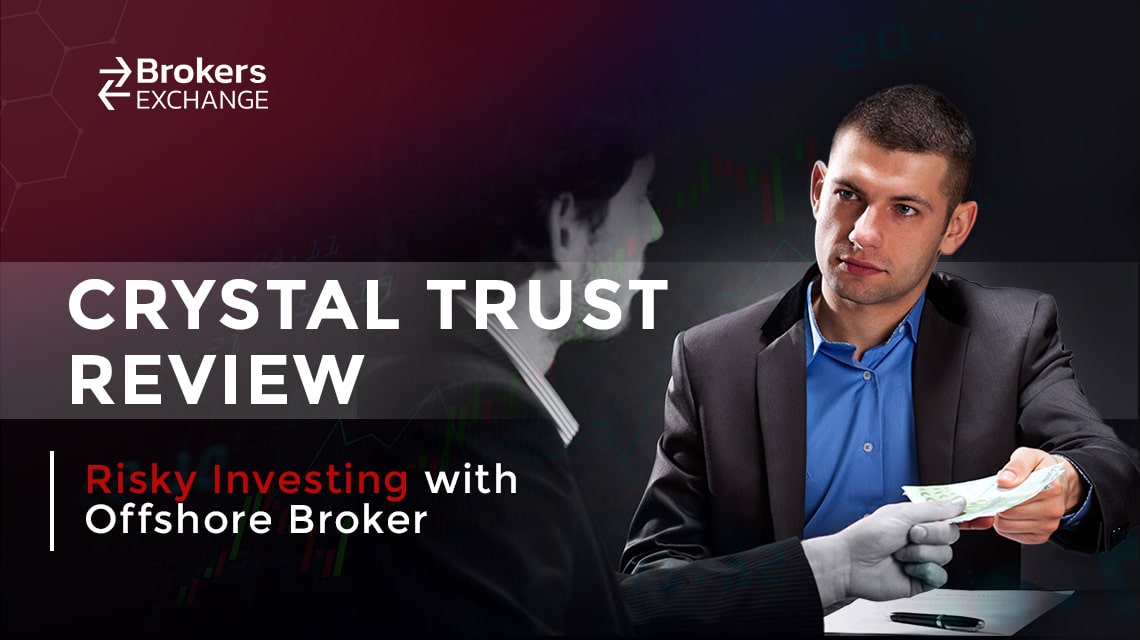 Reading through this Crystal Trust review, you will find out about all the lies that this broker has been placing. Something fishy is going on with this allegedly New Zealand-based trader.
With a false headquarters address, highly unusual leverage, a non-functional platform, and no license, it's not hard to conclude that you should skip this firm. Of course, we will be explaining this in much more detail in the text below. Make sure that you are fully focused.
Also, you will find out why we always recommend going with regulated Forex traders. You must be tired of dealing with all sorts of con artists. If you ever plan on becoming a participant in the financial market, you should listen to our advice, based on years of experience.
On the contrary, you should avoid dealing with questionable brokers like FlexTrading Fx, RACFX, and Cryptocycle.
| | |
| --- | --- |
| Company | Crystal Trust |
| Website | Crystal-Trust.Com |
| Address | New Zealand |
| Email | [email protected]  |
| Phone | Not available |
| Minimum Deposit | 100$ |
| Leverage | Not available |
| Bonuses | Up to 800$ |
| Regulation | Unregulated |
| Warning | N/A |
Crystal Trust Funds Safety and Regulation
Crystal Trust claims to have headquarters in New Zealand, and that they are regulated by the Register of Companies. The problem is that the so-called "Register of Companies" isn't a regulatory body. 
The real regulator body for New Zealand is the Financial Markets Authority. And in that base, the name of Crystal Trust cannot be found. This means that they aren't authorized for the services they are offering.
Also, the very suspicious thing is in the "Terms and Conditions" website section, it says that "by visiting or using the Site and/or the Service, you agree to the laws of Singapore". This is rather odd. All of sudden, it's not about New Zealand, it's about Singapore.
You don't have to be a financial police to realize that this is a bogus broker. For that reason, we have a list of reliable traders in every article.
Crystal Trust Trading Platform
This intermediary claims that they are using MetaTrader 4 – one of the most famous trading platforms in the Forex market. However, they didn't succeed in convincing us that they are providing this software. They didn't leave the download link, or the credentials to log into the trading platform.
It's common for cyber fraudsters to lure people into their scheme by mentioning popular trading software. They use that assertion as bait. Don't trust everything you read on the broker's website. Instead, do a little research on them.
Deposit and Withdrawal at Crystal Trust
There are a couple of available payment methods:
Bitcoin
Ethereum
USDT
XRP
Perfect Money
As you can tell, these are all cryptocurrencies and the Hong Kong-based payment processor PerfectMoney. Generally, this wouldn't be a problem if you were dealing with legitimate brokers. But, that isn't the case. Fake traders direct their customers in paying with cryptocurrencies since they are irreversible.
Real-deal traders offer a variety of payment methods, like credit and debit cards, wire transfers, and some established e-wallets like PayPal.
Crystal Trust has a minimum deposit set at 100$. A lot of credible brokers have the minimum deposit set at 10$, which is ten times lower. You should look at this as another sign of fraud. They realize they won't be able to perform scams forever, so they are getting what they can. While they can.
When it comes to withdrawing your funds, you will pretty soon realize that they have minimum trading volume requirements or some high withdrawal fees you weren't aware of in the beginning. Also, they can change this when they please. Don't forget that you are dealing with con artists.
Unregulated Brokerage Techniques
Financial swindlers are always aware that their scam won't last forever, so they are all going all in. They spend a lot of money on online advertising, trying to attract people with "never-seen" benefits. That's why they give leverage that's as high as 3:578 and luring bonuses.
There is no real trading going on. When you invest money in them, you are deceived that the money went to the market. It went straight to those cyber fraudsters. 
They have a pop-up on their website, where every few seconds you can see that someone deposited or withdrew a big amount of money. E.g. Investor from Canada just withdrew 4500$. But nothing of this is going on. It is an illusion.
Of course, that's all abstract. Everything you see is fake. Why wouldn't a real-deal intermediary leave a contact number?
Crystal Trust Summary
Crystal Trust is an unauthorized broker company that's scamming people. They aren't located in New Zealand as they say they are. The official regulator body – Financial Markets Authority doesn't have them in their register, which means they are operating illegally. 
Also, their trading software is non-existent. Everything about this agent is either anonymous or false. 
Their website is empty, with next to no content on it. It's obvious they set up a website quickly, hoping they would make some money quickly, and then disappear as they have done many times. That's why we suggest you should go with some of the recommended brokers.
FAQs About Crystal Trust Broker
Is Crystal Trust Legally Registered?

Crystal Trust is not legally registered. They claim they to be a New Zealand company, which isn't true.
How Secure is the Crystal Trust Broker?

This trader is completely unsafe. They aren't authorized for the financial services they are offering. They are outright scammers.
Every phony trader has hidden fees, and it's no different with Crystal Trust. Once you deposit your money, it's really hard to get it back.