February 06, 2023
Reading Time:
4
min
Cryptocycle Review: Learn More About Cryptocycle.Org Broker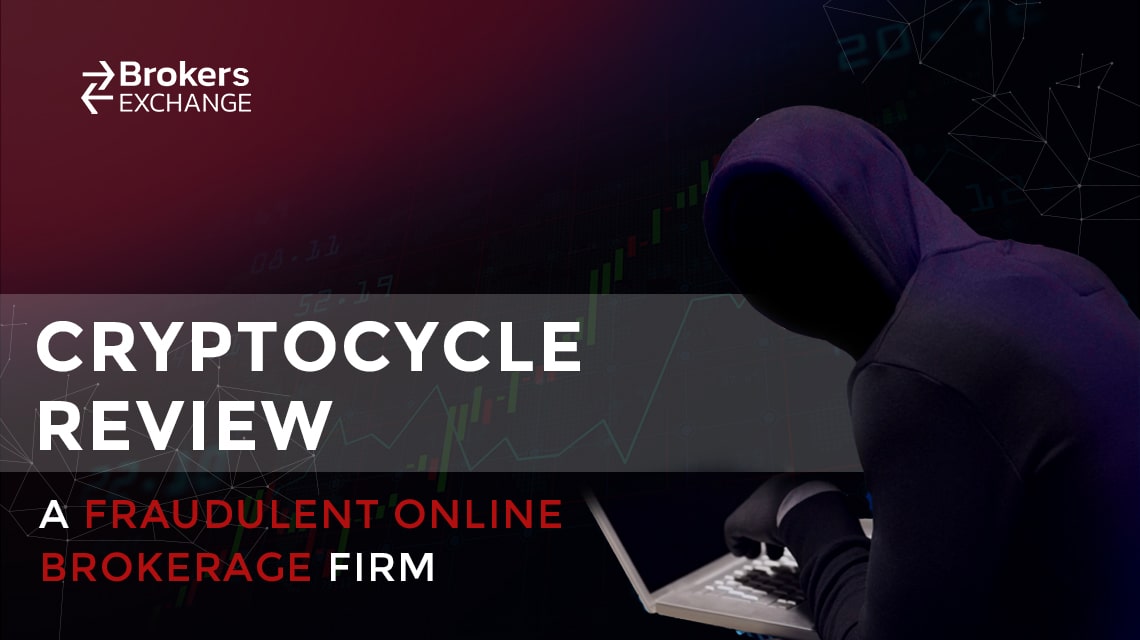 The table below shows basic information about the broker gathered from available sources. The Cryptocycle Review will further dissect its lies and expose the truth about the financial swindler.
| | |
| --- | --- |
| Company | Cryptocycle |
| Website | Cryptocycle.Org  |
| Address | Capital Office, 125 City Road, London, UNITED KINGDOM, EC1V 2NX  |
| Email | [email protected]  |
| Phone | N/A |
| Minimum Deposit | $50 |
| Leverage | 1:100 |
| Bonuses | N/A |
| Regulation | None |
| Warning | FCA, Financial Commission, Resch, Finanstilsynet, CNMV, FSMA, CONSOB |
As you can see in the table, the dishonest scammer has been blacklisted by the UK's Financial Conduct Authority (FCA), which speaks volumes about the company per se. In addition, there are several other warnings issued against it. Hence, we are dealing with an unregulated entity.
Funds invested with brokers that operate under such circumstances are as good as gone, albeit there are ways to get the money back if the robbed person acts with haste.
Nevertheless, you should avoid trading with shady brokers such as Dakkengroup, EuFxBank, and Meteor Trade.
Warnings: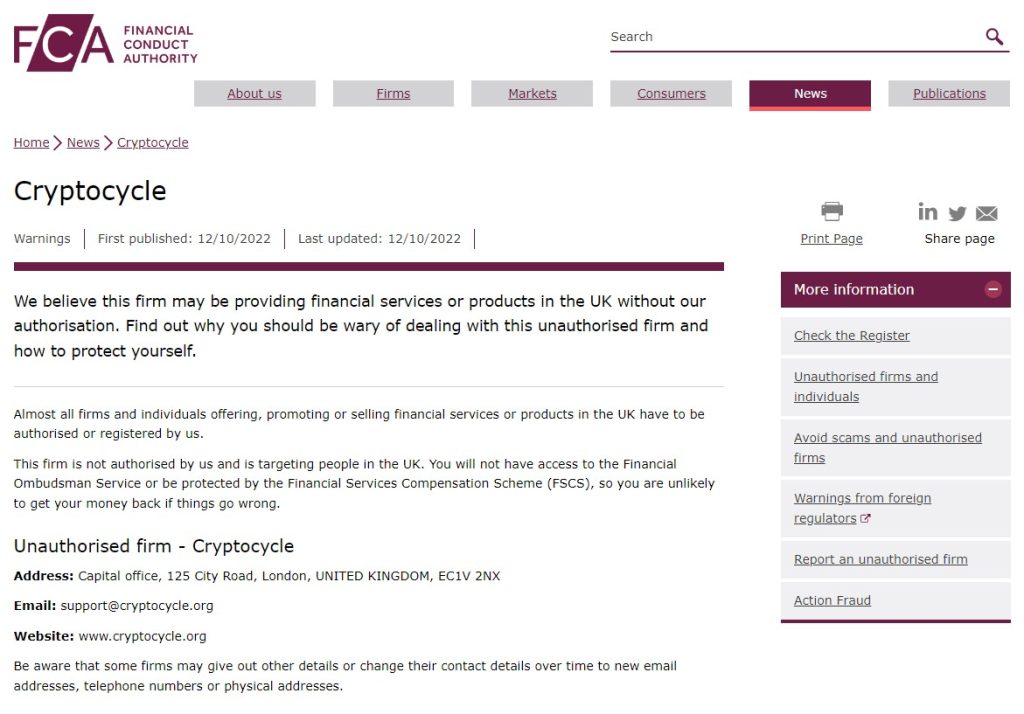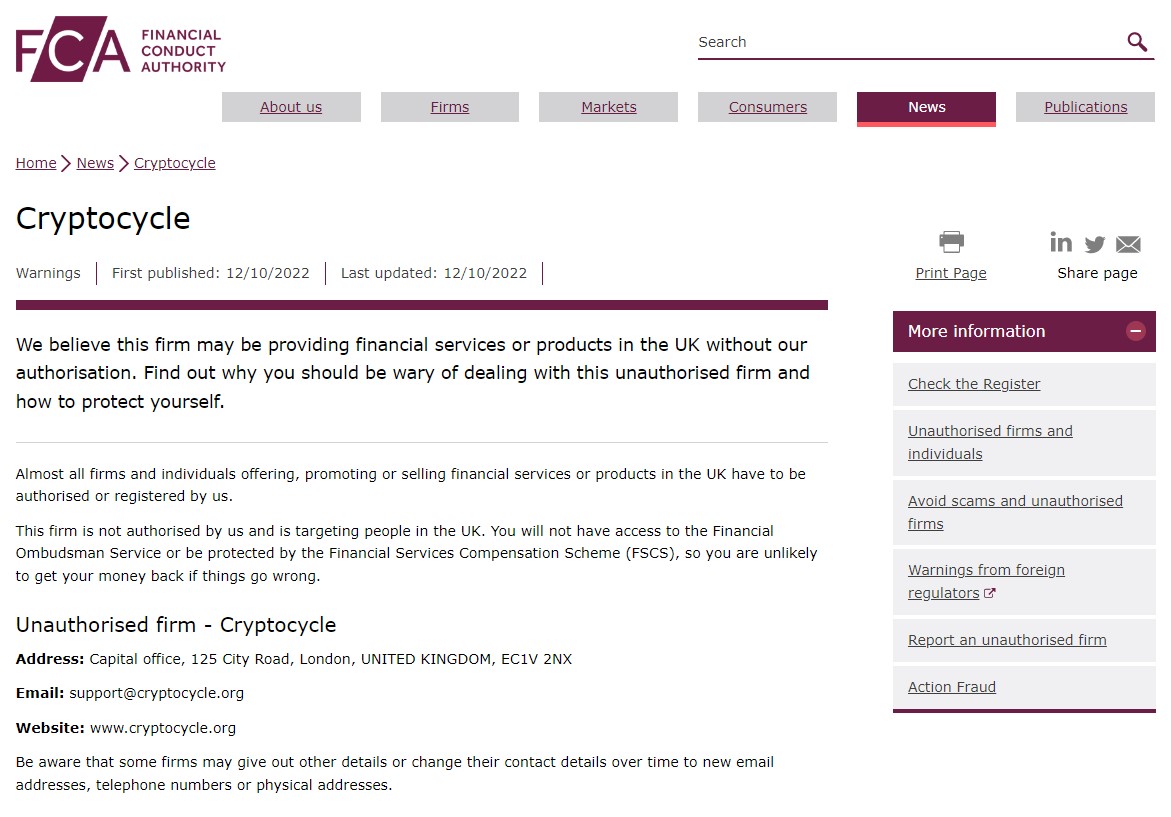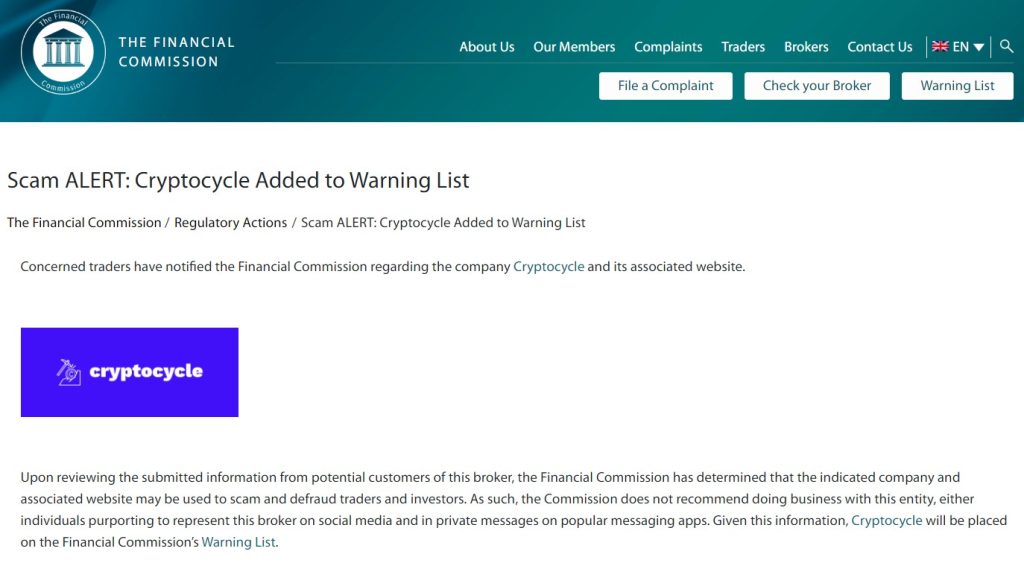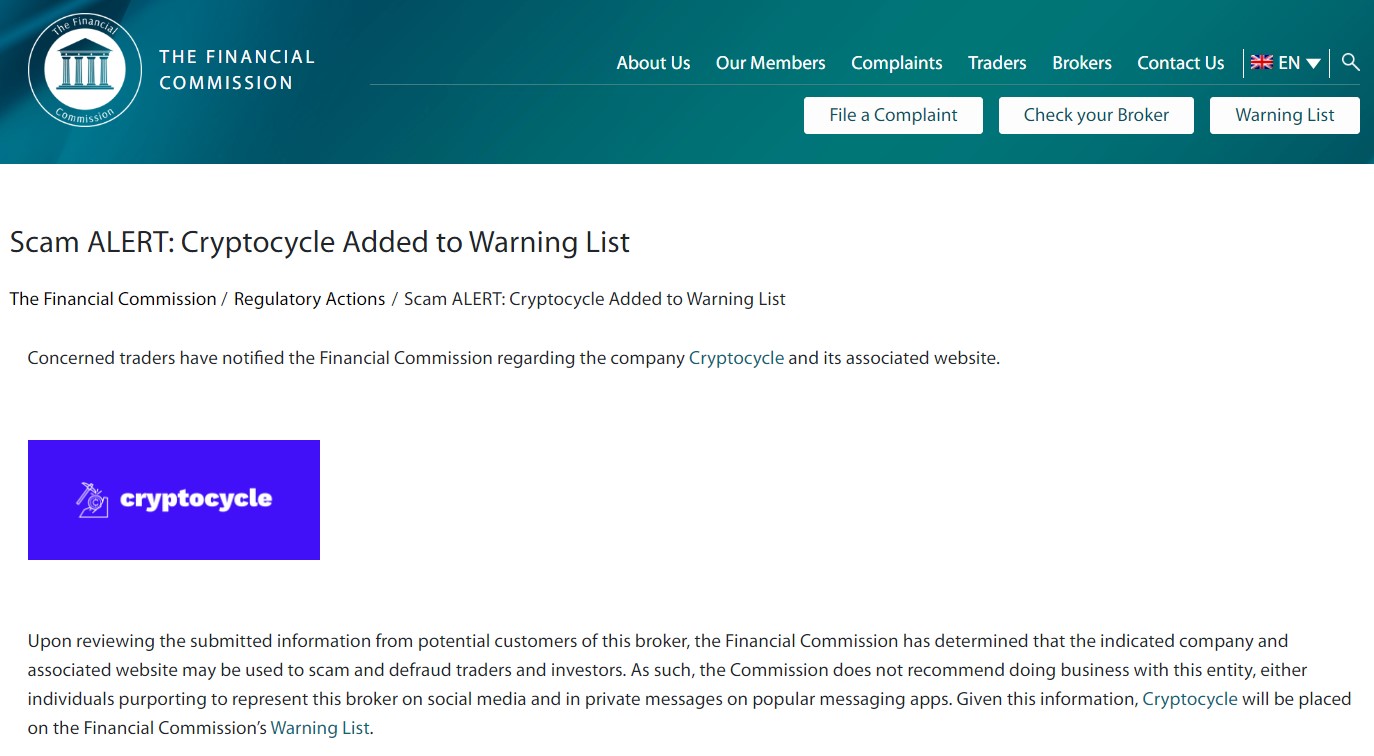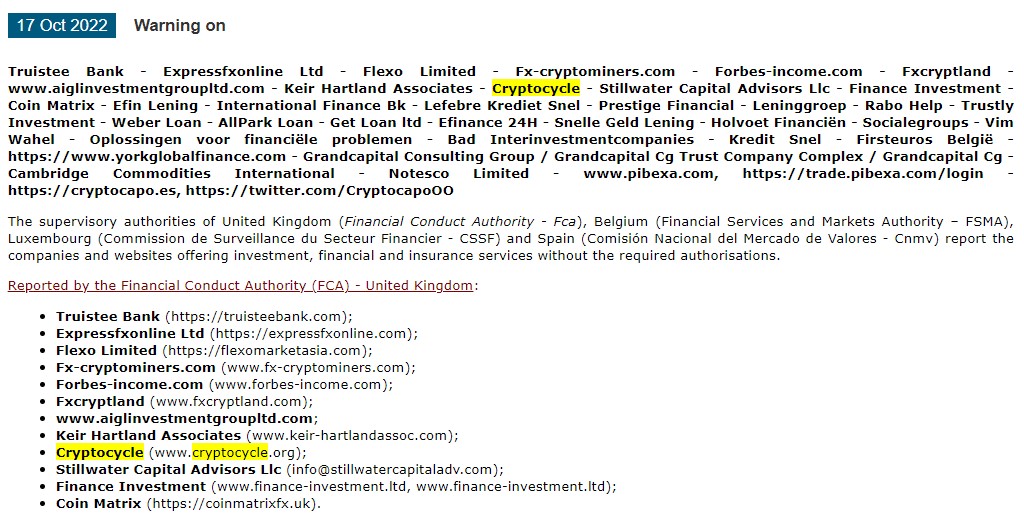 Is Cryptocycle Legit? Regulation and Security
The company's official website was unavailable for undisclosed reasons and we believe that it was either taken down due to a large number of complaints or somebody was hot on its trails. Nevertheless, it was possible to gather information about the broker to prove fraud.
As previously mentioned, Cryptocycle has been blacklisted by several regulating authorities, most notably by the UK's FCA, which covers the domain in which the company allegedly operates. This fact completely blows the scammer's cover and annuls its claim of abiding by "arbitrary regulatory laws."
Like many other schemes, Cryptocycle is not trustworthy and clients' money is always at great risk. To sum it up, the fraudulent broker is unlicensed and dangerous.
Trading Platform and Packages at Cryptocycle
Never trust a broker that provides scarce details about its trading platform and instead boasts its high-leverage offer. Also, take every internet-based trading platform with a pinch of salt because there is always a chance that it is manipulated in order to take your money away.
Such is the case with Cryptocycle. It offers a user dashboard that looks promising but is really just a mask designed to fool you. Furthermore, the trading platform it offers is a web spin-off of Meta Trader 4, the most trusted and reliable trading software in the game. As you can imagine, the lacks several important aspects and tools that the true MT4 has.
The shady broker also offers six different packages: 
Starter (min. deposit of $100), 
Pro-Starter ($500), 
Silver ($1,000), 
Pro-Gold ($5,000), 
Platinum ($10,000) and 
Promo ($50,000). 
The offered leverage is at 1:100, which is extremely high for inexperienced traders and the reason why most regulators have imposed restrictions. The spreads on Forex majors are from 0.1 pips, quite pleasing for trading but considering all that has been said about this scammer, having good spreads does not change anything.
Deposits and Withdrawals Process
The easiest way for illegal brokers to steal clients' money is via cryptocurrencies. Guess what, Cryptocycle, as its name suggests, has the same tactics. It only accepts payments from crypto wallets. The scammer offers a demo account but not a real one.
For withdrawals, the company states that withdrawals are also based on crypto payment methods and that it charges no fees, which is, after all, unnecessary considering that the fraud does not plan on fulfilling any withdrawal request anyway.
How Does the Fraud Operate?
The goal of these wrongdoers is to persuade potential clients to make the first deposit, after which their work is done, the fraud is successful and every subsequently earned cent is just a bonus. They promise easy earnings overnight with their sweet expressions and cunning psychological approach.
The reason why most phony brokers opt for crypto payments is that it allows them to remain anonymous and those payments are hard to trace.
However, there are tools that enable users to follow the transaction via the ID and connect it to a certain wallet within the exchange. Once this is done, a customer can submit a legal letter to the exchange and request a refund.
We can assist you in getting your money back but you mustn't feel embarrassed about filing a complaint against the offender.
Cryptocycle Summary
Cryptocycle is an unregulated broker that allegedly operates in the UK;
It claims it operates by the book but offers leverage far greater than legally allowed;
It has been blacklisted by several financial market regulators;
It only accepts crypto payment methods;
It offers a web-based version of Meta Trader 4.
FAQs About Cryptocycle Broker
What Can I Trade with a Cryptocycle Broker?

The only available trading options with Cryptocycle Broker are Forex and crypto assets.
What are the Available Methods of Withdrawal?

The only available method of withdrawal that Cryptocycle offers is crypto wallets.
Is Cryptocycle Broker Regulated?

Cryptocycle is not a regulated broker and has even been blacklisted by several authorities.