May 18, 2023
Reading Time:
5
min
Ctrl Investments Review: All the Details Regarding the Ctrl Investments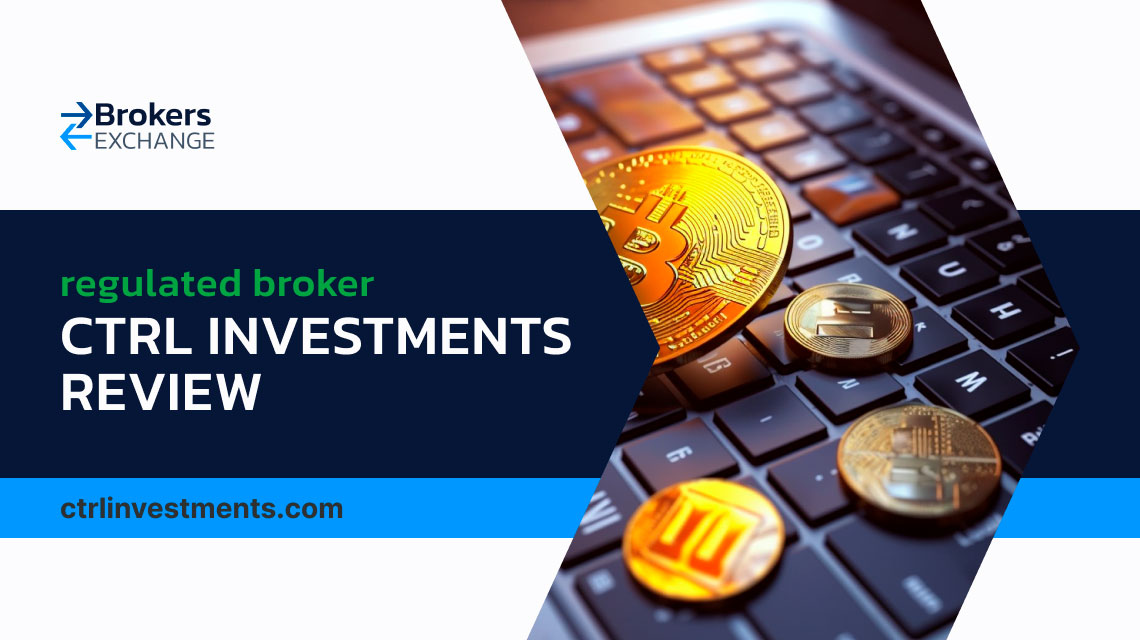 Ctrl Investments is part of Ctrl Investments Limited, which is the official owner of this trading company. They started their business a long time ago, in 2010. Ctrl Investments is a New Zealand and Australia-based company that holds both FMA and ASIC regulations.

As of recently, this broker has had a lot of negative reviews and many user complaints made against them, so we wanted to see what is going on down under.

With that in mind, we have made this Ctrl Investments review, where we will cover everything starting from their regulation to the minimum deposit required. So, sit back, relax and read on to find out more information about this brokerage.

| | |
| --- | --- |
| Broker Status: | Regulated broker |
| Owner:  | Ctrl Investments Limited |
| Websites:  | ctrlinvestments.com |
| Regulated by:  | FMA, ASIC |
| Headquarters Country: | New Zealand  |
| Operating Status:  | Active |
| Foundation Year:  | 2010 |
| Trading Instruments: | Forex, commodities, indices, shares, crypto |
| Trading Platforms: | MT4 |
| Mobile Trading:  | Yes |
| Minimum Deposit: | $250 |
| Deposit Bonus:  | N/A |
| Maximum Leverage: | 1:400 |
| Islamic Account:  | Yes |
| Free Demo Account:  | Yes |
| Accepts US clients: | Yes |
Ctrl Investments Regulation and Security of Fund 
Ctrl Investments Limited is a New Zealand-based investment company licensed by the local Financial Markets Authority (FMA) and the Australian Securities and Investment Commission (ASIC). The license was issued to them  in 2015.

As you can see, the broker holds very good regulations, especially from the Tier 1 regulator ASIC. Since they hold very strong regulations, you would trust that the company is also great and amazing. Well, you would be wrong. 
We saw that the FMA has censored this broker for breaching the rules. According to the FMA, they were cooperating and managed to settle the issue. But since they broke it once, there is no guarantee they won't do it again.

But that's not all, many users started complaining about the company in the past 9 months and we saw a lot of reviews where users stated that it's impossible for them to withdraw the money.

Since they are regulated by the Tier 1 regulator ASIC and Tier 2 regulator FMA, there shouldn't be any complaints made against them and yet there is.

Whatever is going on with the company, we do hope they get back on track and conitie delivering good services as they used to do. And in the meantime, if you want a good broker with no complaints, we recommend you Flatex broker.

Ctrl Investments Available Account Types 
On the Ctrl Investments website, there is no mention of any trading accounts type anywhere. We tried to uncover them in any part of their website, but we failed in doing so.

For a licensed broker they are fairly mysterious. Additionally, we tried to dig out any reviews regarding them to see if they mentioned any trading accounts, but we have failed to find any. 
The only thing we did manage to find was that Ctrl Investments does offer a Demo account, which is a great thing. A demo account is especially effective if you're indecisive about a certain broker, which is probably the case with Ctrl Investments. If you still want to trade with this broker, please be careful when opening a live account.

Overall, we do hope they disclose all the account types they offer some time soon. If they do have any.

Ctrl Investments Trading Instrument 
Ctrl Investments is only offering CFD trading on the following instruments:
Forex

Indices

Commodities

Shares

ETFs

Cryptocurrencies
All in all, considering they are offering CFD trading, this is a good variety. On top of that, their trading conditions are advertised as commission-free and their spreads are variable. 
For the benchmark EUR/USD pair, the spread starts from around 1.8 pips. As for the leverage, we found it surprising that it caps at 1:200, even though they are regulated by the Tier 1 regulator, ASIC, which imposed a 1:30 leverage cap for retail clients in 2021.
This leaves us questions if they are even following the ASIC rules.

Deposits and Withdrawals
According to the broker's website, the following funding methods are available:
Visa or Master credit or debit card

Wire transfers 
This is a very basic offering of the funding methods and we didn't find any E wallets, such as Skrill or Neteller anywhere. Allegedly, the minimum deposit this broker asks for is $250, which is pricey in comparison to other regulated brokers that will let you start with far less.

On top of that, the Ctrl Investments broker has stated there aren't any fees or commissions , but the traders say differently.

Namely, the broker has been asking clients to pay insane fees upfront for certain services. Keep in mind that it's illegal for a broker to demand a fee before performing your withdrawal.

Ctrl Investments Trading Platform
A great thing we have found about the Ctrl Investments, is the trading platform they offer. They did the needed diligence and opted for the industry standard and veteran trading platform by now, MetaTarder4.

The cutting-edge platform is known for its lightning-fast execution and orders and it offers users the possibility to use advanced charting, live market reports, automated trading and multiple timeframes.

Besides the amazing MetaTrader4 platform, this broker also offers a very basic Web Trader that doesn't have any advanced features that the MT4 does. It offers some basic charts and graphs, nothing special.

Customer Support
As for the customer support of Ctrl Investment, we can easily say that it is not as impressive as with other regulated brokers. There is no live chat function and no FAQs section. 
The only way of contacting them is on this email [email protected] or by this phone number +64 9 302 0798. We also do not know their working hours. Overall, as vague as everything else on their website.
Education Available 
Sadly there is not much to be said about educational materials that Ctrl Investment offers. Mainly because there is none. This is a huge let down as many well-regulated brokers, including Plus500, provided their clients with so much materials to learn from. 
We always say that these resources show how valuable you are as a client to your broker and how eager they are to help you succeed. Especially if you are a total beginner, these materials can make you or break you in terms or your trading profit. In this situation, we would recommend you find another broker to work with or just search online materials that are available to you for download.
Ctrl Investments Overall Summary
Ctrl Investment is a New Zealand-based broker that has been in trading business for over a decade. They are regulated by Tier 2 regulator FMA and Tier 1 regulator ASIC, which is quite impressive. As for their minimum deposit it is a bit higher with the minimum of $250. Same goes for leverage as maximum can reach 1:200, which is more than what other regulated brokers usually offer.
The trading platform that is available is MT4 in addition to the basic Web trader, and there is also a mobile application if you want to trade or overlook your account from the go. 
One thing we must mention is that the broker's website is quite vague, as much information is missing. This also includes the nonexistent educational resources that well-regulated firms usually offer. And of course no mention of their account types which we were taken aback by. 
In conclusion, there is much less transparency than what we are used to when working or even writing about a regulated broker.
FAQs About Ctrl Investments Broker
Can I have a Demo and Live Account Working at the Same Time?
Unfortunately we were unable to find out whether or not this is possible with the Ctrl Investments broker.
What Trading Platform Do Ctrl Investments Offer?
Ctrl Investments offers MetaTrader 4 in addition to a basic web trader, and there is also a mobile app.
What Is The Minimum Deposit at Ctrl Investments?
The minimum deposit that Ctrl Investments has is $250, but we found this through various reviews.
Is Ctrl Investments a Safe Broker?
Ctrl Investment is a broker regulated under FMA which is a New Zealand's regulatory body so this broker is safe for you to trade with.
Does Ctrl Investments Offer a Demo Account?
Yes, like many other regulated brokers, this one also offers a demo account in case you want to try out their services before signing up for a live trading account.