April 09, 2023
Reading Time:
4
min
CTX Prime Review: Fraud Behind CTXPrime.Com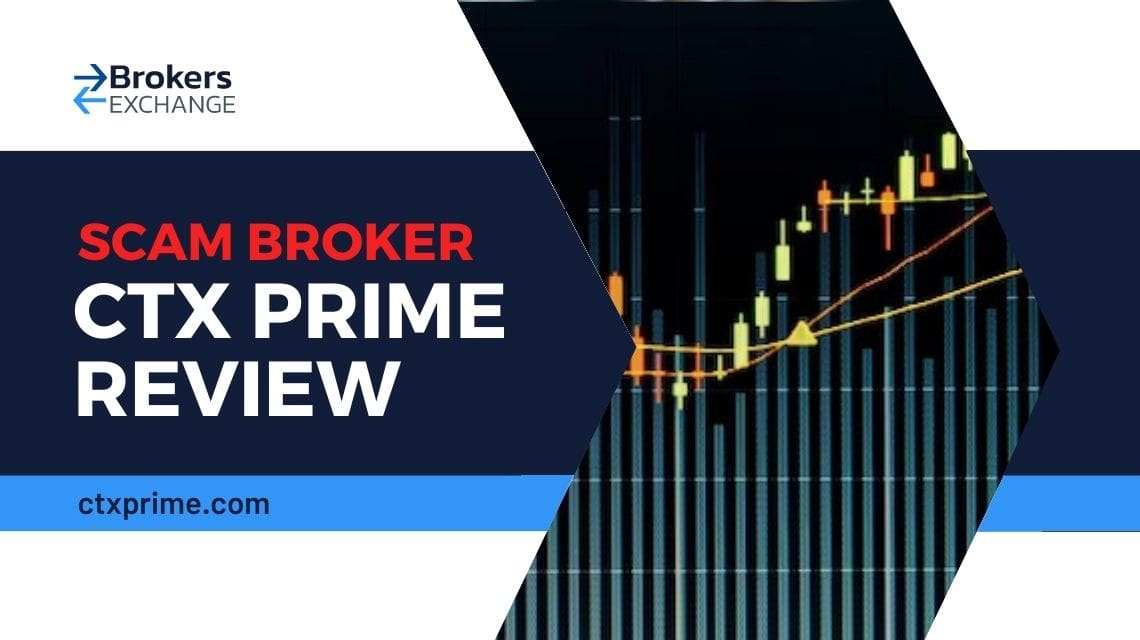 CTX Prime is a fake broker with a short, yet quite ugly history of blacklists and scams. These are the warnings we managed to dig out:
FMA Warning (New Zealand):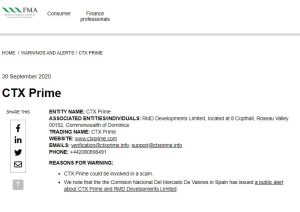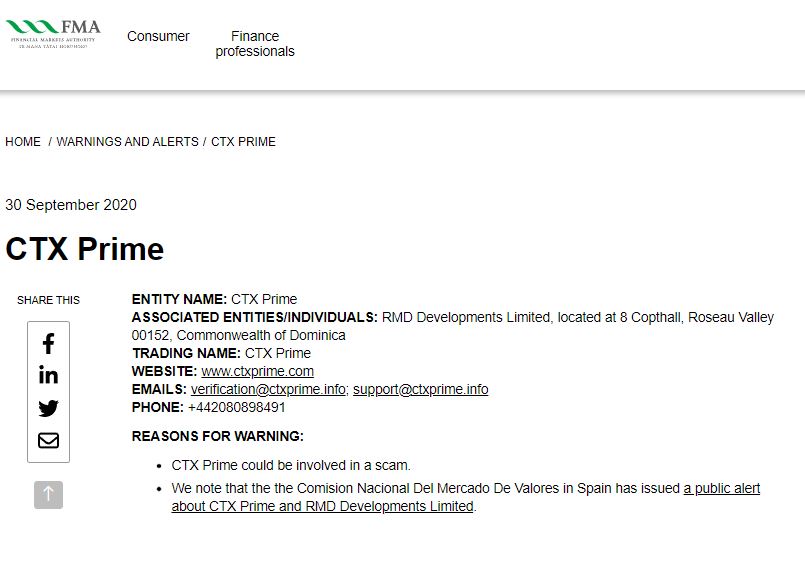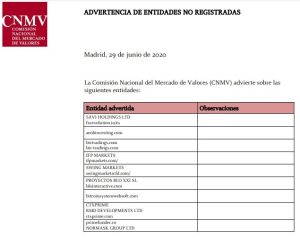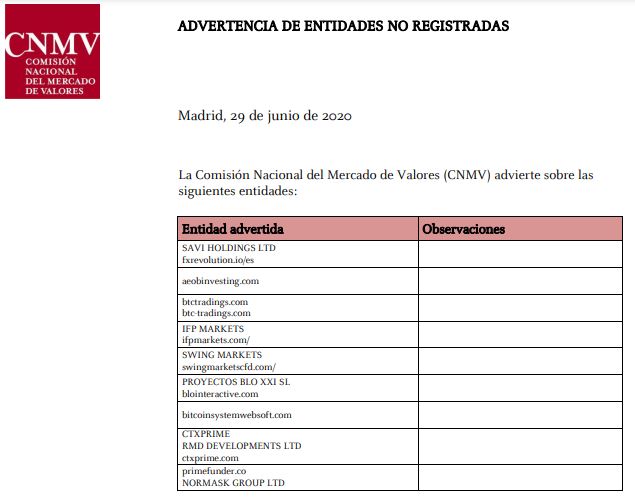 AFM Warning (Netherlands):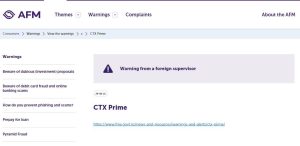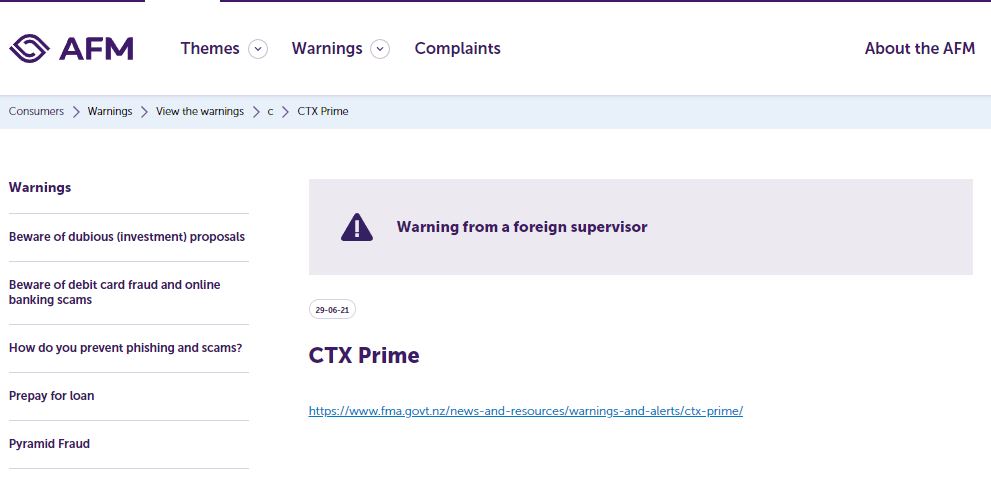 Although short-lived, this site has quickly managed to earn themselves a lot of negative attention. When a top-tier regulator blacklists a site, just know their unscrupulous business is not gonna last much longer. That was the case with CTX Prime. 
Now just another domain for sale, CTX Prime can't do much more harm. At least not from that address. The real culprit, the scammer behind the whole idea, might already be running a new fraudulent business. We recommend you to read this CTX Prime review to educate yourself on how to avoid this and similar types of fraud.
Additionally, we strongly advise you to avoid the fraudulent brokers Investous, Coin2FX, and Beurax.
| | |
| --- | --- |
| Company | RMD Developments LTD |
| Website | CTX Prime.Com |
| Address | Dominican Republic |
| Email | [email protected] |
| Phone | N/A |
| Minimum Deposit | 250 EUR |
| Leverage | 1:200 |
| Bonuses | Deposit bonus |
| Regulation | Unregulated |
| Warning | CNMV, FMA |
Is
CTX Prime
a Reliable Broker? Regulation and Security
Our first major concern pertaining to the regulatory status of this broker is the fact their owning company was registered in the Island of Dominica.  The problem with this country is that the Financial Services Unit (FSU), covers the financial sector in Dominica with the exception of commercial banks and securities business. 
So the jurisdictional regulator doesn't have any supervision or authority over the brokerage activities. As such, CTX Prime, or their owning company, has no valid brokerage license. However, the base currencies and the countries where the reported victims came from imply that CTX Prime was offering its services to UK and EU residents. 
Because of that, we ran a scan of several major authorities in the two areas. FCA, CONSOB, AMF, FINMA, CySEC, and BaFin have no information on CTX Prime. Basically, there's nothing by financial authorities published on CTX Prime except the warnings. Pretty bad for a broker's reputation.
Not having a license means the broker can't keep their business financially stable and long-lasting. Furthermore, what's mandatory for regulated brokers doesn't affect CTX Prime. By that, we mean security measures like segregated bank accounts, leverage cap of 1:30, negative balance protection, and compensation fund. 
To pinpoint one red flag about the broker , they offer leverage of 1:200 and bonuses which are forbidden, both in the UK and EU. Do not trust this, or any similar brokerage under any circumstances!
Broker's Trading Platform Overview
Forget about algo-trading, multiple timeframes or complex technical analysis with this one. The broker has a barely functional web distribution that is only catchy for the eye but serves no purpose. Since a Demo account isn't an option, we couldn't do anything except preview the trader. Until you deposit real cash you won't be able to place trades or do anything purposeful. 
Brokers of high reputation would allow you to trade financial instruments on a Demo account so you can get a grip of the environmental conditions. CTX Prime doesn't allow software testing or probe trading. 
Account Types Available
Two types of live trading accounts are offered:
Nuisance-Free account

Auto Trading account
Allegedly, the first one is appropriate for advanced traders that are familiar with advanced strategies and have good risk-management skills. The latter is recommended for beginner traders which would allow the broker predictive technology to trade instead of them. 
Be warned that this is not allowed among heavily regulated brokers. In the conflict of interests, CTX Prime scam agents will purposefully make you lose by mismanaging your funds and turning them into their own profit.
Funding Methods Available
In order to artificially raise their credibility with their clients, this broker would claim to have all the most secure payment methods available. However, we quickly discovered they had a single preference for Bitcoin deposits. This tells us they're no different from any other scam that holds onto their anonymity at all costs. 
Terms and Conditions publicly remind you of their right not to accept credit card payments and only allow wire transfers. Another opposing information breaks all known AML laws. CTX Prime has no end to their lies. It wouldn't be strange if they made up hidden fees and conditions just to deny all the withdrawal attempts, too.
How Does the Scam Implement?
Under the pretext of making trading easier and more fun, this broker would offer bonuses. Less informed customers easily accept those thinking there's nothing more generous than free money. But bonuses inevitably always come with strings attached. These will make you want to pull your hair out. 
Some brokers are explicit about it, the broker isn't, but they do impose crazy conditions and requirements to avoid payouts. 
For example, they could freeze all your cash until you reach the trading volume requirement which usually counts in millions. Moreover, absurd and unjustified fees will also apply out of the blue until they make you sick. Be extremely careful when accepting bonuses!
CTX Prime
Summary
Surprisingly short-lasting, the broker domain is already up for sale. Hopefully, it stays that way, as several regulators have warned us about the threat they impose. 
Decent retail traders are looking for their chance to trade fairly and aren't paying to be defrauded. That's why we believe information sharing is crucial in this case. If you have any additional info on CTX Prime, don't be afraid to share it with us. We'll return the favor with an additional piece of advice. Let's work together on better and safer Forex trading.
FAQs About CTX Prime Broker
Is CTX Prime Regulated?
CTX Prime holds no license by any of the known regulators. But they have been blacklisted by several of them.
Is my Money Safe with CTX Prime?
No, your deposits with CTX Prime can never be safe when they're another scammer you're handing over your funds.
Does CTX Prime Offer a Demo Account?
Starting a trial account isn't available with CTX Prime. You have to invest if you want to become a client.