November 06, 2023
Reading Time:
4
min
DailyFX Review: Empowering Traders with Market Insights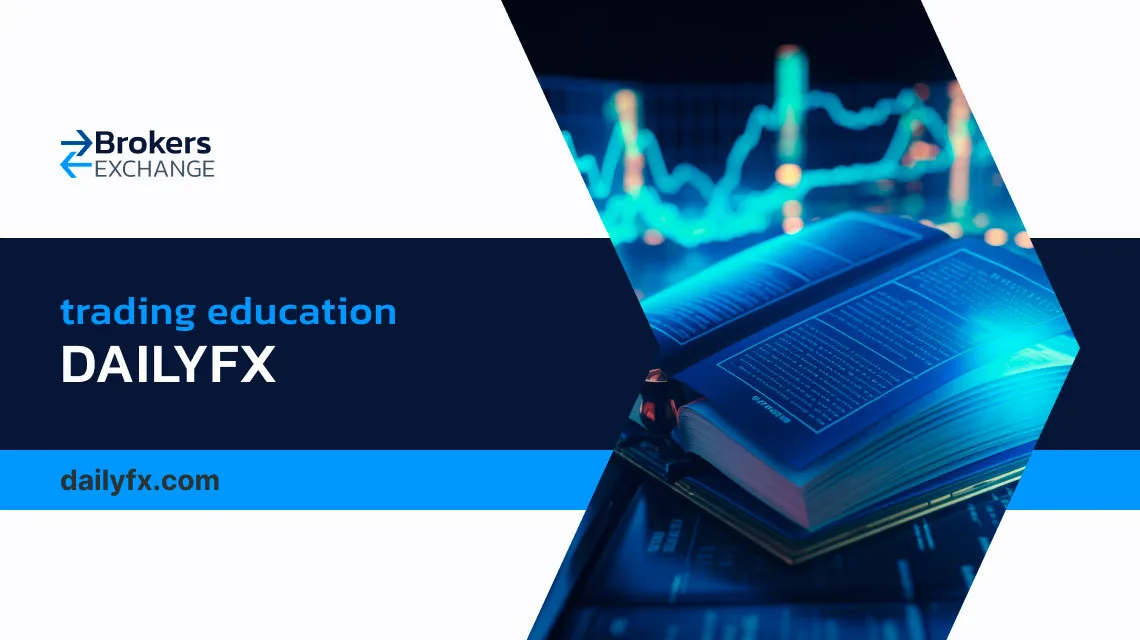 One of the top websites for forex news and analysis is DailyFX, a global provider of online trading services. IG Group Holdings owns and runs it. For traders looking for the most recent market data, practical insights, and instructional materials, DailyFX has established a solid reputation as a reliable resource.
Keep reading our DailyFX review to learn more and don't miss out on the latest information about the Tradepro Academy. Learn all about them and their features in our in-depth evaluation. 
Who Is DailyFX?
A well-known website and online platform, Daily FX Ltd offers financial news, analysis, and learning materials on trading foreign currency, or forex, as well as other financial markets. For traders and investors, it provides a variety of tools and information. 
The online trading platform IG Group Holdings plc, sometimes known as IG Group, is situated in the United Kingdom and provides spread betting and CFD trading. These services enable traders to wager on the movement of stocks, bonds, and currencies without having to hold the underlying assets.
Company Type
Trading Education
Legal name
Daily FX Ltd
Regulation
Not expected
Registered in
251 Little Falls Drive, Wilmington, DE 19808

25 Dowgate Hill, Cannon Bridge House, Blackfriars, England EC4R 2SU, GB

Established
2002
Website
www.dailyfx.com
Financial Authorities Warnings
Contacts
Fees
If Active on Social Media:
Yes
Investor Protection:
None 
Activity areas
India, United Kingdom, United States, Indonesia, Canada
Main threats
Spam calls from multiple numbers
Main perks
Free material 
Regulation Info
IG International Limited is part of the IG Group and its ultimate parent company is IG Group Holdings Plc. The broker is regulated by BMA which could be great in some cases, however, it's important to note something crucial. 
It is common to refer to regulation by the Bermuda Monetary Authority (BMA) as offshore regulation. Financial institutions registered with or overseen by the BMA are subject to offshore regulatory norms and control. Bermuda is recognized as an offshore financial center. 
DailyFX Features
The coverage of real-time market DailyFX news is one of its best qualities. As they happen, breaking news, business news, and geopolitical happenings are all available on the platform. News updates on important currency pairs, commodities, indices, cryptocurrencies, and other topics are available to traders. 
DailyFX's analysts offer comprehensive research, trade suggestions, and technical and fundamental commentary. The  DailyFX gold analysis can be valuable for traders who are interested in the precious metals market. 
A vast library of instructional manuals and videos, ranging from basic ideas to sophisticated trading tactics, is available to traders. For forex traders, being up to date on economic developments and data releases is essential. A thorough economic DailyFX calendar with a focus on forthcoming events, economic data, and their possible effects on the markets is offered. 
DailyFX signals are helpful to traders looking for practical trade ideas. These signals are meant to help traders find possible entry and exit locations. They are based on technical and fundamental analysis.
DailyFX Plans
Daily FX offers premium services for traders who want more in-depth analysis and individualized help in addition to its free products. Access to premium seminars, improved trade signals, and committed analyst help are a few examples of the premium offerings. For traders who want to advance their trading, these premium features may prove advantageous.
However, the prices of seminars and other premium features are not disclosed, which indicates a lack of transparency. After checking the DailyFX app for more information, we realized that registration is required before price disclosure, confirming the reviews we've found on Trustpilot. 
Traders Share Their Experiences
There are only five comments on Trustpilot regarding Daily FX, and the majority are positive. There are two 1-star reviews and both of them focus on constant spam calls from multiple numbers. If you ever leave your contact details on the page, be sure they will call you. 
Other than that, on Sitejabber, there is only one 3-star review explaining that as a professional forex trader, he decided this company was not worth the time. Reviews are not the most reliable source, which we learn with BullsonWallStreet. 
Reviews are there to aid you in making informed decisions, so make sure to evaluate the company head-to-toe yourself to determine whether or not they will suit your preferences. 
Reasons to Enjoy This Company
For traders and investors in the currency and financial markets, Daily FX provides a wealth of knowledge and analysis. For traders of all skill levels, its real-time DailyFX charts, news, professional analysis, educational materials, and engaging community make it an indispensable resource. 
Daily FX provides everything you need, whether you're a beginner trying to learn or an experienced trader searching for sophisticated analysis and insights. Besides the two bad comments on Trustpilot that complain about constant calls, there are no red flags with this firm.
Weighing the Pros and Cons
Pros
Cons

Free access to a bunch of educational material

Provides a mobile app 

Partnered with IG broker

A variety of assets and tools are available 

Interactive community

Prices not disclosed 

Mixed quality content
Can I Make Money While Trading Online?
In conclusion, DailyFX is a reputable company partnered with a well-known brokerage, IG Group. They offer a variety of features, assets, and educational material. The majority of it is free, and if you want to pay for a locked service, you need to register first and ask for the price. 
If you want to see what a reliable and transparent platform looks like, check out our AI analysis bot. AI.F is cheap, effective, innovative, and a big help to traders who want to learn how to trade. Using AI.F means you don't have to rely on a broker anymore, you do everything yourself. 
This potent program gathers data from billions of charts providing you with insightful recommendations. If you are ready, give us a call for a ride to the future or trading and try AI.F 14 days for free. But be quick because the offer applies to the first 100 traders who reach out. 
FAQ Section
What is DailyFX?
For traders and investors interested in the foreign exchange market and other financial markets, DailyFX is a well-known online platform and website that provides tools, financial news, and analysis.
Can I Trust DailyFX to Teach Me to Trade?
Though DailyFX is a reliable platform with many educational tools, the quality of its content ultimately depends on how you research topics and use critical thinking to learn how to trade.
Can I Trade without Investing My Own Money?
Sure, you can trade without using your own money by using the leverage that brokers give, but you'll be taking a bigger risk, so proceed with caution.