June 02, 2023
Reading Time:
4
min
Our Definite Area Review Will Give You All the Facts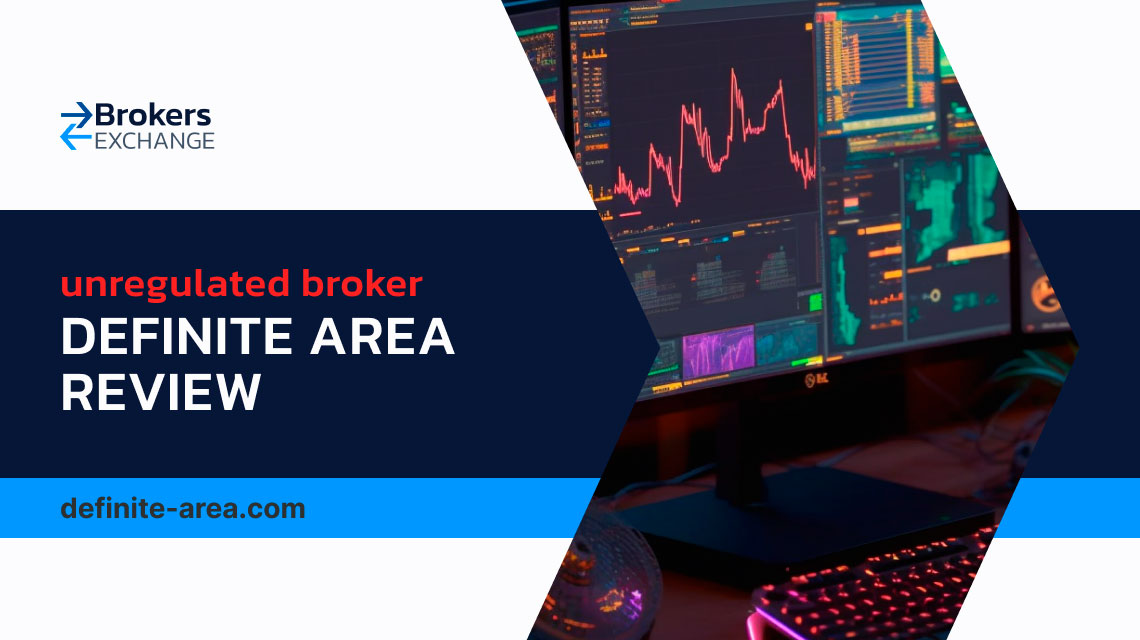 Definite Area has popped up on our radar as a potential scammer, so we decided to give them a look. What we found were numerous red flags and not a single thing we could trust. We wanted to warn you, so we put all our thoughts in this Definite Area Review. Please give it a read and see why you should definitely skip this broker. 
Company
Definite Area
Regulation

No regulation/Unlicensed Broker

Warning

N/A

Website
definite-area.com
Address

N/A

Email

[email protected]

Phone

+442086383687

+3197010266041

Minimum Deposit

$250

Leverage

N/A

Bonuses

Available, but no information on the exact amount
How Are You Safe at Definite Area? Regulation and Se
We are starting this review like any other – by talking about licenses and regulations. And right off the bat, we see bad signs.
Upon entering their website, you will see that there is not much concrete information. You don't know who the owner of the brokerage is and therefore, your options of doing a regulation search on them are quite limited.
We searched every reputable registrar and could not find Definite Area's name in any of them. With that in mind, we can say that this broker is undeniably UNREGULATED, and strongly advise against approaching them.
If you are looking for a forex broker to partner with, always look for regulated ones. They can guarantee your funds will be safe, unlike scammers such as Definite Area, MorganStern, EduTrend, and others.
An Overview of Trading Software
After such a poor website, we didn't expect much more of Definite Area in terms of their trading software. And unfortunately, we were correct. This scammer offers its own version of trading software in the form of a WebTrader. It is a strange bundle of trading tools that don't seem too practical for traders. However, potential clients cannot know this by checking the website. You have to make an account first if you want to inspect their trading platform.
And one final point – you cannot log in to your account if you are not using a mobile browser. Yet another red flag with this broker and yet another reason you should invest with someone else.
Account Types Offered
Speaking of available account options, Definite Area has a packed suite:
Standard – $250

Bronze – $3,500

Silver – $10,000

Gold – $25,000

Platinum – $50,000

Pro – $100,000

VIP – $250,000
As you can see, this scammer aims big. In most cases, when you see a high minimum deposit, it's a scam. They are looking to get a large sum of money from you quickly and disappear without a trace.
The accounts differ in leverage, bonuses, risk insurance, level of expert help and many other things.
But that's not all. This fraudulent broker also offers investment plans, where you can invest the amount of money you decide, for a cause of your choice (Retirement, Family, Holiday, etc.).
Funding Procedure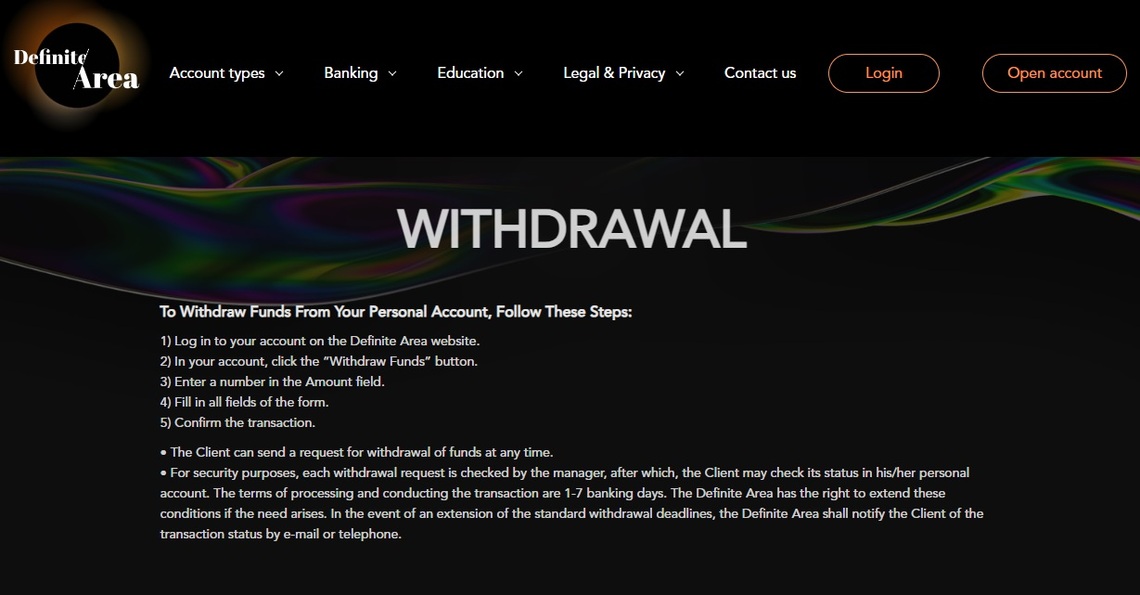 As far as funding is concerned, Definite Area accepts several payment methods:
Visa/MasterCard/Maestro credit card payments

Wire transfer

Cryptocurrencies
We could not find any details about the minimum withdrawal amount, but we did find something more alarming. On their withdrawal page, Definite Area say they reserve the right to extend the withdrawal processing deadline. This kind of clause tells you that this fraudster is not to be trusted. They can just keep prolonging the whole procedure until people give up and leave without their money.
How is the Scam Carried Out?
Fraudsters try scamming people in different ways. Here are some of the most common tactics they use.
Scammers' favorite is the bonus scheme, which you will also find with Definite Area. They say they offer a bonus which sounds quite appealing to new customers, but they don't tell you the whole story.
Those bonuses almost always come with incentives, namely high trading volume requirements. This means you have to make enormous amounts of money with that bonus before you can withdraw it, which is hard even for veteran traders.
Another shady tactic fraudulent brokers use is making you believe you earned a lot of money. They do this to get you to invest even more and when you want to claim your earnings, they will charge you with a fee of up to 20%.
Definite Area
Summary
Coming to the end of our Definite Area Broker Review, we learned that it is best not to engage with this scammer. There are so many better and, more importantly, safer options.
So think twice before giving money to unregulated brokers. Scams can happen to anyone, but do everything to make sure they don't happen to you.
FAQs About
Definite Area
Broker
Is My Money Safe with Definite Area?
No, your money is not safe with Definite Area. They are operating without a license, which means you should avoid investing with them.
Does Definite Area Offer Demo Account?
Definite Area does not offer a demo account. You can only do business with them if you sign up for the paid accounts.
What Is The Minimum Deposit at Definite Area?
The minimum deposit at Definite Area is $250. This comes with the Standard account, which also offers a personal account assistant.