May 17, 2023
Reading Time:
4
min
Demaxis Review: The Truth About this Shady Brokerage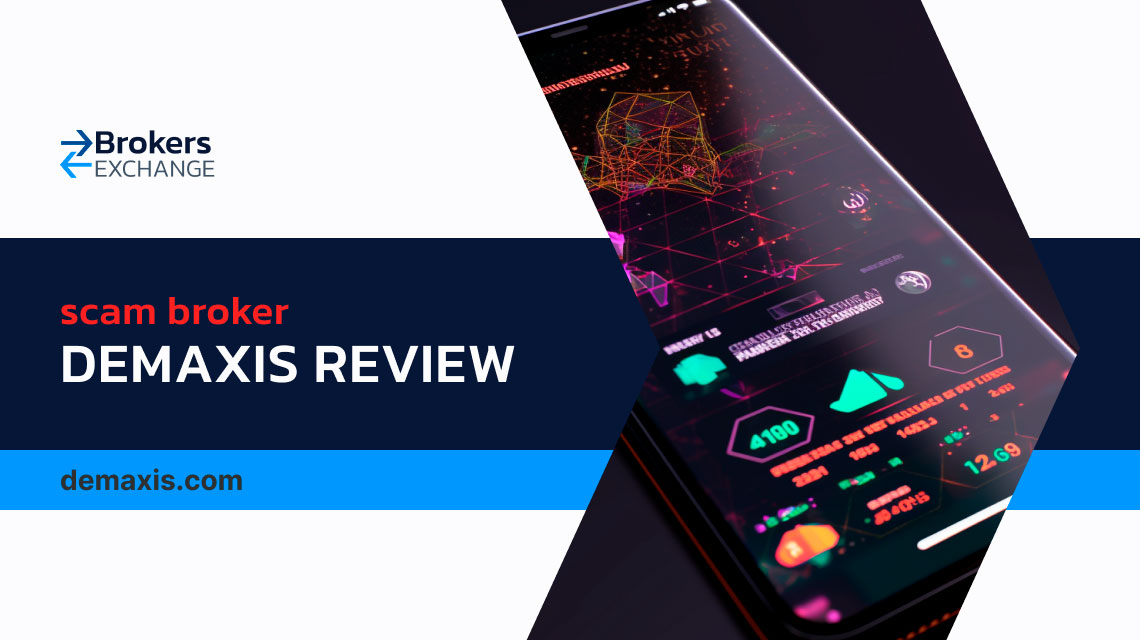 It came to no surprise that the Demaxis broker is one of the many investment scams that are based in our beloved scam haven called St. Vincent and Grenadines. Demaxis is owned by Demaxis Ltd and they are practicing forex and CFD trading services worldwide.
But they hold no license and no regulation which makes them very dangerous to deal with. Additionally, there are also a lot of complaints made against this broker and that is not uncommon with bogus scam brokers.
So that's why all key features and flaws of this offshore broker you can find in this Demaxis review.
| | |
| --- | --- |
| Company | Demaxis Ltd |
| Regulation | Unregulated offshore broker |
| Warning | N/A |
| Website | demaxis.com |
| Address | St. Vincent and Grenadines |
| Email | [email protected] |
| Phone | +18007652408 |
| Minimum Deposit | $2,500 |
| Leverage | 1:400 |
| Bonuses | N/A |
Demaxis Reliability – Regulation and Security
Demaxis advertises itself as a worldwide broker that holds many awards and is fully regulated. But if they really have a license they would present it clearly on their website. It's a common practice with all regulated brokers.

This just means that they don't have a regulation and they are also not transparent with their clients. The second thing is that they are based in St. Vincent and Grenadines which is a scam haven and an offshore location that doesn't overlook the forex and CFD trading.

Thus, we also checked the Tier 1 regulatory registers in hopes of finding any mention of the Demaxis. Yet, there wasn't anything.

Openly lying about regulation, which they don't have, very high minimum deposit requirement and a non-transparent trading platform are just some of the objectives that describe Demaxis which is an unregulated broker same to HubKoin.

Trading Platform Available at
Demaxis
Demaxis' website promises an unnamed "advanced platform" with a desktop and web version, but we have been unable to confirm whether this claim corresponds to the truth.

Is it the basic Web Trader that they offer? Or do they actually offer a real trading platform?  Well, it's a mystery. And that's because once we tried to register, they asked for a reference code. This ensures that only invitees can register and it is more typical of scammers who recruit potential victims through social networks.
So it's for the best to stick to the regulated brokers that offer MetaTrader4 and MetaTrader5 trading platforms.

Demaxis Account Types
Demaxis offers six different account types and those include the following ones: 
Beginner – $2,500

Standard – $5,000

Intermediate – $25,000

Advanced – $50,000

Integral – $100,000

VIP – $250,000
With a minimum deposit requirement 10 times bigger than average this should  not be your first choice. The minimum asking deposit is outrageous and you can find regulated brokers that will let you start with as little as $5.

And as for the Demo account, there is not one. You will be forced to open a Real account and that way you are letting the scammers take all of your money.

Demaxis Deposits and Withdrawals
Demaxis claims to use three payment methods:
Visa or Master credit or debit card

Wire transfers 

Bitcoin 
But due to our inability to register an account, we have been unable to confirm whether this is correct.

On the website we see a claim that Demaxis does not charge deposit and withdrawal fees, but the Terms and Conditions reveal a different picture. Withdrawals of less than $100 by wire transfer and less than $20 by other methods are charged a flat  fee of $10. 
As you can see, they are lying to you on every step of the way.

How is the Fraud Delivered?
Those online ads that can be found online with get-rich-fast stories are likely the doing of Duvaro or Demaxis or even some other scam broker. 
Once you decide to leave your personal information in order to find out more about this, the agents will call you daily to try and convince you that what they are offering is a legit trading business.
In the beginning they will ask for a smaller amount just to get you on board, but once you agree, they will begin to persuade you to invest even more. Many think they are immune to these fake stories the agents are going to tell them or they will just sense if something is off, but in reality, it's much harder to stay firm.
These fraudsters pose as brokers to take advantage of the general public's lack of knowledge of trading. And the agents calling are professionals who have many ways to get you on board with making an investment.
Demaxis
Summary
In our thorough Demaxis review, we tried our best to warn you about this offshore scammer that is posing as a legit broker. It is no surprise that they possess no licenses and follow no regulations when it comes to trading. 
The minimum deposit is just outrageously high and no legit broker will ever ask for you to invest $2,500 as an initial deposit. And of course, their website is missing like half of the important information including their address and part of the legal documentation. 
Although they have not been issued an official warning by some well-known regulator, you should by no means trust this bogus scammer.
FAQs About
Demaxis
Broker
Is My Money Safe With Demaxis?
No, your money is not safe with this offshore unregulated company that is falsely claiming to be a legitimate broker.
Does Demaxis Offer a Demo Account?
This offshore scam broker does not offer a demo probably because they are scared you will figure out their lousy scheme.
Is Demaxis a Trustworthy Broker?
Only brokers you should consider trustworthy are those regulated by Tier1 regulators and not these cheap scams that possess no license.