May 07, 2023
Reading Time:
5
min
DG Flex Review: Reasons You Should Not Trust This Broker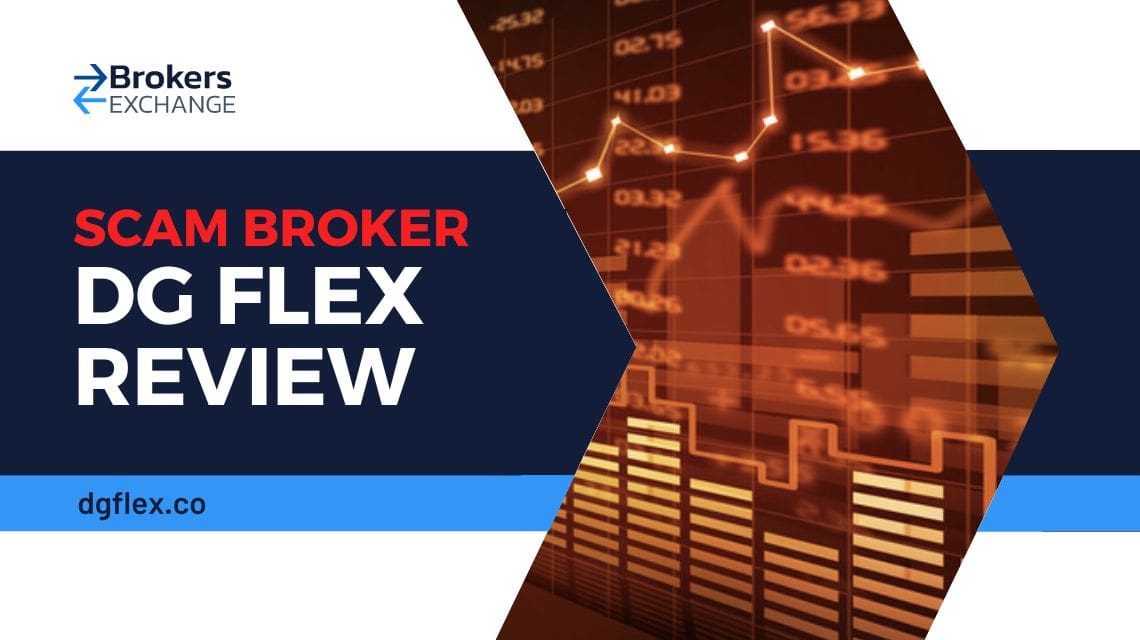 DG Flex Review, A Polish broker without the KNF license is not an authorized broker you want to get deals done with. That seems to be the story with DG Flex, which has FCA recognized as a clone of a firm under their supervision. Find the direct link to the FCA warning here: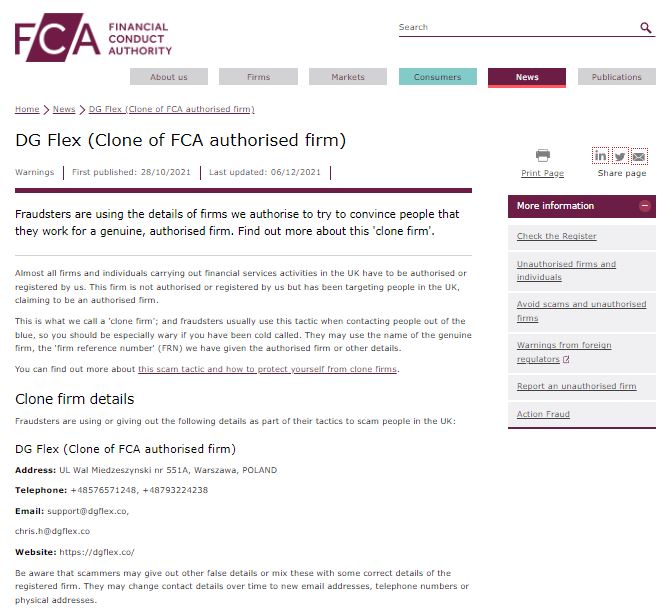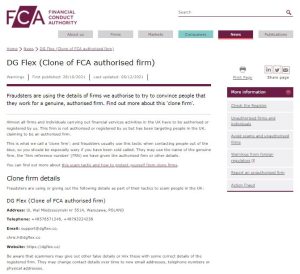 What are clone firms and how do they exactly defraud customers? Find all these and more answers in our DG Flex review below. And we strongly recommend you to first read this review before agreeing to any shady offers. Although DG Flex doesn't sell their services anymore and the domain is now owned by another entity, clone firms are always a threat.
| | |
| --- | --- |
| Company | SP ZOO SEPUR |
| Regulation | Unregulated |
| Warning | FCA |
| Website | dgflex.co |
| Address | Poland |
| Email | N/A |
| Phone | N/A |
| Minimum Deposit | $10 000 |
| Leverage | 1:400 |
| Bonuses | Up to 100% |
License for DG Flex and Security of Funds
As already suggested, a Polish broker certainly wouldn't easily be allowed to offer their products and services to domestic traders. Not without a KNF license. Since Poland is a part of the EU, all the highest regulatory standards apply. 
From segregated bank accounts, leverage limitation to 1:30, negative balance protection, transparency and transaction reporting, KNF demands it all. Besides the license issuing, the regulator does a good job of keeping an online list of brokers with their license. 
It's diligently updated, so our first move was to check it to see if DG Flex is among the authorized entities. As we could immediately see, this questionable broker was not permitted to provide online financial services. 
The UK has its own financial watchdog, FCA, that issues licenses under the similar criteria as EEA regulators. By comparing these standards with what DG Flex provides, it is evident this broker doesn't fit with the framework. 
The leverage over at DG Flex is 1:400, no negative balance insurance can help you prevent losing more than you've invested and bonuses are allowed. We also have to mention the lack of transparency and obligation to report their monetary transactions to the authorities. DG Flex is illegal in every sense. 
Sometimes these firms will copy the data and information belonging to other firms. This is done to boost their own credibility and so that when the customers check the credentials, they indeed come up with viable results. 
As FCA proves it, the broker is a clone of a regulated company called D G Financial Services Limited. The previous has nothing to do with the operations of the legal entity. This makes DG Flex, by all means, a fake broker with unscrupulous intentions!
Trading Platform Available
Quite simple and ordinary, a basic web trader at DG Flex won't give you much space for complex trading operations. While industry leaders like MT4 and MT5 provide Expert Advisors, a number of indicators and complex analysis, DG Flex is nothing spectacular. The shortage of advanced features makes it very shallow and borderline useless, even to beginners. 
If you ever intend on trading with a realistic chance of success, you should seek a broker worth your investments, as they provide the most advanced and reliable platforms. We'll soon discuss good alternatives for DG Flex, so read on. 
Options for Deposit/Withdrawal
What else could you expect from a fraud but inconsistency? Pricings of the packages explain the minimum deposit is $10 000, while the client area allows investments from $250. The site also promised a number of funding methods. 
On the other hand, the client zone only accepted credit cards. One relieving fact is that cards are the most secure transferring channel and it allows you to issue a chargeback. 
DG Flex doesn't have the legal docs in forms of Policies. These would otherwise discuss transactions, fees and processing time. 
DG Flex Account Types
Pilling up random features and options didn't make their offer of account types any more unique. Most of the other scam schemes name their packages exactly the same. The array of features also implies illusory conditions.
But the fraudster had to justify the bizarre pricing somehow, didn't they? Even if you were a millionaire and had enough money for throwing, would you do it on a swindling platform? Anyhow, this is what DG Flex offer of account types looks like:
Standard – $10 000

Bronze – $25 000

Silver – $50 000

Gold – $100 000

VIP – $250 000

Pro – $1 000 000
| | | | | | | | |
| --- | --- | --- | --- | --- | --- | --- | --- |
| Broker | DG Flex | FXTM | OctaFX | FPMarkets | XM Broker | HFM | FBS Broker |
| Minimum Deposit | $10 000 | $10 | $100 | $100 | $5 | $5 | $100 |
How the Scam Is Executed
If you spend enough time online, there will inevitably come a point when a scam agent or boiler room missionary approaches you. They will have an offer of a lifetime. Or at least that's how they will try to make it sound. 
The point is to get you to believe in their complex lie so you would put money into it. They will even be friendly enough and warn you about the risks, all out of pure concern for the well being of your capital. Well, no, not really. 
As when you start investing and trading using their terminal, it will all look like a dream come true. A nice illusion breaks into pieces when you request a bigger withdrawal. You will learn the profit was entirely fake and your deposit is gone. 
DG Flex seems to focus on stealing the initial deposits, that's why they've set their requirements so high. The criminal will do everything in their power to stop you from requesting payouts. From charging huge fees to setting trading volume requirements on bonuses. DG Flex has it all.
Forex Brokers Suggestions
As new as you might be to the whole Forex trading, you aren't necessarily naive to believe a common lie DG Flex feeds you. Or MigoTrade, for example. Their stories basically match. 
Instead of that, you need a financial partner to advise and aid you the whole way. From your very first investment, throughout the trading journey, and until retirement if needed. No better way to provide yourself with such a broker other than try the best. We've chosen some of the most competent offers on the market for you. So start exploring and learning today!
| | | | | |
| --- | --- | --- | --- | --- |
| Broker | Country | Rating | Min. Deposit | Website |
| FXTM Broker | Cyprus, UK, Mauritius | 4.5 | $10 | Forextime.Com |
| OctaFX Broker | Cyprus, SVG | 4.4 | $100 | OctaFX.Com |
| FP Markets Broker | Australia, Cyprus | 4.7 | $100 | FpMarkets.Com |
| XM Broker | Cyprus, Belize, Australia | 4.7 | $5 | XM.Com |
| HFM HF Markets Broker | Cyprus, UK, South Africa, UAE, Kenya | 4.3 | $5 | HFM.Com |
| FBS Broker | Cyprus, Belize, Marshall Islands | 4.85 | $100 | FBS.Com |
DG Flex
Summary
If you're familiar with IDealTrade or the aforementioned MigoTrade, you probably already assumed what DG Flex is. In case you aren't, we strongly recommend you to read this review before carrying on. 
Clone companies are no child's play, and they can damage your budget significantly. Or ruin you entirely in the financial sense. It all depends on how close you let them come to you. So better be always careful. 
Stay alert and watch out for the newest warnings that major regulators publish. And always, always check your broker's license with a financial authority before believing a single word they say.
FAQs About
DG Flex
Broker
Is My Money Safe with DG Flex?
As safe as it could be with a common criminal. DG Flex is not a regulated broker to grant them access to your funds and believe they won't misuse it.
Is DG Flex a Regulated Broker?
Since they are located in Poland but do not own a KNF license and do not show in any other database of regulated brokers, we can conclude DG Flex isn't authorized.
What Is The DG Flex Minimum Deposit Amount?
The account types page says that the minimum investment for the Standard account type is $10 000.