June 15, 2023
Reading Time:
5
min
FBK Markets Review: A Reliable Broker that can be Trusted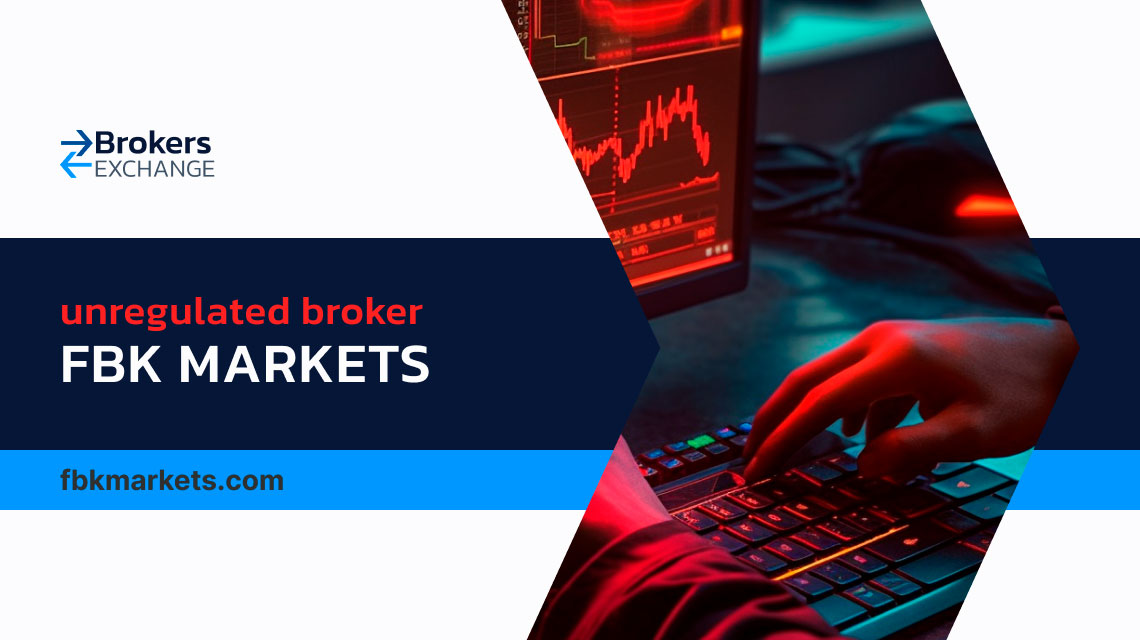 As the company is registered in South Africa we are mainly relying on FSCA license. Since this company is registered in 2020 it had more than enough time to gain a reputation. Whether good or bad, we are about to see in this FBK Markets review.
But some discrepancies don't add up here. All the key features, software, and security become questionable after you realize one thing. That the broker might be a copycat.  
Who Is FBK Markets Broker?
FBK Markets broker is registered in Sandton, South Africa. The company discreetly explains that they are a juristic representative of RCG Markets Ltd registered also in South Africa. However, RCG Markets company doesn't have in their disclaimer or Terms and Conditions mentioned this broker.
Firstly, RCG Markets is registered in Johannesburg. Secondly, the FSCA register discovers the license of RCG Markets indeed. But if there is an FBK Markets broker mentioned, discover further in the article.
If you are looking for a broker on your side you might as well check our reviews on Blueberry Markets, Goldwell Capital, and SVK Markets.
FBK Markets

Legal name:

FBK Markets SA (PTY) Ltd

Regulation:

Unregulated

Registered in:

South Africa

Established:

2020

Website:

Fbkmarkets.com

Financial Authorities Warnings:

N/A

Contacts:

E-mail: [email protected]

Phone: +27(0)87 702 9234

Whatsapp: +27(0) 63 419 2896

Online form

If a withdrawal is possible:

Highly unlikely

Fees:

Hidden fees

If Active on Social Media:

Yes – Facebook, Twitter, Instagram, Whatsapp

Investor Protection:

No
FBK Markets Security and Regulation
In terms of security, traders mainly trust Tier 1 regulators. FSCA doesn't belong in that group because of loose requirements. Primarily, because of leverage. But also, companies are not required to be members of compensation fund schemes. Neither to have negative balance protection or guaranteed stop-loss. All these features should be taken into consideration.
Anyway, FBK Markets claims to be representative of the regulated broker. They even copied their website design. However, RCG Markets nowhere mentions that connection with FBK Markets. Besides, FBK Markets doesn't have any trusted Tier 1 license. Such as FCA, BaFin or ASIC. Which leaves everything to you if you will decide to trust this broker or not.
FBK Markets Broker Profile
Besides the MT4 trading platform, there is nothing much spectacular here. Firstly, leverage that goes up to 1:1000 is high risk. Without negative balance protection, it can easily get you into trouble. On top of that, the company doesn't offer access to stocks and cryptos.
Without transparent fees and commissions, you don't know either how much trading here will cost you. To make it even worse, there is no demo account available to test it out.
FBK Markets Login
Unfortunately, to get access to the MT4 platform you should first register. Only after FBK Markets login is completed you can see exactly what they offer.
Still you don't have a demo account to try their services. Which is quite strange for a broker that offers the MT4 platform.
FBK Markets Bonus
Another key point is a welcome bonus. With many Tier 1 regulators, those are strictly banned due to shady bonus policies. However, FBK Markets bonus is not much different.
In this case, the company doesn't allow traders to withdraw the bonus. But only profits gained with that bonus. Thus, if you don't have a positive balance you can't use the bonus. Also, the broker can terminate the bonus in case you are using EAs or any other trading robot. It's not clarified if the profits with that bonus are terminated as well.
Trading platforms:

MT4

Account types:

Standard, Zero spread, Bonus 100, ECN, Microx

Financial Instruments On Offer:

Forex (AUD/SGD, JPY/GBP, EUR/SEK)

Indices (DAX30, CAC40, S&P500)

Commodities (gold, crude oil, platinum)

Bonds (T-Bond, Ultra T-Bond)

Maximum leverage:

1:1000

Minimum Deposit:

$20

Commissions/bonuses:

No commission available / Bonus up to 100%

Mobile app:

Yes

Desktop app:

Yes

Autotrading:

Yes

Demo account:

No

Education or Extra tools:

Margin calculator and micro margin calculator
Is FBK Markets Broker Safe?
Since there is no visible connection between FBK Markets and RCG Markets, no. The company doesn't offer any funds protection features. But definitely offers leverage that can wipe your account balance at any time.
Except for the trusted FBK Markets MT4 platform, there are not so many positive aspects of trading here. Primarily because of shady regulation statements. But also, numerous complaints from traders.
FBK Markets Traders Reviews – Sharing Experiences
In general, FBK Markets reviews point out the same thing. Traders shouldn't trust this broker. Almost 20% of traders, out of 38, rated this broker with one star.
Traders mainly complain about FBK Markets withdrawal issues. If the broker is really regulated by the FSCA, these things wouldn't be there. In case you experienced any issues with this broker, let us know. Our expert team can advise you on the next steps.
How FBK Markets Platform Reach Clients and Who Are They?
Brokers with access to automated trading options mainly attract traders through advertisements. Traders often fall for quick money schemes. On top of that, FBK Markets is running multiple social media accounts.
It's not rare that traders are contacted directly there or at least attracted to leave their contact information. In fact, that's where everything begins. Throughout the research, we discovered that their traders mainly come from:
South Africa 

Lesotho

Botswana 
If you are anywhere outside of this country, you might as well look for a bit more transparent brokers. Primarily ones with Tier 1 regulation. Get in touch with us today to find out brokers you can definitely trust.
FBK Markets Funding Method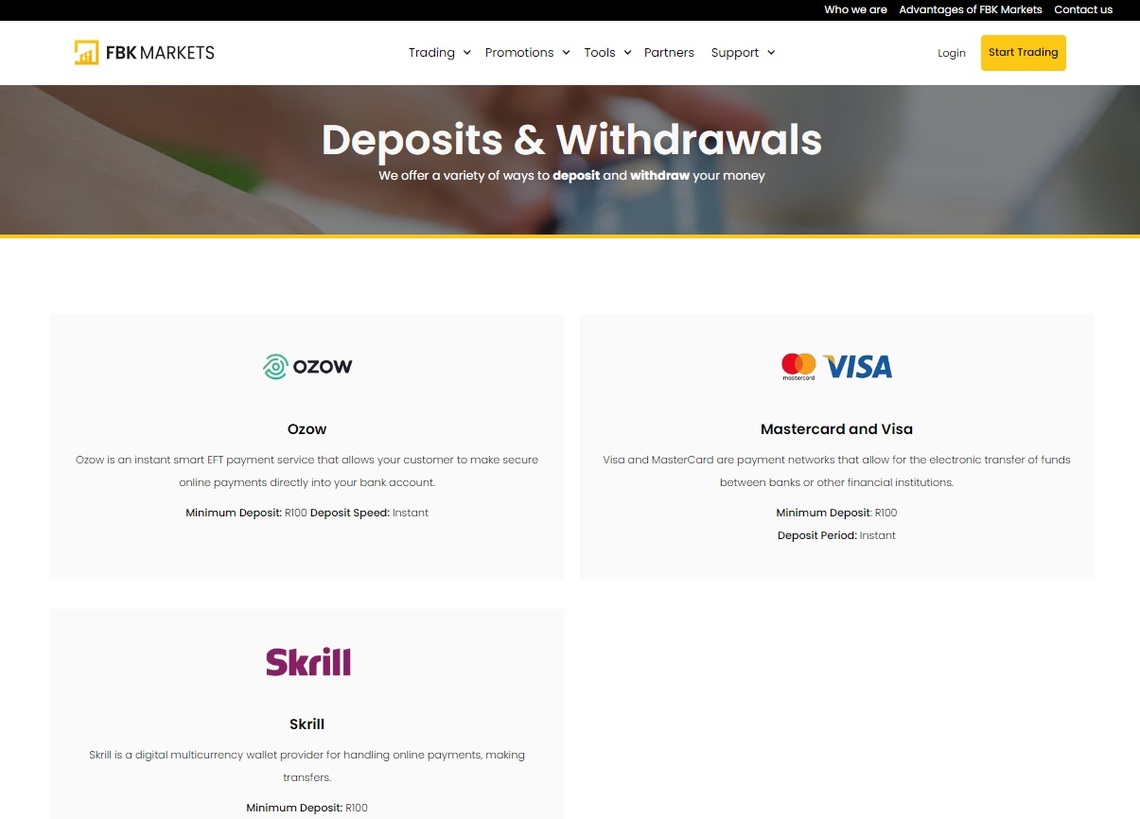 What's scary is that the broker transparently claims that they can charge you deposit and withdrawal fees at any time. However, it's not clarified how big.
Generally speaking, such statements wouldn't be accepted by any Tier 1 regulator. As for the funding methods, the company accepts the following

Ozow

Debit and Credit cards

Skrill
Minimum Deposit for FBK Markets
FBK Markets minimum deposit starts already at R100. All the payment methods are processed instantly. Thus, the broker doesn't reveal any costs of the transaction.
In general, traders never face any issues during the deposit process. On the contrary, FBK Markets withdrawals are a different story.
FBK Markets Minimum Withdrawal
Withdrawal procedures are always the most important part. Important to realize is that the broker first requires traders to complete FICA document verification. This can easily prolong your withdrawal process. Also, the company takes up to 48 hours to process your request. However, they have a disclaimer that the procedure might prolong due to unexpected technical issues.
Thus, you won't face those issues when you are depositing money. Another key point is the fees. That is hidden in this case and broker can make up any fees they want at any given time. Not to mention their right to terminate your account if they find fraudulent activity. Even without any proof given to you. So, to avoid headaches you should find yourself a bit more transparent broker.
Our Safe Trading experts' opinion of FBK Markets broker
Considering all the facts mentioned above, you might as well rethink your decision of investing here. But if you already did, it's not the end of the world. Luckily, if you were paying by card you can easily file a chargeback.
Our specialized team is there to provide you with proper advice in choosing the right broker. We can tailor the recommendation solely to your personal preferences. But most importantly show you the differences between highly trusted and shady brokers. Get your first consultation booked already today. Good to know is that you don't have any obligations or costs.
FAQ Section
Is FBK Markets Trustworthy?
Considering unclarity with regulation it might be better not to test it out. There is no demo account available. But there are many negative reviews.
How To Start Trading Safely?
You can ensure an amazing trading experience by choosing a Tier 1 licensed broker. If you need one of those by your side, reach out for proper advice.
How Can You Help Me Choose the Best Forex or Crypto Broker?
If you already had experience with brokers we can analyze it and help you avoid it in the future. Even help you with the fund recovery process. Contact us today!