February 25, 2023
Reading Time:
4
min
Finance Proof Review – Who Is Behind This Scam Brokerage?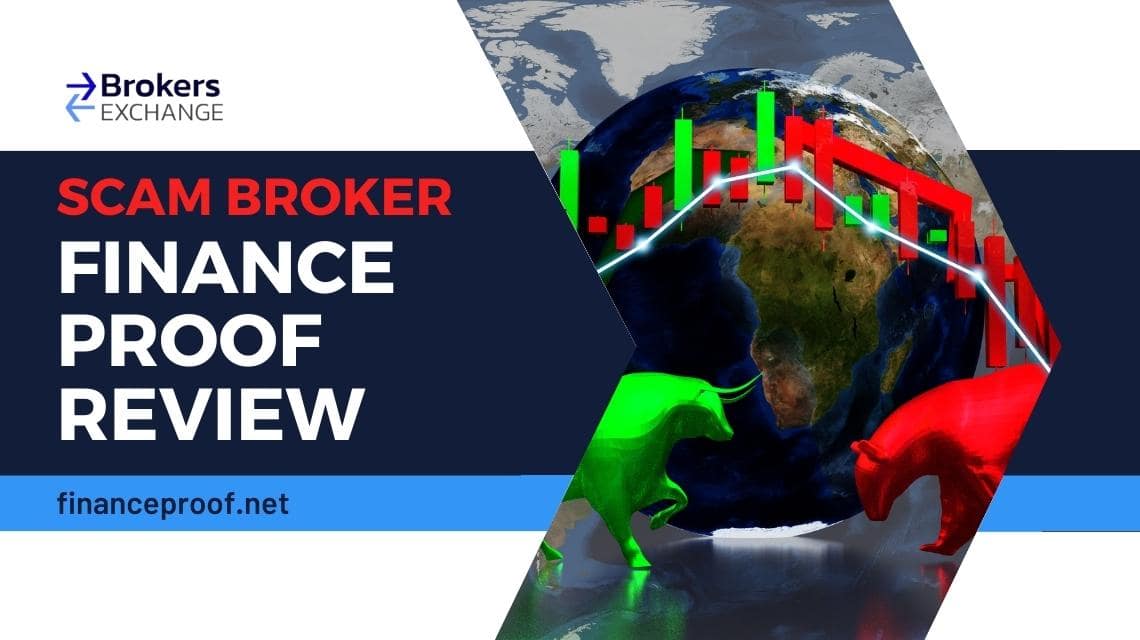 A couple of fabricated statements about owning licenses, flashy promises of profit, and Finance Proof are on their way to scam customers. Completely anonymous brokerage from a hidden location supposedly offers a lucrative trading environment and the latest technological solutions in online trading. None of the claims are based on genuine service and protected trading. Customers at Finance Proof are only in for a loss. 
Whoever runs Finance Proof is completely unknown. Not even the company name is provided. Except for false claims about licenses from FCA and the Central Bank of Ireland, we have only found an email address and a phone number with a dial code for Bermuda.  
If you are one of the Finance Proof clients or are currently interested in becoming one, we strongly advise you to first read this Finance Proof review. You might discover some disturbing things you weren't aware were hiding behind this friendly and convincingly looking brokerage site.
Furthermore, we advise you to avoid fraudulent brokers like Avex Capital, OnspotBNK, and XCM Markets.
| | |
| --- | --- |
| Company | N/A |
| Website | FinanceProof.Net |
| Address | 18 St Vincent Pl, Glasgow G1 2DH |
| Email | [email protected] |
| Phone | +441 4122 51502 |
| Minimum Deposit | 0.01 BTC or 229.21 USD |
| Leverage | Up to 1:500 |
| Bonuses | N/A |
| Regulation | Unregulated |
| Warning | N/A |
Are You Safe at Finance Proof? Regulation and Security 
Finance Proof is one of those fake and pretentious brokerage companies with enough confidence to claim to be falsely regulated. Allegedly by none other than FCA. The British financial institution in charge of regulating the securities market doesn't easily issue licenses. Especially to firms as anonymous and suspicious as Finance Proof.  
Brokerage houses determined to seriously conduct this business have to deposit a minimum of 730.000 GBP as a validation of their intentions. Only by providing proof of being a serious and long-lasting project can UK brokers pass the FCA regulatory standards. 
Next in line is the protection of investments, which is provided by segregated bank accounts. This safe-keeping of clients' funds is mandatory so the company cannot misuse them for its own benefit or finance terrorism.
Other criteria that are obligatory before obtaining a license are leverage restriction to 1:30 and negative balance protection. Risk-reduction measures such as these prevent unexpected loss and make sure the clients cannot lose more than they've invested. 
The compensation fund is there to reimburse clients amounts up to 85.000 GBP. In case of dispute, the Financial Ombudsman protects clients as well. 
Other regulators Finance Proof claims to have certificates from are Australian ASIC and IFSC from Belize. A simple check of the databases kept by FCA, ASIC, CySEC, BaFin, NFA and IIROC proves that none of these regulators have approved Finance Proof. Completely unregulated, anonymous, and highly risky, this company is not the kind you want to put your trust in. 
Overview of Trading Platform 
Below average in functionality, the Finance Proof trading terminal could hardly be described as useful. Since the Demo account wasn't available and we could only create a live trading account, we couldn't test the trading conditions as that required investing. The distribution of the software was simple and greatly lacking in basic, and advanced features. 
While the charts kept moving, we could not rely on their accuracy. You see, bogus brokers like Finance Proof tend to manipulate the stats shown by the trading terminal in order to affect the investors' decisions. A simple correction of the data is presented to the trader and they're immediately convinced they're winning, so they keep investing. 
Instead of becoming a puppet controlled by the Finance Proof's greed and shameless lies, we strongly advise you to choose a regulated broker. If you keep reading this Finance Proof review, you'll get to the recommendations part which could be of great use if you still haven't picked your broker. 
Deposit and Withdrawal Process
Not surprising in the least that the only way to deposit funds with Finance Proof is via cryptocurrencies (Bitcoin and USDT). The account types Finance Proof reveals on the website, say that the initial deposit requirement rests at $150. 
However, judging by the information presented in the user panel, the lowest deposit accepted is 0.01 BTC or 229.21 USD. Another discrepancy raises yet another red flag.
Quite a common occurrence among scammers, crypto depositing is the prioritized transaction method due to its anonymity. Hard to track and practically irreversible, crypto funding is the easiest way for fraudsters to remain unknown and safe from the law. 
The lack of other funding methods is one of the most obvious indications the broker belongs to the con artists category. Omitting crucial info on withdrawals is yet another sign that your broker has something to hide. It shouldn't surprise you if the company suddenly changes their policies without any prior notice. 
How The Fraud Was Perpetrated
Finance Proof tries its best to come off as credible and reliable. They go out of their way to convince their customers they own several prestigious trading licenses. Investors who are just starting in the Forex market lack the knowledge that would help them recognize a fraudulent scheme like Finance Proof. 
So in their inexperience and optimism, new traders are easily deceived by the overly confident agents representing the Finance Proof. This is exactly what scammers aim to abuse. By easily gaining the client's trust, they will drain their funds before the victim becomes aware of anything. 
While cyber theft doesn't take too long, the process of restoring the stolen funds is hard and expensive. Especially if the target falls into another trap that is the so-called recovery agents.
Finance Proof Summary
The Finance Proof review we bring you today clearly shows some bothersome facts about a fake broker that's stealing from their users. 
Using malicious ways of manipulation and extortion, these well-trained cybercriminals are making money off unsuspecting victims worldwide. To battle this ever-growing threat, the best is to always research and update your knowledge on new trends and market events. 
Double-check your broker-dealer before you accept any investment risks. Easy and fast to do, background checks could potentially reveal information you had no idea about. If you deem it necessary to get external support in the process, you are free to contact us.  
FAQs About Finance Proof Broker
Is Finance Proof Regulated?

 

Despite the claims about having an FCA, ASIC, and IFSC license, Finance Proof owns none and is actually an unregulated, defrauding company. 
Is Finance Proof a Trustworthy Broker?

A fake broker cannot be trustworthy. Their only goal is to rob innocent investors. 
What Funding Methods Does Finance Proof Accept?

The only allowed way to fund your account at Finance Proof is by buying crypto – Bitcoin and USDT.