April 15, 2023
Reading Time:
5
min
Finex Trader Review – Truth Behind This Scam Broker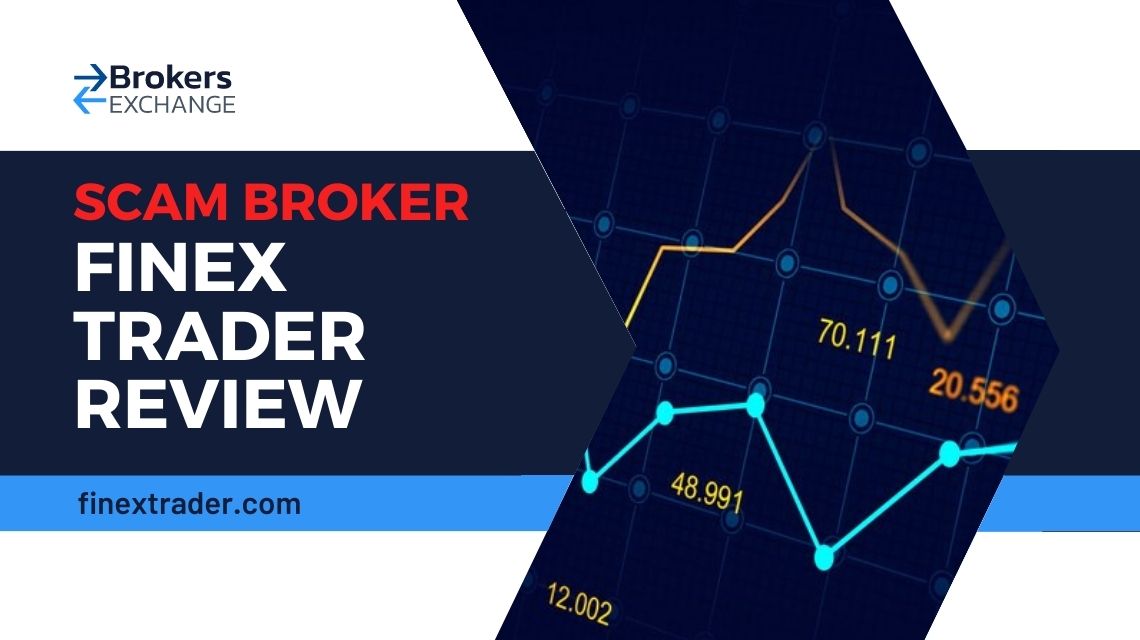 Finex Trader Review, Presented as a multi-regulated international broker, Finex Trader is a scam website, which has already been exposed by the financial authorities in Italy. 
Just bear in mind that you can not trust everything a new broker might claim, especially if you can not verify the information in the registers of any official regulatory institution. 
And we could not find any regulations that confirm that this site is legitimate. So you should stay away from them as far as possible.
What is more, we strongly advise you not to invest in Opendealbroker, Martyn Services, and FX-global Stocktrade fraudulent brokers.
| | |
| --- | --- |
| Company | Finex Trader |
| Website | FinexTraders.Com |
| Address | Italy |
| Email | [email protected] |
| Phone | 02080899986 |
| Minimum Deposit | $250 |
| Leverage | 1:100 to 1:500 |
| Bonuses | 15% to 75% |
| Regulation | Unregulated |
| Warning | N/A |
Finex Trader Regulation and Security of Funds
Finex Trader is many things but regulated is not one of them. The first thing we noticed, was that the broker is regulated by the "International Regulator Brokerage E-markets (IRBEM), which is a fake regulator run by scammer brokers who have made a scapegoat of a website. The IRBEM is false and useless.
There is also a statement that the firm is regulated by the MFA, and the link to this was completely fake and broken. We don't even know what MFA is. All we do know is that it is that they are a scam.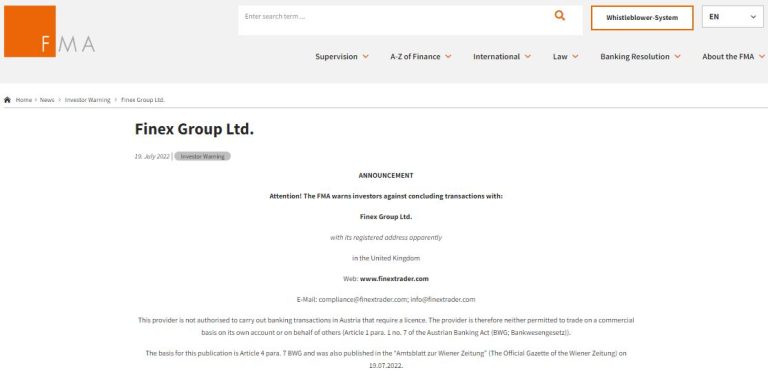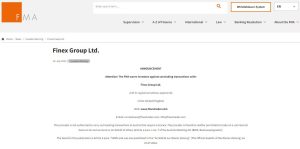 Then we move on to yet another ridiculous claim. And that claim is that the broker is regulated by the SFINS or the Swiss Financial Securities, which seemed to us like yet another irrelevant source, maybe even a fake one. 
It does not really matter, because it is in no way affiliated with the Swiss FX regulator, the Swiss Financial Market Supervisory Authority (FINMA). 
Last but not least, we have an official CONSOB warning from Italy, which is the most obvious proof of the broker's lack of license and illegitimacy. So right from the start, we can see that they are just another scammer who is only interested in your hard-earned money.
Trading Platform Overview 
FinexTrader opens with a very colorful site, that felt as if though made to celebrate the coming of a new year and not a broker. The broker gives its traders access to a custom platform for desktop as well as a web-based one. 
Finex Trade does not provide a Metatrader platform, which is too bad, as many consider them an industry standard at this point. This is mainly because of their unique ratio of powerful features to ease of use and sophisticated automatic trading capabilities. But as we often have said when a broker is not using a Metatrader platform that means that they are a scam, with few exceptions of course.
Account Types Available at Finex Trader 
| | | | | | | | |
| --- | --- | --- | --- | --- | --- | --- | --- |
| Broker | Finex Trader | FXTM | OctaFX | FPMarkets | XM Broker | HFM | FBS Broker |
| Minimum Deposit | $250 | $10 | $100 | $100 | $5 | $5 | $100 |
When it comes to accounts Finex Trader offers five different types of them. The first account is called a Basic account and it cost $250, and as the name suggests it offers just basic stuff. Next is a Silver account and which costs $1000 to be opened. 
Then we have a Gold account which cost $5000 to be opened. Next is a Platinum account, which cost $10000. And the final account is called a Diamond or a Vip account and it costs $25000. 
The main difference in each of these account types is the amount of bonus you can get and the number of spreads.
Funding Options Available 
As we said the minimum amount you can invest is $250. Everything from VISA, Neteller, and Skrill were listed as possible payment methods. But the only payment option they offered was some obscure payment provider called HIGHPSP. 
This is the first time that we hear about them and this does not help with Finex Trader's credibility. So staying away from them is your best option.
The Methods Used in the Fraud 
Scam websites, like the one we have here, are designed with the sole purpose to pocket your money. And to that end, scammers may come up with virtually any pretext to deny you the right to withdraw even a single dollar. 
One of the most common tricks with which scammers may try to steal your money and get away with it is with the so-called trading bonus, which you will be offered upon signing for a trading account. As a rule, such bonuses come with strings attached, usually a minimum trade volume requirement, that will be preventing you from making any withdrawals no matter what you do or how you trade. 
We should warn you as well of the ridiculous fees, quite often exceeding 20%, which scammers like the ones we are talking about here will be asking for any time you dare to request a withdrawal. 
Those fees will be dubbed as withdrawal processing and handling fees and will be collected automatically from your balance no matter if your withdrawal request has later been approved or not. 
On top of that scammers will be promising you guaranteed returns. Bear in mind that trading with highly leveraged instruments is associated with a significant degree of risk and any broker that may try to convince you otherwise or to assure you that your returns are guaranteed, is clearly about to scam you.
Highly Recommended Forex Brokers 
Finex Trader is a scam we know that now. But there are still some good and trustworthy brokers out there. In the table below we have listed some of the best ones. They are all well-recognized, established, and easy to work with.
| | | | | |
| --- | --- | --- | --- | --- |
| Broker | Country | Rating | Min. Deposit | Website |
| FXTM Broker | Cyprus, UK, Mauritius | 4.5 | $10 | Forextime.Com |
| OctaFX Broker | Cyprus, SVG | 4.4 | $100 | OctaFX.Com |
| FP Markets Broker | Australia, Cyprus | 4.7 | $100 | FpMarkets.Com |
| XM Broker | Cyprus, Belize, Australia | 4.7 | $5 | XM.Com |
| HFM HF Markets Broker | Cyprus, UK, South Africa, UAE, Kenya | 4.3 | $5 | HFM.Com |
| FBS Broker | Cyprus, Belize, Marshall Islands | 4.85 | $100 | FBS.Com |
Finex Trader Summary
 In this Finex Trader review we took a closer look at a shady broker and showed you that they are just a scam. They aren't even registered. On top of that, an official CONSOB warning from Italy has been sent out to them. 
Nothing else has to be said about them. Overall, it's just best to stay away from this fraudulent broker or any other like. If it sounds too good to be true, it's best to stay away from it, since it's most likely a scam. 
FAQs About Finex Trader Broker
Is My Money Safe with Finex Trader?
No, it is the opposite of safe.
Does Finex Trader Offer Demo Account?
No, it does not offer a Demo account.
What Trading Instruments are Available at Finex Trader?
You can trade forex and crypto.