September 10, 2023
Reading Time:
5
min
Finseas Review: Is FinSeas Legit and a Trustworthy Brokerage?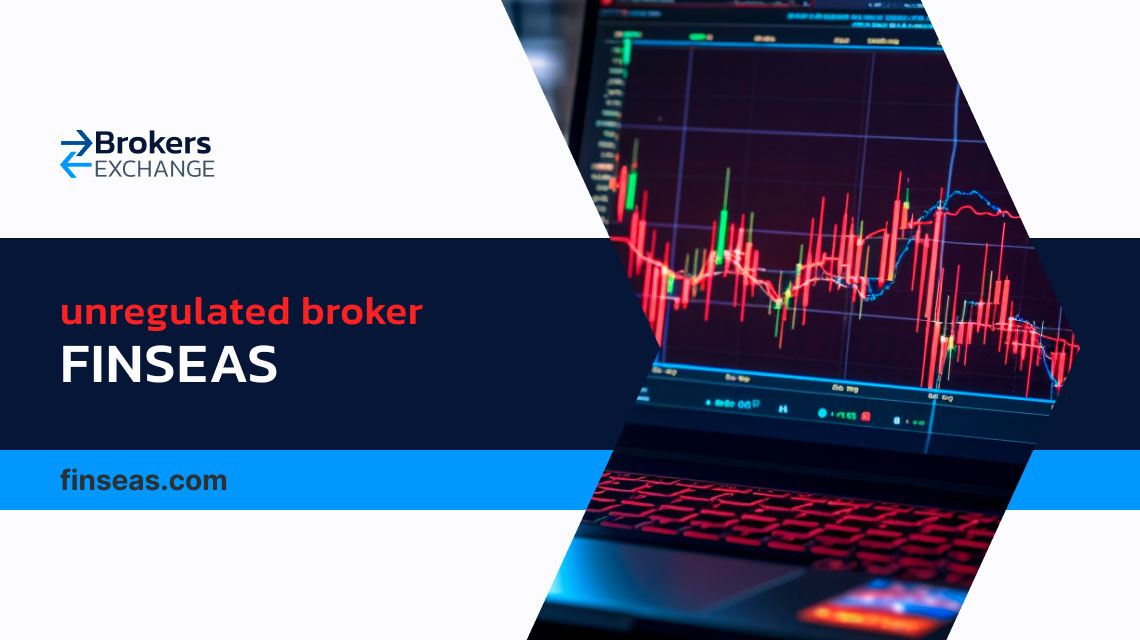 Finseas, an offshore broker located in the Marshall Islands doesn't exist anymore. They closed for a still unknown reason, however, there aren't many possibilities. The broker either bankrupted or failed to adhere to regulatory rules. Either way, this offshore broker was unsafe to trade with. 
Just like Winnex Consulting, Finseas tried to present itself as a reliable brokerage, however, reliable brokers don't get shut down after only two years in business. Everything about Finseas is suspicious, as our FinSeas review will uncover. 
Who Is FinSeas? All About Finseas.com
There has been little to no information about Finseas since it ceased to exist. The facts are there, however, and just knowing that the brokerage was operating without a license is enough. They are located in the Marshall Islands, a popular destination for scammers. 
Getting registered in the Marshall Islands is easy because the whole process is done online so the scammers can operate from anywhere in the world while deceiving the public they are a registered broker. Overall, the Finseas scam becomes more and more evident as we delve further. 
| | | |
| --- | --- | --- |
| | FinSeas | Reliable Broker Must Have |
| Legal name | Finseas World Ltd | Transparently displayed in the disclaimer or legal documents |
| Regulation | Unregulated | Within your legal jurisdiction – local regulator |
| Registered in | The Marshall Islands | Your country or the country whose license applies in your legal jurisdiction  |
| Established | 2020 | The older the domain – the higher the possibility the company is trustworthy |
| Website | finseas.com | Domain should be from local or international zones, no .xyz, etc. |
| Financial Authorities Warnings | | None |
| Contacts | N/A | Phone, email, social media, web form |
| If a withdrawal is possible | No | Yes |
| Fees | N/A | Transparent fees – list of spread and commissions |
| If Active on Social Media | No | Often present on social media |
| Investor Protection | None | Compensation fund |
Regulation Info
Finseas was unregulated, which could indicate the reason for being shut down. They were targeting clients that come from Australia and Italy, which would require an ASIC and CONSOB license, however, the broker operated without any license, failing to provide security to its traders. 
The Bank of Russia recognized the signs of illegal professional securities market participant Finseas, and warned its traders to proceed with caution:
Trading with unregulated brokers means a lack of security measures so your investments are at a constant risk. Brokers like Finseas and Vastcryptoproinvest are only after your money and you never know when their operations are going to stop, leaving you without a penny, or worse, in debt. 
Finseas Broker Profile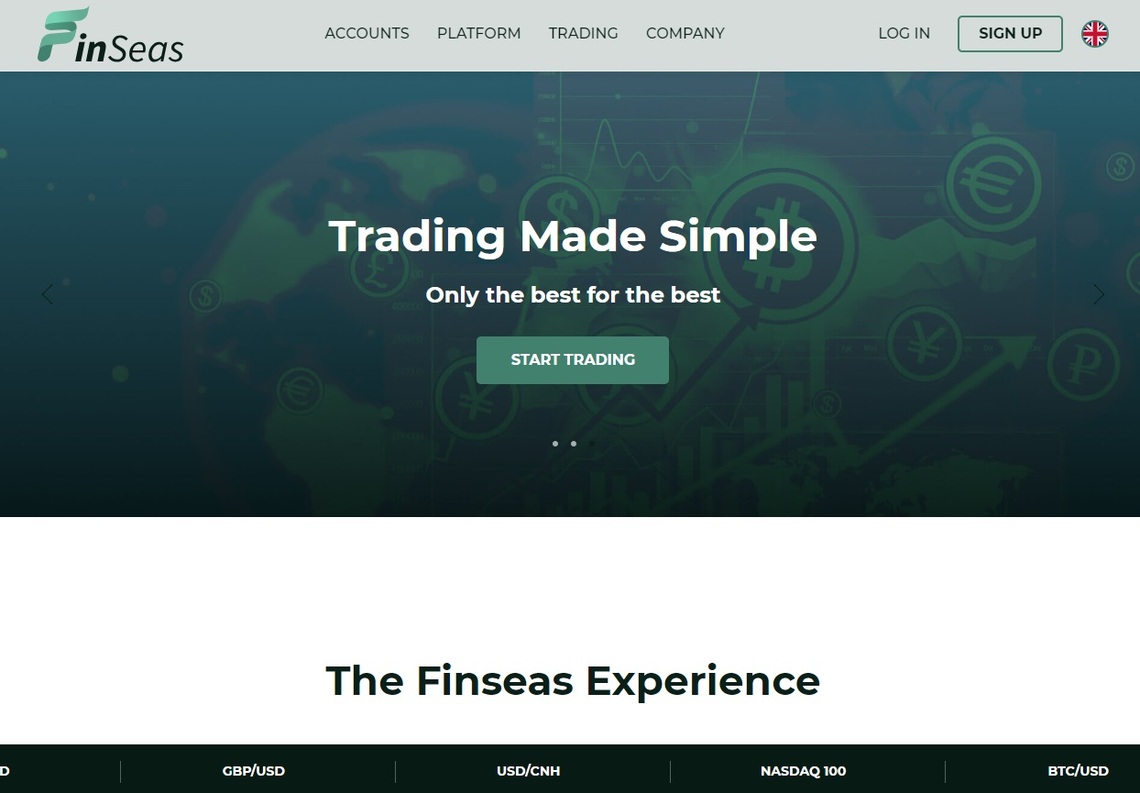 Finseas offered a variety of trading instruments, including forex, currencies, metals, indices, commodities, futures, shares, and energies. The MT4 platform offered trading with a 1:500 leverage, however, the minimum deposit is unknown. 
It's challenging to find a reliable source of information, especially for brokers that are shut down. The reason is still unknown to the public, however, the mere fact that they are no longer operating says a lot about them. Even though Finseas doesn't exist anymore, there will always be similar brokers that are risky to trade with.
Trading Platform

MT4

Account Types

N/A

Financial Instruments On Offer

Forex

(EURUSD, EURGBP, USDNOK)

Cryptocurrencies

(BTC, ETH, XRP)

Metals

(Gold, Silver, Platinum)

Indices

(S&P 500 Index, Dow Jones Industrial Average, FTSE 100 Index)

Commodities

(Crude Oil, Natural Gas, Corn)

Futures

(E-mini S&P 500 Futures, Crude Oil Futures, Gold Futures)

Shares

(Facebook, Tesla, Netflix)

Energies

(Brent Crude Oil, WTI Crude Oil, Natural Gas)

Maximum leverage

1:500

Minimum Deposit

N/A

Commissions/Bonuses

N/A

Mobile app

Yes

Desktop app

Yes

Autotrading

N/A

Demo account

N/A

Education or Extra tools

N/A
Is Finseas Safe To Trade With?
Luckily for traders, trading with Finseas is not possible anymore. However, even if they were operational, trading with them would only result in the loss of your investments. They were an offshore brokerage operating without a license which is a major red flag. 
Regulated brokers have to adhere to certain rules and offer a compensation fund. With the UK's FCA regulation, traders are entitled to an 85,000 GBP fund and even traders regulated by CySEC have $20,000. The importance of choosing a regulated broker lies there and prioritizing your funds should be your only concern. 
Who Are the Traders They Cater To?
Brokers like Finseas are ruthless and they will constantly call you to deposit more money. Some of them have large deposit requirements and just by getting one trader to deposit a large sum, they win. Having that in mind, if a broker ever calls you promising some unrealistic profits, know that they are a scam. 
Although the Bank of Russia posted the warning, Russia is not on the list of their traders. The broker mostly aimed at clients from Italy, Colombia, Australia, Poland, and Finland, without adhering to regulatory rules in those nations. Stay away from brokers that are similar to FinSeas so you can avoid getting scammed. 
Deposits and Withdrawal Methods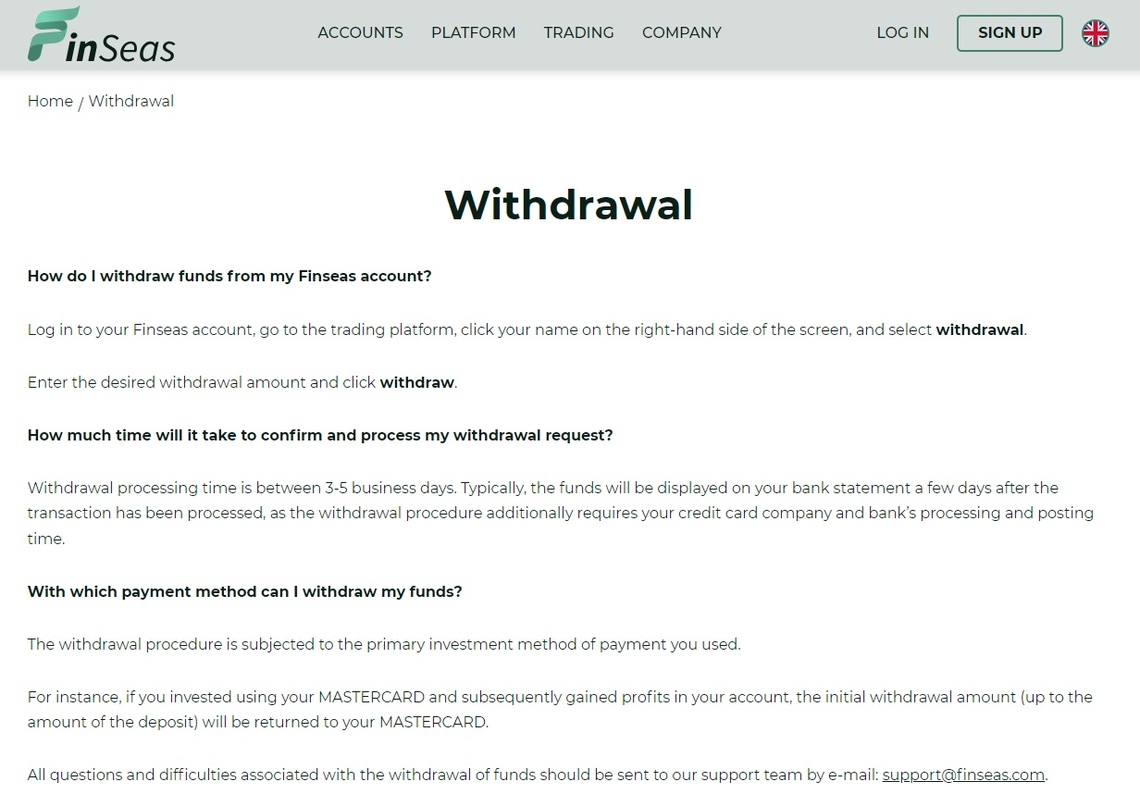 Since the brokerage is closed, depositing is not possible and neither is withdrawing your funds. Even while they were operational, the minimum deposit requirement was unknown, forcing traders to reach out to them and that is where the scam starts. 
After providing your contact information, pushy brokers would call you offering large profits, making you deposit more and more with each phone call. If you want a withdrawal, they would ask for more money until finally you say no. 
Unfortunately, brokers are considered as a legal scam because you willingly deposit your money and make traders that only result in losing it. Overall, avoid brokers like Finseas and make sure you don't fall prey to pushy brokers over the phone. 
Weighing the Pros and Cons
Pros
Cons

MT4

Unregulated

Lack of transparency

Hidden fees

Withdrawal issues

Offshore broker 

Ceased operations
Quick Insights into FinSeas
You should be informed of other brokerages besides Finseas. In addition to the fact that there are numerous brokers who are similar to them, there is a chance they will reappear under a different name. Due diligence and thorough research are the best ways to avoid brokers of this type because they are only interested in your investments. 
Avoid brokers who lack transparency and regulation as they represent a risk to your money. Don't be afraid to get in touch if you've previously been taken advantage of by Finseas or another brokerage. We will return your money and, in the meantime, find a broker that meets your preferences by placing you and your needs first. 
FAQ Section
What Is FinSeas?
FinSeas is an offshore broker, trading in a variety of instruments at the MT4 trading platform.
Is FinSeas A Scam Or Legit Broker?
FinSeas is a scam and the mere fact that they are shut down is the best proof of that.
Where Is FinSeas Located?
FinSeas is an offshore brokerage company located in the Marshall Islands.