July 20, 2023
Reading Time:
4
min
FlowBank Review: In-Depth Exploring Safety, Platforms, and Fees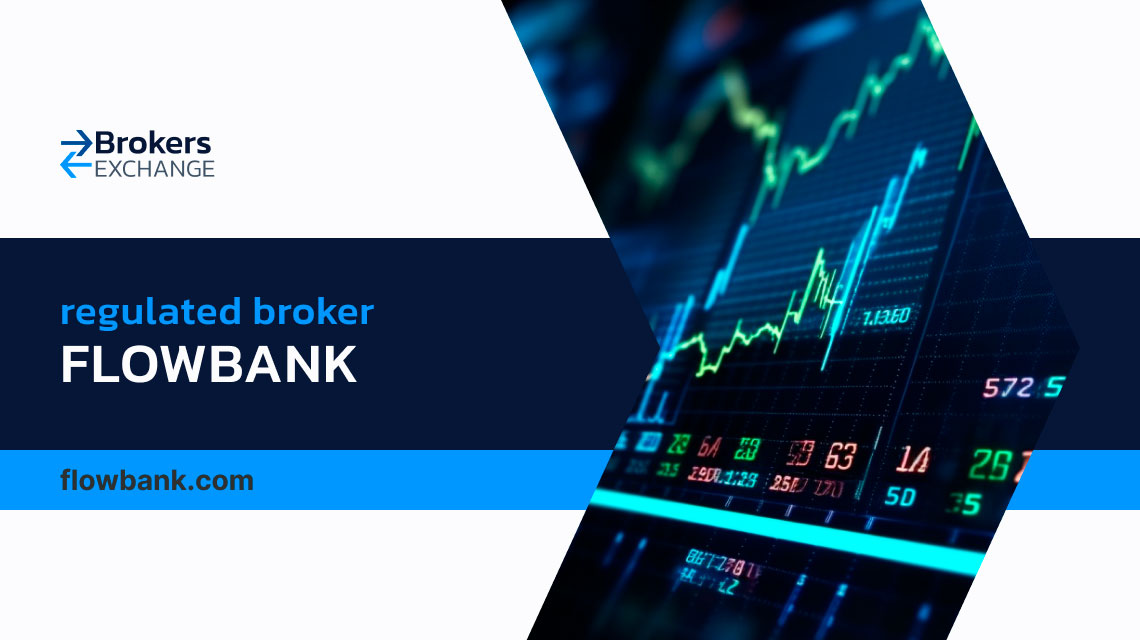 This FlowBank review is for you if you're seeking a trustworthy broker. We review FlowBank's regulations, platform, and charges! To distinguish legitimate brokers from bad ones, continue reading.
Who Is FlowBank?
Since its establishment in 2020, FlowBank is an online bank headquartered in Geneva, Switzerland. The first bank to provide online foreign exchange trading to retail customers was their initial company, Synthesis. 
Legal name:
FlowBank S.A
Regulation:
Regulated by FINMA
Registered in:
FlowBank S.A, Esplanade de Pont-Rouge 6, 1211 Geneva 26, Switzerland

FlowBank S.A, Seidengasse 20, 8001 Zurich, Switzerland

Established:
18.11.2020
Website:
www.flowbank.com
Financial Authorities Warnings:
None
Contacts:
For general inquiries: +41 (0) 22 888 66 00
If a withdrawal is possible:
Yes
Fees:

10-50 CHF per quarter
0.5%  commission fees on major pairs currency conversion
CFD Commissions 
Custody fees 0.10% per year

If Active on Social Media:
Yes
Investor Protection:
Yes
Regulation info
FlowBank Switzerland is an online bank that offers banking and investment services. They are regulated by the Swiss Financial Market Supervisory Authority (FINMA) under the license number CHE-445.530. 584.
The broker is operating from Switzerland, Germany, and France. Businesses subject to FINMA regulation may offer trading services in both Germany and France, but they must also adhere to local regulatory rules in both countries. Despite not being a member of the EU, Switzerland has a financial services agreement in place. 
For now, FlowBank appears secure, but further investigation is required before we can recommend them to traders.
FlowBank Profile 
We checked through FlowBank's profile and gathered some important info. While it is apparent that they are regulated, there are numerous more qualities to consider in a broker. 
Trading platforms:
FlowBank app, FlowBank Pro, MT4, and MT5
Account types:
N/A
Financial Instruments On Offer:

Cryptocurrencies (BTCUSD, ETHUSD, BCHUSD, etc)
Forex CFDs (AUDUSD, EURCHF, GBPUSD, etc)
Index CFDs (Wall Street, US 500, UK100, etc)
Metal CFDs (Spot Gold, Spot Silver)
Commodities (US Crude, Brent Crude, Gas Oil, Sugar, etc)
CFDs Equities (Amazon, Apple, Tesla, etc)

Maximum leverage:
1:200
Minimum Deposit:
No minimum amount
Commissions/bonuses:
0.5 % – 0.20 %/MetaTrader CASH BONUS OFFER
Mobile app:
Yes
Desktop app:
Yes
Autotrading:
Yes
Demo account:
Yes
Education or Extra tools:
Learning Center, Events, Video Tutorials
Is FlowBank Safe?
On FlowBank's website, everything was transparent, and you could download PDF files to review every detail. We found some information regarding FlowBank and CoinShares. 
In the fall of 2021, FlowBank revealed that CoinShares International (OTCQX: CNSRF) had become a new stakeholder and had bought a 9.02% interest in FlowB Holding. Following the FINMA's approval and in accordance with a contract signed on March 14, 2022, CoinShares purchased a 20.28% interest in FlowBank.
Make sure not to miss our reviews about Eightcap, Degiro, and Sway Markets.
FlowBank Clients Reviews: What can clients tell us?
Unfortunately, the reviews for FlowBank don't give us much hope. There are 42 reviews in all, the majority of them are unfavorable. The account opening process's delay, customer service, and software problems are the main topics of the 57% of unfavorable evaluations. Though Wiki itself gave FlowBank a 1-star company rating, the positive FlowBank Wiki reviews caught us off guard the most. 
Finding a reliable broker is difficult and necessitates extensive investigation. Reach out to us immediately, and we'll help you locate a broker matching your trading preferences. 
FlowBank Investment Products
FlowBank provides a wide selection of trading and investment products. Stocks, options, bonds, funds, ETFs, futures, FlowBank forex, and CFDs can be traded. With minimal spreads, 4,500 CFDs are available for trading. Commodities, metals, and stock indices are a few of the markets you can trade with CFDs. 
The bank offers access to more than 50,000 financial goods at the greatest prices and online trading and investing services. They provide comfort to seasoned traders with their FlowBank platform, but new traders can also benefit from it using MT5. 
Deposits and Withdrawal Methods
Wire transfers and credit cards are both acceptable methods for deposits and withdrawals. With the FlowBank app, you can fund your account in only a few clicks. Your funds will become available if you choose to deposit using a credit card in only ten minutes. FlowBank accepts more than 20 different currencies. The FlowBank app also allows you to request withdrawals, and the procedure is simple. 
By only providing secure payment options, FlowBank ensures the security and safety of both their customers' funds and themselves.
Mobile trading apps and other trading platforms
The trading platforms offered by FlowBank are unique in a variety of ways. In addition that they support many assets and currencies, they also offer access to international markets. Trading platforms they offer are: 
MT4

MT5

FlowBank App

FlowBank Pro
You get mobile-only access to stocks and ETFs through the FlowBank app. Alternatively, you can improve your trading with the mobile and desktop trading platform FlowBank Pro, which offers you even more sophisticated features and capabilities. Well-known trading platforms like MT4 and MT5 offer safety and are less susceptible to manipulation than alternative platforms.
FlowBank Education
You may discover how to get started with both setting up an account and learning how to trade at FlowBank's learning center. There are tutorials for new traders, the most recent market and stock research, and explanations of the trading industry and how to get started, among many other things. 
Additionally, there are events to broaden your understanding of markets, products, or advanced features on their trading platforms, as well as video training on how to trade and where to invest your money.
Pros and Cons of FlowBank Broker
Pros
Cons

Regulated 

Transparency

FlowBank Demo Account 

Numerous global exchanges

Multiple Trading Platforms

Insufficient quantity of reviews

New to the market

Quarterly custody fee (independent of whether you have been actively trading)
Personal experience with FlowBank and expert opinion of the author
Overall, I believe it is safe to state that FlowBank is a solid broker. We won't lie; there are better ones out there because FlowBank is lacking a crucial component: client reviews. We can't state that he is unsafe, but other people's experiences do give us a feeling of security to continue trading with that broker. 
Most significantly, due to FINMA regulations, their clients remain secure and there are no warnings issued against them. FlowBank is a solid option, particularly for seasoned traders, depending on your trading tastes. 
FAQ Section
Is FlowBank safe to use?
According to a detailed analysis of their profile, we could say that FlowBank is safe to use. However, there are other brokers that have better customer experiences.
How Can You Help Me Find a Reliable Broker?
We dive deep into your trading preferences to find the best broker to suit your needs. Contact us today, obligation free, and we will find the best broker for you.
How To Make Money in Trading?
Before investing real money, practice on a practice account and use technical analysis to see trends and support/resistance levels. Get in touch right away for a free consultation.