February 03, 2023
Reading Time:
3
min
FNZ Europe Review: Be Careful With FNZEurope.Com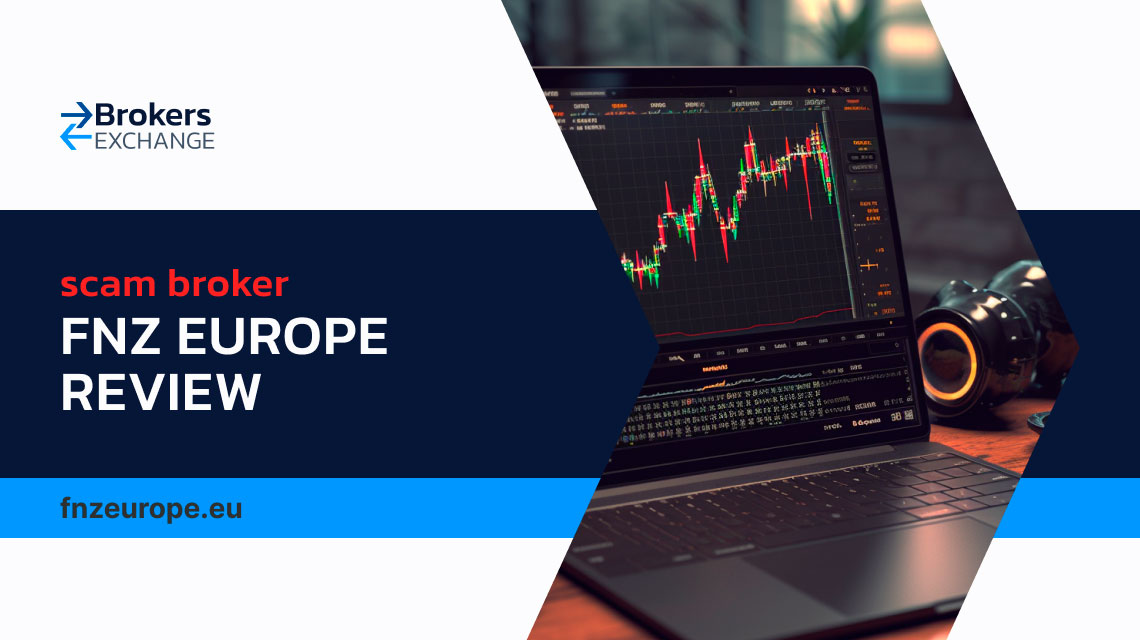 You might not be curious as to where FNZ Europe is based because it's clear from its name that it is an EU broker. But nothing could be further from the truth than that. The organization puts a lot of work into creating that image, as evidenced by its brand name and the fact that it falsely claims to have licenses in not one, not two, but four countries. Despite its efforts, it is an anonymous company that just wants to deceive European clients.
Read our FNZ Europe review, to learn more about this broker, and all the reasons why we do not recommend investing with them.
Nevertheless, you should avoid trading with shady brokers such as DynamicFx Trade, PlutoTrades, and Xtr FXHK.
| | |
| --- | --- |
| Leverage | 1:400 |
| Regulation | Unregulated |
| Headquarters | N/A |
| Minimum Deposit | €5.000 |
| Review Rating | 1/5 |
| Broker Type | Forex |
| Platforms | MT4, Web |
| Spread | 1.0 |
Regulation and Security of FNZ Europe
The regulatory status of a financial services business is the most crucial piece of information.  This broker claims to have licenses from the Italian CONSOB, the Cypriot CySEC, and the Spanish CNMV. Additionally, it claims that the business has a location in Dublin, Ireland.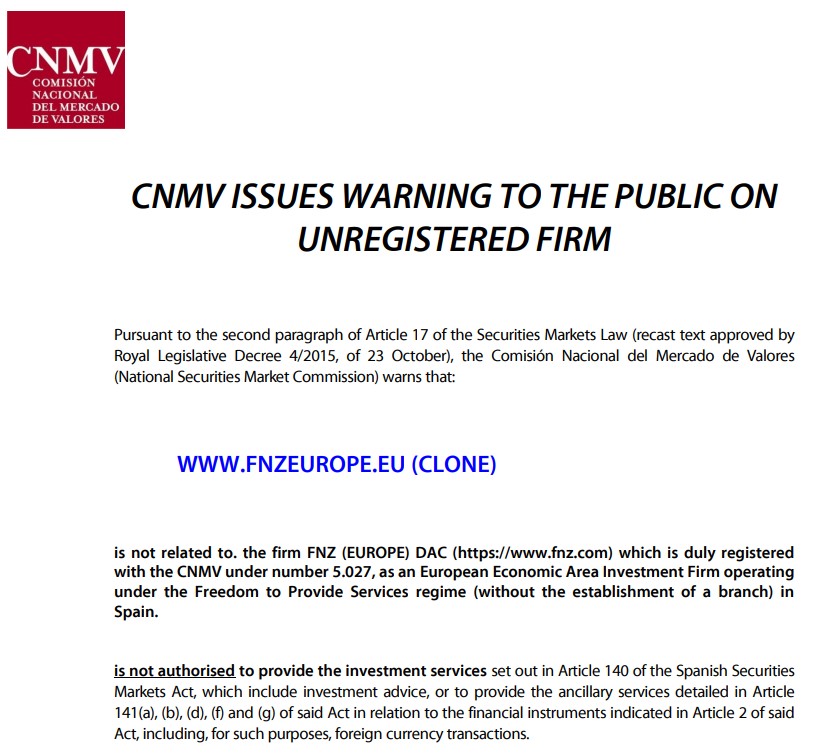 These are all lies, and the leverage the firm provides demonstrates this without any inquiry. Retail customers in Europe have long been prohibited from using ratios like 1:400, yet anyone can use them at FNZ Europe.
FNZ Europe does not offer anything that regulated European brokers offer. For example, brokers regulated in the EU are members of compensation programs, which help traders in the event of broker bankruptcy. 
The transactions of EU forex brokers must be reported on a routine basis. This measure is intended to strengthen investor protection while also promoting market transparency and integrity.
Trading Platform at FNZ Europe
FNZ Europe provides a web trading platform with limited features. Compared to their claims of offering an MT4 trading platform, the software they offer is basic and lacks many of the features that MT4 provides.
The existence of a trading platform does not increase the credibility of this website and does not guarantee that this supposed broker offers genuine trading. Many scammers use trading software to trick their victims into believing their funds are being invested.
FNZ Europe Trading Instrument 
The trading instruments that FNZ Europe offers are listed below:
Forex (EUR/USD, NZD/CAD, AUD/USD)
Indices (S&P 500, Dow Jones, Nikkei 225)
Commodities (Gold, Silver, Oil, Natural Gas)
Cryptocurrency (Bitcoin, ETH, Ripple, Litecoin)
FNZ Europe Deposit and Withdrawal Method
Contrary to what FNZ Europe advertises, popular traditional payment methods are not permitted for deposits or withdrawals. Cryptocurrencies are the only selection on the deposit menu.
Cryptocurrency transactions are much harder to reverse, thus scammers prefer to use them. While some trustworthy brokers do accept virtual currencies like Bitcoin, they also accept other simple payment options like credit/debit cards, bank transfers, or well-known e-wallets like PayPal.
How The Scam Was Carried Out
Ads promising quick money are everywhere in the online world. Since they are blatant scams, they sound too good to be true. These scammers frequently portray themselves as brokers in order to prey on the public's lack of knowledge regarding the financial markets.
You will be contacted by skilled con artists who will begin persuading you to "invest" in their scheme if you provide your contact information to one of their fancy websites. They will initially want a modest sum, such as $250 or $500. If you consent, they will start attempting to get you to give them more money.
You won't be able to obtain either the alleged earnings or the money from your deposit, and your money won't ever be properly invested in the market. Your attempts to withdraw your money will be denied by the terms and condition's purposefully confusing clauses.
FNZ Europe Summary
Looking at their website reveals that they are not subject to any regulatory bodies. That is a major red flag! That should be enough to convince you not to work with them. Therefore, the broker is just another unregulated forex broker, leaving customers without protection. It is also quite likely that they will escape with your hard-earned money because there is no regulatory body to hold them accountable.
This broker consistently demonstrates its lack of reliability. We strongly warn against trading with this dishonest broker.
FAQs About FNZ Europe Broker
Is FNZ Europe Legitimate Broker?

FNZ Europe is an unregulated and fraudulent broker with a supposed base in Ireland.
What is the Minimum Deposit for FNZ Europe?

The minimum deposit required with FNZ Europe is €5.000.
How Long Does it Take to Withdraw from FNZ Europe?

The refund policy of FNZ Europe states that within 7 days, the broker will refund the same amount excluding transfer fees.