February 16, 2023
Reading Time:
4
min
FTM Trade Review – Truth Behind FTMTrade.Com Scam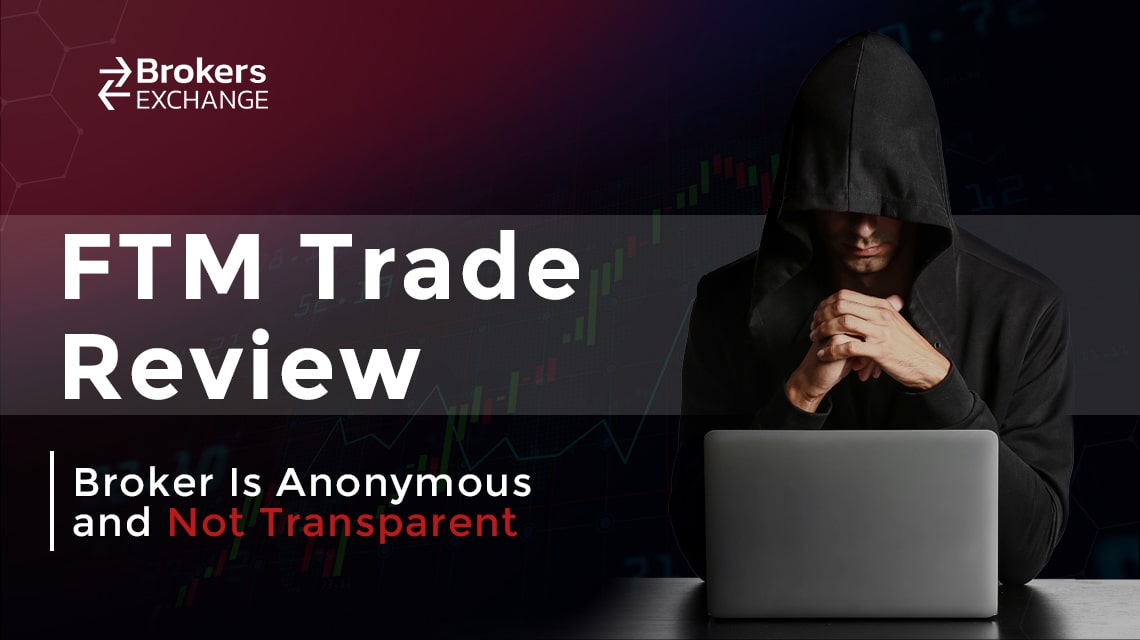 FTM Trade spends a dubious amount of time convincing people that they are a legitimate organization that is safe, reliable, and completely transparent. They even go as far as to mention having strong partnerships with several different financial services institutions. 
Though they do provide registration details for these companies as if these were the registration numbers of FTM Trade, they fail to provide any evidence of the alleged affiliations. In fact, they fail to provide any evidence for any claim that they made on their website. 
This got us thinking so we decided to investigate further to discover the truth behind this scam broker. Read our FTM Trade review to find out what we learned while researching this financial swindler.
On the contrary, you should avoid dealing with questionable brokers like GrandCapital, AllCryptMarkets, and Stellarfx.
| | |
| --- | --- |
| Company | FTM Trade |
| Website | FTMTrade.Com |
| Address | 22 Bishopsgate, London EC2N 4AJ, United Kingdom |
| Email | [email protected] |
| Phone | +442037721060+442037721026 |
| Minimum Deposit | 10000$ |
| Leverage | 1:200 |
| Bonuses | N/A |
| Regulation | Unregulated |
| Warning | FCA, CONSOB |
FTM Trade Regulation and Security of Funds
The illicit organization provides an address in London, UK. This should mean that we can find information about them in the Companies House, and the FCA registry. However, no company under the name FTM Trade can be found in either of these databases.
This alone makes it clear that we are dealing with a bunch of liars. The fact is that this company is offering services illegally in an attempt to defraud its users.  
Since no registration details can be found, the company remains practically anonymous. To put things into perspective, if you got scammed by this firm, you wouldn't have an idea about who is behind the shady brokerage. More than that, since they are not regulated, you would have no one to turn to if you wanted to complain about the services provided by the scam broker. 
Two leading financial institutions, the FCA and CONSOB have issued warnings against this firm. It is safe to say that your funds are not secure with this organization. So far, things are not looking good for FTM Trade but let's take a look at some other aspects of their business.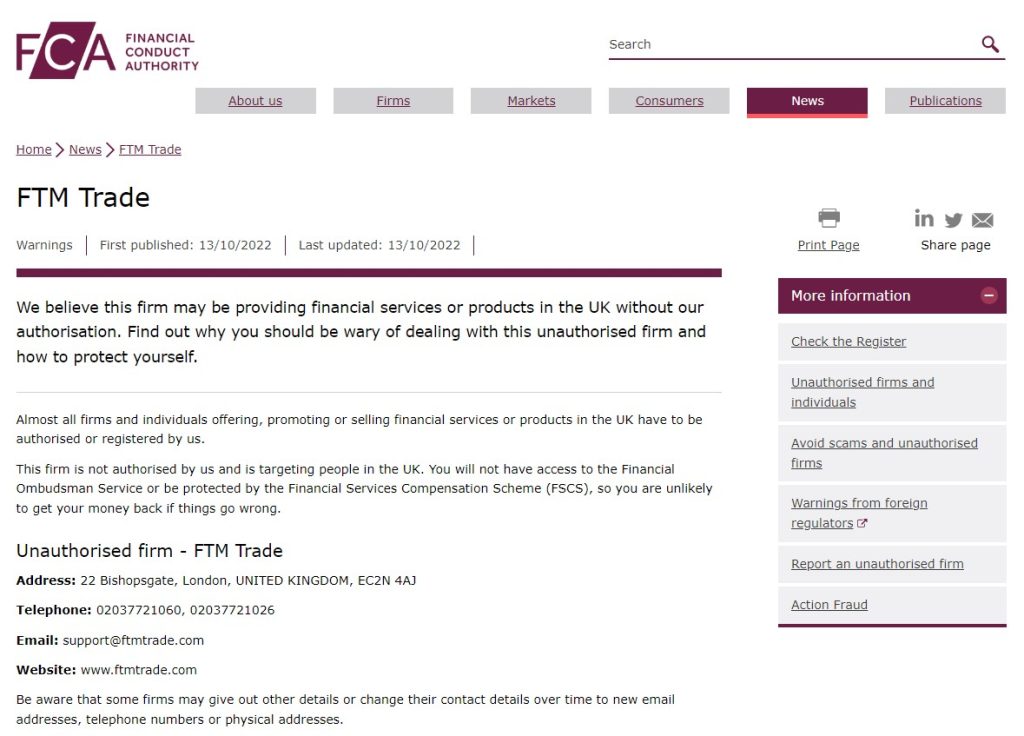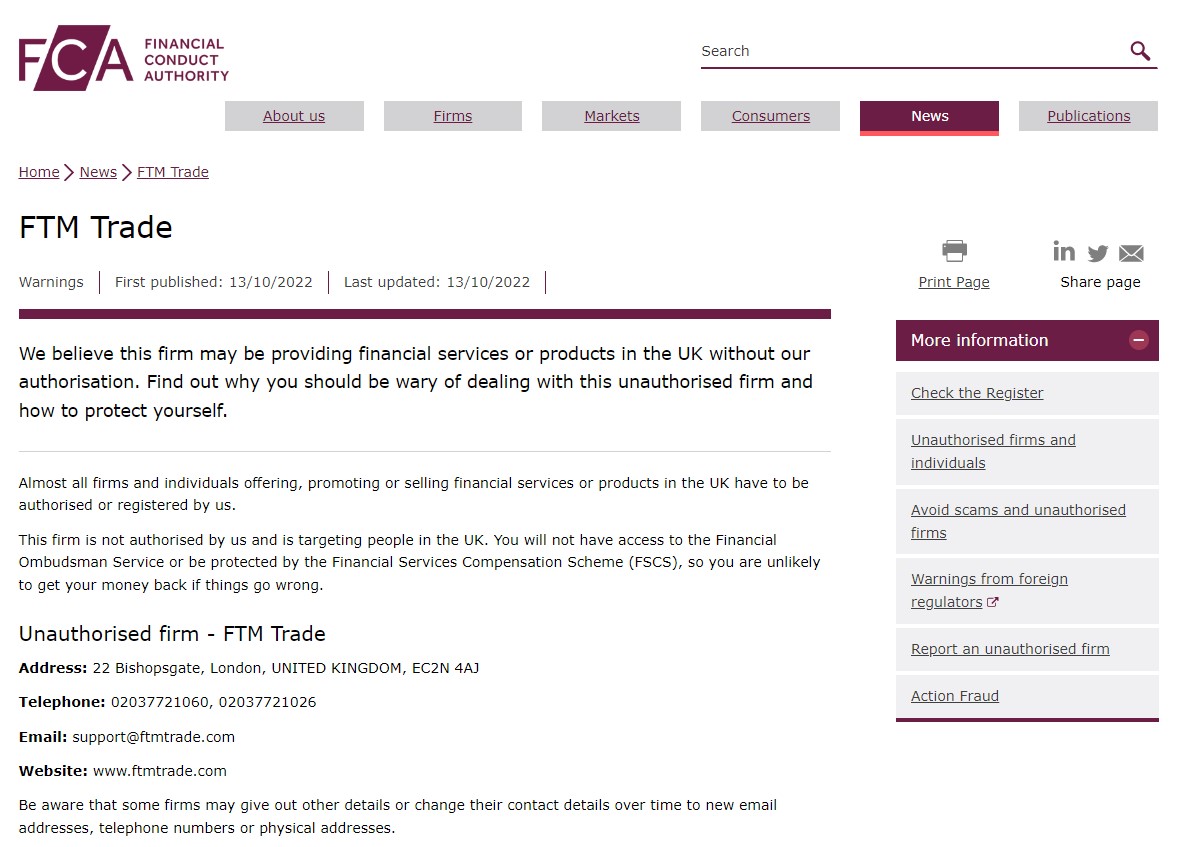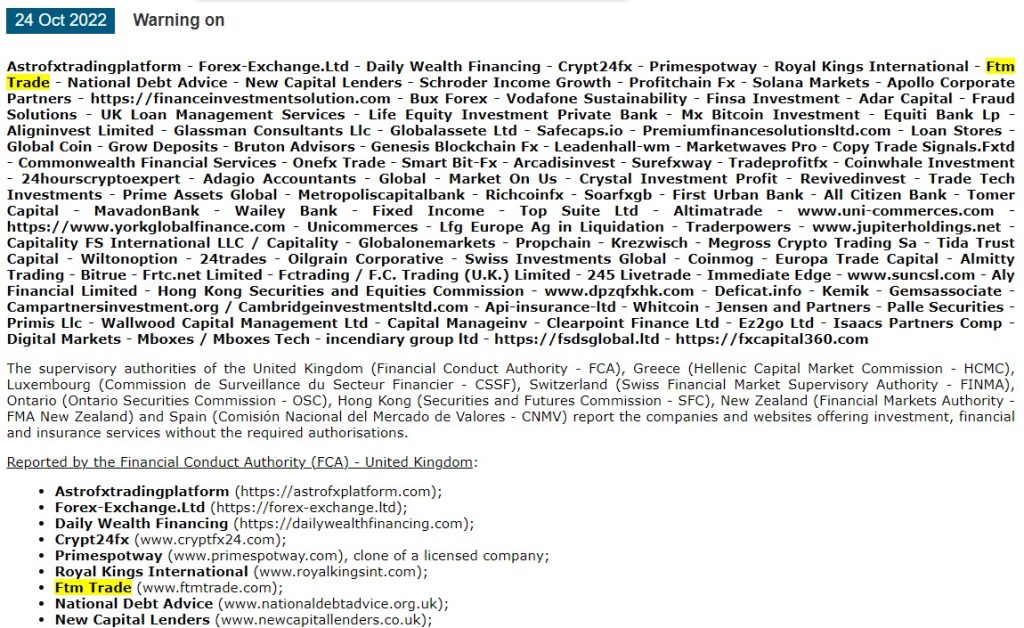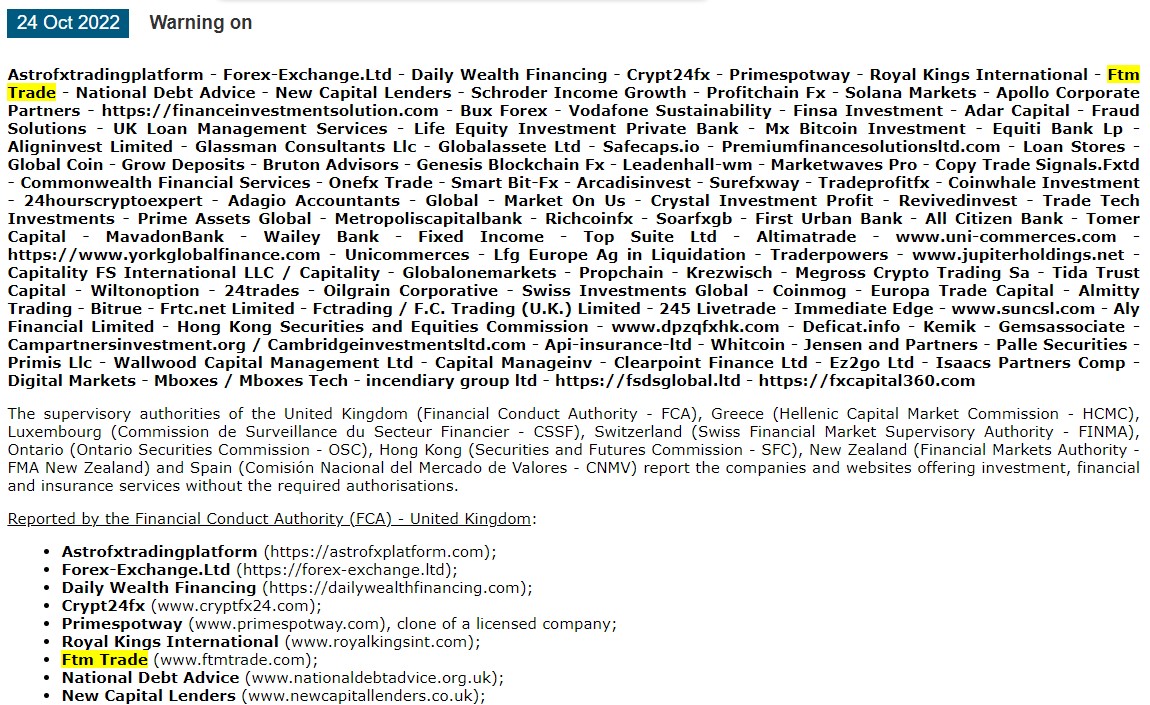 FTM Trade Supported Trading Platform
The scam broker makes big promises when it comes to the trading platform they offer, but unsurprisingly, fails to deliver. 
Advanced graphs, one-click execution, and deposit and withdrawal functions are advertised on the site but these are very basic functions, and nothing that an experienced trader would be excited about.
The company offers a rudimentary web-based platform, and nothing about it is "cutting-edge" or "state-of-the-art". Comparing this child's toy to leading industry standards such as MT4 or MT5 would be ridiculous.
Deposit and Withdrawal Options 
To start, the minimum deposit requirement with FTM trade seems to be 10 000$ which is ludicrous when compared to what other legitimate companies require. Another clear indication that we are dealing with an investment scam.
Methods of depositing your money are: 
Visa
Mastercard
Maestro
WireTransfer
While these depositing methods are in order, what most users complained about are the withdrawal conditions. Namely, every single user who shared their experience online mentioned being unable to withdraw their money no matter what they did. 
Even when the company assured them that their trading is going well, people could not withdraw their money, and instead were convinced by the unscrupulous swindler that they should invest even more. 
Without a doubt, FTM Trade offers terrible business conditions to its users, while claiming the opposite. This is something only scam brokers would do.
How the Fraud Is Conducted
Like any other fraud, this one starts with a flashy advertisement. The would-be brokerage assures their potential clients that they are reliable and transparent through their website. Their website asserts that they are offering one of the best trading platforms in the world.
Though none of this is true, there is no way for people who are new to investing to know this before it is too late. If you leave your contact information with them, a team of trained manipulators won't stop calling and spamming you with their offer until you succumb and say yes. 
After you have deposited your money, the illicit brokerage will impose some impossible withdrawal condition forever trapping your money in their pockets. This is unless you ask a third party for help immediately.
FTM Trade Summary
Though their site does look professional at first glance, anyone with a little bit of experience would be able to tell that FTM Trade is not a legitimate organization. They are nothing more but an investment scam. 
As you can see from our review, there is not a single reason for you to be trusting this scam broker. We hope our article has helped you learn what are some things that you should be paying attention to when you choose a brokerage to work with.
FAQs About FTM Trade Broker
Is FTM Trade Good for Beginners?

FTM Trade is not good for anyone, least of all for beginners.
What is The Funding Method at FTM Trade?

Funding methods offered by the company are Visa, Mastercard, Mastro, and wire transfer.
What Trading Instruments are Available at FTM Trade?

The company offers trading with cryptocurrencies.