September 21, 2023
Reading Time:
5
min
Funded Engineer Review: In-depth evaluation of fundedengineer.com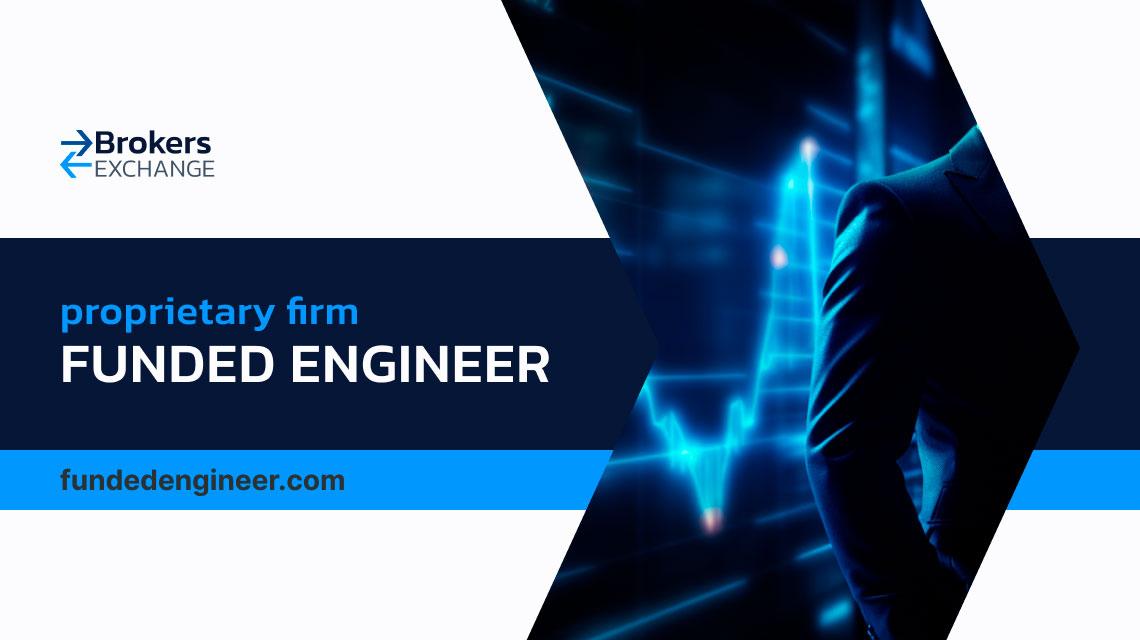 Evaluating another prop firm in this Funded Engineer review so you can decide whether or not being funded by them will be a profit or no fit. The Funded Engineer broker better known as AXSE Brokerage Ltd or Purple Trading may not be a great choice for all traders so stay tuned and learn if they are a good choice for you. 
Before we delve any further, read our GlobalX review for a broker you should avoid at all costs, no matter how tempting they look. 
Who Is Funded Engineer?
The Funded Engineer prop firm is owned by an accomplished trader 'Trader Tristan' and co-founded by David Varga. Tristan has made a name for himself by receiving large payouts from many prop firms. However, according to ScamAdviser, the owner of the domain is using a service to hide his identity on WHOIS, which raises red flags. 
There is no information about when the company was established, however, the domain is very young with a lot of traffic. That does indicate a potential scam, especially considering the high number of reviews they have on Trustpilot. Either way, proceed with caution if you're doing business with this firm. 
Funded Engineer
Reliable Broker Must Have
Legal name
Funded Engineer

Transparently displayed in the disclaimer or legal documents

Regulation
Regulation not expected

Within your legal jurisdiction – local regulator

Registered in
Dubai Silicon Oasis, DDP, Building A2, Dubai, United Arab Emirates

Your country or the country whose license applies in your legal jurisdiction 

Established
N/A

The older the domain – the higher the possibility the company is trustworthy

Website
fundedengineer.com

Domain should be from local or international zones, no .xyz, etc.

Financial Authorities Warnings

None

Contacts

[email protected]

 

Live Chat

Phone, email, social media, web form

If a withdrawal is possible
Yes

Yes

Fees

Transparent fees – list of spread and commissions

If Active on Social Media
Yes

Often present on social media

Investor Protection
No

Compensation fund
Regulation Info
Prop firms don't have to be regulated, however, it is important to check license information and requirements in your country. Some nations do expect prop firms to be regulated or adhere to certain rules. If a prop firm is using a broker to safeguard its clients' funds, then the regulation falls onto the broker. Unlike AltimaTrade, this prop firm doesn't have any warnings issued against them. 
At this time, according to the firm's website, Funded Engineer is using Purple Trading Seychelles as their broker. With that in mind, it's important to note that Purple Trading better known as AXSE Brokerage Ltd claims to be regulated by the Seychelles Financial Services Authority (SFSA), Lic. no. SD041.
Funded Engineer Broker Profile
Unlike FTMO and even Apex, Funded Engineer offers a pretty unique prop challenge. For individuals who don't want to trade futures and want to use the less expensive Apex program, the fact that they provide ordinary index trading on the common MT4 platform can be a huge advantage. 
Through a demo account, the Funded Engineer and the customer will communicate at every level of the collaboration. All challenges have no time limits, no minimum trading days, and weekend holding is allowed.
Trading Platform

MT4, MT5

Account Types

Funded Engineer, FTMO, Surge Trader

Financial Instruments On Offer

Forex

(EURUSD, EURGBP, USDNOK)

Stocks

(Apple, Amazon, Microsoft)

Cryptocurrencies

(BTC, ETH, XRP)

Indices

(S&P 500 Index, Dow Jones Industrial Average, FTSE 100 Index)

Maximum leverage

1:100

Minimum Deposit

$59

Commissions/Bonuses

$5 per lot traded

Mobile app

Yes

Desktop app

Yes

Autotrading

No

Demo account

Only Demo

Education or Extra tools

None
Is Funded Engineer Safe To Trade With?
It's a hard question to answer because the prop firm looks suspicious. One side of the company looks like a reliable prop firm, however, we can't ignore the fact they are associated with an offshore broker. While Purple Trading is technically regulated, the Seychelles Financial Services Authority is not really that reliable. 
Additionally, we can't help but notice that they are not as transparent as a prop firm should be. Even though their Trustpilot reviews seem impressive they might be fake, considering the firm's domain is very young. Overall, proceed with caution and reach out to us if you have been scammed by Funded Engineer. 
Traders Share Their Experiences
On Trustpilot, the firm has an overall score of 4.7, based on 530 reviews. Many of the 5-star reviewers have only 1 review written in total and it is for the FundedEngineer firm. If that isn't suspicious, we don't know what is. Additionally, 6% of the negative reviews speak facts and complain about the broker's way of business. 
Allegedly, even after completing the challenge, accessing your account seems almost impossible. Some traders were accused of breaching the Funded Engineer rules and terms and were denied immediately, while some were denied out of the Funded Engineer payout. Either way, this firm is very suspicious and after careful consideration, we think it should be avoided. 
Who Are the Traders They Cater To?
Funded Engineer is attracting traders from various nations including the United States, United Kingdom, South Africa, Nigeria, and India. Even though they are 'regulated', it is important to remember that Purple Trading is an offshore brokerage regulated by an offshore regulator. 
The firm attracts traders through its mask of positive reviews and an affiliate program, with the possibility of telling fake stories. There is no proven track record of their payouts so it's important to consult with a professional before reaching out to similar prop firms like this one. 
Deposits and Withdrawal Methods
After 14 days of receiving their funded account, traders with simulated funded accounts will be eligible for payouts. However, to qualify, the account must be in the black relative to the starting sum when the trader acquired the account. 
To submit a Funded Engineer withdrawal request, you need to have the minimum simulated profit of $50 and no orders or positions open. If you are an affiliate, the payout is $100. The minimum fee of $59 is refundable if you successfully pass the challenge. 
Weighing the Pros and Cons
Pros
Cons

There is no minimum trading day requirement

80/20 share

No time limits

No track record of successful payouts

Associated with an offshore brokerage

Suspiciously high number of reviews

Low score on ScamAdviser 
Can I Make Money While Trading Online?
It's important to keep in mind that earning money through online trading isn't a surefire way to get rich. Risks are present in the markets and they can be unpredictable. But with our state-of-the-art AI bot, trading is easier to access and more effective than before. By extracting past prices and data from charts, our AI offers investors enlightening insights. It assesses market movements and makes recommendations for buy or sell based on technical analysis. 
Want to trade more wisely? Make our AI bot your successful strategic partner. Be in the first 100 traders reaching out and boost your trading potential by trying our AI bot for 20 days for free!
FAQ Section
What is a Funded Engineer?
Funded Engineer is a prop firm based in the UAE owned by Trader Tristan and co-founded by David Varga.
Is Funded Engineer A Scam Or Legit?
By the looks of it, Funded Engineer may appear reliable, however, we advise avoiding this prop firm and choosing one of the alternatives we have ready for you as soon as you reach out.
What Is The Legal Connection Between A Trader And Funded Engineer During The Management Of An Account?
When the Challenge and Verification are completed, you will be given the Contract Agreement, which establishes the relationship between a trader and the connected Proprietary Firm.