March 30, 2023
Reading Time:
4
min
FTMO Review – Facts About FTMO.Com Broker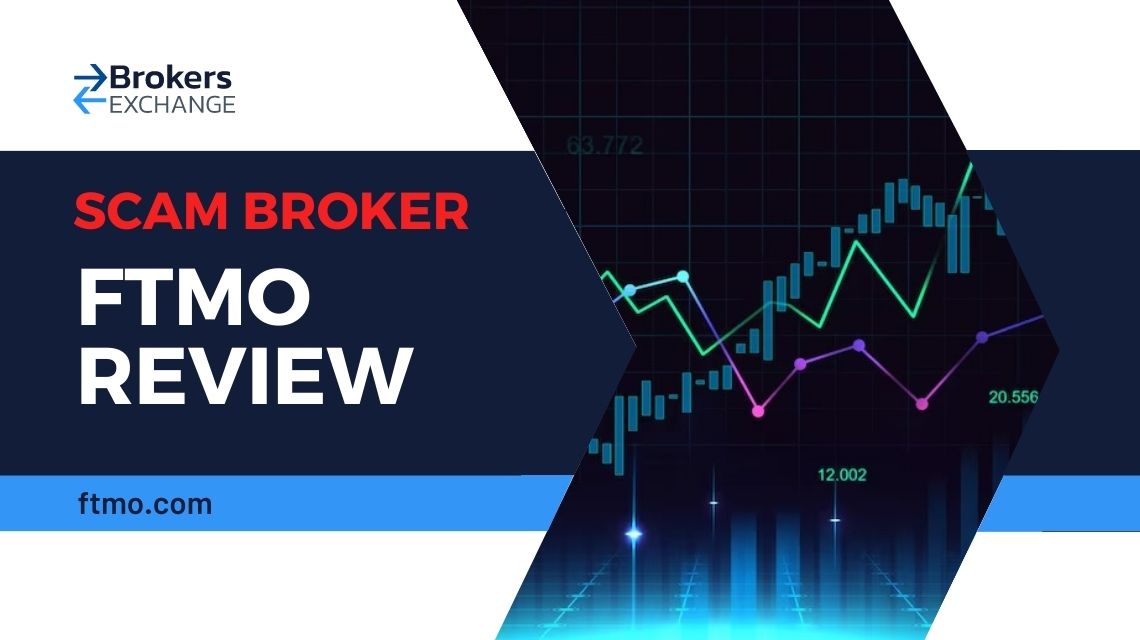 FTMO is not your typical offshore scam. While the broker may as well be located in a lawless, offshore zone, they present a slightly different scamming scheme. Nonetheless dangerous to every retail trader there, this broker deserved our attention. So we did in-depth research and will present you all the results in this FTMO review. 
Before we start, we'd like you to understand that scam comes in many shapes and forms. Just because this company advertises it slightly differently doesn't mean they're a safe place to deposit. 
Like any other Forex fraudster, FTMO offers allegedly profitable conditions that require no deposits. However, you still pay them in the form of fees, so this is just the same lie with another name. Stay with our review if you want to find out more on this particular subject.  
Furthermore, we highly recommend that you avoid the scam brokers BitmartExpo, XBTFX, and Pioneer Markets.
| | |
| --- | --- |
| Company | FTMO Evaluation Global s.r.o. |
| Website | FTMO.Com |
| Address | Czech Republic (allegedly) |
| Email | [email protected] |
| Phone | +44 2033222983 |
| Minimum Deposit | No minimum deposit required |
| Leverage | Up to 1:100 |
| Bonuses | Undisclosed |
| Regulation | Unregulated  |
| Warning | N/A |
Regulation and Fund Security
FTMO seems pretty serious with their offer, we admit that considerable effort was put into designing the website. However, when the regulatory information was missing and there wasn't any proof of the broker's legitimacy, we had to investigate. 
A thing to start with is the alleged location of the company in the Czech Republic. FTMO would first have to get a trading license from the Czech National Bank. The regulator is obligated to disclose full lists of the entities it supervises. And guess what, FTMO is not on the list of companies with the CNB license. 
Not only is the broker unregulated by the jurisdictional institution but they also aren't overseen in their brokerage activities by any major regulatory body. We made sure of this after going through the registers of FCA, BaFin, FINMA, ASIC, NFA, CySEC, and IIROC. 
Along with the fact that they aren't regulated by any financial authority, we confidently make a claim – FTMO is not regulated and doesn't have permission to sell their services and products. Therefore, they are illegitimate and dangerous! 
Trading Software Available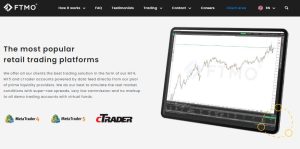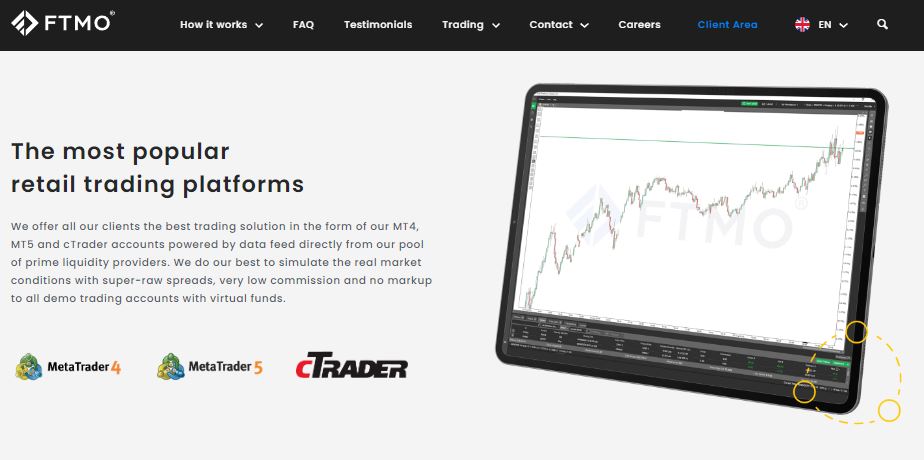 As unbelievable as this sounds, FTMO actually offers 3 leading software solutions in online trading: MT4, MT5, and cTrader. We successfully created a demo account with 50 000 USD virtual funds and got a chance to choose between those platforms. 
We tried downloading MT4 and the download worked. After installing the software we found out that the platform was labeled as FTMO MT4. Unfortunately, the broker didn't provide credentials for logging into their proprietary server. 
In the end, this didn't seem like too much of a surprise; we're reviewing a scam company after all. Bear in mind that even small-time financial swindlers could provide you with top-notch platforms but you won't be able to trade or make any real profit. 
Deposit and Withdrawal Methods
FTMO is unlike most con artists we've reviewed before. What they claim to offer is trading with the company's funds, split profit and not a deposit, but pay a certain fee. The fee starts from 155 USD and is supposedly processed via credit card, wire and Skrill. 
While the fake financial services provider might formulate their offer so it sounds more credible and attractive, it doesn't mean it isn't another scam. FTMO supposedly lands you their own capital to trade, but you still have to pay what they call fees. These might vary, depending on which strategy and earning plan you choose. 
There are not just fees to pay to FTMO. You also cannot retract any funds from your live trading account during the period of 3 months. 
Regrettably, this is all the information FTMO provides about its funding methods. Suspicious and shady to no end!
FTMO Account Types 
Instead of typical account types that every broker out there provides, FTMO actually has what they call a Scaling plan. Two types of Scaling plans are described on the site:
The point is to supposedly trade with the company's funds and then split the profit 90/10. Every scaling plan allows a maximum daily loss and minimum profit, which FTMO guarantees. What the broker advertises as the best option is trading for a year, paying your fees accordingly, and expecting a certain return. Sounds fictitious enough? You bet it does. 
How the Fraud Was Carried Out?
We've already pointed out that FTMO is not the typical scam scheme we usually review. Their project is designed somewhat differently. However, we can agree, and our review shows, that the broker still displays some common characteristics of a scammer. 
Starting from manipulated software and exaggerated potential profit, the con easily traps their victims in the cruel jaws of deceit. FTMO makes it easier with the help of the clever strategy that presents its platform as something different. Imagine it was really possible to trade someone else's funds and then just get paid out after a while. 
FTMO relies on the profit they make from you paying the fees. Starting from $155, these fees have to be paid regularly and sum up to a considerable amount in the end. All that while trading convinced you will be paid out eventually, while you actually won't.
FTMO
Summary
Somewhat different but cheating and manipulative just the same, FTMO is not a broker to choose for succeeding in Forex. Throughout this FTMO review, we've given you credible examples of how this firm misuses crucial trading information. 
All is done for the purpose of making their offer as attractive as possible. Without a doubt, what FTMO presents on its website does seem good, but it's just too good to be true. Especially with the lack of regulative measures. This is also proven in our Regulatory status section of this review. 
If you feel like you need some additional information about FTMO, we're always at your disposal. Feel free to contact us and we can exchange ideas and experiences at any time. 
FAQs About
FTMO
Is FTMO a Regulated Broker?
FTMO does not hold any licenses or trading permits by any financial institution, starting from the jurisdictional regulator - the National Bank of the Czech Republic.
Is My Money Safe at FTMO?
Unfortunately, no. FTMO doesn't provide the safety conditions obligatory for every regulated broker.
What Is The Minimum Deposit at FTMO?
The minimum fee you have to regularly pay to FTMO is $155.