August 09, 2023
Reading Time:
6
min
FxAlta Review: Is This Regulated Broker a Reliable Choice For You?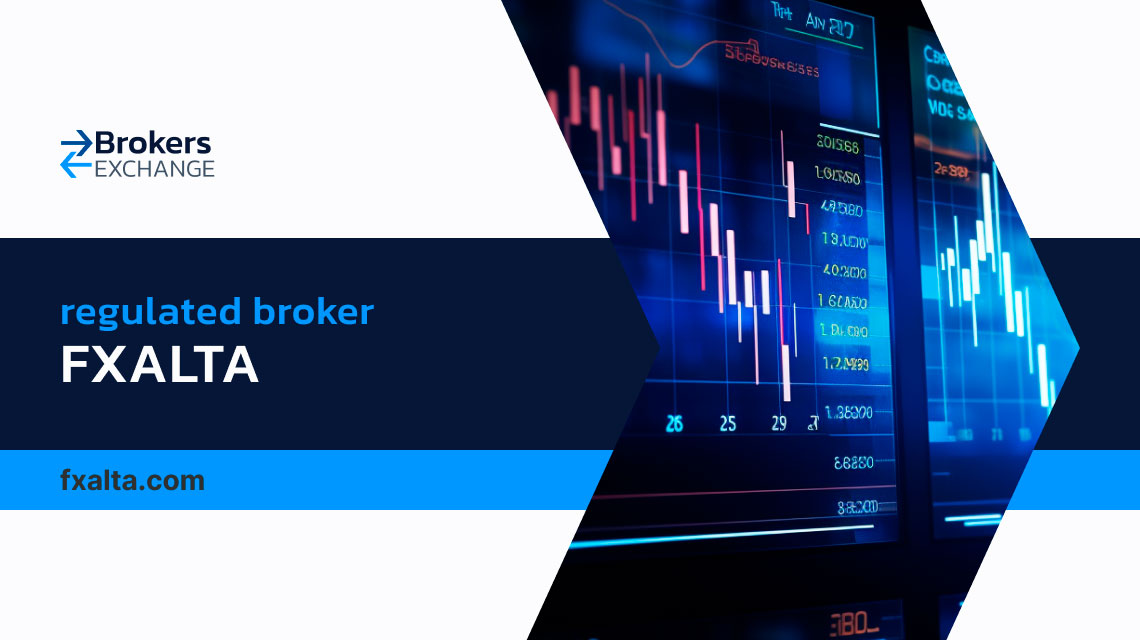 If FxAlta is one of the brokers you intend to use but you don't know much about them, read our FxAlta review. Along with giving you a thorough introduction to the broker and their operations, it will teach you about trading in general and concentrate on items you should avoid. We guarantee that if you look into this assessment, it will have a big impact on the future.
If Fx Alta is not on your list, take a peek at our AltimaTrade or Fibotraders reviews for in-depth evaluations that will shed light and show you the real truth. 
Who Is FxAlta? All About fxalta com
The folks behind FxAlta, Mortiz Ltd, and Pangaia Ltd are the same company and they are all operating the same fraud. It was quite simple to write this Fx Alta review because there were so many cautions given, so little contact information and transparency, such a suspect trading platform, and so many other warning signs. The warnings given by even eight regulatory authorities are the only thing that is transparent about this company.  Whatever you choose to call them, it is clear that they are a fraud and that you should steer clear of them. 
General information
Name
Mortiz LTD, Pangaia Ltd, Ceuda Investments Ltd, Fx Alta
Regulation status
Regulated by Mwali ISA
Warnings from Financial Regulators

CSA
MSC
FSMA
CONSOB
IOSCO
AMF
CNMV
MFSA
FSC

Website link
www.fxalta.com
Active since
2022
Registered in

Lot 2(a), Level 4, Wisma Lazenda Jalan Kemajuan, 87000, Labuan, Malaysia
Galdstonos 116M. Kyprianou House 3&4 floor, Limassol, Cyprus

Contact info

[email protected]

 

Web form

Live chat

Trading platforms
FXA Trading Platform
Majority of clients are from
Italy; Brazil; France; Argentina; Canada
Customer support
Live chat support 24/5
Compensation fund
None 
Regulation Info
On the FX Alta website, they proudly claim to be a regulated broker, promoting trust and reliability to potential clients. FXALTA is a trading name of Pangaia Ltd that is regulated with the reference number T202295 by the Mwali International Services Authority from the Comoros Union. Panagia Ltd. was established and registered in accordance with Comorian law under registration number HY00522046. Ceuda Investments Ltd., which was founded in the Republic of Cyprus and has its registered office at Galdstonos 116M. Kyprianou House 3&4 floor, Limassol, Cyprus (HE 390261).
On their website, it is also stated that FXALTA is a trading name of Mortiz LTD, a company incorporated in Labuan, Malaysia with company registration number LL16836 and authorized and regulated by the Labuan Financial Services Authority. Unfortunately, upon checking their license, it seems that it doesn't exist, leading us to believe they are lying about their regulation to attract more clients.
Furthermore, multiple regulatory authorities have issued warnings against FX Alta, indicating potential concerns about their operations and practices. Warnings from the following regulatory bodies have been published and supported:
This reminded us of Syos Space, another sham that was exposed by multiple authorities. The FxAlta's regulation info should be enough for you to realize what a sham they are. Furthermore, there is a press release from 
CONSOB warning about a couple of companies, including Mortiz Ltd. They advise that the FxAlta scam is real and you should avoid this broker completely. 
Traders should take these warnings seriously and consider them while making decisions about trading with this scammer. It is crucial to exercise caution and conduct thorough research when dealing with regulated brokers who have received multiple warnings from reputable financial authorities.
FxAlta Broker Profile 
FX Alta offers trading in forex, stocks, indices, commodities, shares, bonds, and ETPs (Exchange Traded Products). The maximum leverage they offer is 1:200 at their suspicious trading platform, and the only educational material this broker offers is a market analysis. 
Account types

STANDARD, PREMIUM, PLATINUM VIP

Financial Instruments On Offer

Forex

(EURUSD, EURGBP, USDNOK)

Stocks

(Apple, Amazon, Microsoft)

Indices

(S&P 500 Index, Dow Jones Industrial Average, FTSE 100 Index)

Commodities

(Crude Oil, Natural Gas, Corn)

Shares

(Facebook, Tesla, Netflix)

Bonds

(Bund, JGB, U.S. Treasury Bonds)

ETPs

Maximum leverage

1:200

Minimum Deposit

$250

Commissions/Bonuses

Referral bonus

Mobile app

Yes

Desktop app

No

Autotrading

No

Demo account

Yes

Education or Extra tools

MARKET ANALYSIS
FxAlta Trading Platform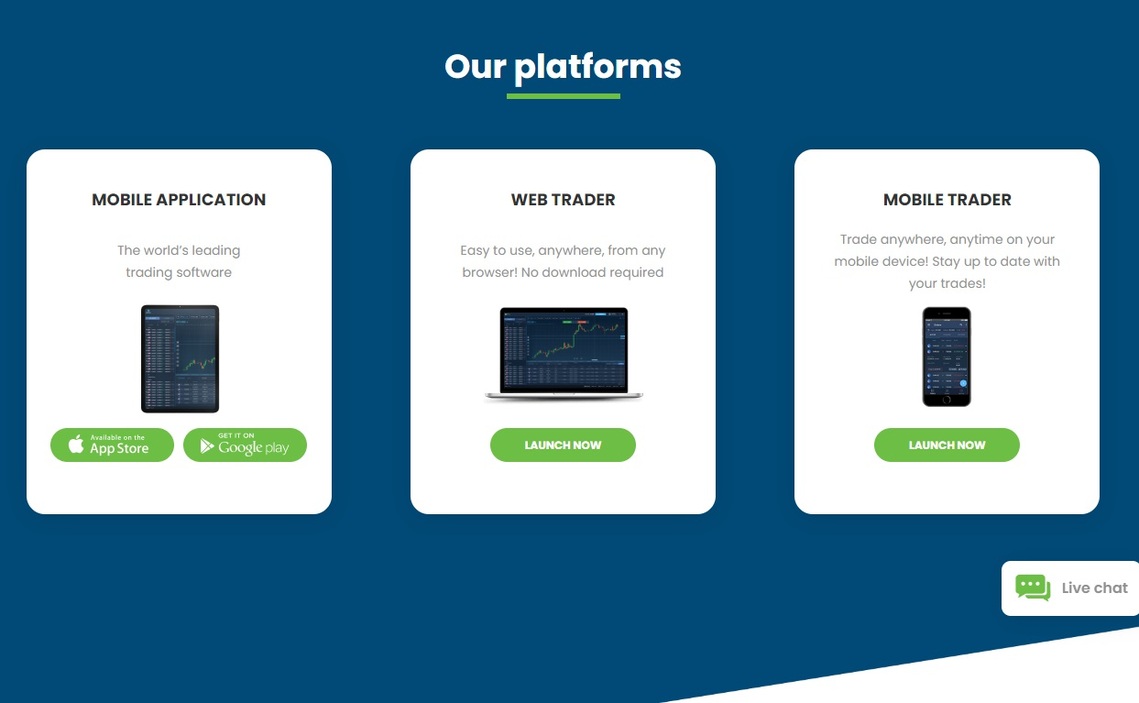 The fact that FX Alta chose a custom online trader over well-known platforms like MetaTrader or cTrader raises questions about their motivations. Concerns regarding transparency and the reliability of their software are raised by the redirection away from official app stores when trying to access their mobile app.
A lack of dedication to providing a thorough and competitive trading experience may also be seen in the restricted selection of fundamental trading tools, calendars, and news while ignoring crucial components like algorithmic trading and social trading.
In conclusion, FX Alta's unusual trading interface and lack of essential features could raise questions about the broker's dependability and dedication to serving the demands of knowledgeable traders. When choosing this broker, traders should exercise caution and look into options with more reliable and extensive trading platforms.
FxAlta Account Types
Only the fact that there are four different account types—Standard, Premium, Platinum, and VIP—is mentioned in relation to them. The perks you receive with these account types include round-the-clock customer service, a welcome bonus whose value is not disclosed, spread reduction, but no knowledge of the starting point for spreads, and fictitious VIP access to something they even don't know with the VIP bonus to welcome you. 
Overall it is clear as a day what a sham they are and you should steer clear from this broker. 
Is FxAlta Safe To Trade With?
FxAlta seems to be a scam broker that traders should stay away from based on the multiple warning signs and issues brought forth. Potential hazards and dubious practices are indicated by the lack of transparency, hidden costs, lack of regulation, and several issued warnings from respected authorities. 
Avoid possible hazards by selecting a regulated and open option. For tailored assistance in locating the ideal broker to meet your needs, get in touch with us right away. Our priority is ensuring your financial security, and we're here to support you in making wise choices. To get started on the right path, schedule a free consultation right away.
A Look at FxAlta's Traders They Serve
Fx Alta continues to draw customers because they falsely claim to be regulated by two authorities, giving the impression that they are reliable. They also offer fake VIP access with a fake VIP bonus for their Platinum and VIP accounts, as well as a referral program and a welcome bonus whose value is unknown. This would imply that they can tell investors any number to get them to make the initial deposit.
Most of their victims are from Argentina, Brazil, France, Italy, and Canada. They should follow the regulations set down by such governments to conduct business there, but Fx Alta does it nevertheless. Avoid letting issues and warning signs affect your trading trip. For professional advice and assistance in locating a reputable and licensed broker who meets your needs, get in touch with us right away. Call today to schedule a free consultation and trade with assurance!
Deposits and Withdrawal Methods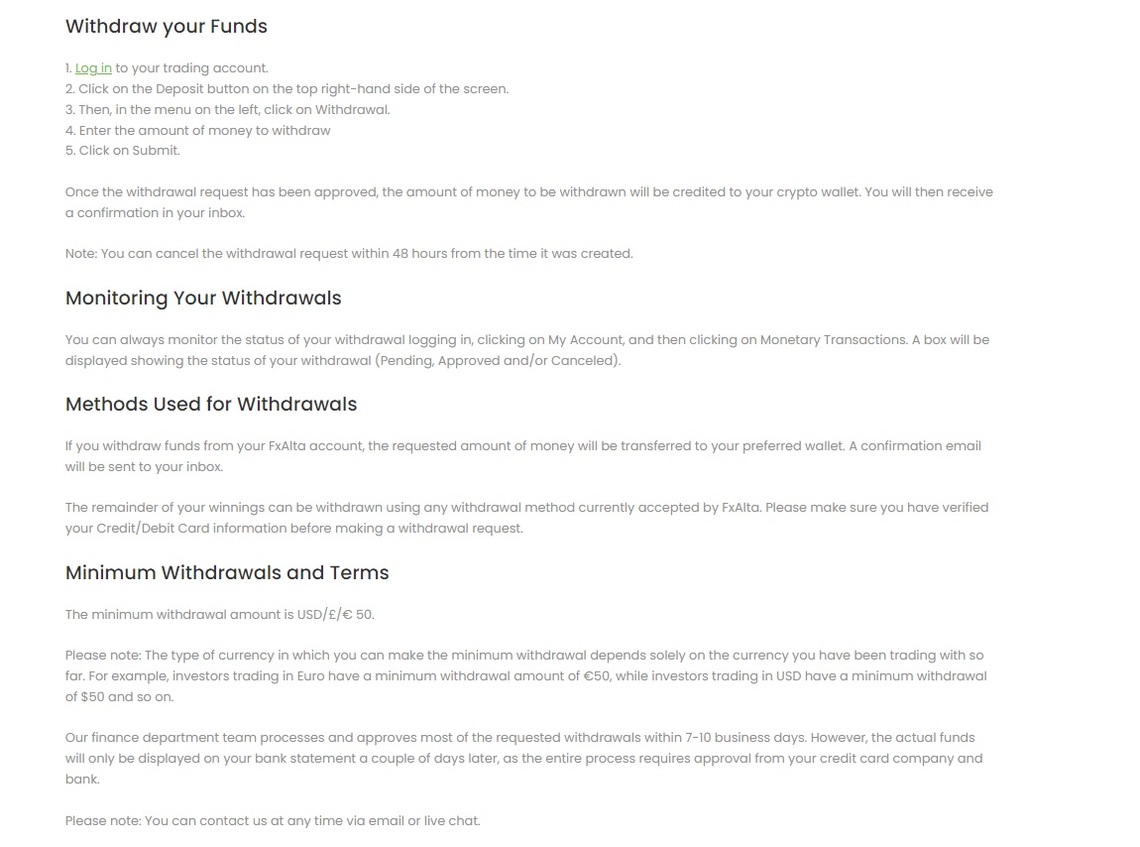 Using Visa and Mastercard, wire transfers, and well-known e-wallets like Skrill and Neteller, you may easily fund your account at FxAlta.
The minimum withdrawal amount is $100, and the minimum transfer amount for all other methods is $50. However, the withdrawal procedure could take longer because the clearance time could be extended if the withdrawal department contacts you for the required paperwork and account verification.
You will get a confirmation email after your withdrawal request is accepted, and it can take up to 10 business days for the money to show up in your account after that. Please be mindful of this window of time while you manage your financial activities.
FxAlta Pros and Cons
Pros
Cons

None! 

Lying about regulation

Suspicious trading platform

8 warnings from authorities

Lack of transparency

Hidden fees

Lack of contact info 

Limited information

Account 'benefits'
Long Story Short – FxAlta
FxAlta presents itself as a licensed broker, yet several warning signs cast doubt on its dependability and credibility. Potential hazards for traders are suggested by the use of a dubious proprietary online trader, a lack of fee transparency, and caution from several regulatory bodies. The withdrawal process might also be drawn out, which casts doubt on the overall experience. To protect their assets and trading experiences, traders are advised to stay away from FxAlta because of these problems and uncertainties.
Avoid the potential hazards linked with FxAlta if you want a secure and dependable trading experience. For tailored assistance in locating licensed and reliable brokers who value openness and investor protection, get in touch with us right away. Your financial stability is important, and we're here to assist you in making wise choices. 
FAQ Section
Can FxAlta Scam Me?
Significant red flags concerning FxAlta, such as its lack of transparency, hidden fees, lack of regulation, and numerous issued warnings, raise doubts about its reliability and the possibility that it is a scam broker.
What Additional Services That FxAalta Provides?
Fx Alta offers trading in forex, commodities, indices, stocks, shares, bonds, and ETPs. The only tool they offer is a market analysis.
How To Get Your Money Back From FxAlta?
If the incident happened recently, you may dispute the charge with your bank to see if a chargeback is possible. But if things have gotten out of hand or you need help, get in touch with us for advice on how to handle the money-recovery procedure. Our experts will be prepared to help you pursue your claim swiftly if you schedule your obligation-free consultation right away.