May 31, 2023
Reading Time:
4
min
Our FXGlory Review Will Give You All the Answers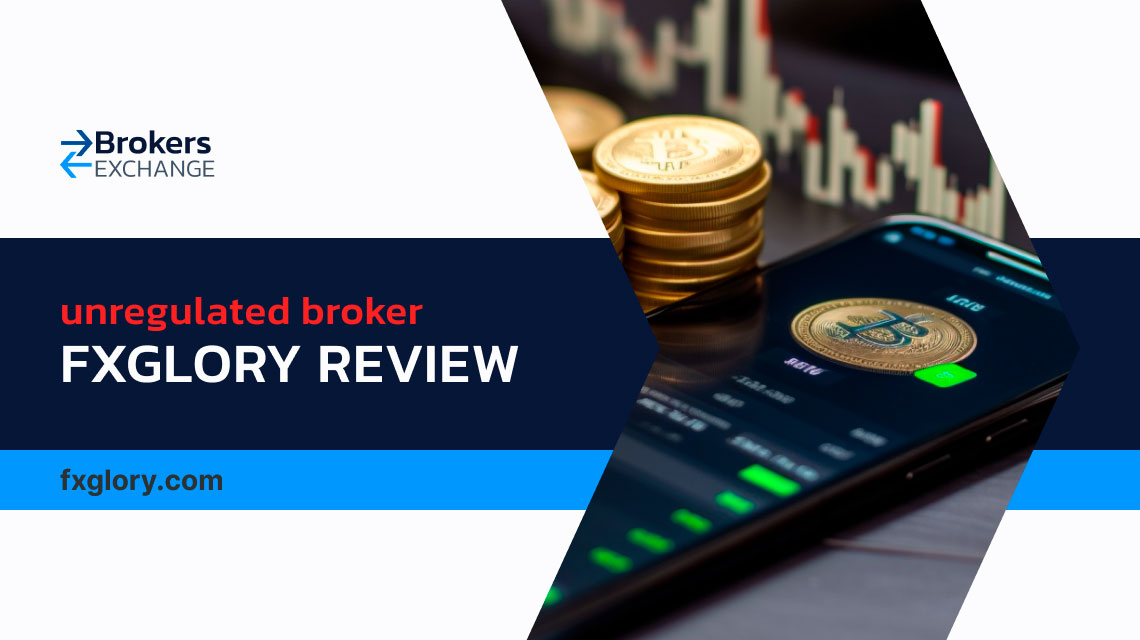 In a world with a seemingly infinite number of shady brokers, it can be easy to fall victim to one. Hence, we present to you our FXGlory Review, so you can at least know not to consider them for your next broker. They are clever scammers with quite a scamming record. But we'll stop trying to convince you of that and just let you read on to find out for yourself.
| | |
| --- | --- |
| Company | FXGlory |
| Regulation | Unregulated Broker |
| Warning | N/A |
| Website | fxglory.com |
| Address | Dubai/Saint Vincent and the Grenadines |
| Email | [email protected] |
| Phone | +(1) 888 345 6995 |
| Minimum Deposit | $1 |
| Leverage | 1:3000 |
| Bonuses | 50% |
License for FXGlory and Security of Funds
A license is the most important thing for any broker, and those who have it can't stop showing it enough. Sadly, FXGlory can't say they fall into this group.
FXGlory is completely UNREGULATED, and you should need no additional reasons to avoid them. 
They say their headquarters are in Dubai, but this is not true. And how do we know? Well, all Dubai-based brokers must be registered at the DFSA, and if you go and check their register, you will find no traces of FXGlory.
On the other hand, they do have offices in SVG. Of course, this is a major red flag since Novatech Fx and countless other proven scammers operate from the same country. And you can bet your money is not safe with them at all.
Trading Platform Overview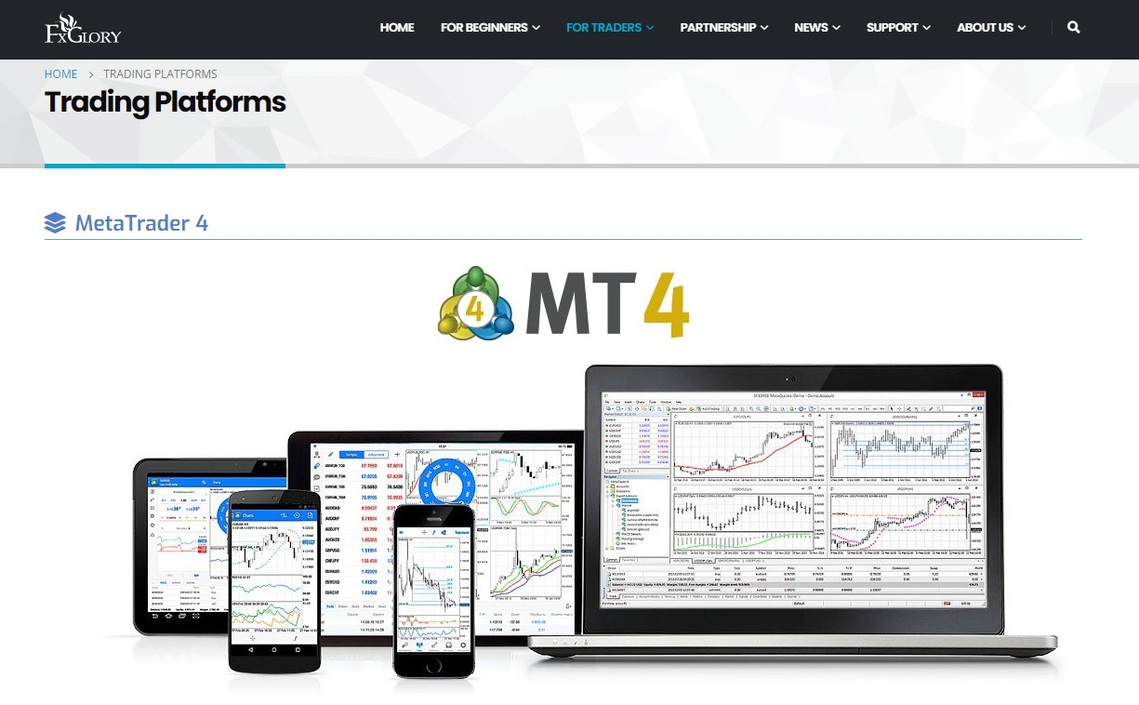 Judging from the look of their website, you could hardly see that they are scammers. And the MT4 trading platform they offer only helps conceal their true intentions.
MT4 is a staple in the Forex trading world. It has plenty of useful features like automated trading, multiple timeframes, and offers a user-friendly interface. But beware! An industry-leading trading software cannot compensate for the lack of a trading license!
Options for Deposit/Withdrawal
This scammer accepts a whole lot of payment methods. You can deposit your money via a credit/debit card, a bank wire transfer, PayPal, Skrill, Bitcoin, Ethereum and various other cryptocurrencies.
When withdrawing money, FXGlory charges different fees depending on the type of transfer. A crucial detail in the fine print is that they reserve "the right to change the processing time of deposits and withdrawals without notifying the clients." This is beyond alarming and a sign that you are dealing with a shady broker.
The minimum deposit anyone must make is just $1, which differs from the minimum investment you usually see with scammers. But that just serves to lure you in, so be careful!
FXGlory Account Types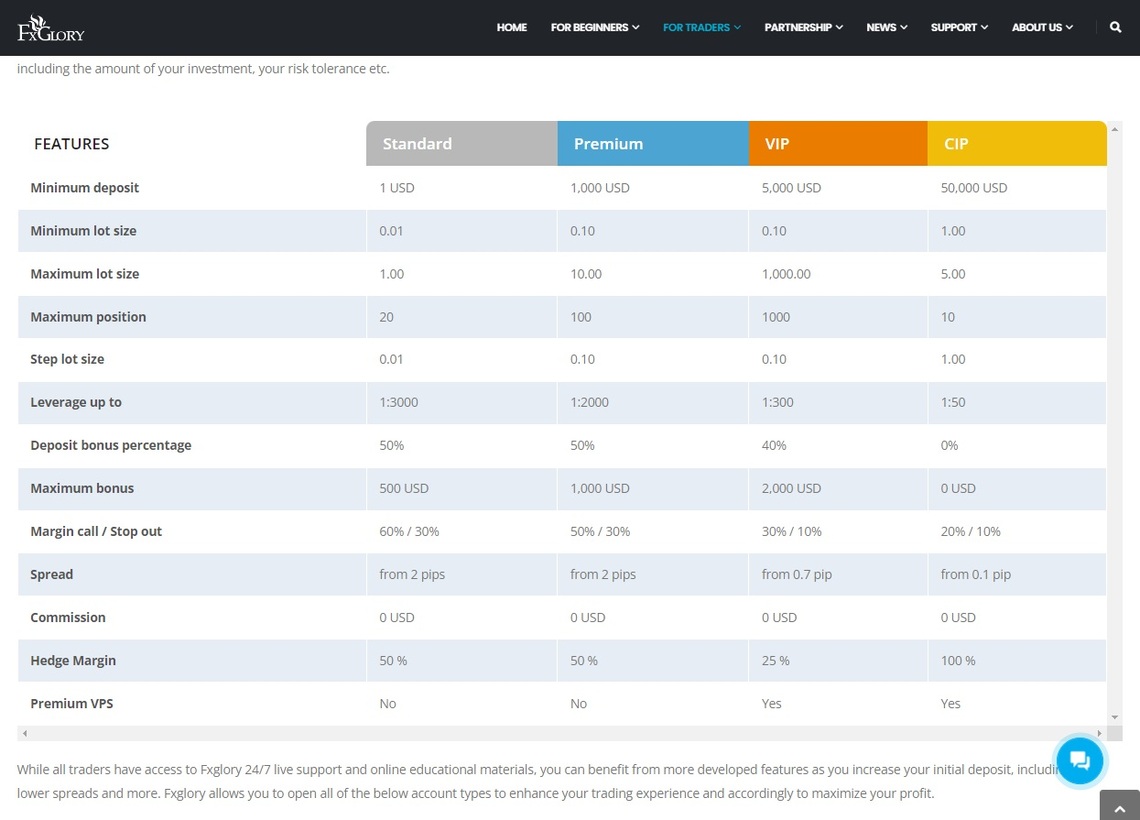 Potential investors can choose between four types of accounts at FXGlory:
The minimum deposit drastically rises as you go from a Standard to a CIP account. Your initial investment is as low as $1, but should you choose the most premium option, you will have to dole out a whopping $50,000. The middle ones are slightly less egregious (Premium is $1,000, and VIP is $5,000).
Furthermore, the maximum leverage is 1:3000 (Standard account), which exposes you to enormous risks.
And if you were wondering, FXGlory does not offer a demo account.
How Is the Scam Executed?
Scammers like FXGlory or Investteck might use different tactics, but the principle is generally the same. They get you to give them your money by telling you stories and making you offers that sound like a dream, and that's because they are.
It's crucial to remember that a brokerage is a business like any other, and it won't give you things for free or propose a deal that isn't in its favor. So when a broker gives you an offer that is too perfect, walk away.
But don't do so without taking some action. You shouldn't feel embarrassed about reporting a scam! By informing the appropriate authorities, you help raise other people's awareness and protect others from losing their money. And getting YOUR money back is possible too.
Talk to your bank and file a chargeback request. If you act quickly, the bank might just be able to get you your money back. You can also contact a crypto tracing company to see if they can help you retrieve your investment.
FXGlory
Summary
Having come to the end of our FXGlory Review one thing is for certain – this broker is undeniably a scammer. And if there is a lesson to be learned from this article, it would be to always cross your t's and dot your i's.
Never trust anyone with your money before checking everything about them. See if they appear in any official broker registers and if there are warnings issued against them, and stay safe in the crazy world of forex trading.
FAQs About
FXGlory
Broker
Is My Money Safe with FXGlory?
No, it is not. FXGlory has no license so they cannot guarantee you anything when it comes to your investment's safety.
Is FXGlory a Regulated Broker?
FXGlory is NOT a regulated broker. Their headquarters are in SVG, which means by default they cannot be regulated for forex trading.
What Is The FXGlory Minimum Deposit Amount?
The minimum deposit amount with FXGlory is $1. You can pay this much only if you choose a Standard account.