April 21, 2023
Reading Time:
5
min
InvestTeck Review: Don't Risk Trading with This Firm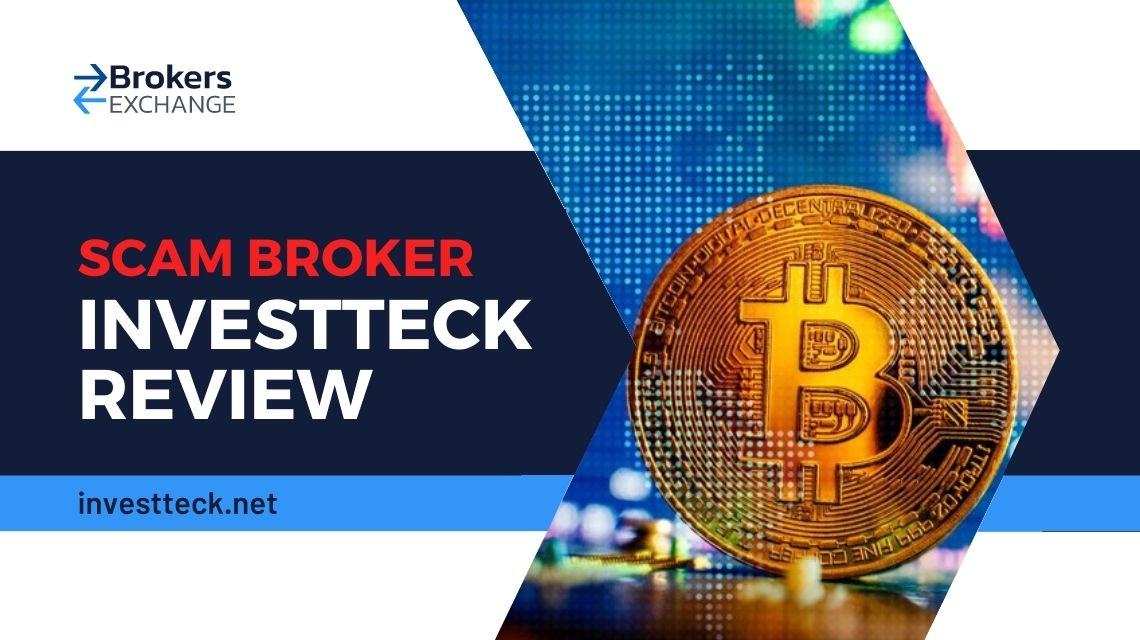 InvestTeck Review, You know how sometimes you get on that weird part of the internet where you can't even tell what the website is all about? InvestTeck is something like that. The website InvestTeck operates is pretty hollow and empty. It was difficult to tell whether it was a broker or some web programmer's demo page.
The scammers give out very little information, and the only way to begin trading is to contact the site supervisor firsthand. You may only contact the site owners through a contact form, however. There is no email, no phone, or any other piece of information besides the company owner being GreenRiver OÜ from Estonia.
Estonian financial regulator, the FI has posted this warning about GreenRiver OÜ, and sure enough, it implicates InvestTeck as well: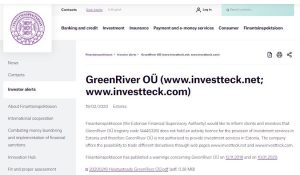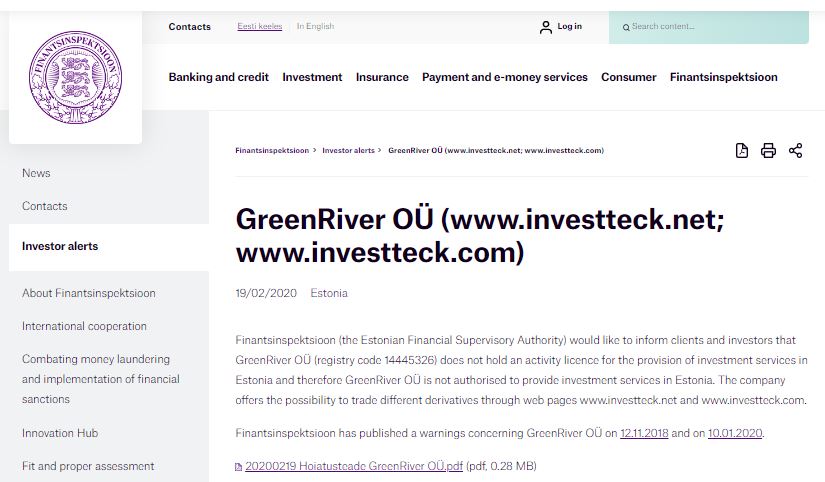 Our InvestTeck Review will show you why these seemingly harmless entities can be quite dangerous.
Also, we recommend you not invest in the fraudulent brokers SpotyFX and Mg Trade Solutions.
Company

InvestTec

GreenRiver OÜ

Website
InvestTec.net
Address

Harju maakond, Tallinn, Keslinna linnaosa, Parda tn 4, 10151, Estonia

77 Sir John Rogerson's Quay, Grand Canal Docklands, Dublin, Ireland

121 King St W #1901, Toronto, ON M5H 3T9, Canada

Email

N/A

Phone

N/A

Minimum Deposit

N/A

Leverage

N/A

Bonuses

100% deposit bonus

Regulation

Unregulated

Warning

FI

InvestTeck Reliability – License and Fund Security 
InvestTech does not provide any legal information on its website at this time. There are 3 listed addresses, however. One of these is in Ireland, another one is in Estonia, and the 3rd is in Canada. Ireland and Estonia are nation member states of the EU, and because of this, have a very similar regulatory framework when it comes to broker companies.
Financial regulators in the EU and including the Central Bank of Ireland and Estonian Financial Inspection, require at least 730,000€ of initial capital from their brokers prior to issuing them with a trading license. Additionally, brokers must incorporate a compensation scheme of 20,000€.
Other safety standards in the EU include negative balance protection for client accounts, as well as segregated bank, accounts for client funds. A leverage restriction of 1:30 is currently imposed in the EEC, as well as a ban on any bonuses. European regulators also require full transaction transparency that is dictated by the international MiFID agreement between all EU nation-states.
Canada has similar regulatory standards enforced through their main regulator, IIROC. The difference is mainly in the larger leverage of 1:50, and that the bonuses are allowed. IIROC does not require negative balance protection to be implemented.
Estonian FI has issued a warning about this being a scam website. The CBI registry has no entries about InvestTeck. We have also checked the registry with IIROC, and there was no mention of InvestTech either. This confirms our suspicion that InvestTeck is unregulated.
Trading Platform Overview at
InvestTeck
InvestTeck does not offer any trading platform. Instead, there is a link that redirects us to an external website that conducts impartial reviews of various trading software, and the availability of different platforms with regulated brokerages.
We'd like to back the claims of our colleagues in this regard. Metatrader4 and Metatrader5 software are the most widespread solutions in the business. MT4 is an older solution, but has seen much incremental development. MT5 is a newer platform that offers many exciting features such as expert advisors, and strategy testers.
InvestTeck Trading Account
Currently, there is no information on what kinds of trading accounts would be available with InvestTeck. When choosing a broker, a variety of different accounts is a welcome addition to any trading conditions.
Many regulated brokers offer different accounts based on market execution, spread or commission. Different accounts will be billed accordingly. For novice traders, it is important to develop your skills while using a demo account that offers risk-free speculation. Another thing to look for are Cent or Micro accounts that have a small minimum deposit.
InvestTeck Deposits and Withdrawals
InvestTeck does not mention any funding methods for their accounts. Good asset liquidity and cash flow is paramount for a good broker. We advise our traders to look for traditional transaction methods, such as Bank Card payments or Bank Wire transfers.
Authorized brokers also allow for various e-wallet payments such as Neteller, Skrill or PayPal. All these options are secure, and offer good transparency. A good indication that a website might be a scam is when they only accept Cryptocurrency payments. These allow scammers to hide their profits and evade any income taxes.
InvestTeck Trading Instrument
We couldn't find any mention of which trading instruments a retailer would be able to trade with InvestTeck. Brokers that have a license offer a wide variety of instruments that can be grouped into different categories. The most popular categories are Forex currency pairs, as well as different Contracts for Difference, or CFDs.
CFDs can relate to commodities, such as precious metals like Gold and Platinum, or other essentials like Sugar and Cocoa. Popular CFDs also include Energies, like Crude Oil or Natural Gas. Brokers also allow users to trade shares and stocks. Lately, cryptocurrency trading has also become popular.
How is the Scam Performed?
We can only speculate which exact strategy InvestTeck uses to defraud its victims, because of how little data we have on the company. Our InvestTeck Review will instead focus on popular scamming methods you should be aware of.
As we mentioned before, you should keep your guard up if a broker only accepts crypto payments. Scammers also use large bonus benefits as a ground to prevent withdrawals. A broker only offering a Web Trader platform is suspicious as well, because they might change the market data to manipulate their traders.
InvestTeck Summary
InvestTeck is owned and operated by a known scam entity, GreenRiver OÜ. Estonian FI has issued a warning about their fraudulent behavior. Even though the website seems harmless at first glance, it is most likely just in a state of redesign or further development. Keep up to date with reviews like ours, and stay safe. If an offer seems too good to be true, it most likely is.
FAQs About
InvestTeck
Broker
What Kinds of Accounts Does InvestTeck Have?
There are no trading accounts currently available with InvestTeck.
How is My Security Ensured When Using InvestTeck?
Nothing about InvestTeck warrants any safety. Their parent company GreenRiver OÜ is a known fraudulent entity.
What Funding Methods Are Accepted at InvestTeck?
There is currently no information about any funding methods on InvestTeck website.